A simple grain-free chocolate cupcakes that are naturally gluten-free, low-carb, low-glycemic and perfect for those on a paleo or SCD diet.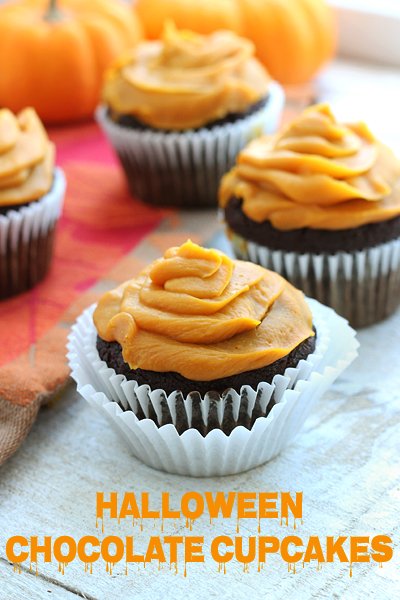 At a time that's full of scary costumes, spooky decorations and sugar-laden treats, I could think of no better way to celebrate than with my own sweet contribution.
Gluten-free baking forever changed for me when I started using coconut flour. This flour brings a light and fluffy texture to baked goods that is unmatched with any other gluten-free flour. Fiber-rich coconut flour is low-carb, low-glycemic and naturally gluten-free, not only making it great for those sensitive to gluten, but also those on a paleo or SCD diet, or those with diabetes.
And what better thing to make than grain-free chocolate cupcakes?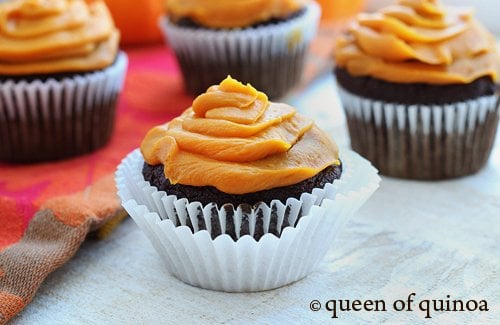 Baking with coconut flour can be tricky, but as long as you have the right proportions, your gluten-free baked goods will surely be fabulous. Just remember, eggs are coconut flour's best friend. As a general rule of thumb, I use two eggs with every 1/4 cup of coconut flour (if I'm only using coconut flour in the recipe). With the combination of cocoa powder in this cupcake recipe, I used an extra egg to compensate for the added dry ingredients.
To put it simply, these grain-free chocolate cupcakes are perfect. Everything that you envision when you think of chocolate cupcakes. A springy cake texture, that's still moist and tender, with a  rich chocolate flavor. All topped with a sweet vegan icing. These babies would be great for any occasion, but the fiery orange icing and deep brown (almost black) color, makes them perfect for our Halloween festivities.
Wishing you all a happy and safe Halloween!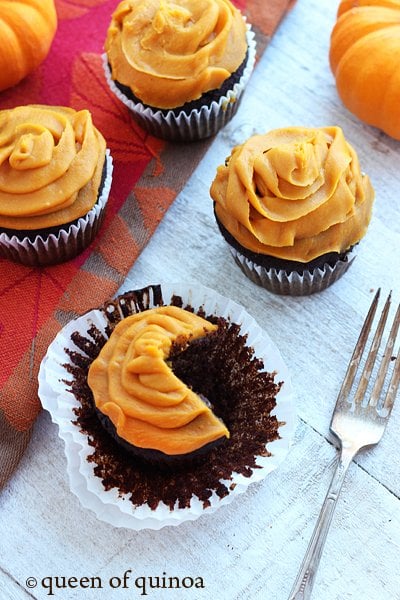 More Healthy Fall Recipes:
Grain-Free Halloween Chocolate Cupcakes
And what better thing to make than grain-free chocolate cupcakes?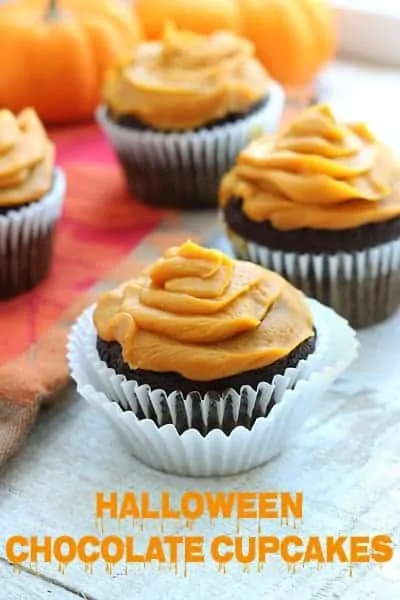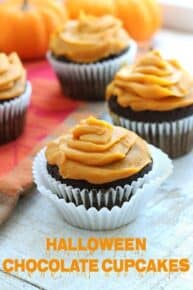 Instructions
Preheat the oven to 375 degrees F. Line a muffin tin with 6 paper liners (place the liners on the inside of the muffin tin for more consistent baking).

Whisk together dry ingredients in a small bowl.

In a separate mixing bowl, beat the eggs, honey and 1 tablespoon coconut oil. Add dry ingredients to wet and mix to combine.

Spoon batter into the paper liners, filling each about ? of the way full.

Bake in the center of the oven for 18 – 20 minutes, until a cake tester inserted into the center, comes out clean.

Cool on a wire rack completely before frosting.

For the frosting, combine the sweet potato, maple syrup, tapioca starch, remaining 1 tablespoon coconut oil and turmeric in a food processor, and process until smooth. Cool before transferring to a piping bag.

Pipe the frosting on the cupcakes and serve immediately.
Nutrition
Calories:
205
kcal
|
Carbohydrates:
30
g
|
Protein:
4
g
|
Fat:
8
g
|
Saturated Fat:
5
g
|
Cholesterol:
81
mg
|
Sodium:
198
mg
|
Potassium:
197
mg
|
Fiber:
3
g
|
Sugar:
19
g
|
Vitamin A:
3195
IU
|
Vitamin C:
0.5
mg
|
Calcium:
37
mg
|
Iron:
1.4
mg
Filed Under: