Grain-Free Pumpkin Cupcakes topped with a Vegan Chocolate Frosting are completely refined sugar-free and made with healthy, organic ingredients.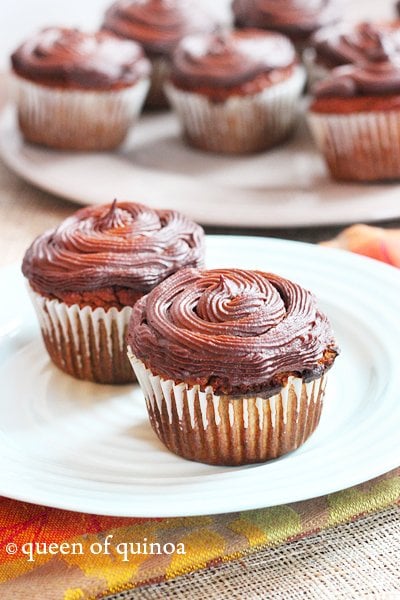 If you love chocolate and you love pumpkin, you're in for a treat today! We're whipping up some delicious grain-free pumpkin cupcakes and topping them with a healthy chocolate frosting that is made from a secret ingredient.
I couldn't be happier to be sharing this amazing recipe with you (really it's amaaaazing!!)
This recipe is actually from The Whole Life Nutrition blog and is perfect for anyone who is gluten-free, grain-free or dairy-free and has seriously been missing their cupcakes. I can attest, I've tried a few other grain-free cupcake recipes before and this one definitely takes the cake! (<– pun intended!)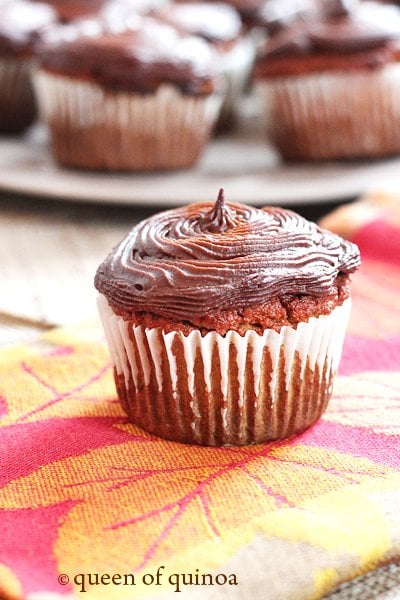 The Whole Life Nutrition Kitchen, written by Ali and Tim, is a site full of amazing, healthy, gluten-free recipes. From sweet to savory, from grain-free to sugar-free to vegan, Whole Life Nutrition Kitchen pretty much has it all. Anything you're looking for, they've tested, mastered and thankfully shared for all of us to try. Not to mention they have two fabulous cookbooks, both of which are packed with even more fabulous dishes.
It wasn't hard to choose which recipe to test. I wanted cupcakes and fall is just around the corner. I opted for their Grain-Free Pumpkin Cupcakes for a few reasons.
They're refined sugar-free: sweetened only with soft medjool dates
They're grain-free: made from coconut flour
They have my favorite spice combination on the planet: cinnamon, nutmeg and ginger
They remind me of my childhood and spark my obsession with pumpkin pie
They're easy to whip up and don't contain ingredients I don't normally stock in my gluten-free pantry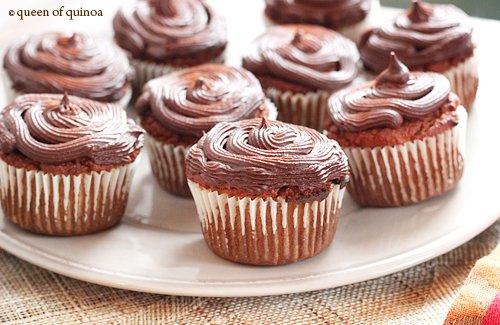 To say that I was happy with these cupcakes is an understatement. They were sensational. Soft, moist, pumpkiny, not too sweet, but just sweet enough to consider them a cupcake and not a muffin.
For the icing, I used their recipe for Dairy-Free Cream Cheese Frosting but decided to make it chocolatey since I couldn't find white sweet potatoes (it would have been too orangey). Although the frosting was DELICIOUS, I can't say that it was my favorite combo with the pumpkin cupcakes. Next time I'm going for the vanilla maple version. But what I can tell you, it was the most amazing, vegan, sugar-free icing I've ever tasted. It was smooth, creamy and loaded with sweetness. Better than the kind I used to buy out of a carton, but healthy.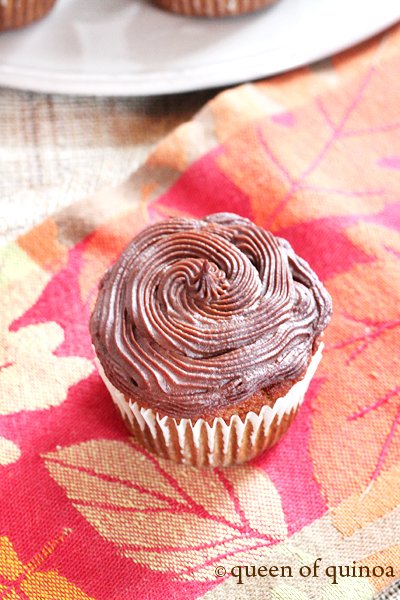 To get this full recipe, head on over to Whole Life Nutrition, and make sure to tell them that Alyssa from Simply Quinoa sent you ????