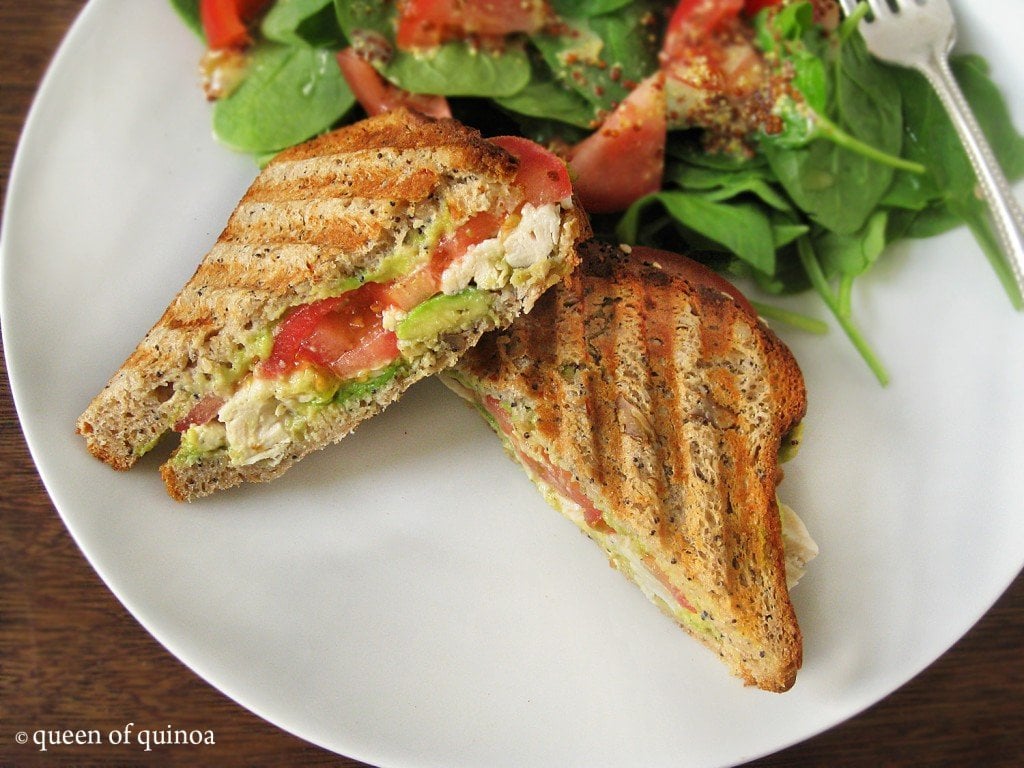 I wish I could have a sandwich every single day. For both lunch and dinner. They're one of my favorite things on earth.
The first thing I missed was when I went gluten-free, was bread. Fresh, homemade, whole-grain bread. We have so many amazing bakeries in my area, it was hard to imagine not being able to eat a slice of their heavenly bread.
Much to my gluten-free heart's delight, I'm noticing more and more local bakeries popping up that bake strictly gluten-free. Some started at the Farmer's Market and have wiggled their way onto the shelves of our local natural food stores. Now there are whole sections of these stores that feature our local gluten-free products. It's amazing to see my community embracing the world of gluten-free living. It brings a smile to my face.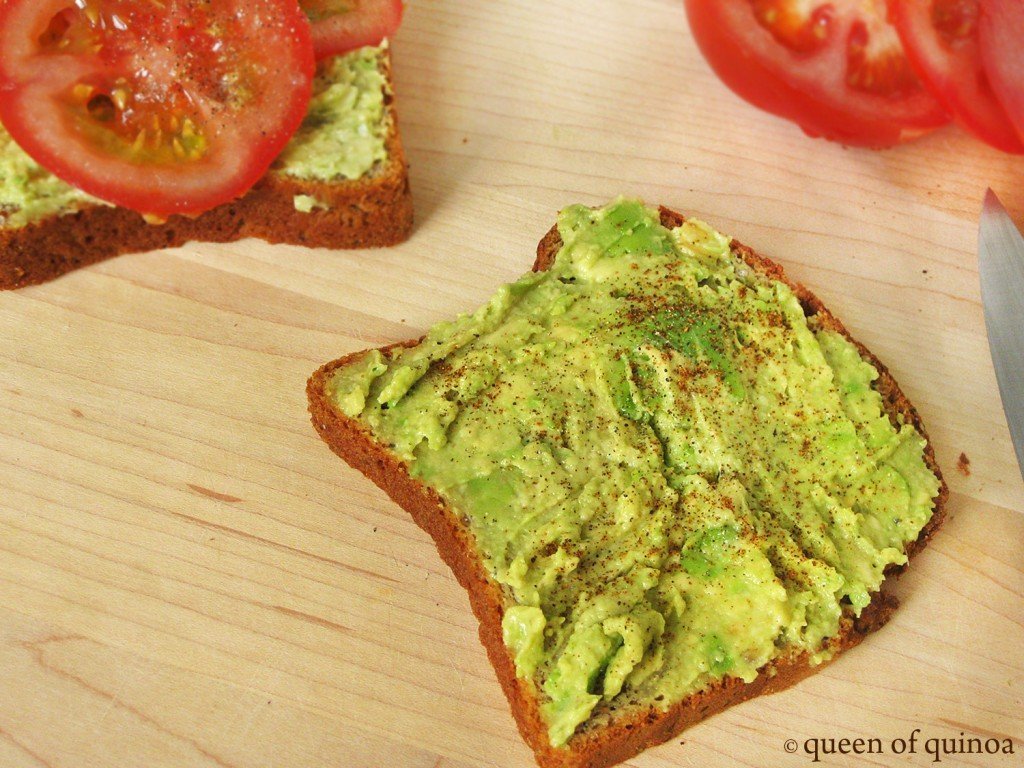 I've never found a gluten-free bread that I truly enjoyed and would, hands down, trade for any gluten filled bread. Udi's is good, but doesn't taste like the homemade bread that I love. It's too starchy for my liking and has a long list of ingredients that I don't recognize. Not my cup of tea. Rudi's unfortunately has dairy, so that's out for me. I needed something natural, whole-grain and delicious. Something that doesn't taste like a piece of gluten-free cardboard.
Then I found West Meadow Farm Bakery. The most amazing gluten-free bread I've ever tasted.
Perfect for sandwiches. Simply, I'm in heaven.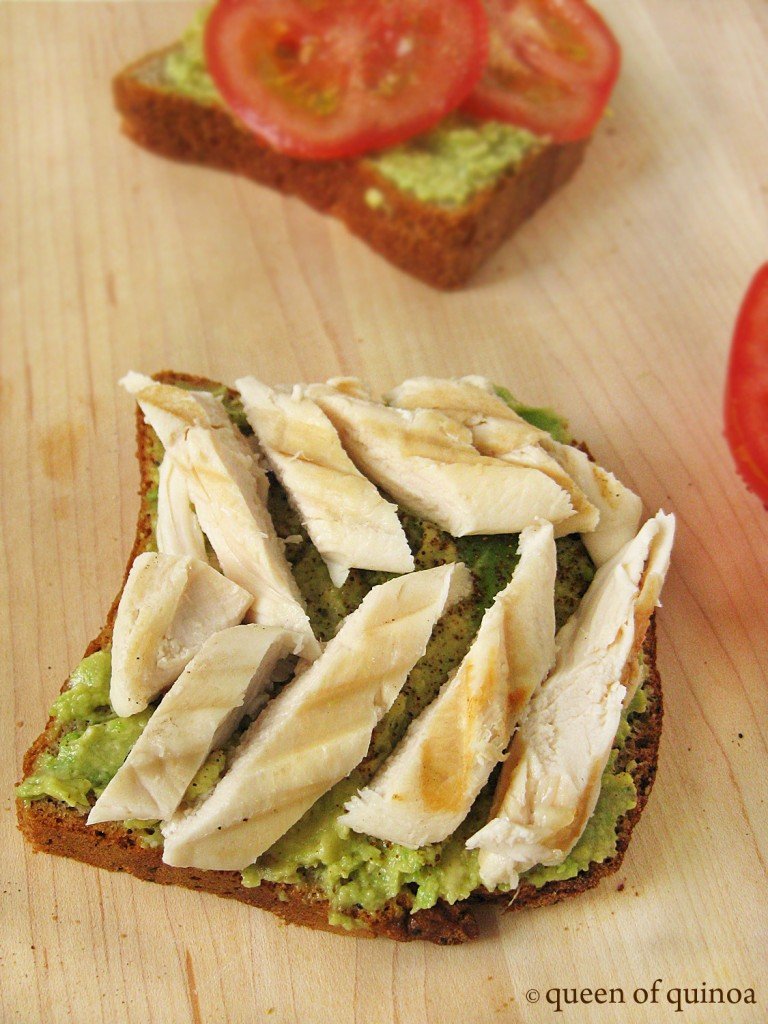 When building the perfect sandwich, I like to start with my base. Today that meant avocados. What could be better then a fresh avocado spread? It's a great alternative to that unhealthy mayo that so many of us have become accustomed to eating.
Next is to think about the veggies. I usually like to add dark leafy greens, but not today. It was all about fresh tomatoes with this recipe. They bring a brightness to this sandwich that is unparalleled.
Lastly it's the protein. Whether it's deli meat, seafood, eggs or grilled chicken, we all know it's important to incorporate lean proteins into each of our meals. My protein of choice for this sandwich? Grilled chicken. It ads the extra  pizzazz and helps make the sandwich more satisfying.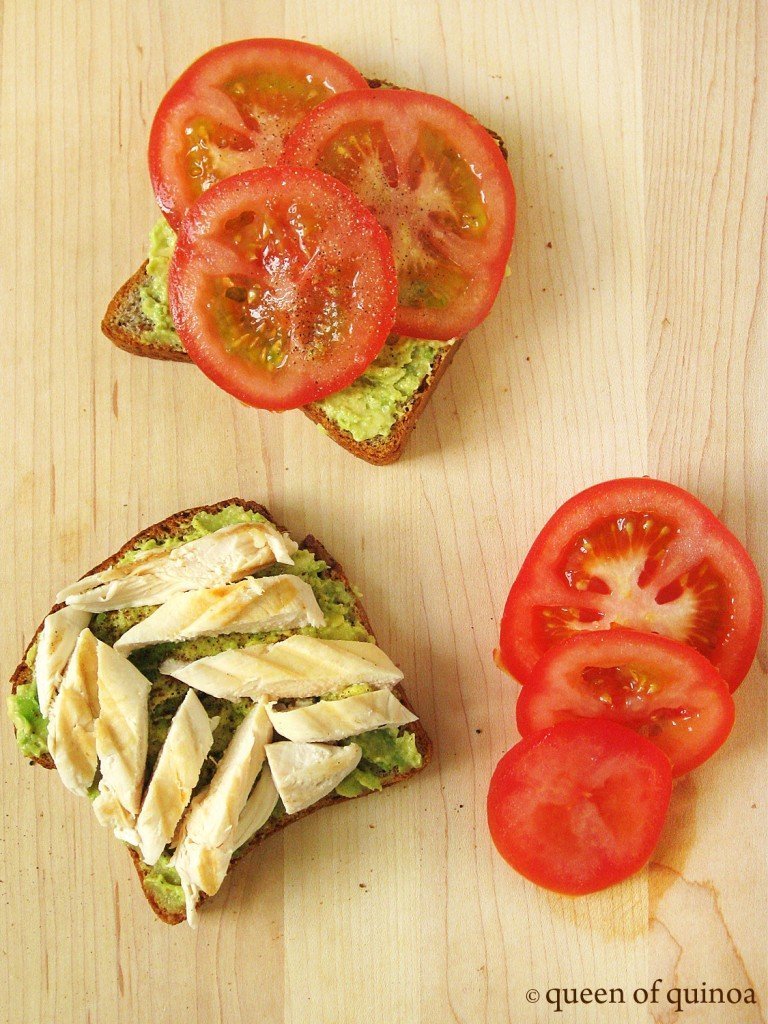 To me, this is the picture of a perfect sandwich. All my favorite ingredients tucked in between two slices of amazing gluten-free bread. Avocado, fresh tomatoes and grilled chicken. Light, healthy and deliciously gluten-free.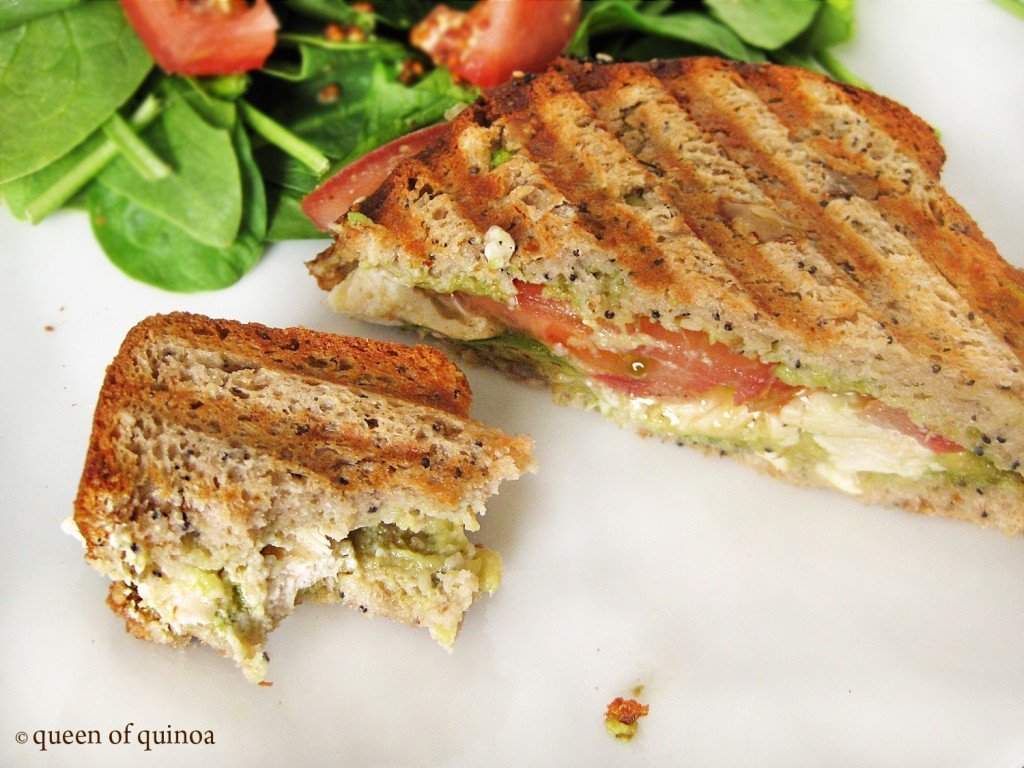 Since this was a dinner sandwich for me, I wanted something warm. Something melty, oozing with deliciousness. The grilled chicken was also screaming for a bit of a flavor boost, so I figured grilling the whole sandwich would do just the trick.
A panini. Simple, easy, perfect for dinner.
What's your favorite dinner sandwich?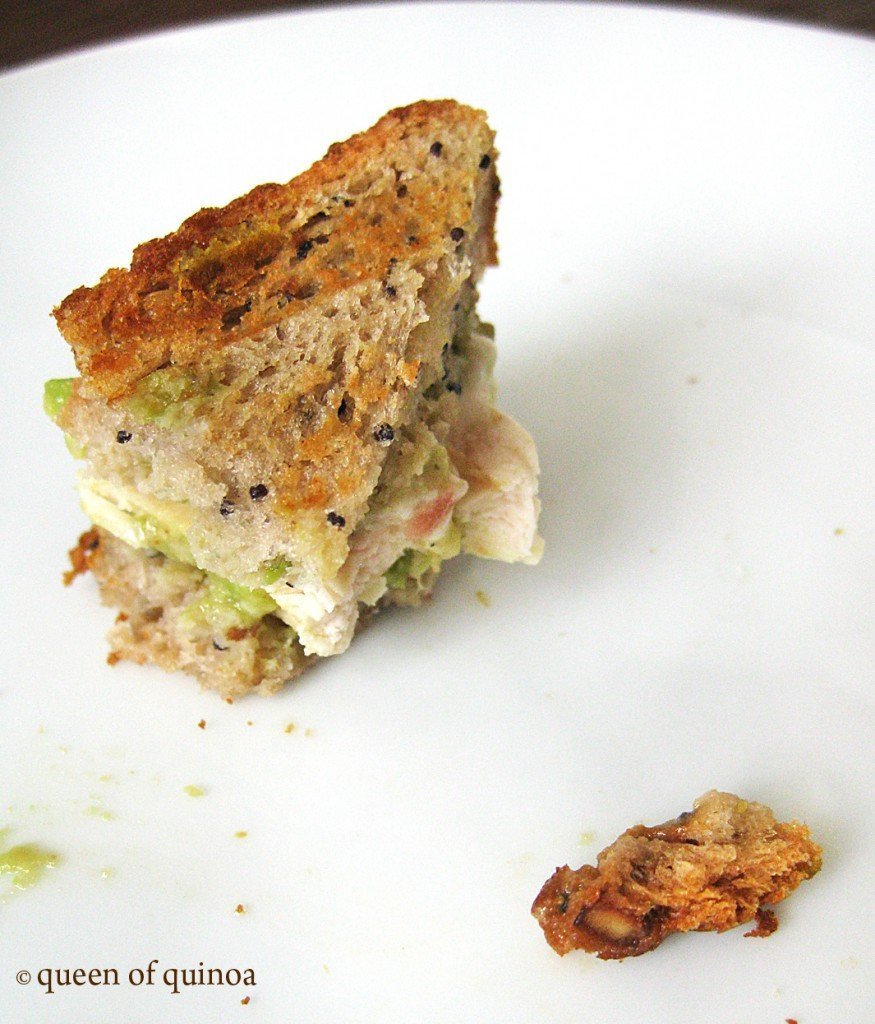 Grilled Chicken & Avocado Panini
This Grilled Chicken and Avocado Panini is a simple, easy dinner. Few things taste better than juicy chicken strips and creamy avocado on toasted bread after a long day!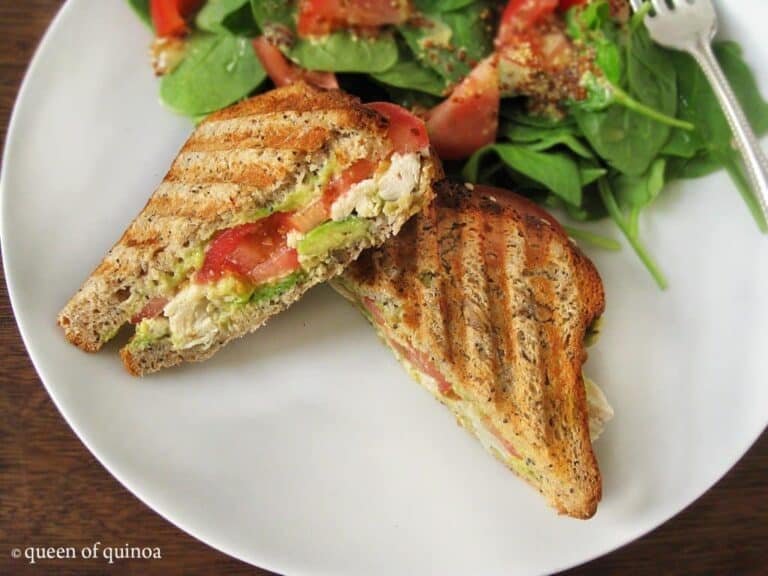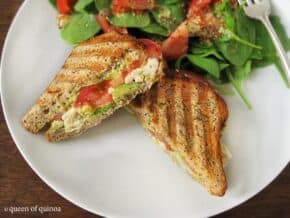 Ingredients
2

slices

gluten-free bread

1/2

avocado

mashed

3

slices

tomato

2

slices

vegan cheese

or cheese of choice

4

ounces

grilled chicken breast

Salt & pepper to taste
Instructions
Heat up a grill, griddle pan or panini press.

Spread the mashed avocado evenly on one side of each slice of bread. Add sliced tomato and sprinkle with salt and pepper. Place chicken on top of tomatoes and top with cheese.

Grill for 5 – 10 minutes, until the outside of your bread is nice and crispy.

Cut in half (personally, that's on the diagonal) and enjoy immediately!
Nutrition
Calories:
440
kcal
|
Carbohydrates:
23
g
|
Protein:
28
g
|
Fat:
26
g
|
Saturated Fat:
5
g
|
Cholesterol:
72
mg
|
Sodium:
833
mg
|
Potassium:
1098
mg
|
Fiber:
9
g
|
Sugar:
2
g
|
Vitamin A:
820
IU
|
Vitamin C:
22.5
mg
|
Calcium:
41
mg
|
Iron:
1.7
mg
Filed Under: