Healing Cauliflower Holiday Soup
This healing holiday soup is made with nutritious, whole-foods and is free from dairy and gluten. It's gentle on the system, but tastes absolutely amazing!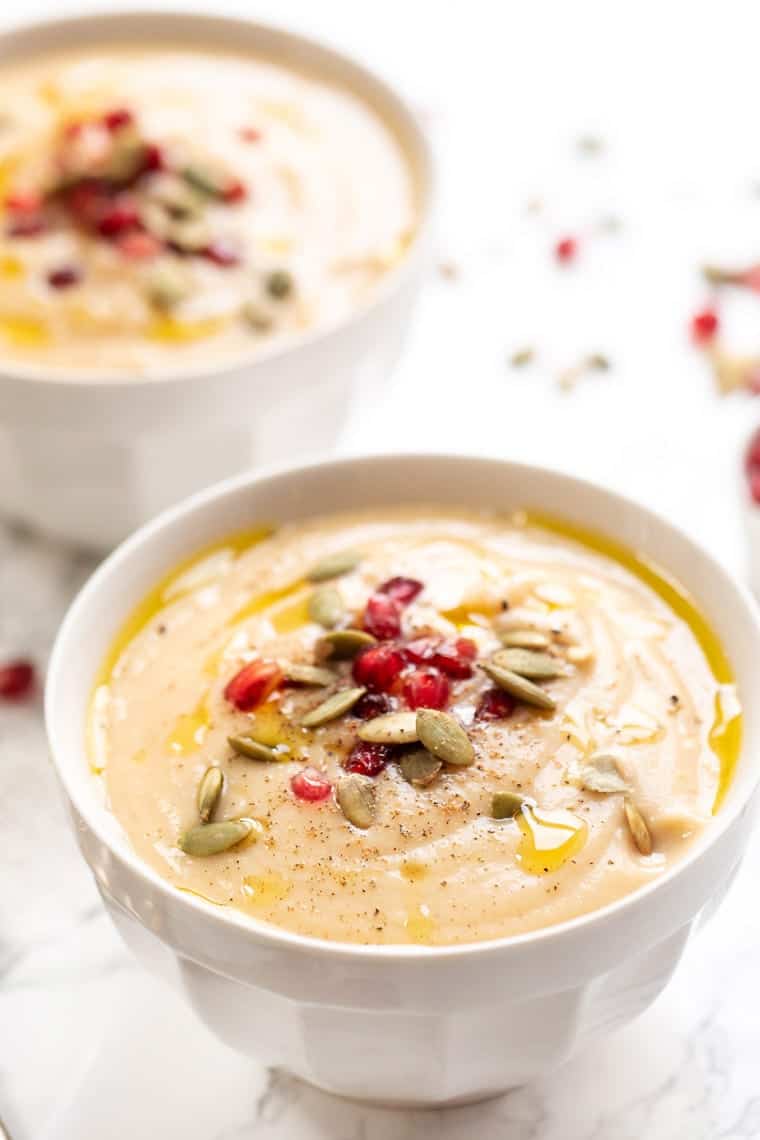 Soup is one of my favorite things to eat during the winter. Like many, I find them to be super comforting, but they're also surprisingly easy to make and make even better leftovers.
Most weeks, I make at least one batch of soup – usually on a Sunday. And it ends up being my lunch for the whole week, which in my mind is the ultimate midday meal.
They're light, they're cozy and they're actually quite simple to make!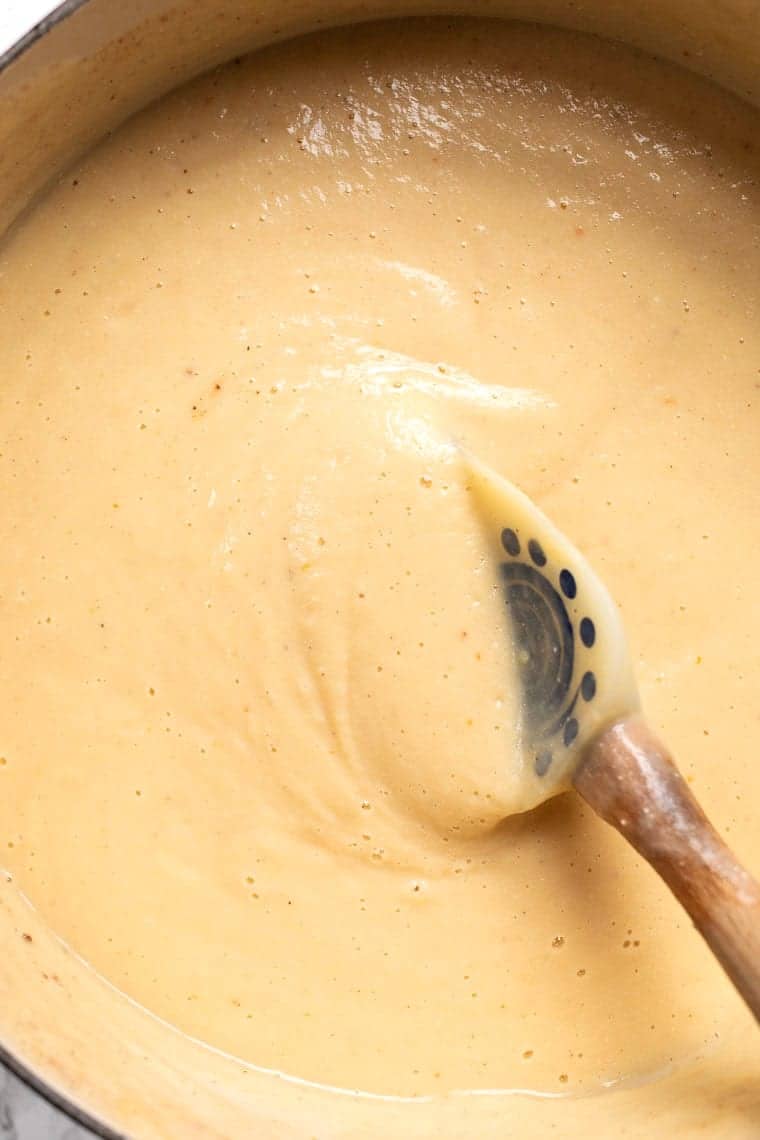 A Creamy Soup for the Holidays
When it comes to the holidays, we tend to think of food that is indulgent. Cookies galore, big, heavy meals and typically a fair amount of alcohol.
So why not change things up? Why not try to infuse something that is still super comforting, but also healthy at the same time? I think it's totally possible (hello, holiday soup!), but also necessary.
I'm a firm believer that we shouldn't just toss December to the wind and not stay focused on our health goals. We can balance the healthy with the indulgent. And still, enjoy every single moment!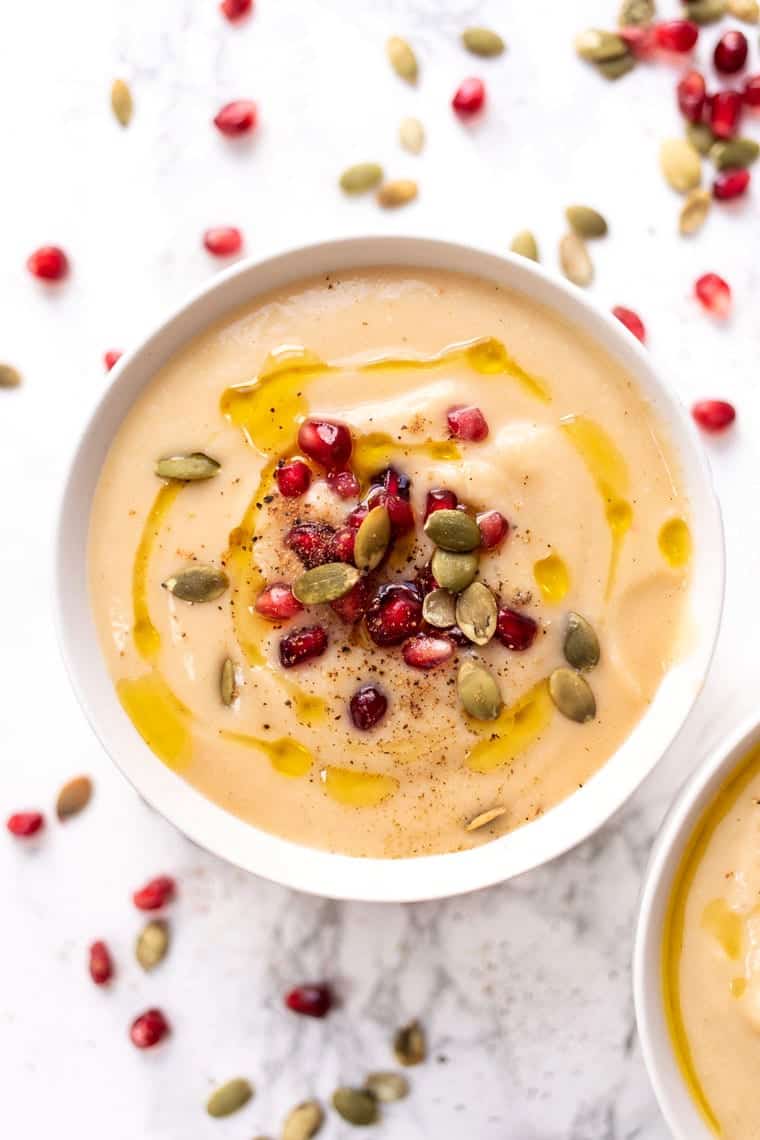 The Secret Ingredient in our Holiday Soup
Being Italian, we tend to make more traditional Italian soups during the holidays – Italian Wedding Soup, calamari in a tomato broth, etc., but I have to admit, I think this one takes the cake. Those soups are heavy, and fill you up before the meal is even served. Then you end up feeling overly stuffed, uncomfortable and all you want to do is lie down and embrace your food coma for all its worth. This soup on the other hand? It's nothing of the sort.
It's light and refreshing, but still warm and comforting all the same time. It has a velvety texture (thanks to the addition of raw cashews!), is sprinkled with warm holiday spices and can be garnished to fit perfectly with your holiday decorations.
Our secret ingredient? Yep, cashews. We've added cashews to our meals before and they're always my secret weapon to make things ultra-creamy and still keep them vegan. Just make sure you're using raw cashews!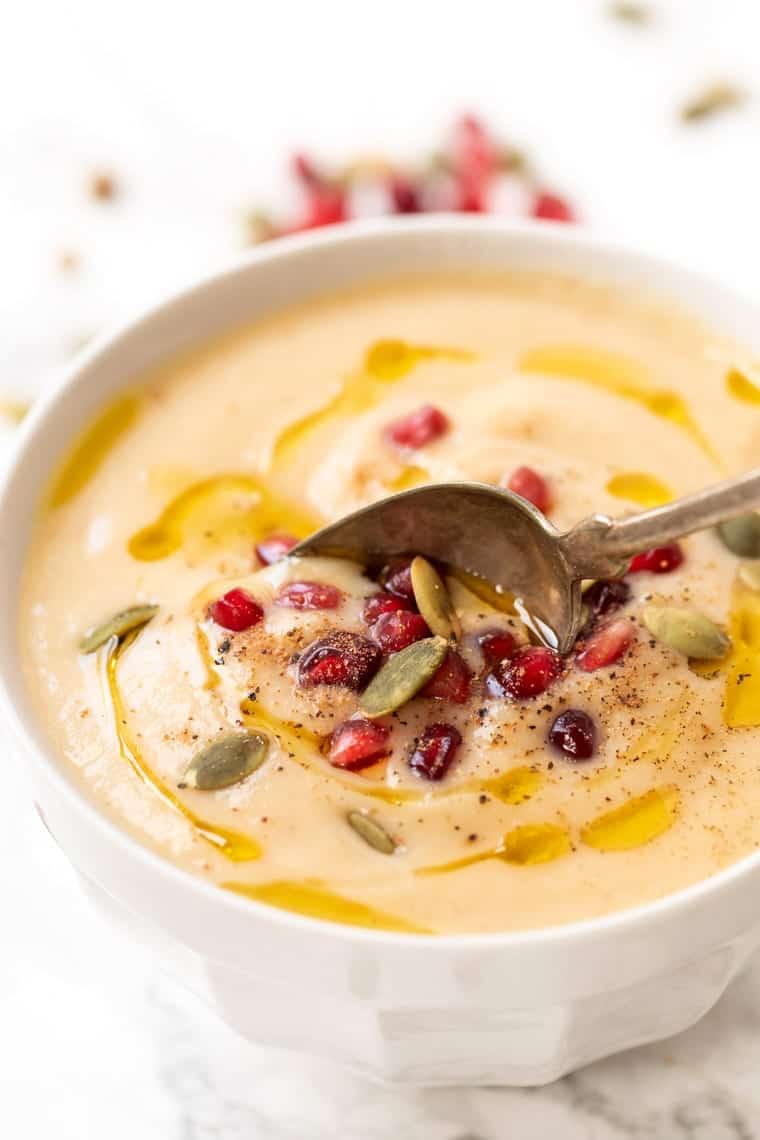 All About the Healing Holiday Soup
Now you might be wonder…is this soup actually "healing"? My answer is YES!
This soup will nourish your body and will be easy on your digestive system, giving your body just a little bit of a break from all the other indulgent food.
The base is cauliflower which is a cruciferous vegetable and contains a boatload of vitamins, as well as detoxifying properties. Plus, it's an anti-inflammatory food which is great for those of us who have sensitive systems. Basically, cauliflower is a superstar in the veggie world when it comes to its health benefits.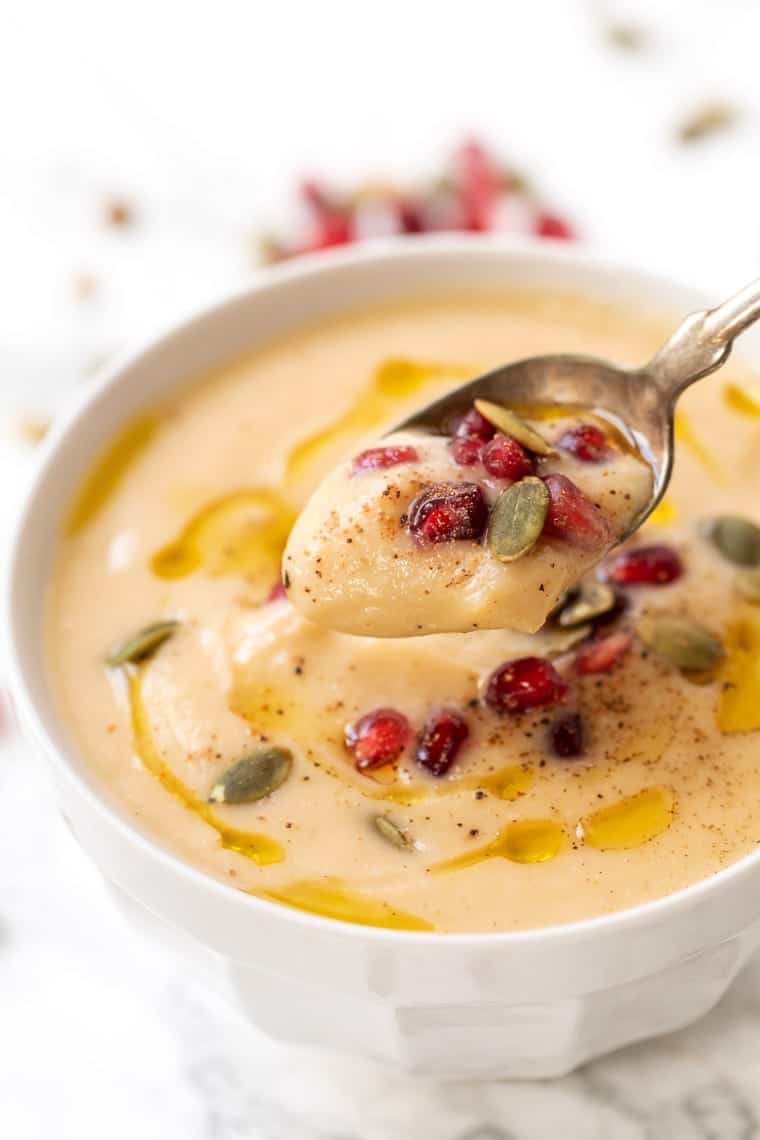 But aside from the cauliflower, this soup also uses leeks, which are also anti-inflammatory and support your liver and raw cashews which support cardiovascular health, provide your body with healthy fats and even have some antioxidants.
And it's creamy.
So, so creamy.
But also vegan and gluten-free.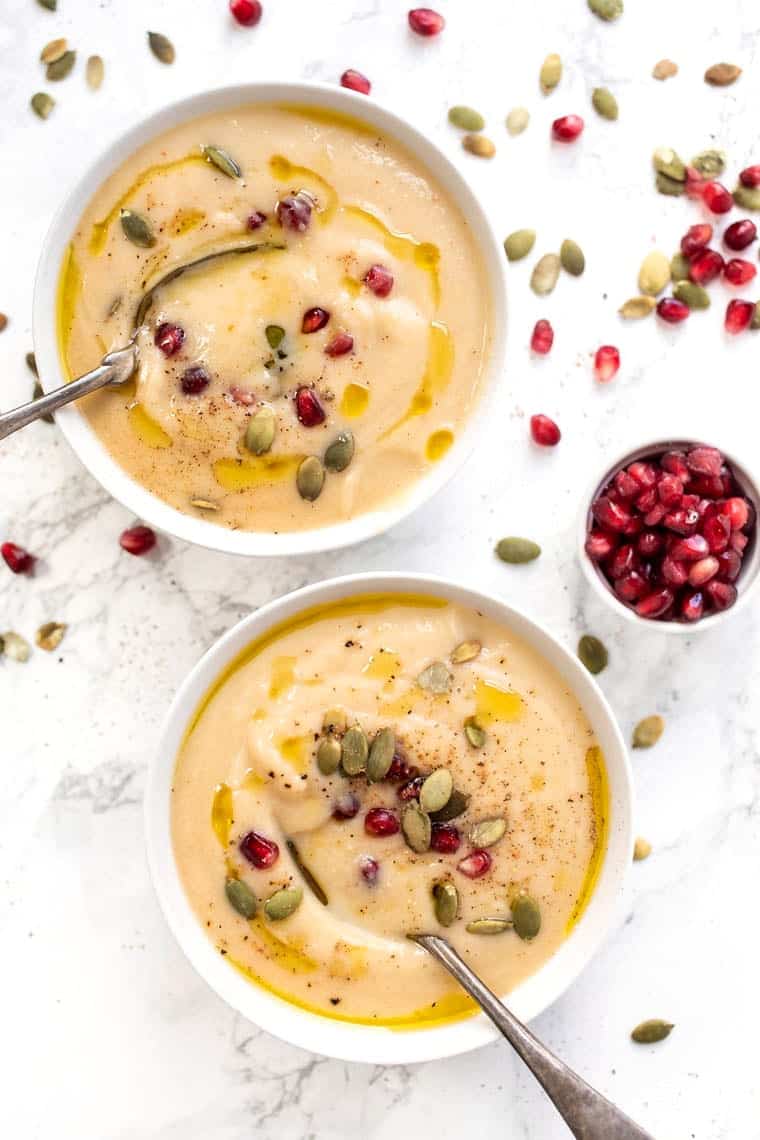 Giving Our Holiday Soup some Holiday Vibes
While this soup on its own can definitely be served for the holidays, it's kind of the garnishes that take it to the next level.
I love adding crunchy things on top of my creamy soup. You know I'm a creamy soup gal (hey there, Roasted Garlic Cauliflower Chowder), and the crunch gives your mouth a little bit of excitement in a bowl of smoothness. That being said, I wanted to give this soup a festive twist:
Pomegrate seeds and pumpkin seeds make the perfect addition. Pomegranate add a touch of sweetness, pumpkin seeds for a boost of protein and vitamins.
And don't they just look so cute!?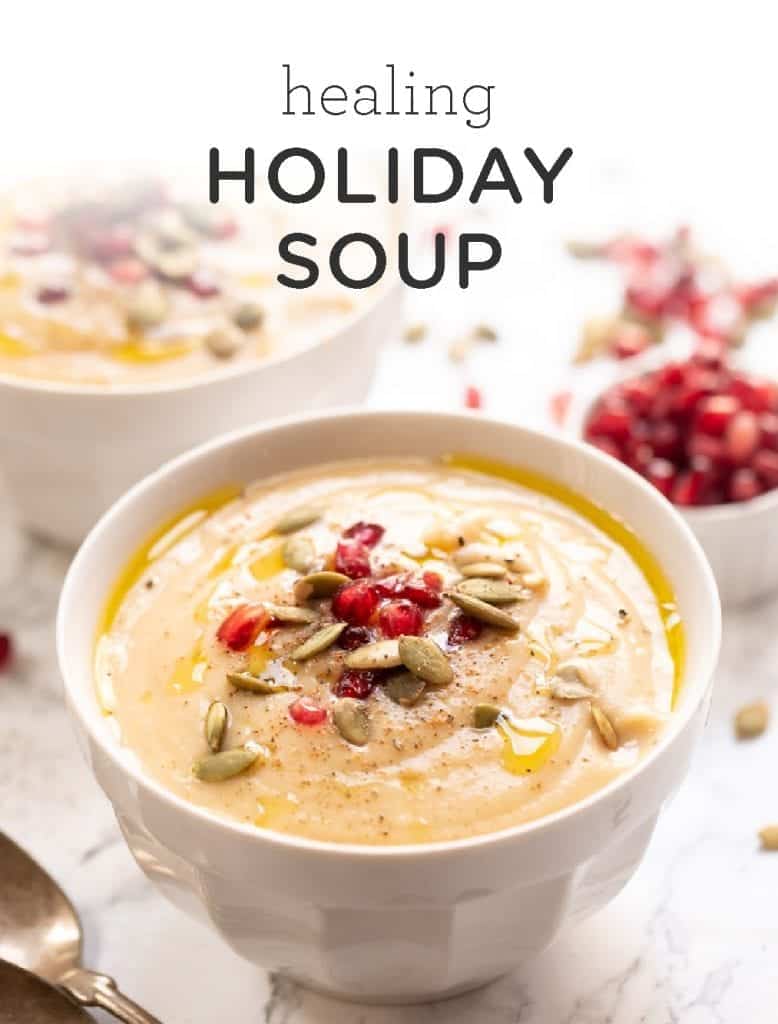 More Creamy Vegan Soup Recipes:
Cauliflower Soup
This cauliflower soup is hearty, healthy, vegan, and gluten-free. Packed with flavors like cauliflower, nutmeg, cashews, and chili flakes, it's perfect for a holiday meal.
Servings 6 Servings
Calories 202kcal
Instructions
Heat oil in a large pot or dutch oven. When hot, add the leeks and garlic, and saute until softened, about 1 - 2 minutes. Add the cauliflower and spices and saute again for another 5 minutes or so.

Add the beans, broth, and water, and bring to a boil. Reduce heat, cover and let soup simmer on the stove for at least 30 minutes, longer if you have the time.

When done, transfer half the soup to a high powered blender. Add the cashews and puree until smooth. If too thick, add a little bit of water until desired consistency has been reached. Repeat with the other half of soup.

Transfer all soup back to the pot. Taste and season with additional salt and pepper. Sprinkle in more nutmeg/pepper flakes if desired. If using nutritional yeast, stir in here as well.

Serve immediately, garnish with your desired toppings and enjoy the healing vibes this soup will bring!
Nutrition
Calories: 202kcal | Carbohydrates: 30g | Protein: 10g | Fat: 5g | Sodium: 1062mg | Potassium: 809mg | Fiber: 7g | Sugar: 5g | Vitamin A: 855IU | Vitamin C: 55.6mg | Calcium: 100mg | Iron: 3.8mg
share what you make
Tag #simplyquinoa on Instagram with your creations! We love sharing what you make with the community. We can't wait to see!

follow on instagram