Check out this list of delicious and healthy back to school snacks that are easy to make, nutritious and super tasty! With sweet and savory options, there's something for everyone!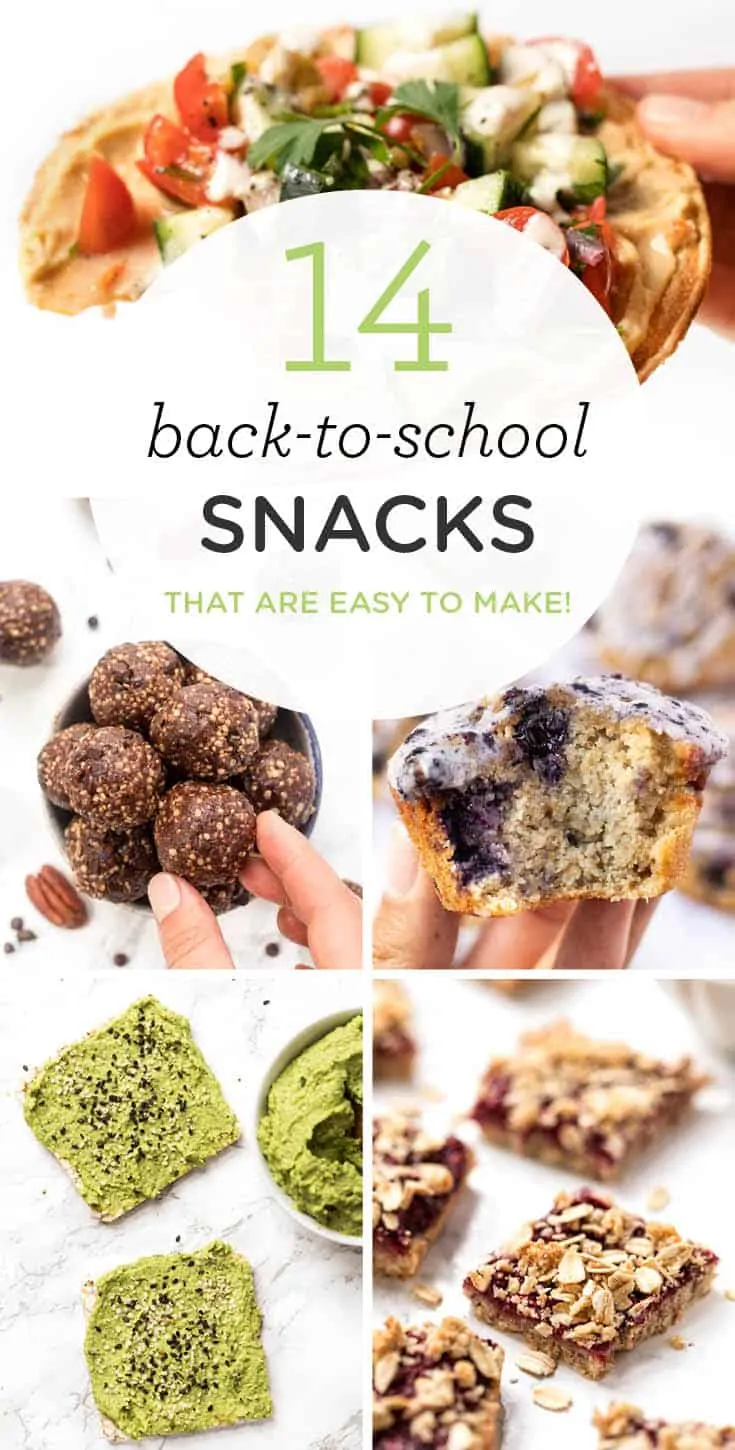 It's officially back-to-school season and we're all in need of some healthy recipes, right?
This time of year can be crazy. Vacation is over, schedules are all over the place and getting healthy food on the table (an in the lunch boxes) can be tough. So today we're talking about 14 healthy back to school snacks that are nutritious and delicious!
This list has sweet options for those with a sweet tooth and savory for those who love their salty snacks. The common denominator is that each of these snacks is easy to make, portable and perfect for adults and kids alike!
Even the pickiest of eaters will find something on this list!
---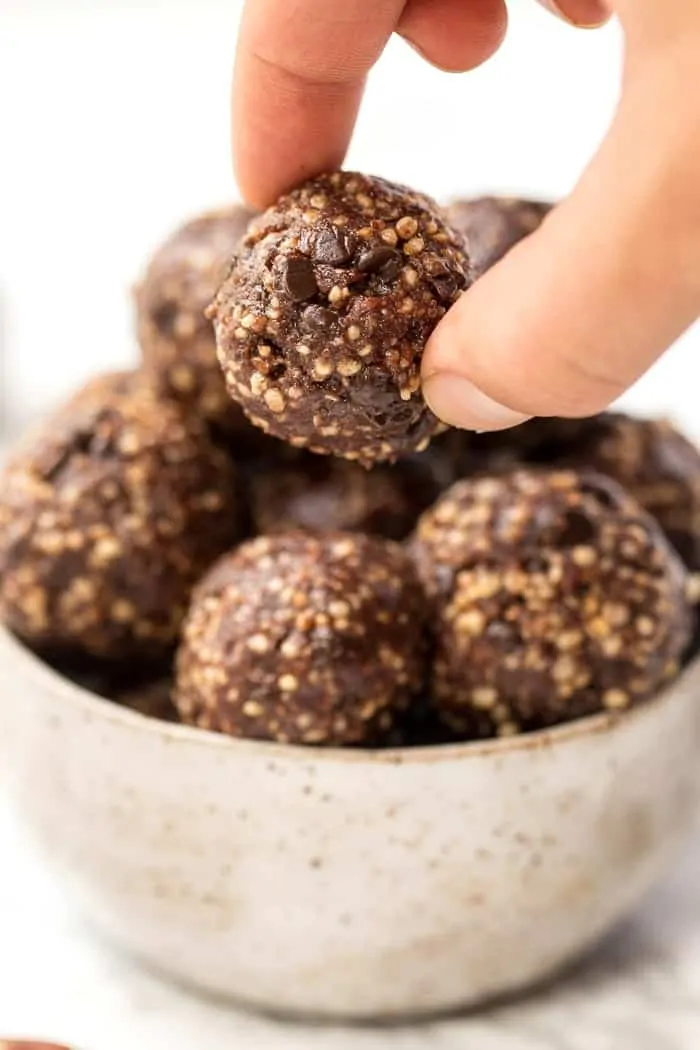 Hands down one of my fave energy ball recipe ever! These taste like candy, are totally portable and are kid and adult approved. They're the perfect addition to lunch boxes and it's always good to have a stash around for dessert or the after-school munchies!
---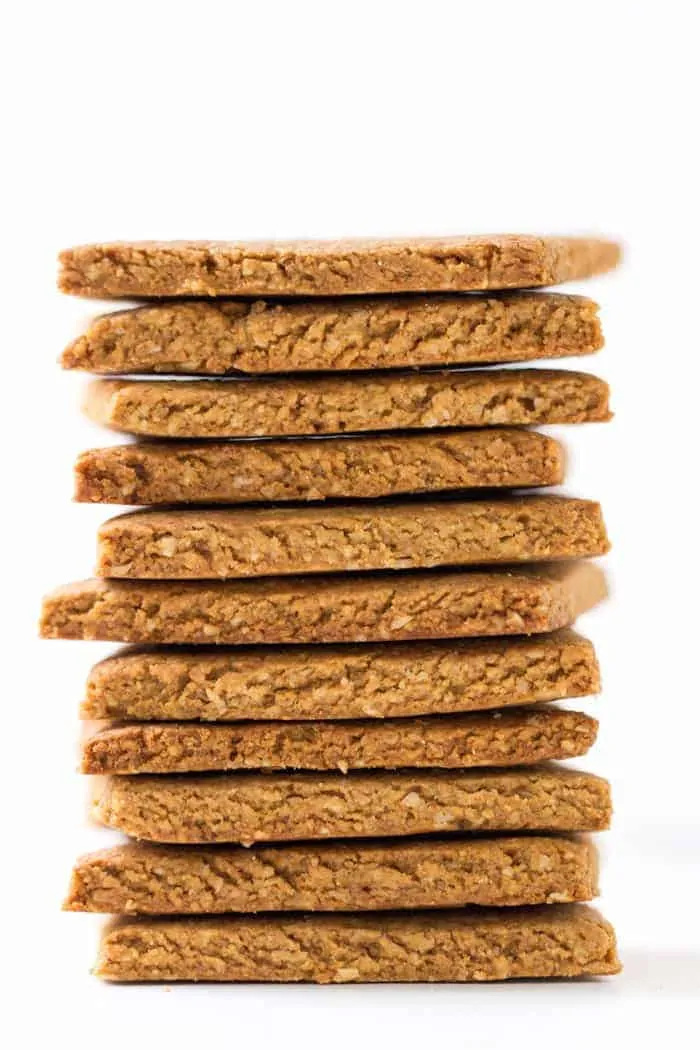 Who doesn't love a good graham cracker!? These are actually super simple to make at home and the addition of honey makes them kind of like a little treat. I like to serve these up with some nut butter and turn them into a sandwich. Even better if you have your own homemade nutella – the chocolate combo is amazing!
---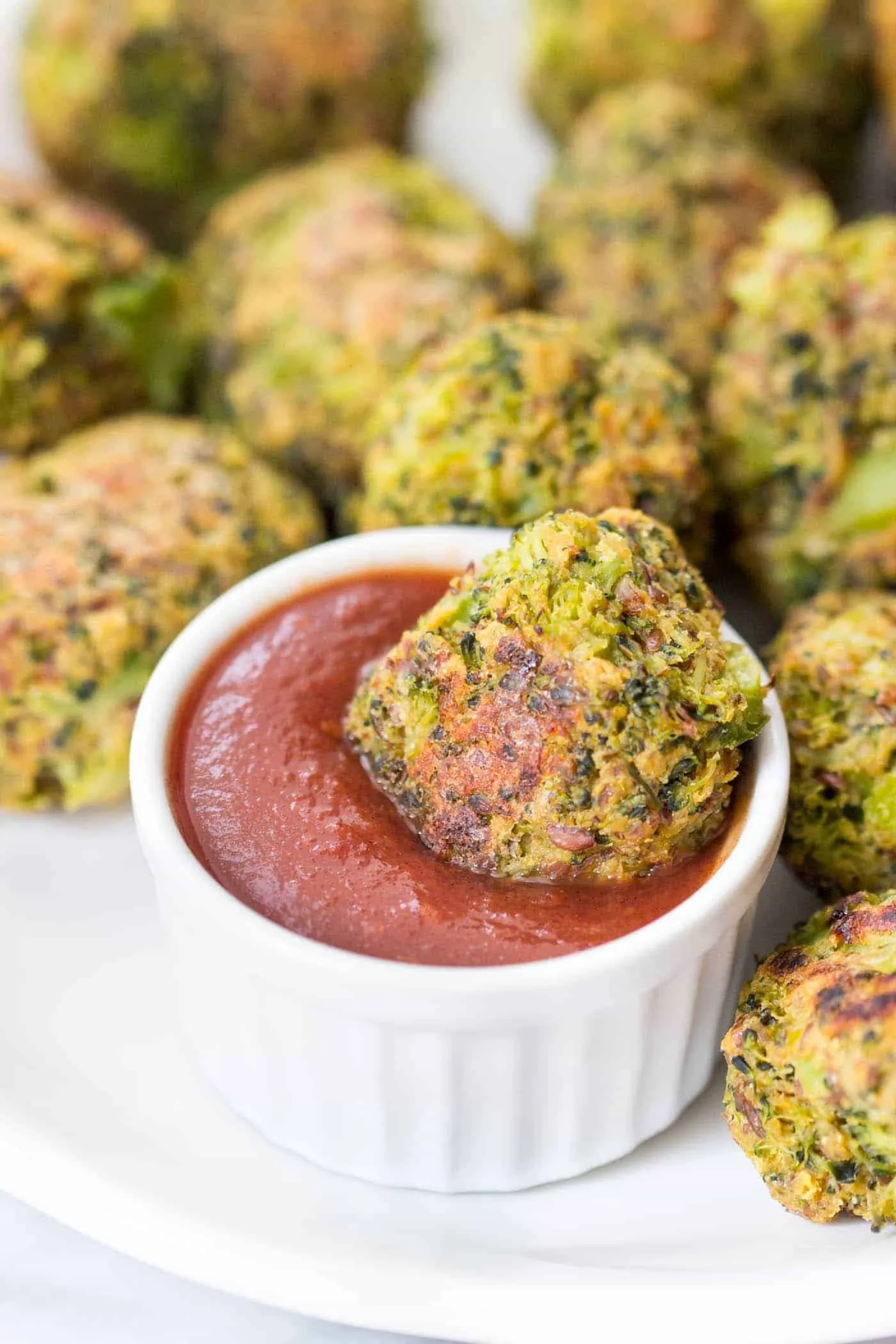 I used to love tater tots growing up, but nowadays? I'll pass and opt for one of these healthy broccoli tots instead. Whether you're an adult and want a something tasty way to get in some veggies, or you have kiddos who refuse to eat their broccoli, let these tots save your day. They're delicious with some ketchup, but also tasty as is!
---
Coconut Yogurt Parfait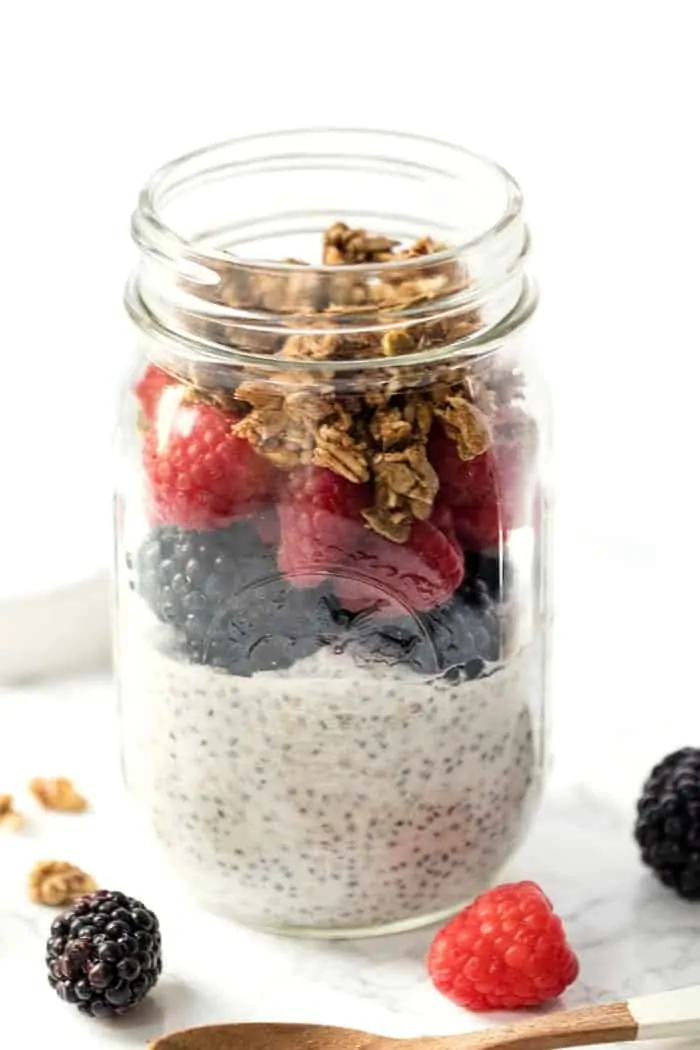 Yogurt doesn't have to just be a breakfast food, it's also an amazing snack. With the probiotics and healthy fats, you're going to be nourishing your gut AND satisfying your system at the same time! Here's how to make it:
1/4 cup non-dairy yogurt
1/4 cup (+ 1 – 2 tablespoons) almond milk
2 Tbsp chia seeds
2 Tbsp hemp seeds
1/2 cup fruit of choice
1/4 cup granola
Mix together yogurt and milk until smooth. Stir in chia and hemp seeds and let sit 5 minutes. Once thickened transfer to a jar and top with fruit and granola.
---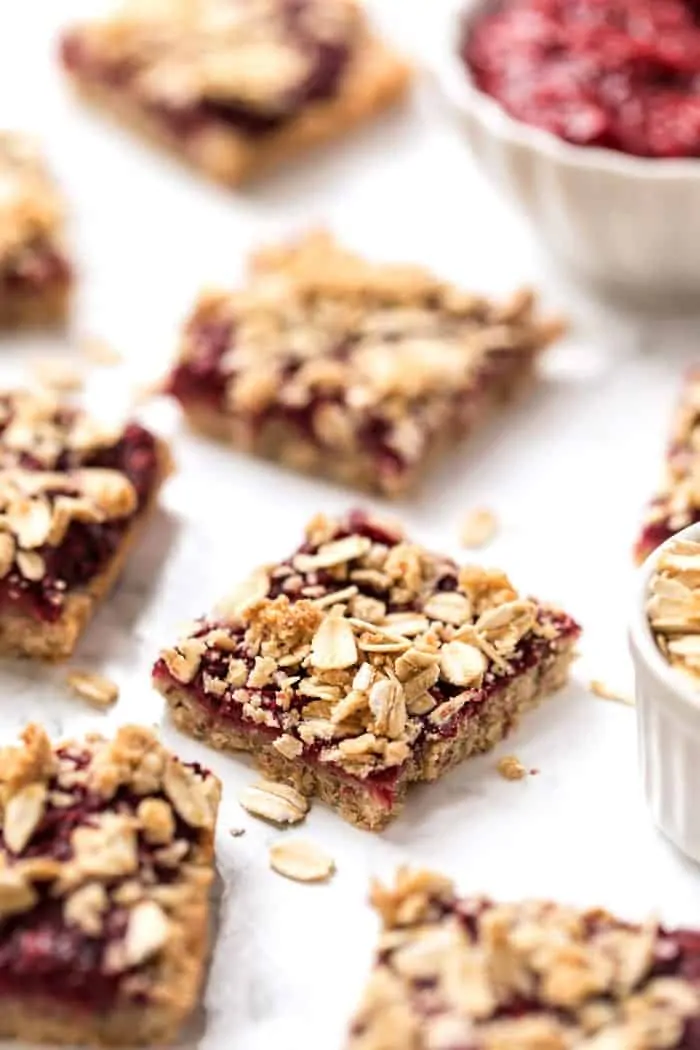 These raspberry bars are the ultimate fruit bar in my opinion! They're a cinch to whip up, they're made without any sugar-loaded jam and they taste SO good. They're not too sweet, have a crunchy base and are topped with an amazing crumble. I love having these in the afternoon with a cup of tea – it's the perfect pick me up!
---

Again, if you haven't tried making crackers at home,  you're missing out! It's so easy, it's way healthier (i.e. much less sodium) and you can make them the exact size and flavor you want. I love using these quinoa flour based crackers because they're adding a bit of protein, they're sturdy enough for dipping and they're totally crispy. Throw some in a little baggie and stash them in your drawer/bag/lunch box!
---
Peanut Butter Apple "Toasts"

Such a simple concept that turns out to be SO good. I love cut up apple and peanut butter, but this takes it to a whole new level. Basically, just slice your apple into discs, top it with a layer of peanut butter, sprinkle on some granola and call it a day. Makes you feel like you're eating a piece of toast/pizza!
---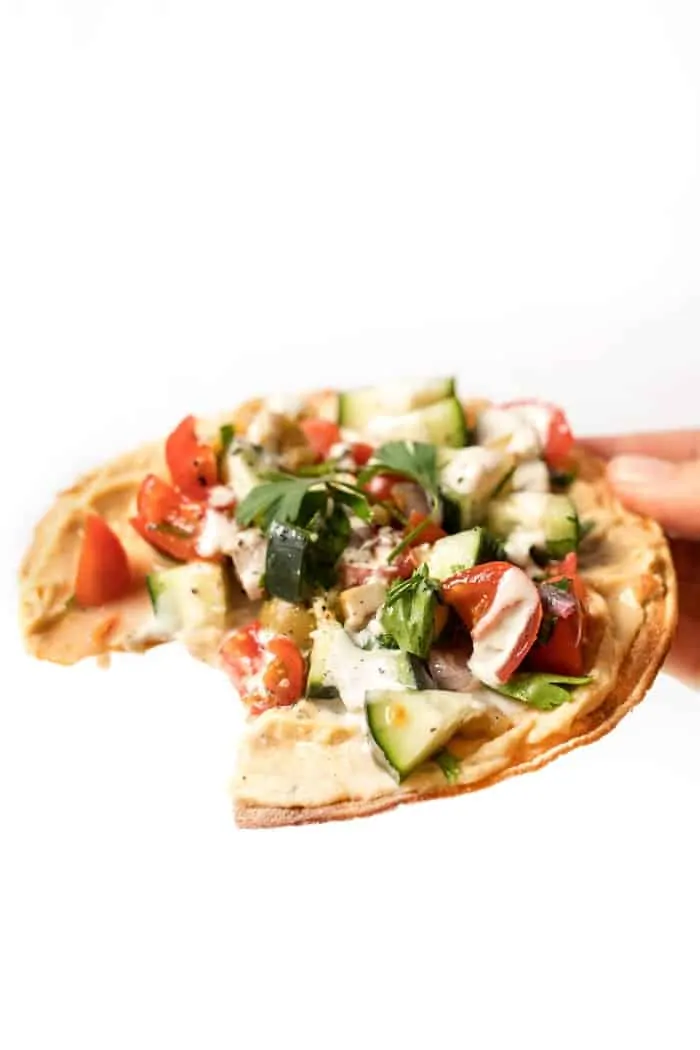 Crispy tortilla + hummus + veggies? Simple, yet oh-so-satisfying!
These are my spin Mediterranean spin on a tostada and they're still one of my favorite snacks. They aren't super filling which is awesome, can be made in about 10 minutes, and totally hit the spot when you're looking for something light and savory!
---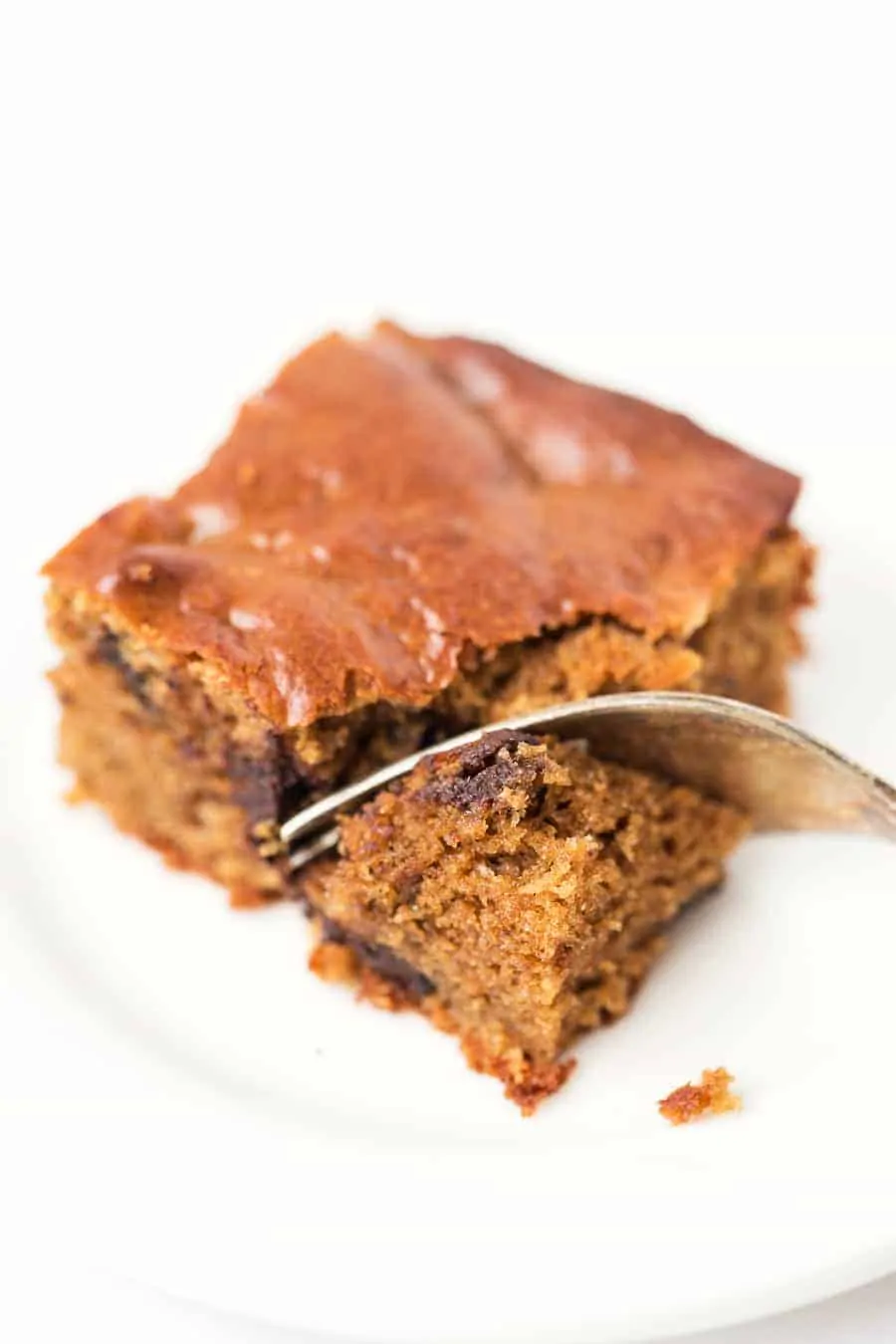 As if we needed another reason to combine peanut butter and chocolate! These fluffy little bars are heaven are one of my absolute favorite healthy sweet treats. They're packed with goodies, have loads of peanut butter flavor and are studded with chocolate chips for an extra touch of sweetness. These also pack well and can easily be made peanut-free by using another nut/seed butter!
---
DIY Trail Mix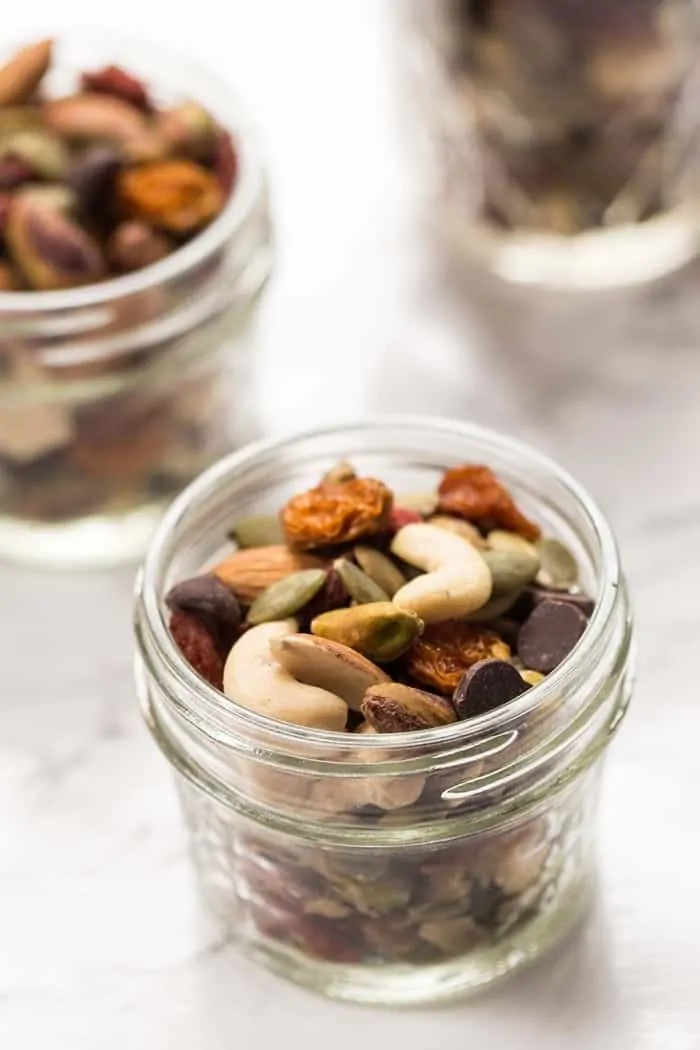 Snacking on nuts and seeds are one of the healthiest options. Not only are they filling because they're full of protein and healthy fat, but they're also quick, perfect for on-the-go and pretty widely available. If you are a fan of nuts, just make sure that you're buying ones that are not roasted and salted, and watch your portions. Nuts are very calorically dense and addicting, so try to keep it around 1/4 cup per serving. Here's my favorite DIY trail mix recipe:
1 cup raw cashews
1 cup raw almonds
1 cup pumpkin seeds
1 cup pistachios
1/2 cup golden berries
1/2 cup goji berries
1/4 cup chocolate chips
Stir everything together, portion out into 1/2 cup servings and enjoy!
---
Spinach Hummus Dip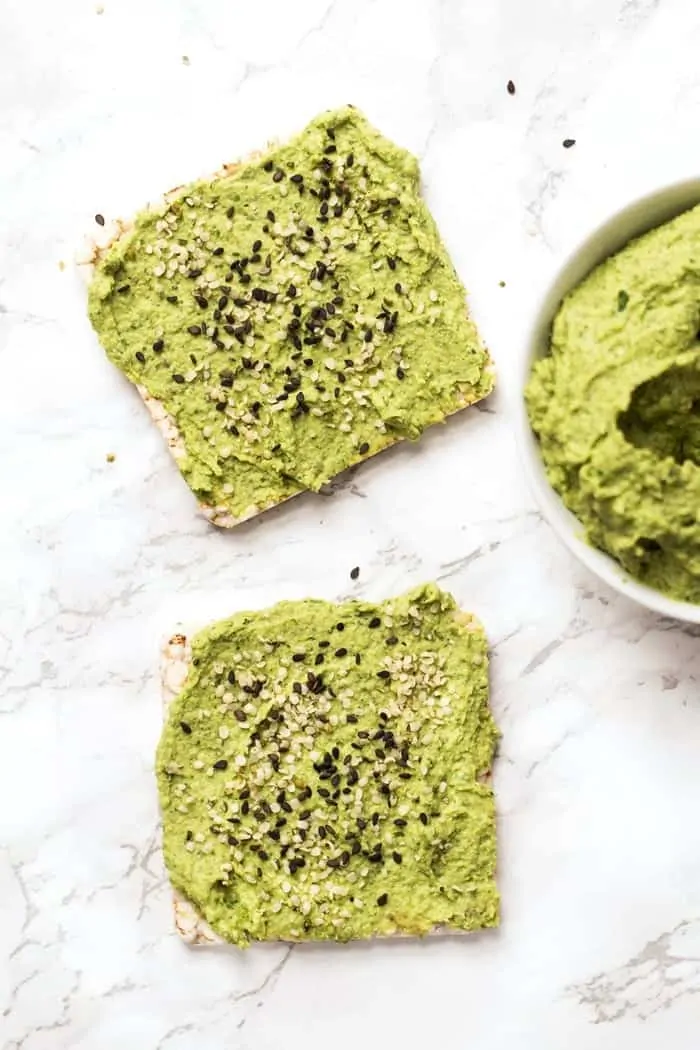 Whipping up your own hummus is an easy way to save money and it's crazy easy to make. You just whiz everything up in your food processor or blender, and you're good to go. My favorite lately? This spinach hummus because I can easily sneak in some greens without even noticing. Spread it on a rice cake or piece of toast with some hemp seeds and pepper flakes and you've got yourself a delightful little snack!
Here's how to make it:
1 can chickpeas, drained & rinsed
2 cups spinach
Juice of 1 lemon
1/4 cup tahini
1 large garlic clove
Sea salt to taste
rice cakes/toast/crackers for serving
Process all the ingredients together in a food processor until smooth and creamy. Spread on rice cake thins and top with hemp seeds and sesame seeds. Enjoy!
---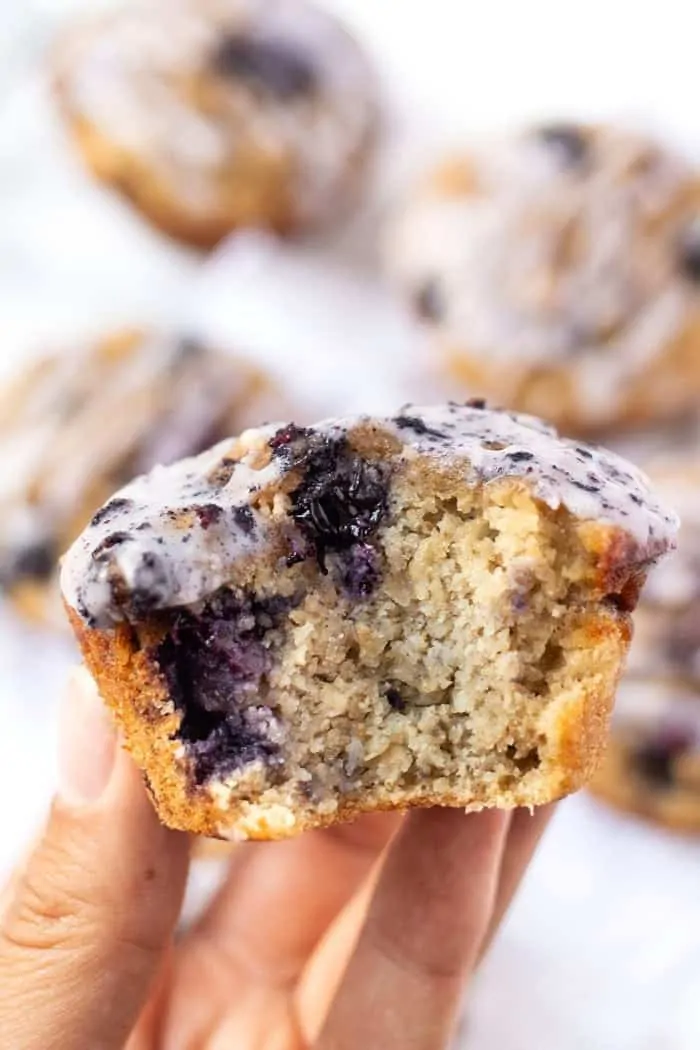 Muffins are such a great snack, aren't they!? You can bring them with you on the go, you can doctor them up with some nut butter and they satisfying the sweet tooth without being too much. My healthy blueberry muffins are my latest fave because they're summery, can be made in the blender and are naturally sweetened with banana and maple syrup!
---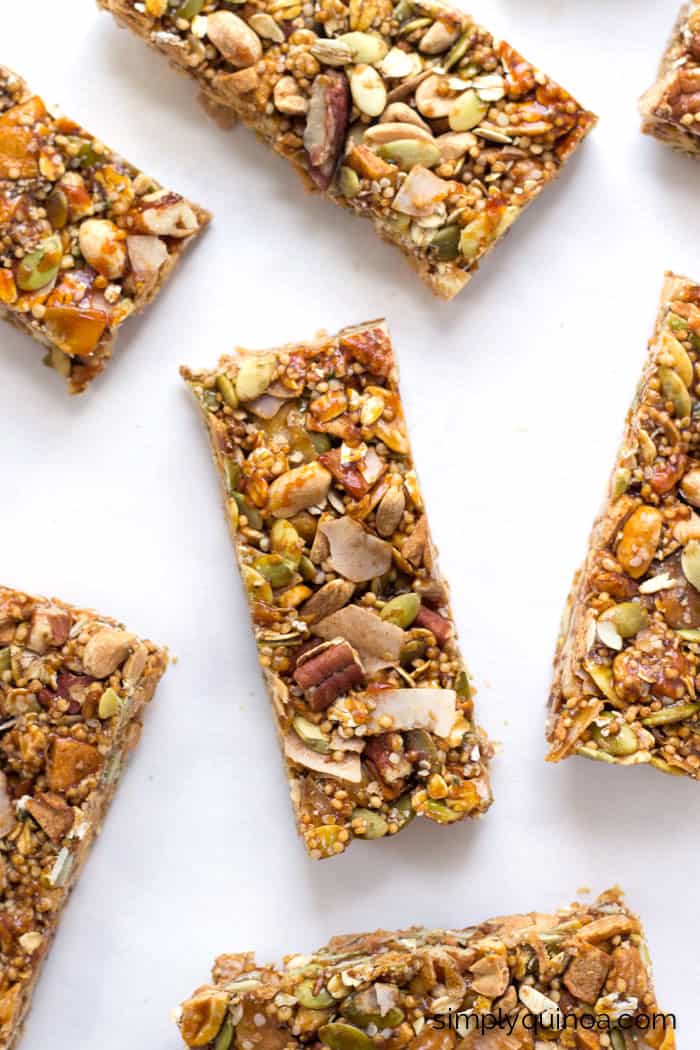 I love a good granola bar and these are my spin on a Kind bar. They're crispy, they're nutty, they're fruity, and they're super tasty! Granola bars are an amazing thing to have on hand because they keep well, pack well and can be taken pretty much anywhere. This recipe is also very customizable, so as long as you're using the same proportions, you can totally change up the nut mixture.
---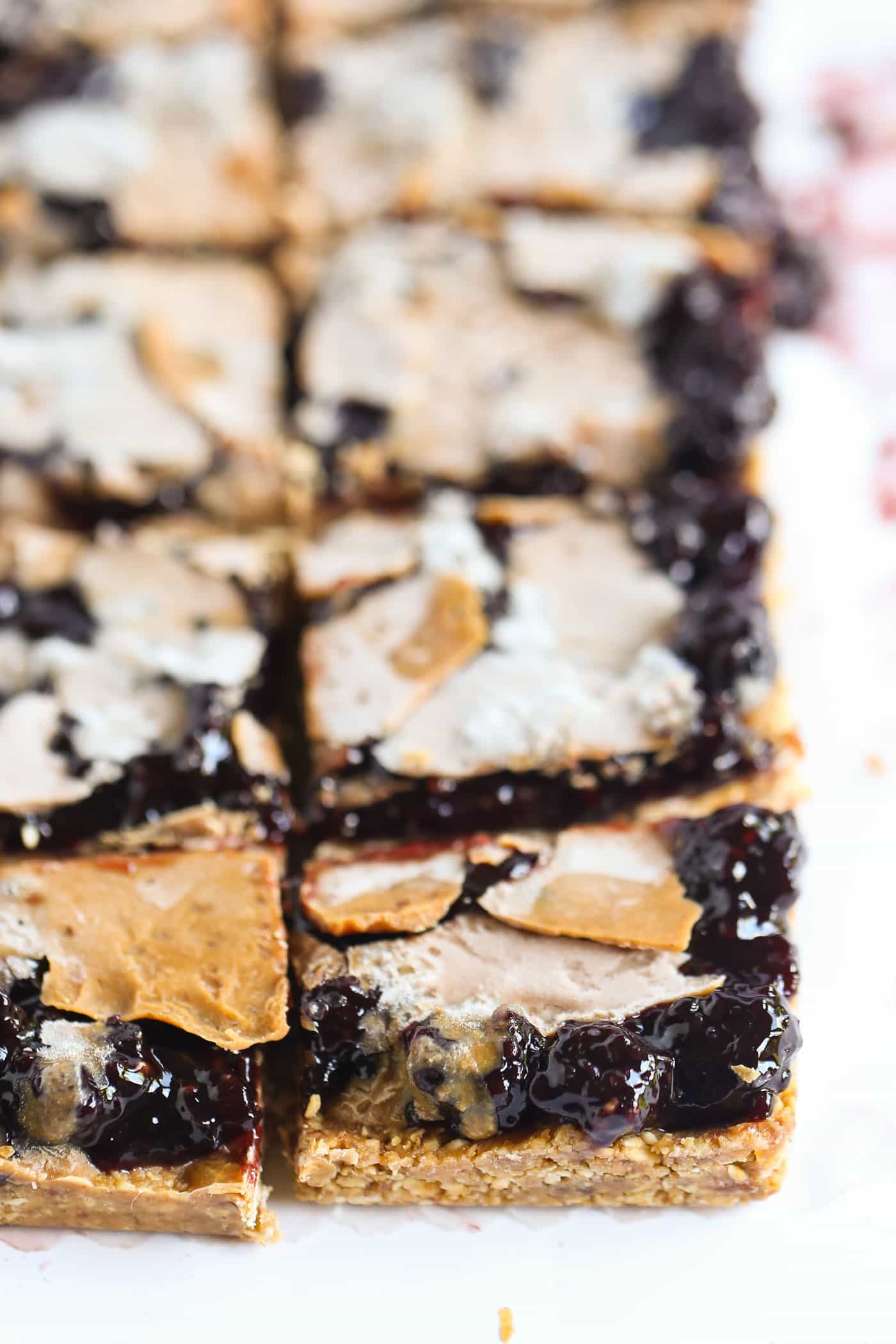 As you can see, there's a lot of peanut-inspired recipes on my list ????I'm obsessed with this flavor combo and these bars will transport you back to childhood! They've got an amazing crunchy peanut butter base, then a layer of sweet jelly and topped with a crunchy peanut butter shell/icing. They're delicious and definitely kid-friendly too!
---
What's your go-to *healthy* snack for work or school?
Definitely let us know below because we could all use more healthy snacks in your repertoire!
And I'll leave you with just one final tip…
When it comes to having snacks at home, the more homemade things the better. Even if the boxed stuff seems healthy, you'll always feel better making it yourself. All of these recipes are fairly simple, keep well, are portable and are a perfect thing to keep on hand so you can make sure you're always munching on nutritious and delicious eats!
---