Looking for something healthy to make this Halloween? Whip up one of these delicious, fun and spooktacular healthy Halloween treats and snacks!
When I was little, trick or treating was one of my favorite things. I wasn't into the costumes, but the candy? Bring it on!
Like every kid, we'd hoard as much as we could, overindulge, get stomach aches. You know the drill. It wasn't super good for us, but boy was it fun!
Nowadays, you won't find me eating a ton of candy, but that doesn't mean I don't still celebrate! I still enjoy Halloween just as much as when I was a kid, but now it gives me an excuse to make fun, creative (and yes, healthy) treats. Today I'm going to share three of my must-try treats, as well as give you a few other recipes for inspiration!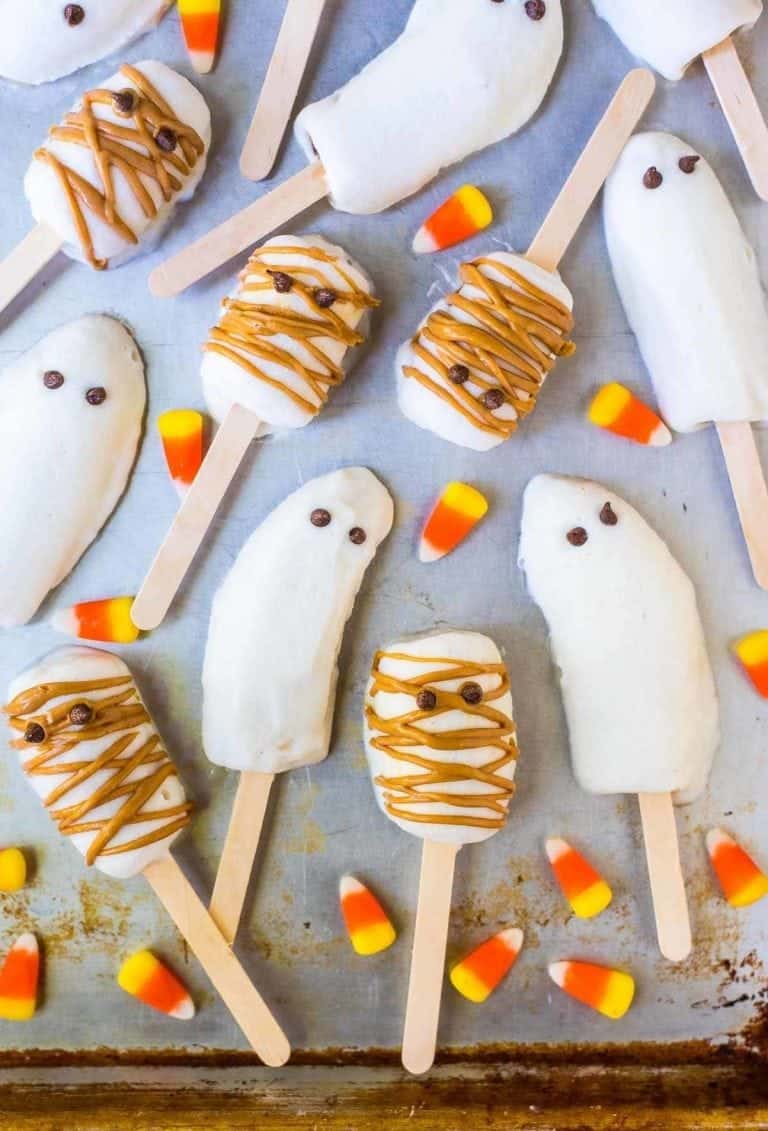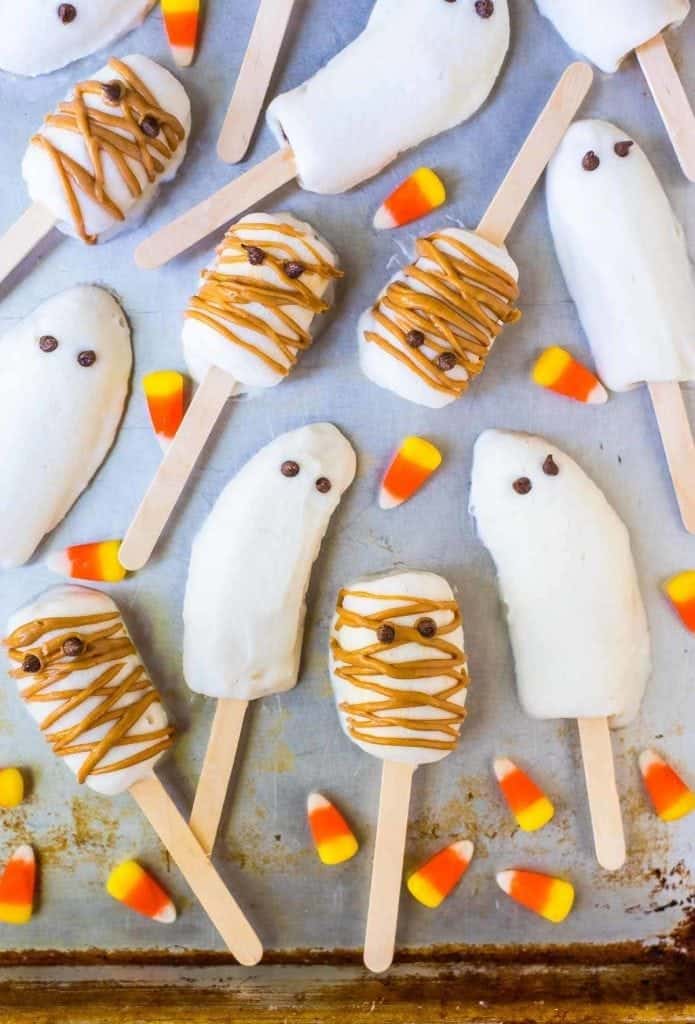 Our Spooky & Healthy Halloween Treats
No matter what you're planning for Halloween this year, there's something for everyone on this list!
First, we'll be whipping up some fun mummy pumpkin bars. They taste like pumpkin pie but are topped with a delicious (and simple) vegan cream cheese frosting.
Next, we'll make some chocolate dirt cups using a creamy chocolate avocado mousse and some cookie crumbles. I saw this concept years ago and I think they're so fun, and perfect for a crowd and/or party favors.
Our third is a no-bake, vegan pumpkin cheesecake parfait with three amazing layers. First is a creamy pumpkin cheesecake, then a "black" yogurt, and finally some more cookie crumbles.
And the rest are a mix of sweet and savory goodies!
1. Mummy Pumpkin Bars
---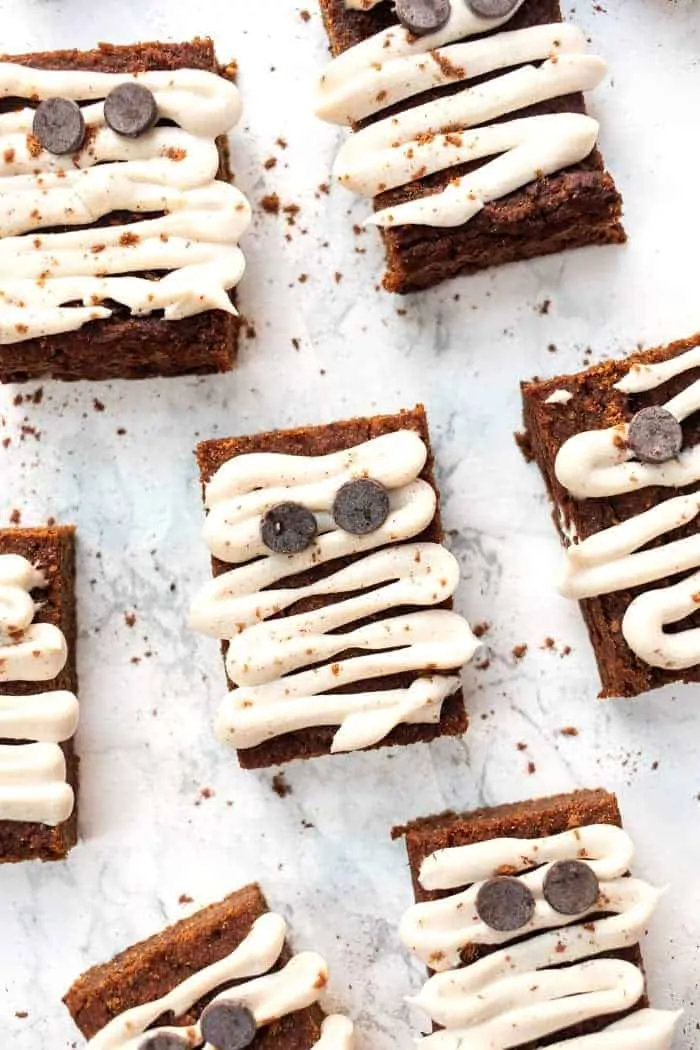 I'm a sucker for all things pumpkin and these mummy pumpkin bars are so cute! We use the Simple Mills pumpkin muffin & bread to make a batch of "brownies" and top them with a quick vegan cream cheese frosting. I think these are perfect for a party, as a quick healthy snack and definitely Halloween-friendly!
To make these Mummy Pumpkin Bars you'll need:
Preheat the oven to 350ºF and line an 8×8 pan with parchment. Stir together the mix, eggs, pumpkin, oil, water, and vinegar (if using). Transfer the batter to the pan and bake for 35 – 40 minutes. Remove from oven and let cool completely before slicing and frosting.
When ready to frost, beat together the cream cheese, syrup, and pumpkin pie spice. Add frosting into a piping bag and pipe onto the bars. Add chocolate chips for the eyes and enjoy!
2. Healthy Chocolate Dirt Cups
---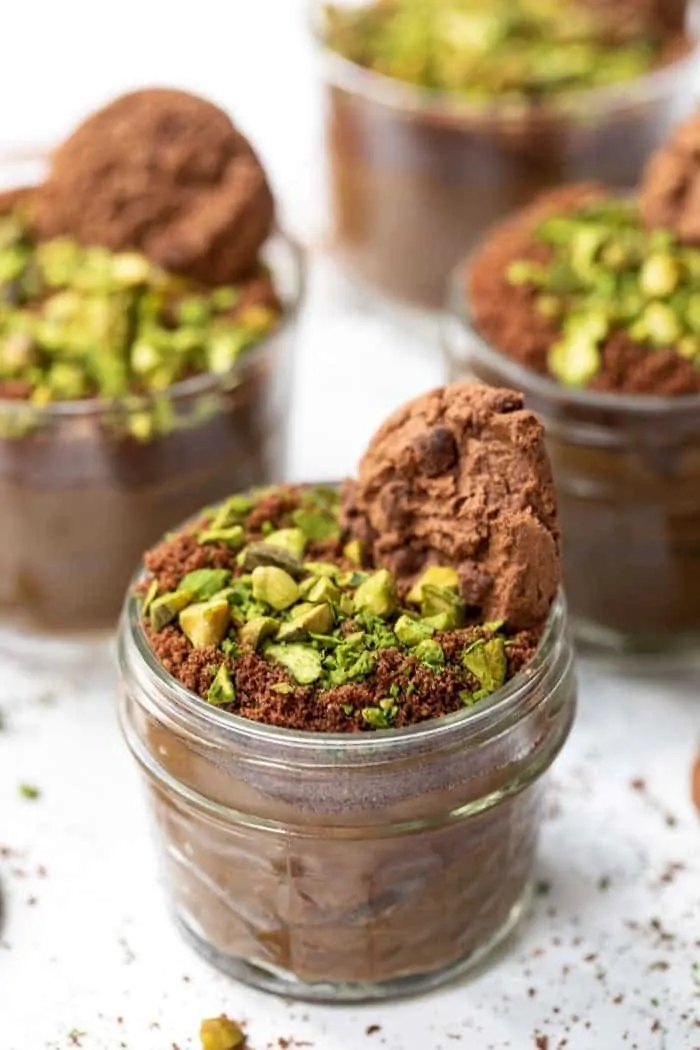 Remember when I shared my avocado mousse recipes? We're taking that same concept, but giving it a fun twist. By layering on crumbles of chocolate cookies and chopped pistachios, we can turn that delicious chocolate mousse into these little dirt cups! And if you're not a fan of avocado/are allergic, you can use this vegan chocolate mousse as your base!
To make these Healthy Chocolate Dirt Cups you'll need:
Add the cookies to the bowl of a food processor. Pulse to form cookie crumbles. Transfer the crumbles to a separate bowl and return the bowl to the base. Add the avocados, cacao, syrup, milk, and sea salt and blend on high until smooth and creamy. Transfer the mousse into four jars and top with the cookie crumbles.
In a small bowl, toss together the pistachios and matcha together and sprinkle on top of the pots.
3. Vegan Pumpkin Cheesecake Parfait
---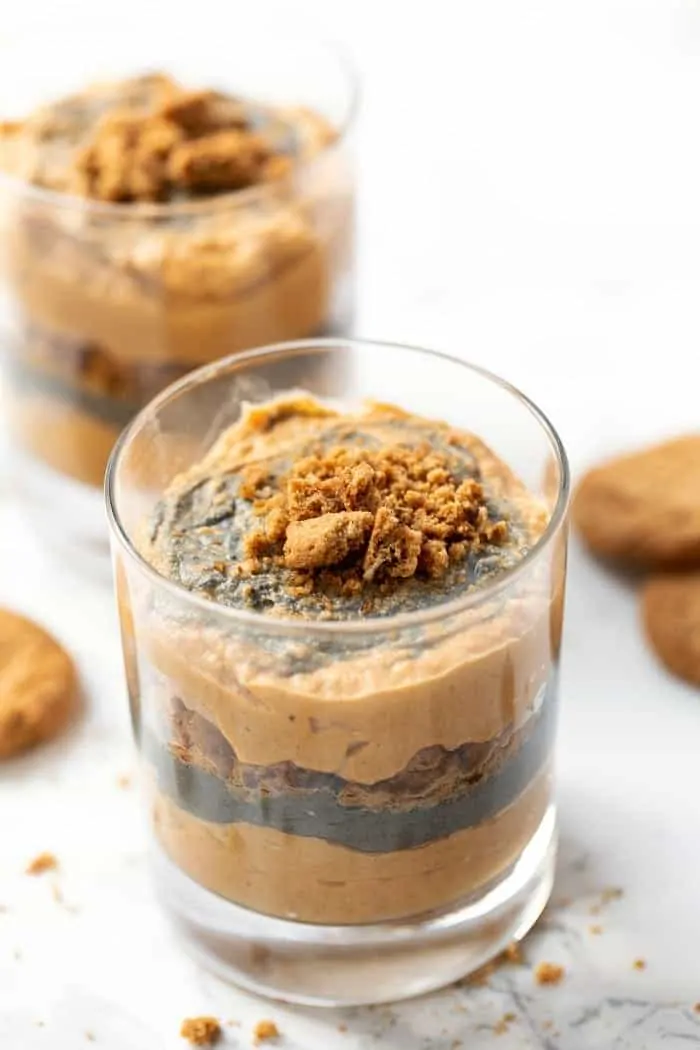 These healthy pumpkin cheesecake parfaits are simple and SO good. We're making a quick no-bake vegan pumpkin cheesecake as our base, then a layer of coconut yogurt (that's colored with charcoal to be black), and then finally some crunchy cookie pieces. They're fun, super flavorful, and honestly my favorite of these healthy Halloween treats!
To make these Pumpkin Cheesecake Parfaits you'll need:
1 cup raw cashews, soaked in 3 cups water for at least 1 hour
2/3 cup pumpkin puree
1/4 cup maple syrup
1/4 cup almond milk
1/2 teaspoon pumpkin pie spice
Pinch sea salt
1/2 cup coconut yogurt
2 teaspoons activated charcoal powder (optional for black color)
1/2 a package of Simple Mills Crunchy Toasted Pecan Cookies
Add soaked cashews, pumpkin, syrup, milk, pumpkin pie spice, and salt into a blender. Blend on high until smooth and creamy. In a separate bowl, whisk together the yogurt and charcoal. Finally, add the cookies into a small plastic bag and crush them into chunks.
Assemble the parfaits with a layer of pumpkin cheesecake, yogurt, and cookies. Repeat until you've used all your ingredients!
More Healthy Halloween Treats
And since I don't have that many Halloween-inspired treats on the blog, I've pulled some of my favorites from my fellow bloggers. These are all healthy, easy to make and great for this spooky time of year!