Want to make your home toxic-free and healthier? Here are 5 tips for a healthy home! These tips are easy, effective and will help reduce the toxins in your household!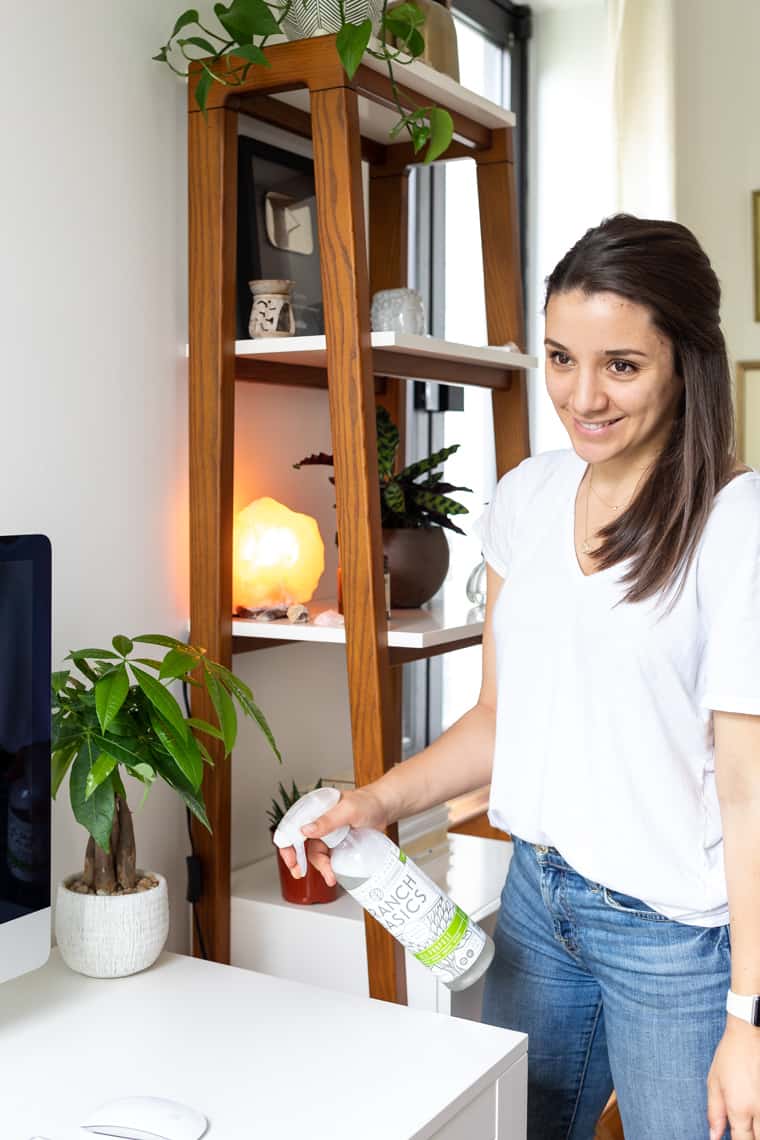 There's lots of talk about cleaning up our diets. There's also talk about cleaning up the products we use on our bodies. But what about our homes?
I feel like keeping our homes healthy isn't as big of a conversation as it needs to be. Think about it this way: we're typically spending 12+ hours at home every single day. Shouldn't that space also be as toxic-free and healthy as possible? I sure think so!
5 Ways to Make a Non-Toxic & Healthy Home
The beauty of making a non-toxic healthy home is that it's simple. It doesn't take a lot of effort or large purchases. And it can also be done slowly. Today I want to share 5 simple ways you can make your home healthier. These tips are things you can implement right away and really help make your home a healthy haven for you and your family.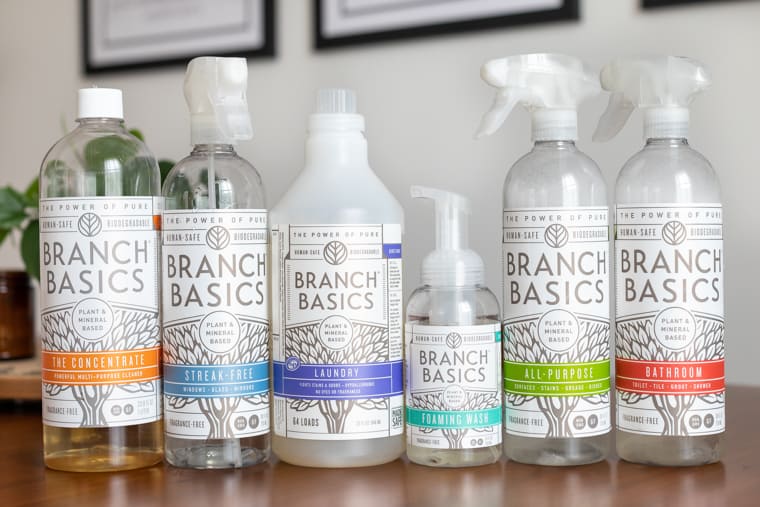 1. Swap Your Cleaning Supplies
Think about all that you touch in your home. Surfaces, showers, tubs, sinks, handles, etc. Now think about what you're using to clean them. Are they safe?
If the answer is no, that's your first step. Switching to non-toxic cleaners is one of the easiest things you can do! And I've found a super cost-effective way to do it.
I recently discovered Branch Basics and I'm obsessed! It's a non-toxic cleaning product that uses a single concentrate to create multiple different products. From your single concentrate, you can create:
all-purpose cleaner
bathroom cleaner
streak-free cleaner (for windows and mirrors)
foaming hand soap
laundry detergent (more on that in a sec)
It's amazing! And it's incredibly cost-effective. I recommend trying the Branch Basics Starter Kit as it has everything you need for just $59! Each kit will make two bottles of each type of cleaner – such a great deal!
2. Use Non Toxic Laundry Detergent
The next healthy home switch you can make is with your laundry. Our skin is our biggest organ and absorbs things we put on it. So for clothing that's touching your body 24/7, you definitely don't want it to be washed in toxins.
Then there's also the towels you're using to dry off, face towels, pillowcases, bedsheets. It's all very high touch and comes in frequent contact with your skin.
That's where Branch Basics comes in again! Their single concentrate does it all. You can mix up your very own non-toxic laundry detergent and wash your clothes completely chemical-free!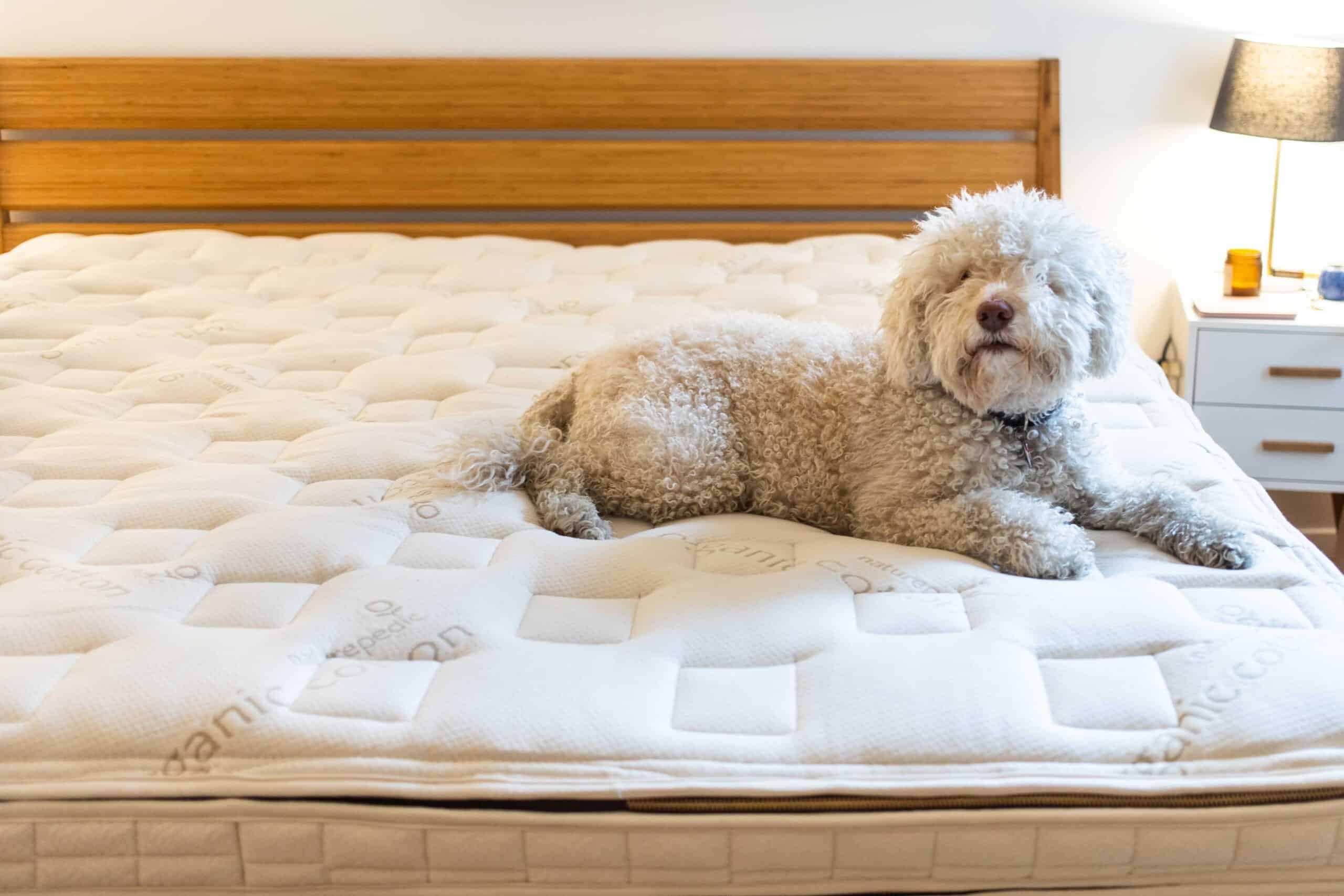 3. Non Toxic Mattresses, Pillows & Bedding
Another area of focus for building a healthy home needs to be our bed. Most of us actually spend a significant amount of our life on a bed/mattress and most "conventional" mattresses are FULL of chemicals. Things like flame retardants, formaldehyde, and benzene have been found in many mattresses and those chemicals can be linked to cancer and infertility.
Scary, right?
But there are some solutions! I'm planning on doing a full non-toxic mattress buying guide soon, but for now, look for ones that are made with non-toxic materials, preferably organic. My current mattress is from Naturepedic and it's AMAZING!
I also recommend getting 100% organic sheets as well. You can also pick those up from Naturepedic.
4. Add Plants to Purify the Air
A simple way to filter out some toxins from the air is to have house plants. Plants are natural air purifiers and are an amazing addition to any home. They also look really pretty and bring a very calming feel to your space.
I like to have plants in every single room if possible, specifically in the areas where I spend the bulk of my time. My office is full of plants, my bedroom has lots of plants and our living room has some plants too.
Check out this list of the best plants for air purification!
5. Burn All Natural Candles
Lastly, and certainly not least because this list could keep on going, is to pick non-toxic candles!
I'm a big candle person and I didn't realize that many of the regular candles I was burning were putting tons of toxins into the air in my home. I now make sure to buy only non-toxic candles!
My good friend actually has an amazing candle company called Borealis Candle Company – she makes amazing scents and they look really pretty too. Can't recommend them enough! Make sure to use my code "simplyquinoa" for 10% off!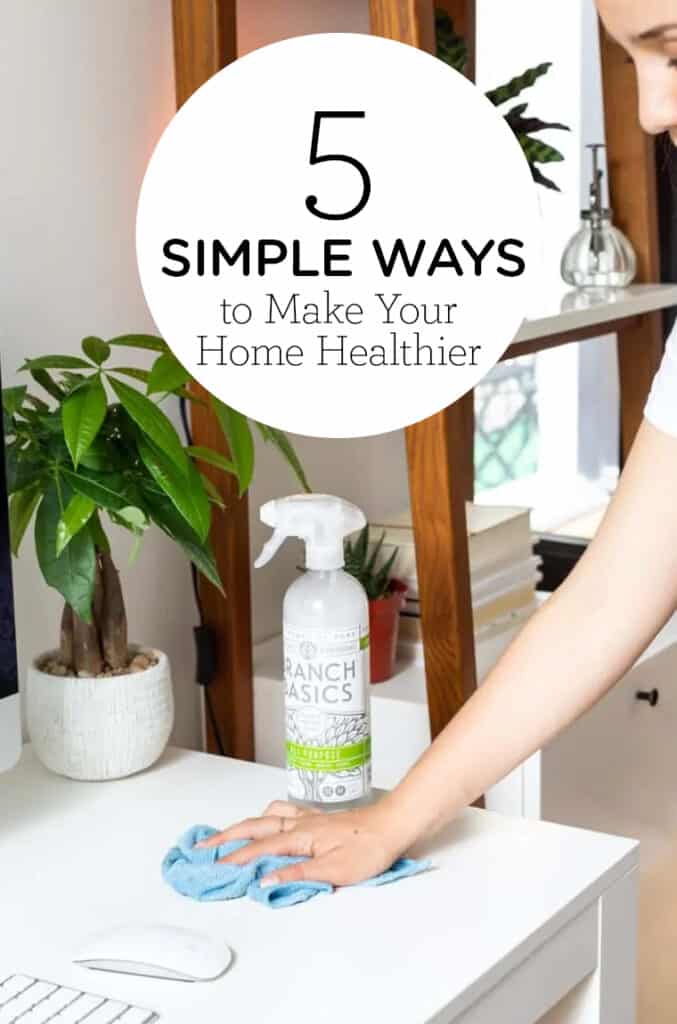 More Healthy Home Resources
How Do You Make a Healthy Home?
Now I'd love to hear from you! What steps do you take to make your home healthy? Let us know in the comments!
share what you make
Tag #simplyquinoa on Instagram with your creations! We love sharing what you make with the community. We can't wait to see!

follow on instagram