These quinoa muffins are super healthy and make the perfect breakfast treat. In this post, we also show you three different delicious flavor options.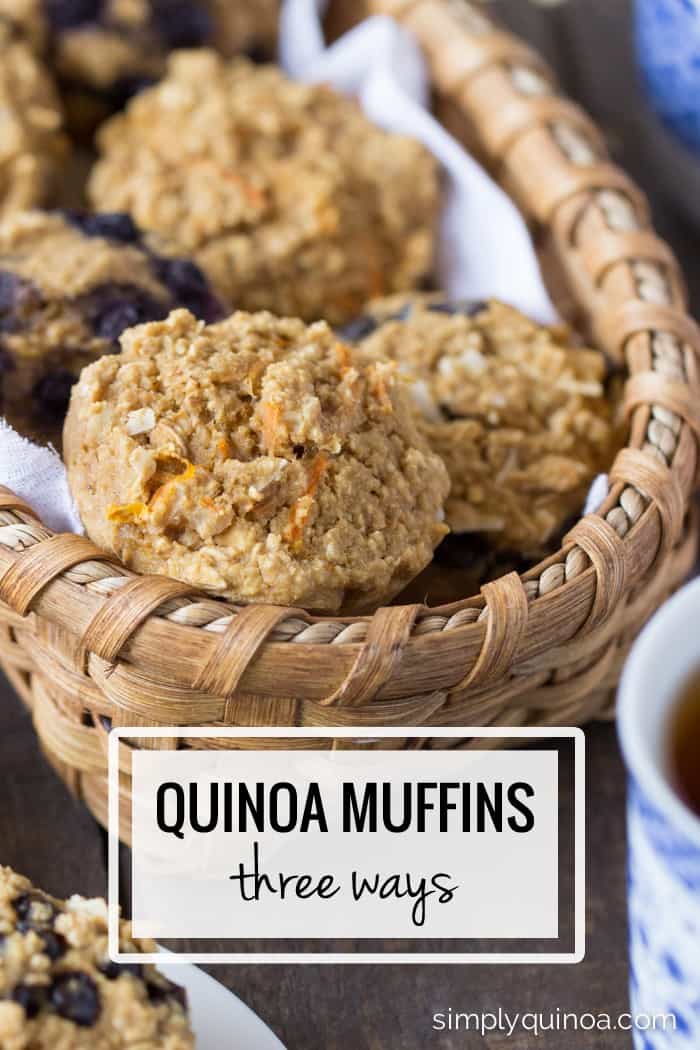 This morning we're having muffins. But not just any muffins. These are super-duper healthy, with no oil, no dairy, no gluten, quinoa muffins. And I'm showing you how to make them in three different flavors!
It took me a few tries to really nail this recipe down. Granted, I was being just a weensy bit picky, but I wanted them to be perfect. They had to taste great as is (with no added ingredients), but also be basic enough that you could really add whatever you wanted to use to spice them up.
Personally, I'm a big fan of recipes that have multiple uses. Pancakes are a great example. As long as you have your base recipe, you can change them up by adding blueberries or chocolate chips or chunks of banana, and it completely changes the flavor.
These quinoa muffins are exactly like that.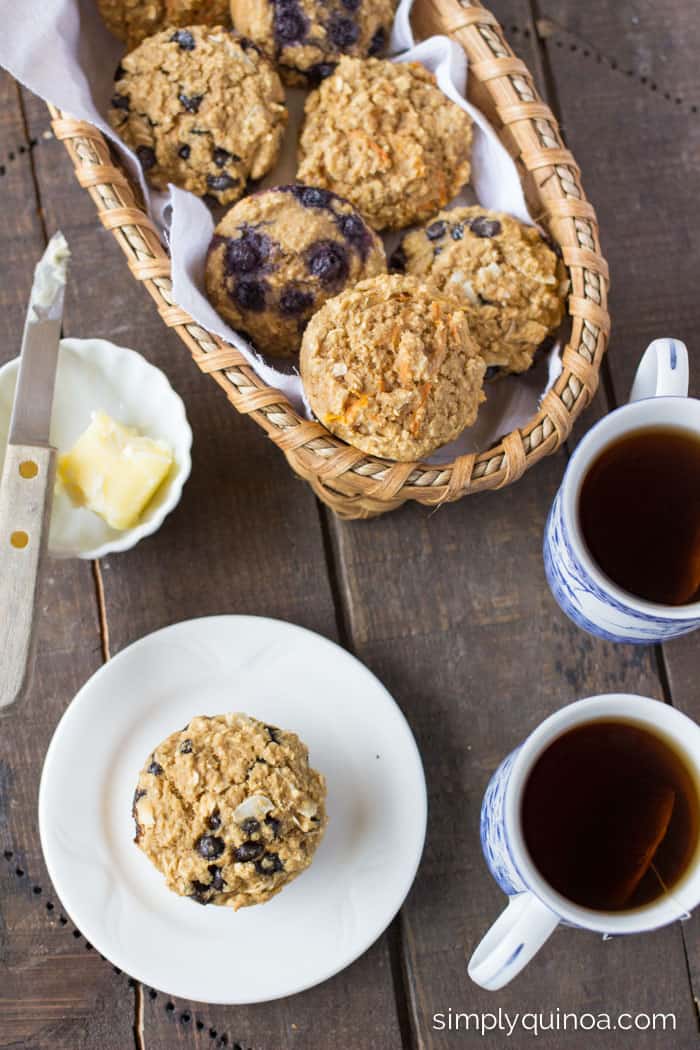 All we have to do is make our basic muffin batter which is just oats, quinoa flakes, a touch of coconut sugar and some baking powder, then add in our wet ingredients which is applesauce, non-dairy milk and eggs. That's it.
Now you could stop here and bake these babies up for a tasty morning treat, but I think at this point it's time to have a little fun, don't you?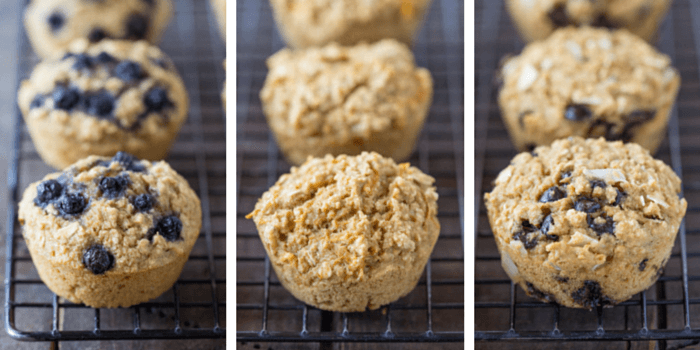 I couldn't decide what flavors I was craving, so instead of just making one, I decided to share three:
Blueberry Lemon
Carrot Cake
Coconut Chocolate Chip
The blueberry lemon is a fresh twist on a classic muffin and I'm crazy for it. With that burst of citrus flavor or the mini blueberries sprinkled throughout, they're the perfect morning treat.
The carrot cake ones are equally as delicious, but just a tad heavier. Since I'm a big carrot fan, I might have gone a little crazy with the shredded carrots, so I think if I had added just a bit less, they would have been a lot lighter. I also added walnuts to these babies because I'm all about the nuts in my carrot cake. Oh and these would also be delicious with a quick vegan cream cheese frosting!
The final flavor and arguably my favorite (no surprise here) is the coconut chocolate chip. Like SO good. I used flaked coconut which I'm obsessed with and dark chocolate chips which gave the whole muffins a dessert-like taste. BUT they're also totally healthy enough for breakfast! (<– yes my chocolate for breakfast obsession continues…anyone else? should we maybe start a hashtag?) Moving on…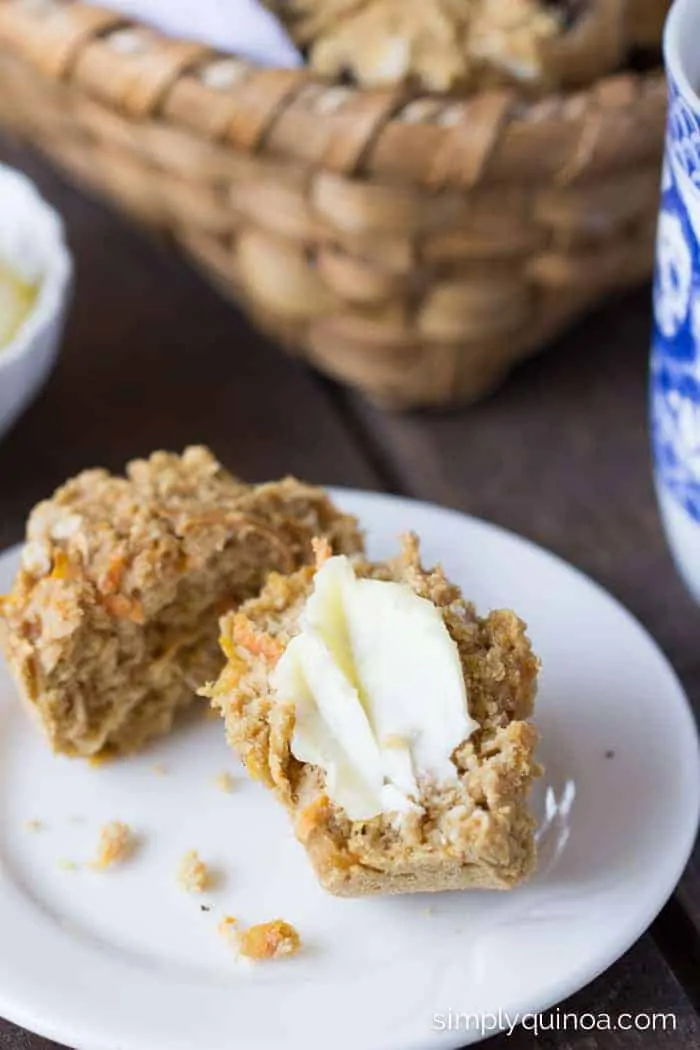 Another quick note about these muffins before we dive into the recipe: they might be a little less sweet than the recipes you are used to. I did this purposely because I think a) you can make them more sweet with your add-in choices and b) starting your day with a sugar-loaded baked good is not going to get you off on the right foot. Blood sugar crash much?
So here are just a few tips to amp up the sweetness if your little heart desires that:
Add a dash of stevia. This won't increase the calories or sugar content at all, but it will make the muffins taste sweeter. You can use powdered (just a sprinkle) or liquid (only a few drops).
Swap banana for the applesauce. The applesauce in this recipe is unsweetened, so if you want to keep them healthy, I think the best bet is to use bananas instead of the applesauce. Bananas have more natural sugars in them BUT they're also a different consistency. You might find that you need to add a few more tablespoons of milk to get the right consistency. You could also follow my skinny banana chocolate chip muffins as your base.
Those two things should do it, but I really think you should make them first and see how they taste. I loved them as is – especially with the chocolate chips and fresh berries. So yum!
Skinny Quinoa Muffins: 3 Ways
All we have to do is make our basic muffin batter which is just oats, quinoa flakes, a touch of coconut sugar and some baking powder, then add in our wet ingredients which is applesauce, non-dairy milk and eggs. That's it.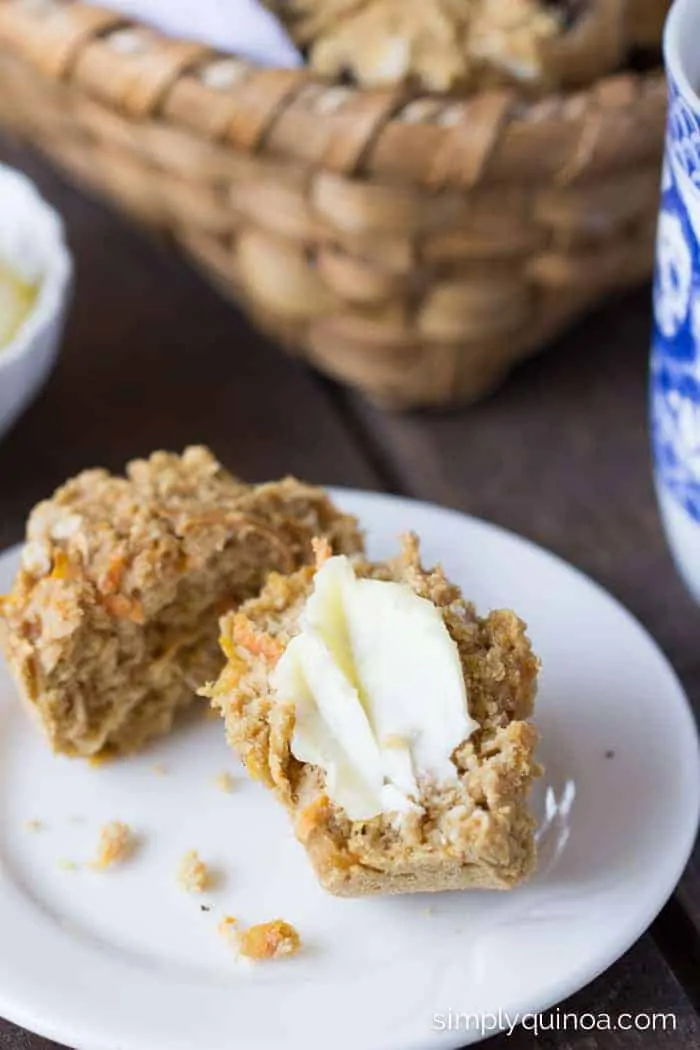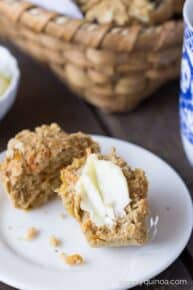 Ingredients
flavor option 1: lemon blueberry
1/2

cup

- 1 cup blueberries

Zest of 1 lemon



flavor option 2: carrot cake
flavor option 3: coconut chocolate chip
Instructions
In a large mixing bowl, whisk together the flour, quinoa flakes, oats, sugar, baking powder and salt. Set aside.

Beat together the wet ingredients in a separate mixing bowl. Add to the dry and mix to combine. The consistency should be that of a runny oatmeal. Let the batter stand while you preheat the oven to 375 degrees F. If by the time the oven is ready the batter seems too thick (you should be able to still stir it easily) add more milk 1 tablespoon at a time.

Just before baking, folding in your desired add-ins.

Spray a muffin tin with nonstick spray and fill the wells 2/3 of the way full. Bake on the center rack for 12 - 14 minutes until muffins are starting to brown and no longer soft to the touch.

Remove and let cool in the pan for 3 - 5 minutes then transfer to a wire rack and cool completely.

Enjoy!
Notes
1) You can make your own oat flour by simply grinding gluten-free rolled oats in a high-powered blender until they resemble a fine powder.
2) The add-in measurements are for the full recipe. Scale it down proportionally if you want to make different flavors from one batter.
Nutrition
Serving:
1
muffin
|
Calories:
134.69
kcal
|
Carbohydrates:
22.91
g
|
Protein:
4.7
g
|
Fat:
2.91
g
|
Saturated Fat:
0.55
g
|
Cholesterol:
18.19
mg
|
Sodium:
91.99
mg
|
Potassium:
225.07
mg
|
Fiber:
2.02
g
|
Sugar:
4.61
g
|
Vitamin A:
77.93
IU
|
Vitamin C:
1.08
mg
|
Calcium:
73.52
mg
|
Iron:
1.3
mg
Filed Under: