Two of my favorite treats combined into one recipe? And it's healthy? Yes, I did it. Another peanut butter and chocolate recipe. And now you can too!
I don't have a big story to share behind this recipe, only that after dinner the other, as I was watching Downton Abbey (we'll discuss how amazing this show is in a second), and I really wanted peanut butter cookies. Like really, really badly. But I've come to discover that living in an NYC apartment has it's downsides. I have a mini oven. Mini enough that none, not a single one of my cookie sheets fits inside. So until I purchase new ones – I'm leaning towards these – my cookie cravings will need to be satisfied by something else.
I wracked my brain with ideas, but the longer and longer I contemplated, the later and later it got (and the more and more sucked into Downtown Abbey I became). I got to the point that I just didn't feel like baking anymore. But I needed my sweet, peanut butter fix. So I settled for this. A healthy version of Reese's Peanut Butter Cups, in rice crispy fashion.
They're my Healthy "Reese's" Quinoa Crispy Treats.
And they're a-m-a-z-i-n-g.
But before we get to the recipe, can we just quickly discuss Downton Abbey? First of all, I started watching it maybe a week ago and I'm already to the end of Season 2. I'm obsessed. It's so, so good! The drama that surrounds all the characters – Bates on trial for Murder? Lady Mary and Captain Crawley finally together? Sybil running away with the chauffeur? – I'm addicted!
Now I just have to find a way to watch Season 3. Anyone have a place online to watch it?
Okay, thanks for letting me vent. Now it's time to indulge in these super peanut-buttery, chocolate-covered quinoa crispy treats. They're just the decadent (and healthy of course) dessert that I was looking for and pair perfectly with a night of snuggling on the couch, watching your favorite TV show.
Enjoy!
Healthy "Reese's" Quinoa Crispy Treats
Two of my favorite treats combined into one recipe and it's healthy!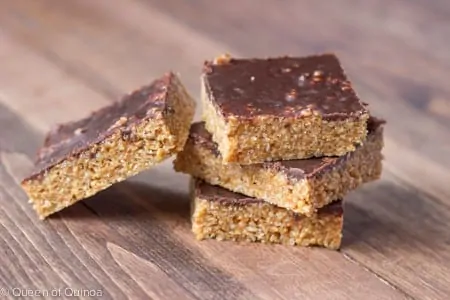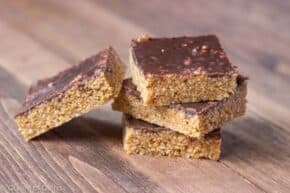 Instructions
Mix the quinoa crispies and salt together in a large mixing bowl and set aside. Line a square baking dish (8? x 8? should do the trick) with parchment paper.

In a small sauce pan, heat the peanut butter and honey together. Stir until its liquidy and easy to pour. Pour it over the quinoa mixture and stir with a wooden spoon until everything is combined. Transfer the mixture to your prepared baking dish, and flatten with the back of a plastic spatula. Place in the refrigerator while you melt the chocolate.

Melt the chocolate over a double boiler. Once melted, remove the quinoa bars from the fridge and pour the chocolate mixture over them. Tilt the pan to ensure they are entirely coated. Return the dish to the fridge and until cool and the chocolate has completely hardened.

It's best if you can wait for a few hours, but if you're ansy (like me!), then you can probably get away with throwing them in the freezer for 15 – 20 minutes, although they won't be as tasty.
Notes
Nutritional values are based on one serving
Nutrition
Calories:
177
kcal
|
Carbohydrates:
21
g
|
Protein:
3
g
|
Fat:
9
g
|
Saturated Fat:
3
g
|
Sodium:
100
mg
|
Potassium:
149
mg
|
Fiber:
1
g
|
Sugar:
14
g
|
Vitamin C:
0.1
mg
|
Calcium:
12
mg
|
Iron:
1.5
mg
Filed Under:
These quinoa crispy treats have been shared on: Whole Food Fridays, Gluten-Free Fridays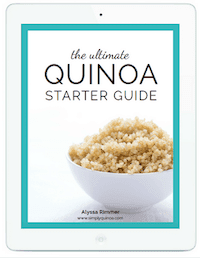 New to cooking quinoa? Grab your FREE Quinoa Starter Guide!
Become part of the Simply Quinoa community and receive weekly emails with exclusive content that I only share in email, as well as my in-depth guide to starting your quinoa journey.
Download Your Free Guide