Herbed Turkey Burgers with Zucchini Buns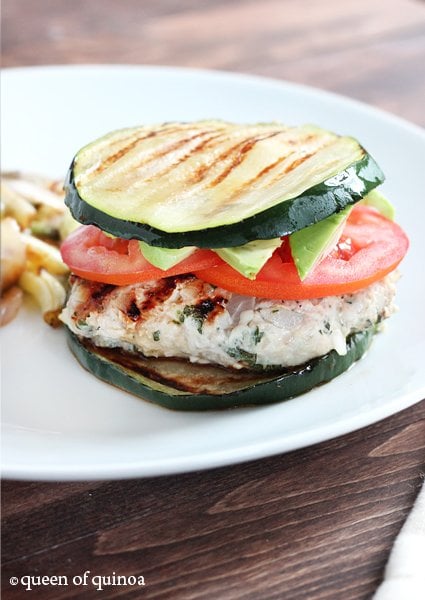 Turkey burgers are for sissies. They're like veggie burgers made from meat. At least that's what I used to think when I ate red meat. I assumed they lacked flavor, were dry and crumbly, didn't have that juicy pink center and were plain old boring.
But don't let the light meat fool you. Turkey burgers are awesome. Not only are they lower calorie, but they typically are lower in fat and easier on your system. Plus, turkey burgers just taste good.
Especially when they're spiced with fresh oregano and topped with avocado.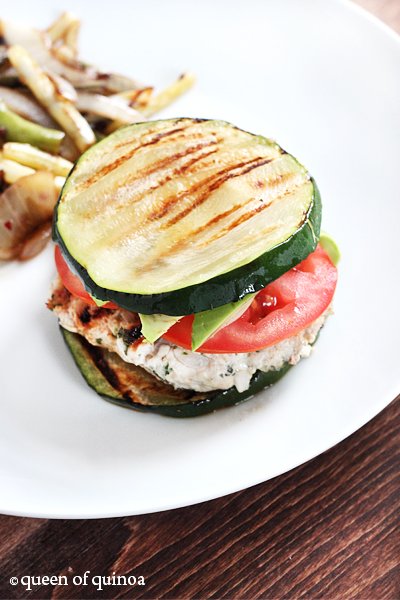 But how can you make the already healthy turkey burger even healthier? Skip the bun, of course!
Yes, I know, gluten-free bread and hamburger buns are utterly delightful, but sometimes the extra calories feel unnecessary. Wouldn't you rather save those calories for a piece decadent chocolate cake? Or a slice of heavenly cheesecake?
Skipping that carbo loaded bun can sometimes throw a burger off completely, but not when it's sandwiched between two slices of char grilled zucchini. Your mind tricks you into thinking you're eating a bun, but your taste buds outsmart you with the rich, summery taste of grilled vegetables.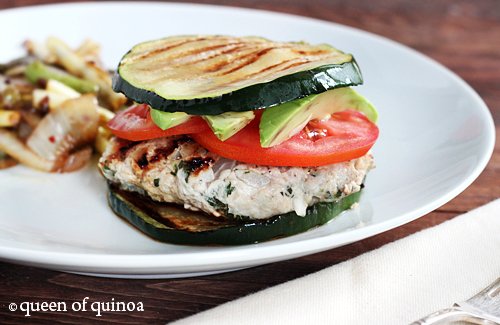 If you're still a turkey burger skeptic, this recipe will change your mind.
I promise.
Filled with fresh herbs and garlic, topped with juicy red tomatoes and ripe avocado, and sandwiched between two grilled zucchini slices, these burgers are simply summer in every healthy bite.
Herbed Turkey Burgers with Zucchini Buns
These Herbed Turkey Burgers are filled with fresh herbs and garlic, topped with juicy red tomatoes and ripe avocado, and sandwiched between two grilled zucchini slices.
Servings 2
Calories 177kcal
Ingredients
8 – 10 oz ground organic lean turkey meat
2 tablespoons fresh oregano chopped
2 garlic cloves minced
4 thick slices of zucchini or eggplant, summer squash, etc.
Salt & pepper to taste
Toppings: sliced tomato avocado, cheese, ketchup, mustard, mayo, hot sauce, etc.
Instructions
In a large bowl, combine the turkey meat, oregano and garlic cloves, and mix with your hands until fully combined. Form into two patties and set aside.

Heat a grill pan (or outdoor grill) to medium high heat.

Spray the zucchini on both sides and sprinkle with salt and pepper.

Add the zucchini to the grill pan, cooking 2 – 3 minutes per side until you have nice grill marks and the zucchini still holds its shape.

Add the turkey burgers to the grill, cooking 3 – 5 minutes per side, until cooked.

Serve between zucchini slices and add your preferred toppings.

Enjoy!
Nutrition
Calories: 177kcal | Carbohydrates: 4g | Protein: 30g | Fat: 5g | Saturated Fat: 1g | Cholesterol: 85mg | Sodium: 362mg | Fiber: 2g | Sugar: 1g
share what you make
Tag #simplyquinoa on Instagram with your creations! We love sharing what you make with the community. We can't wait to see!

follow on instagram