Looking to get into yoga? Try our monthly yoga challenge! We've got a great week planned out full of challenging classes and relaxation methods. Let's go!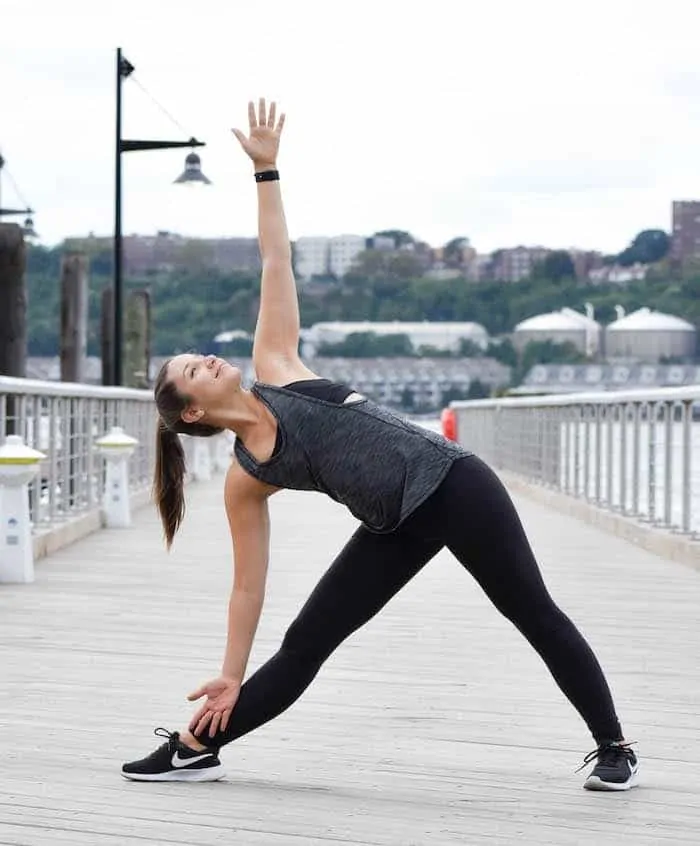 It's February 1st, and you know what that means right? Our month of yoga is starting!
I'm super excited – this has been a long time coming for me and I hope you're jumping on board with me. As I said in my last post about the challenge, we're kicking off a month long of daily yoga practice, with a goal of not only getting our bodies moving, but also to help us feel more relaxed and centered.
Yes, this isn't going to be easy, and yes, I'm totally going to want to quit halfway through, but I'm committing to this challenge. I'm going to do it. I'm committing because I'm writing it right here (you'll make me, right??), but I'm also holding myself accountable to all of you who are going to do this with me. I'll be sharing daily pics of my yoga practice and I hope you'll do it with me; I don't want to do it alone, workout buddies are so much more fun 🙂
So to get this party started, I've decided I'm going to share our weekly yoga schedules on the blog. Starting with tomorrow, and then each Saturday after that, we'll have 7 days of yoga classes with links for you to download them.
And don't forget to tag #yogachallenge when you're sharing your photos on social media. Can't wait!!
Here's a preview of the first three days. Just keep on reading for everything else below!
Saturday: Core Yoga #1 (45 mins)
In this class, you will be lead through a flow that incorporates lots of poses designed to strengthen the core. The class is balanced with poses that will lengthen the core muscles, creating long and lean abs that will stabilize and power you through everything you do.
Click here to watch the class.
Sunday: Gentle Hatha #2 (30 mins)
This class is still dynamic and will stretch and lengthen every muscle in your body from your head to your toes, but it will do so in a gentle, soothing, and relaxing way.
Click here to watch the class.
Monday: Yoga Sculpt #2 (30 mins)
This class promises to leave you plenty sweaty and feeling like you've gotten the most complete, head-to-toe workout possible. Not only will you tone and sculpt every muscle group, but your stretches will be taken deeper than ever before.
Click here to watch the class.
Tuesday: Heart Opening Flow #1 (45 mins)
Most of us spend countless hours each day slouched over a keyboard, and hunched over the wheel of the car while driving. Counter all of this rounding of the upper back by opening and stretching the front line of the body.
Click here to watch the class.
Wednesday: Core Yoga #1 (45 mins)
Another round of our class from Saturday. Remember, this class is challenging and are classified as power yoga with a kick. You will feel these in your core, but those are good feelings! Our core is our stabilizer and the center of our strength.
Click here to watch the class.
Thursday:Rise & Shine (20 mins) + Yoga Sculpt #1 (20 mins)
R&S: Experience the benefits of waking up to yoga as you stretch your body, awaken your mind, and fuel your spirit. You'll feel energized, have amazing mental clarity, and will be ready to flow through your day with ease.
YS: A shortened version of our favorite sculpting class. You'll feel the burn, but it's not as long, which is exactly what our body needs today!
Friday: Hip Opening #2 (30 mins)
This class is designed to stretch and open your hips, and let go of the built up tightness and tension stored in this area. The result is a more centered, more relaxed and more open you.
Click here to watch the class.