Looking for a healthy salmon recipe that's super simple? This easy crusted salmon is topped with honey, almonds and quinoa and uses just 5 ingredients!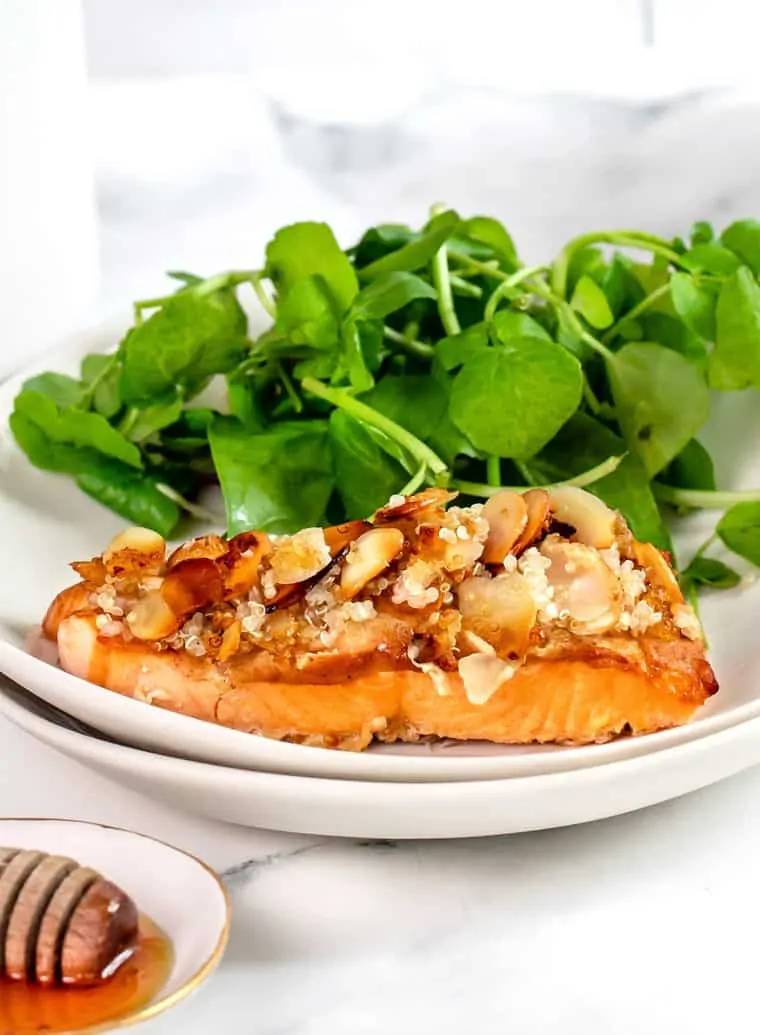 So I made us some fish. And I couldn't be more excited to tell you about it. Why? Because this fish is smothered in honey, mustard, almonds, and quinoa.
Basically, all the things I eat on a daily basis. Which makes me wish that I had a piece of this salmon sitting in front of me right now. It's filling, satisfying, delicious, and couldn't be easier.
Only 5 ingredients! It will taste like a gourmet meal, but lucky for us it's as simple as can be.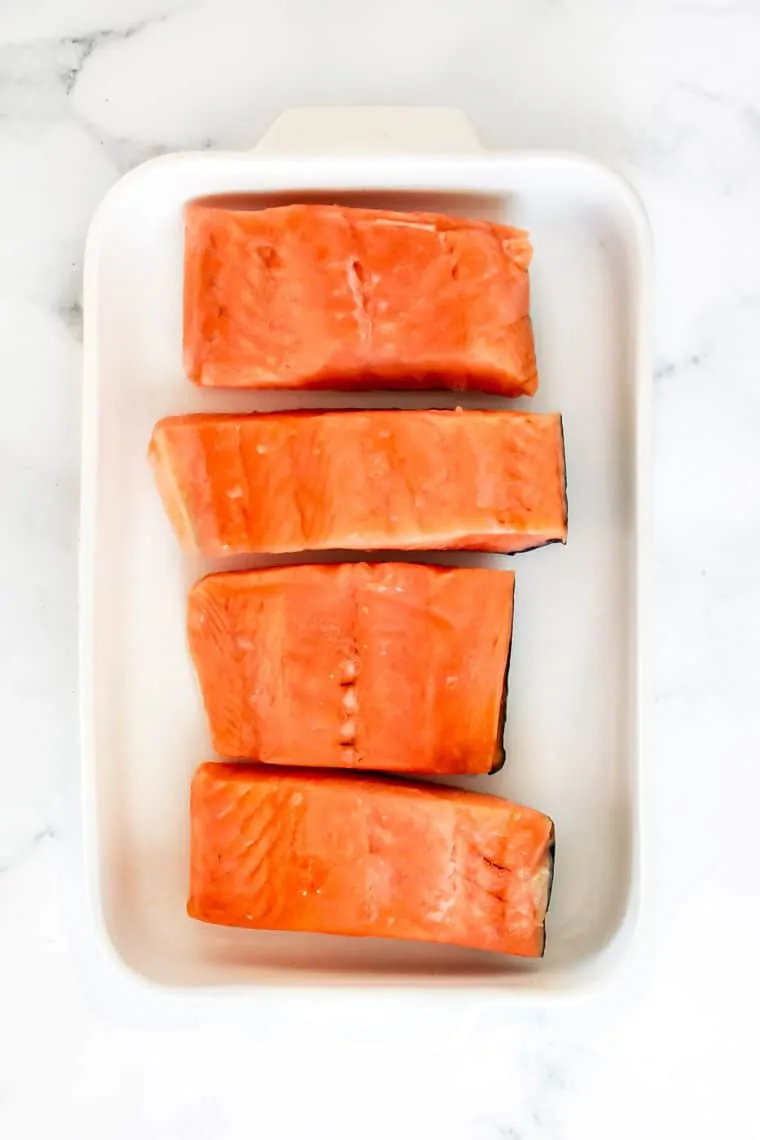 Wild Caught vs. Farm-Raised Salmon
Before we dive into today's recipe I want to talk about salmon a little bit. Specifically, I want to share some information about the difference between wild-caught and farm-raised salmon.
What is Wild Caught Salmon?
Wild-caught salmon means salmon that has been caught "in the wild" or in its natural habitat. But that doesn't mean it's a person that goes out to the river with a fishing pole and catches your fish. Typically, wild-caught salmon is caught by smaller-scale fishing operators in the colder water regions (northern Pacific/northern Atlantic), so it does probably mean that you're supporting a small(er) business which is great.
Taste: In terms of the taste difference, wild-caught salmon is darker in color, less fatty, usually thinner filets, and also has a stronger flavor.
Sustainability: Sustainability wise, wild-caught tends to also be more sustainable. However, it is possible to find sustainable farm-raised salmon as well.
What is Farm-Raised Salmon?
Farm-raised salmon refers to salmon that are born and raised in marine fish farms. They usually are giant tanks or nets in the ocean where the fish breed. They're often overcrowded, fed a non-natural diet, and sometimes the fish are in very poor health. These also tend to be larger-scale farming operations.
Taste: farm-raised salmon is probably what most people think of when they think of salmon. It's light pink, flaky, very tender and has a mild taste. It's also fattier with white striations of fat between the meat, which makes it juicier and easier to cook.
Sustainability: farm-raised salmon is usually not the sustainable choice. The fisheries themselves are often quite harmful to the local ecology of the water, they use food with antibiotics in them, and the fish grow up in a very unnatural habitat. That being said, you can find sustainable fish farms though, but you have to do your research.
What's Better: Wild Caught or Farm-Raised?
For me, wild-caught is always the better choice. Not only is it delicious, but it's also more sustainable and the fish are in a better situation. However, it depends on what's important to you. If you're more in it for the flavor, maybe farm-raised is best. But please do your research and try to find a sustainable option since it's better for you and better for the environment.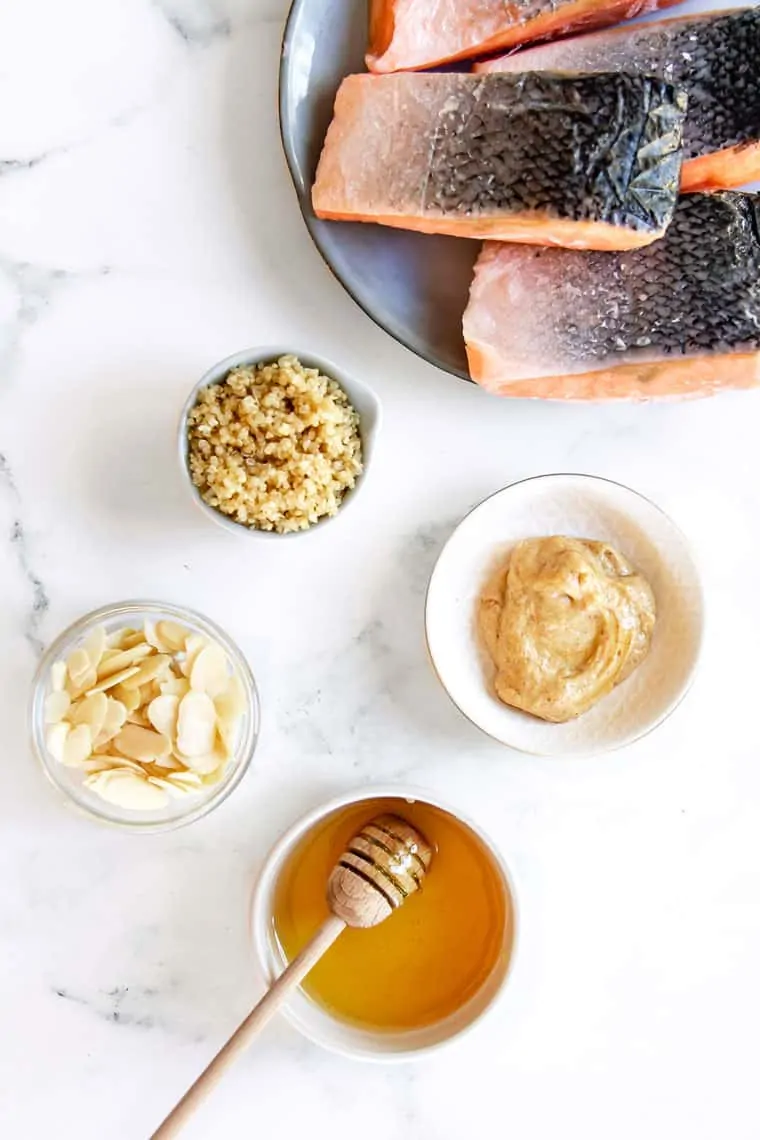 Ingredients for Our Almond Crusted Salmon
Once you've decided on the type of salmon you want to buy, you only need four more simple ingredients to make it!
Here's what we'll be using in this recipe:
wild-caught salmon
dijon mustard
sliced almonds
cooked quinoa
honey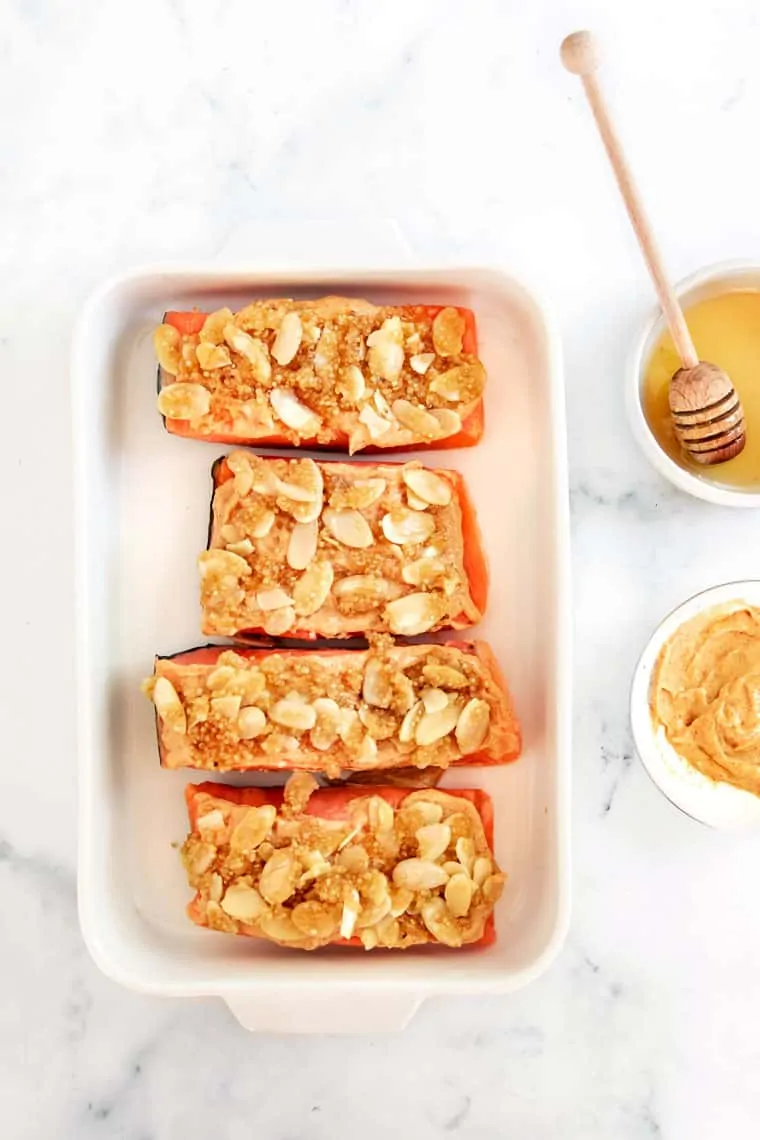 How to Make Baked Salmon
The first thing I want to talk about with this recipe is the mustard. Mustard and salmon are such a good match, don't you think? And then when we add honey to the mix? YES! It's a party in your mouth kind of meal.
But the mustard actually serves two purposes in this recipe. First, we like the flavor (read above). But second, it helps all those other toppings stick to the fish. It acts like glue; albeit an utterly delicious and semi-spicy kind of glue.
On top of the mustard goes the honey-almond-quinoa crust. Truthfully, when I first made this recipe, I was going to skip the honey at first, but laziness took over. I knew I wanted to use almonds and quinoa in a crust, but I didn't want any of it to fall off, so I put them in a bowl, grabbed the honey, dumped some in and stirred it together.
The result? An ooey-gooey, super sticky mixture that was so easy to place on the fish and didn't move anywhere. We had the perfect quinoa crusted salmon on our hands.
Why You'll Love this Healthy Crusted Salmon
And what I'm seriously loving? This recipe is a total crowd-pleaser. If you're planning a soiree with your friends soon, then you should totally serve this salmon (along with a garden salad, maybe an easy quinoa risotto, and a fabulous bottle of wine, of course). Trust me, your friends will think you slaved away in the kitchen all day preparing this meal, but the whole thing will take you less than 40 minutes to prepare.
You'll also love that this almond crusted salmon is:
healthy
super easy to make
crunch on the top
great for meal prep
can be made with another fish
And is just generally a fabulous way to make salmon. I think you'll love this recipe and I can't wait to see your recreations!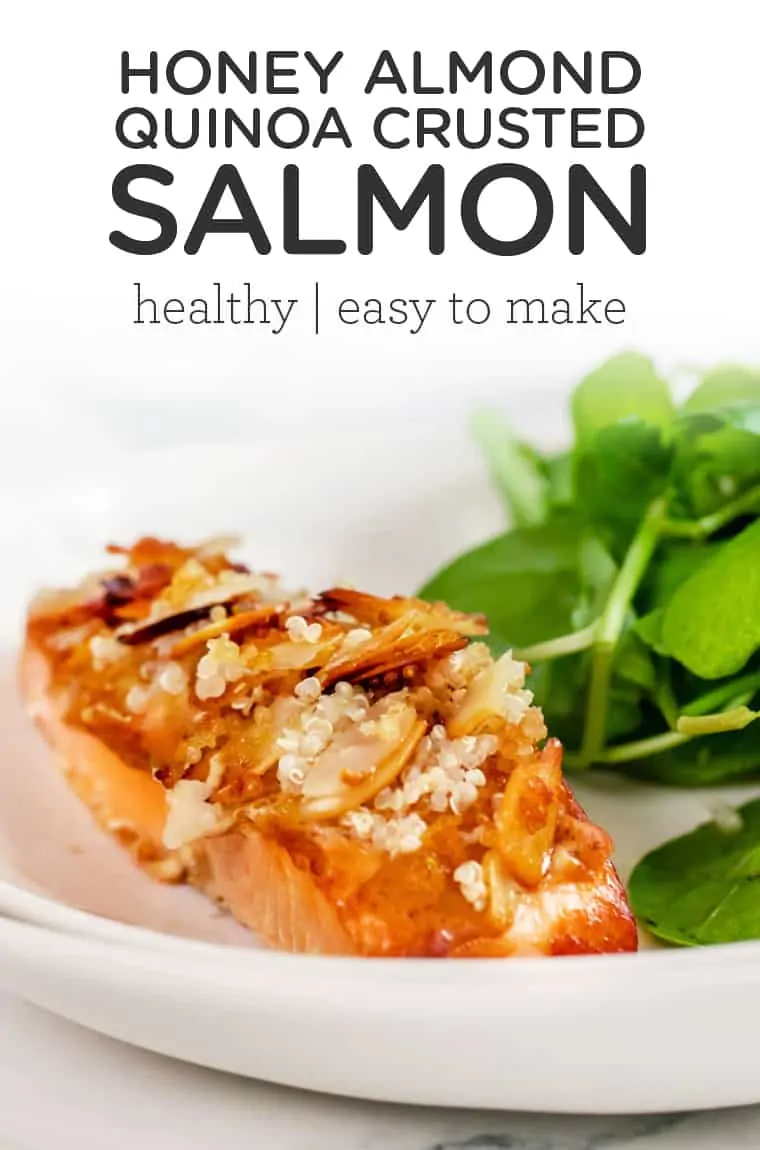 More Delicious Salmon Recipes to try:
Honey, Almond & Quinoa Crusted Salmon
Looking for a healthy salmon recipe that's super simple? This easy crusted salmon is topped with honey, almonds and quinoa and uses just 5 ingredients!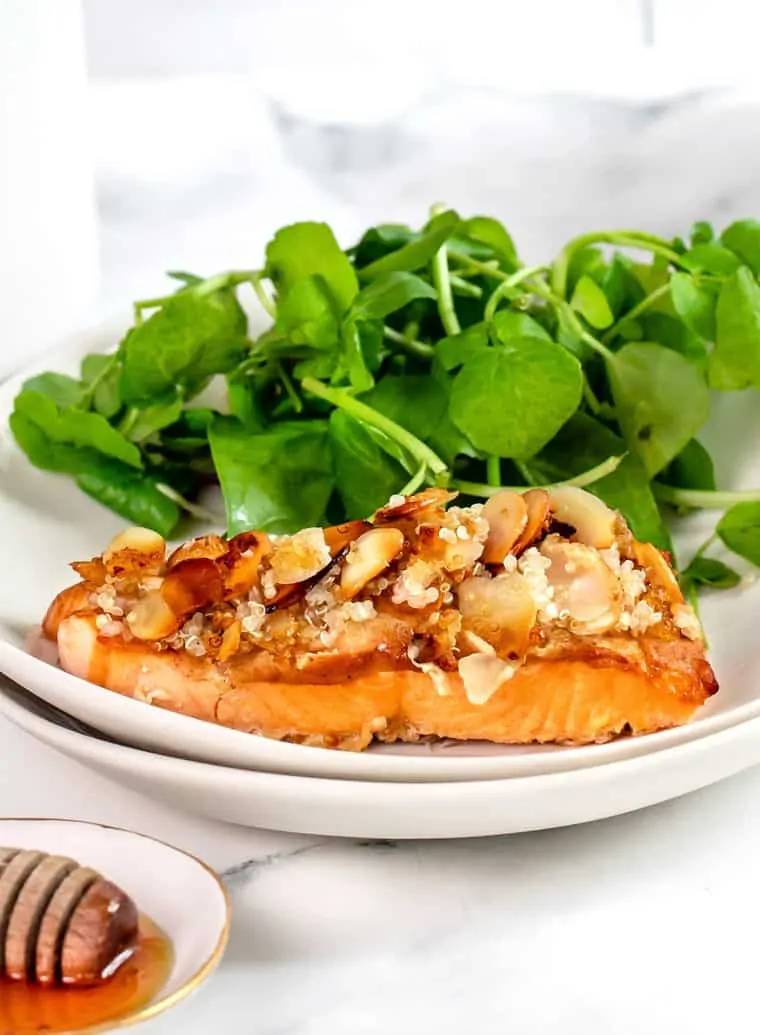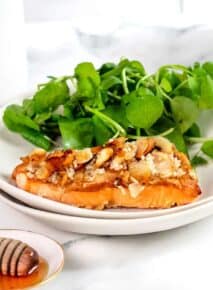 Instructions
Preheat oven to 400 degrees F.

Place salmon skin side down in a baking dish and pat dry with a paper towel.

Spoon mustard onto salmon and spread until flesh is almost completely covered.

In a small bowl, combine almonds, quinoa and honey. Stir to form a sticky mixture.

Cover mustard-covered salmon with almond-quinoa crust.

Bake on center rack for 20 - 25 minutes, until salmon flakes easily with a fork.

And, as always, enjoy!
Nutrition
Serving:
1
g
|
Calories:
263
kcal
|
Carbohydrates:
13
g
|
Protein:
25
g
|
Fat:
12
g
|
Saturated Fat:
1
g
|
Cholesterol:
62
mg
|
Sodium:
136
mg
|
Potassium:
648
mg
|
Fiber:
1
g
|
Sugar:
9
g
|
Vitamin A:
45
IU
|
Calcium:
42
mg
|
Iron:
1.5
mg
Filed Under:
"