Learn how to take better food photos instantly! A behind the scenes tutorial showing you the step-by-step process for styling, shooting and finishing your food photos.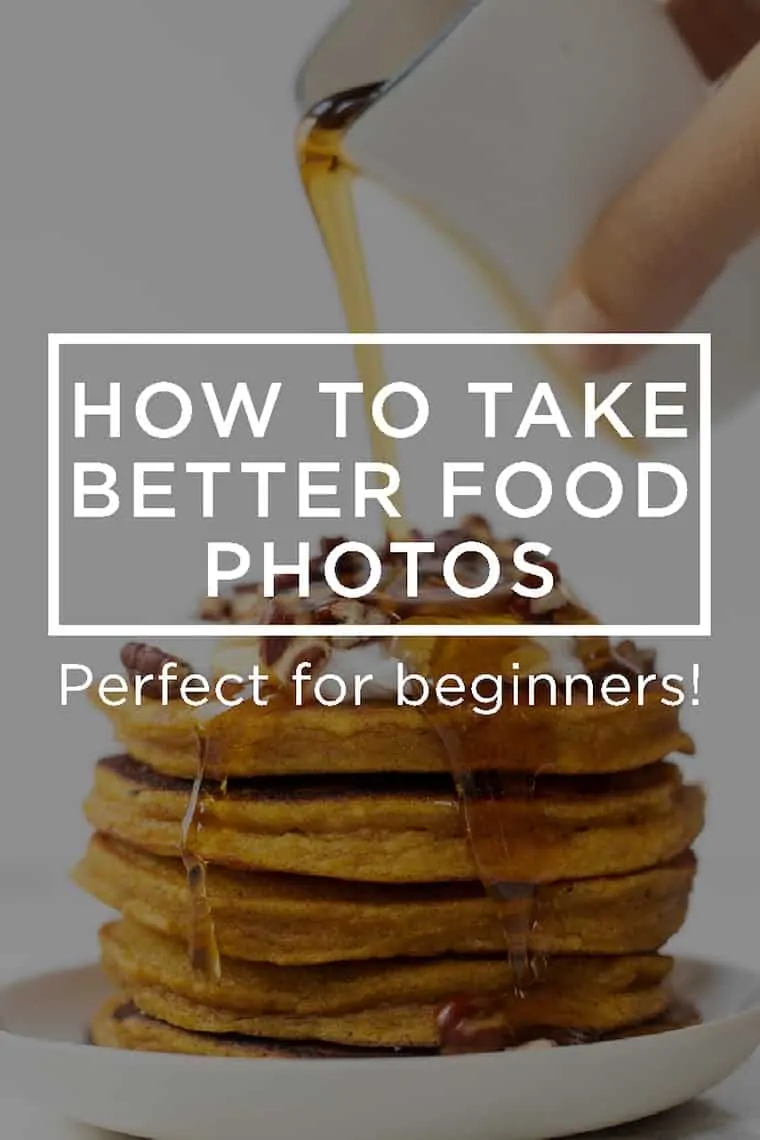 We're changing things up a little bit today and chatting about business instead of strictly food or health/wellness! I know there are quite a few people in this community who are either starting their own business in the health field or are doing it already and want to take it to the next level. If that sounds like you, then today's post is for you!
We're talking all things food photography! I'm going to share how to take better food photos and give you a behind the scenes look at how I shoot.
So whether you're currently taking photos for your blog or Instagram, or you want to start, I hope this post will give you some tips that you can take into your own process that will help you improve the content you create.
How to Take Better Food Photos
Before we dive deep into each step of my process, I thought I would give you some high-level tips that you can take away right now. These are tips that I have learned along the way that have helped me make my photos more beautiful and have really simplified my process.
It's all about the light. Light is one of the most important things to your photography. I shoot in natural light, by two windows.
Use others as inspiration. There's no need to reinvent the wheel with your photos. I always go on Pinterest first to find some inspiration for my photos. I search what I'm shooting just to see how people are styling, complimentary colors, etc. You can get a lot of inspiration from other people without copying them.
Get to know your camera. Before you start shooting, familiarize yourself with your camera. Get to know how it works, check out the manual, watch some videos on YouTube. This will start getting you ready to shoot in manual mode which will give you complete control when it comes to shooting and editing.
Minimalist is always best. I believe that less is more when it comes to styling food. So don't get overwhelmed with your props or napkins or anything like that. Those don't make a beautiful photo. What makes a great photo is helping the food be the star!
So now that you have those tips, let's dive into my step by step food photography process!

My Food Photography Equipment
I want to quickly share my equipment before we dive into the actual process of shooting. I have a few different cameras that I've used over the years, so I'll give you three levels of setups: budget, mid-range and high-end. This is the exact process I went through, where I started on the budget end and worked my way up to the higher end.
Budget-Friendly Camera Set-Up:
Mid-Range Camera Set-Up:
High-End Camera Set-Up:

Step 1: Design Research
This is where I'll quickly hop on Pinterest to check out how things are styled. I'll search the recipe that I'm making, and then maybe just the main ingredient. So for example, we're making pumpkin pancakes in this video, I would search "pumpkin pancakes", "pancake photography" and "pumpkin photography". That should give me plenty of inspiration to choose from.
Step 2: Pick My Props
Once I've got some inspiration going, it's time to head to my prop shelf. I personally like to shoot almost everything with white dishes. I have both straight white dishes, but also some that I made myself in pottery class. Either way, I stick with dishes that complement the color scheme.
Then I move on to flatware and linens. Flatware I mostly buy at flea markets, but I've included some of my favorites in the carousel below. And linens, I like neutral colors like white, beige, charcoal, grey, blue, etc.
I have found that the best places to shop for props are: West Elm, Crate & Barrel, World Market, and Anthropologie.
shop my favorites!


Step 3: Set the Scene
Once I've got my props picked out, I'll set the scene. I'll plate my food, add any garnishes or other elements I feel like it needs and move on. The scene will probably change as we go through the process, so I set an initial one up and then adjust while I'm doing it.
Step 4: Check the Lighting
I'm lucky enough to be able to shoot next to two large windows. If you don't have large windows in your workspace, consider shooting somewhere in your house that does. It doesn't have to be in your kitchen. I know people that shoot in their bedrooms, living rooms, even porches. Just find a place that has solid natural light.
From there, check where you're at with your camera. I like to open my camera up, take a test shot and then adjust as needed. Maybe that means bumping my ISO or adding a bounce card to reduce the shadows. If you want to learn more about the bounce card, definite watch the video!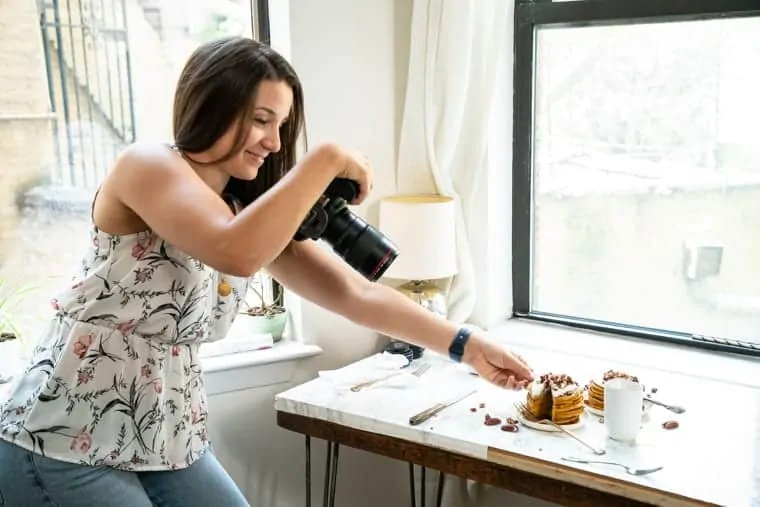 Step 5: Start Shooting!
Now comes the fun part…taking pictures! When I'm shooting, I try to take as many different types of shots as I can. Different angles, different setups, etc. That way, whether I'm posting them on Instagram or on my blog, I have a ton of variety and the posts don't feel boring or repetitive.
Here are the shots that I always make sure to get:
the hero shot: usually at the 3/4 angle with the dish polished and styled (I'll take one in portrait and one in landscape)
the action shot: typically something with a pour (dressing, syrup, milk, etc.)
the close up: something super zoomed in on the food, sometimes focused on garnishes
the overhead spread: a farther away shot of the whole scene which also usually includes some actual ingredient elements from the recipe (also typically take portrait & landscape on this angle)
the overhead zoom: a tighter shot of just the styled bowl/plate
the bite shot: for example a cookie, muffin or bar with a bite taken out, or a spoonful of soup, something that shows more of the inside of the shot.
If I have those shots of each recipe, then I know I'll have everything I need for the content I'm creating.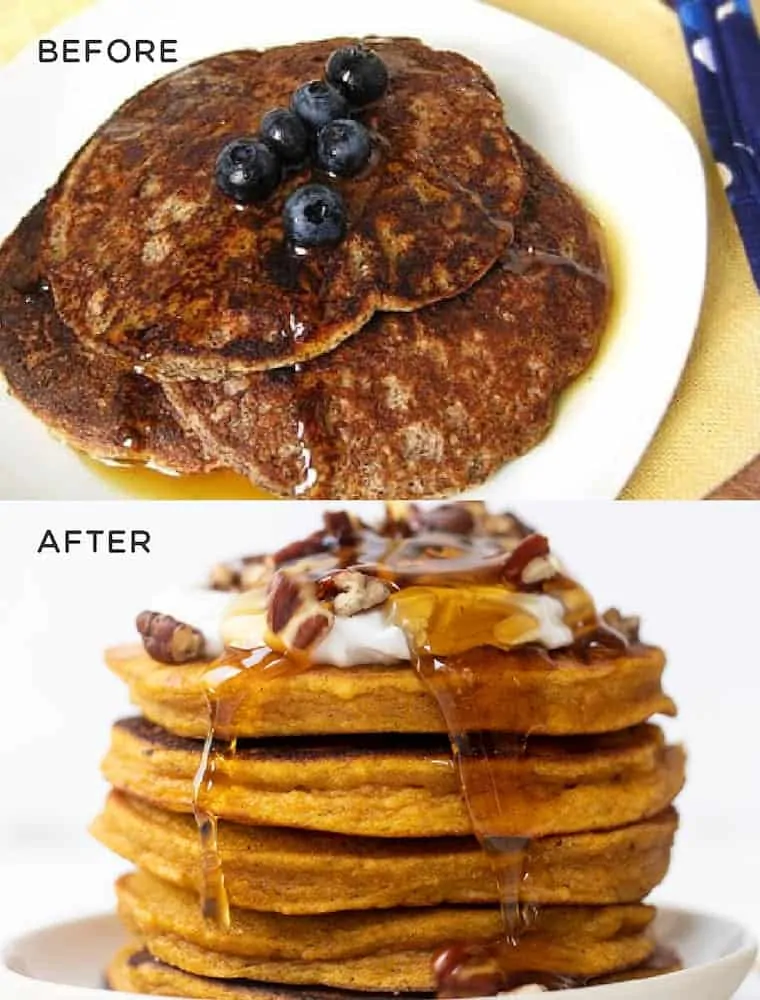 It's important to think about the different mediums that you're shooting for. For example, I do a lot of videos so that means I need to take landscape shots for my thumbnails. Instagram and Facebook like square photos, so I just make sure that what I shoot will crop down nicely for a square.
It's really about giving yourself variety and flexibility with the final shots you take!
I hope you found this post helpful! If you have any other questions, please leave a comment down below. I'd be happy to do a follow up if there are things here I didn't cover ❤️