This healthy herb quinoa salad is made using fresh herbs, toasted hazelnuts and tossed in a peppery lemon dressing. It's fast, easy and delicious!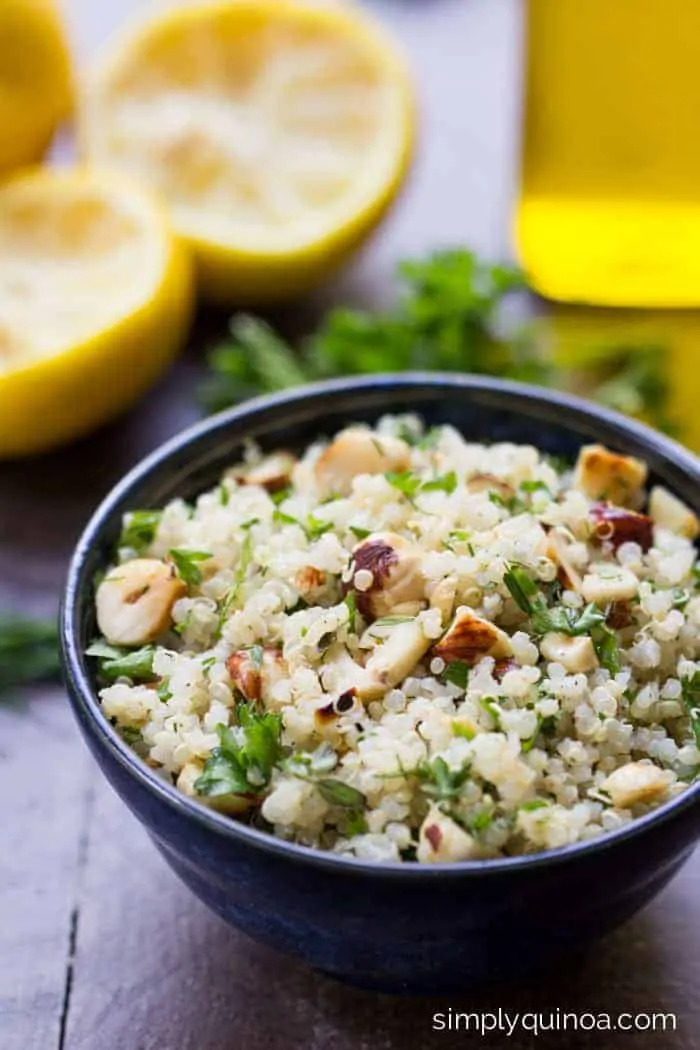 It's all about the herbs in this flavorful quinoa salad.
With a blend of five different fresh herbs, it's packed full of natural flavors, and each bite tastes just slightly different than the first. And with the peppery lemon dressing and rustic toasted hazelnuts, this salad is simple, comforting and delicious.
I seem to be gravitating towards fresh herbs these days. I'm not sure if it's because I'm seeing an abundance of them at the farmer's market, or that I've just discovered how magnificent they are, but I've been putting them into everything!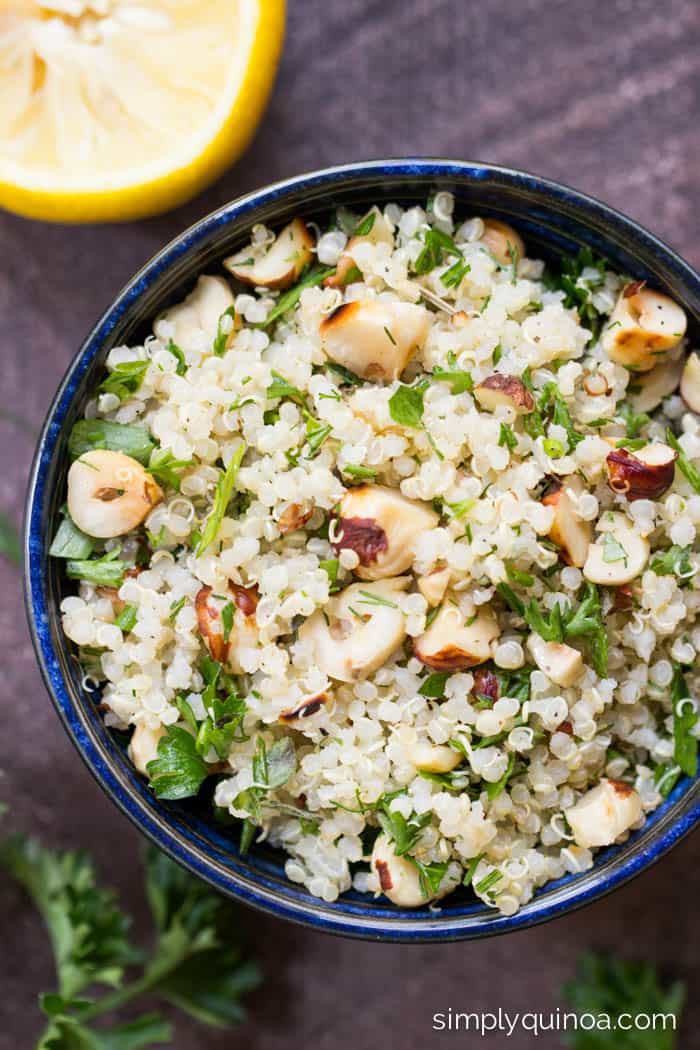 This idea for this salad came to me when I opened my fridge the other day searching for something to eat for lunch. I had cooked quinoa (per usual), not a ton of veggies and no fresh greens. That knocked my usual green salad out of contention, but what I noticed that I did have was LOADS of fresh herbs!
I have to admit, I must have gone a little overboard at the farmer's market because I had six different bunches of herbs in my drawer. Knowing they'd be bad soon, I grabbed five of them — saving my basil for another recipe I'm working on for you — and chopped them up, tossed them with some quinoa and whipped up a fresh dressing to drizzle on top.
I mean look at this! Am I crazy?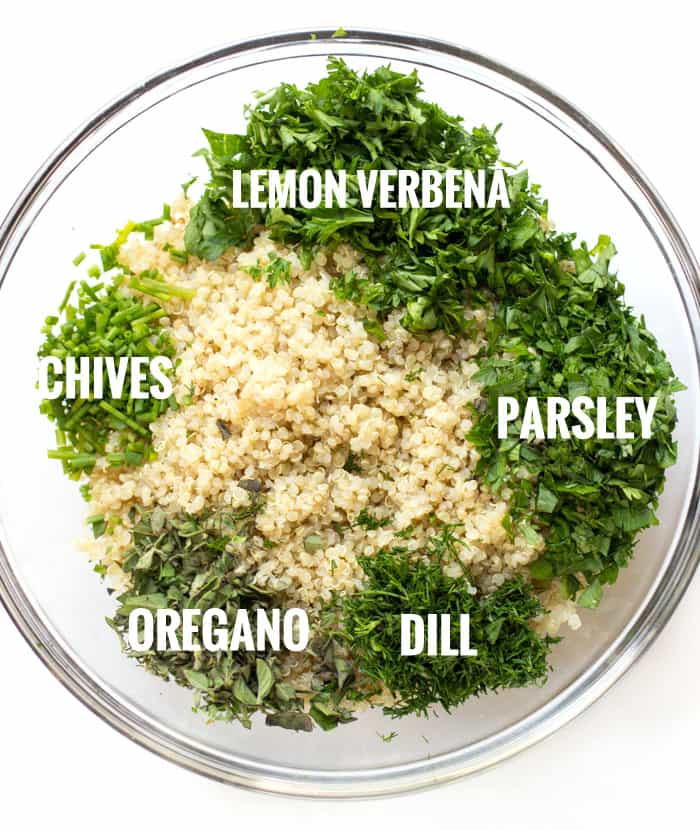 On my first bite, I knew it needed something else. I mean it was delicious but was missing a little something.
I initially thought chickpeas to up the protein, but I wanted some crunch. Hazelnuts.
No. Roasted hazelnuts.
I was almost out of fresh hazelnuts, so I tossed what I had left in the pan and began toasting them until the skins were brown and starting to loosen. Then I transferred them to a paper towel-lined plate and rubbed the skin off.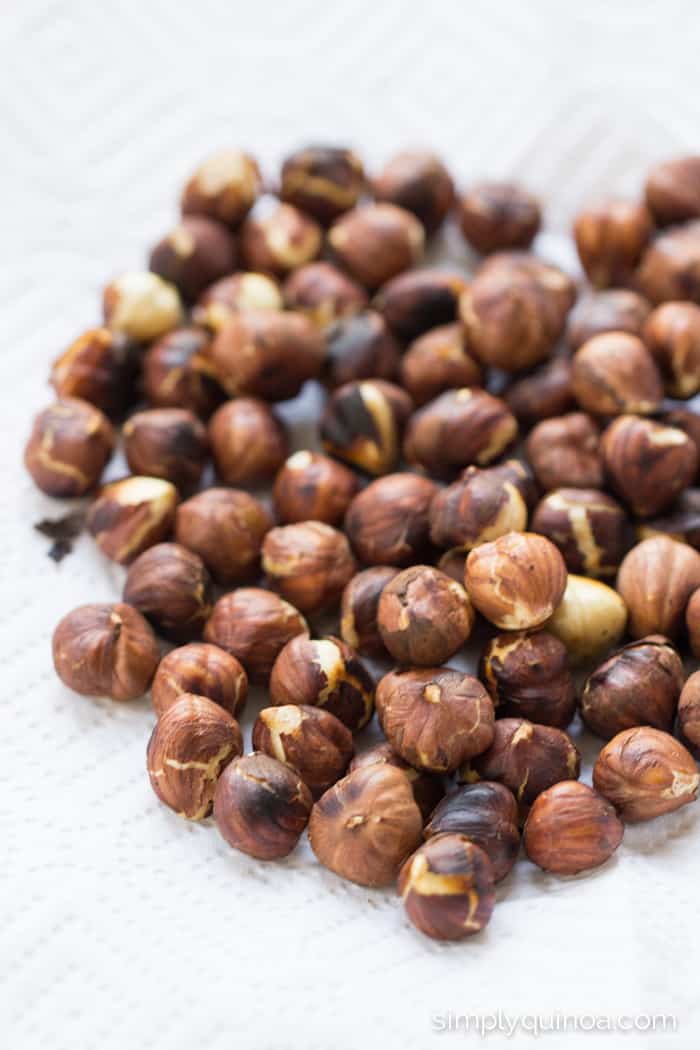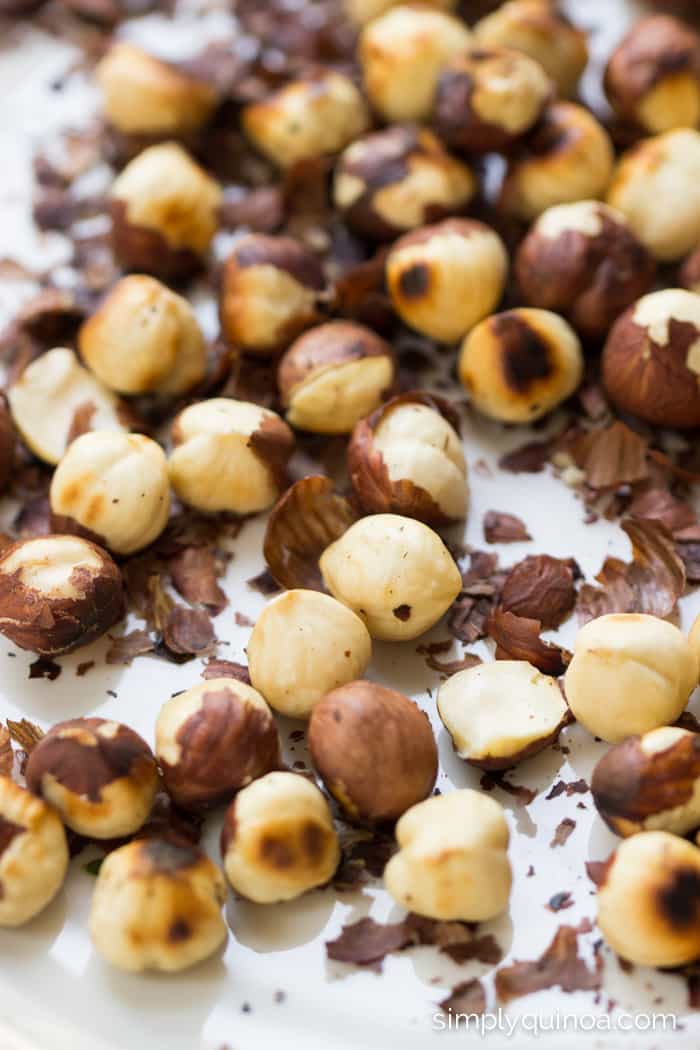 After a quick chop, I tossed them into the salad. Stirred it all together and bam. Perfection.
The smokiness and crunch of the hazelnuts were exactly what this salad needed. And it kind of gave it that late summer vibe. Still bright and cheery, but with a distinct note of autumn.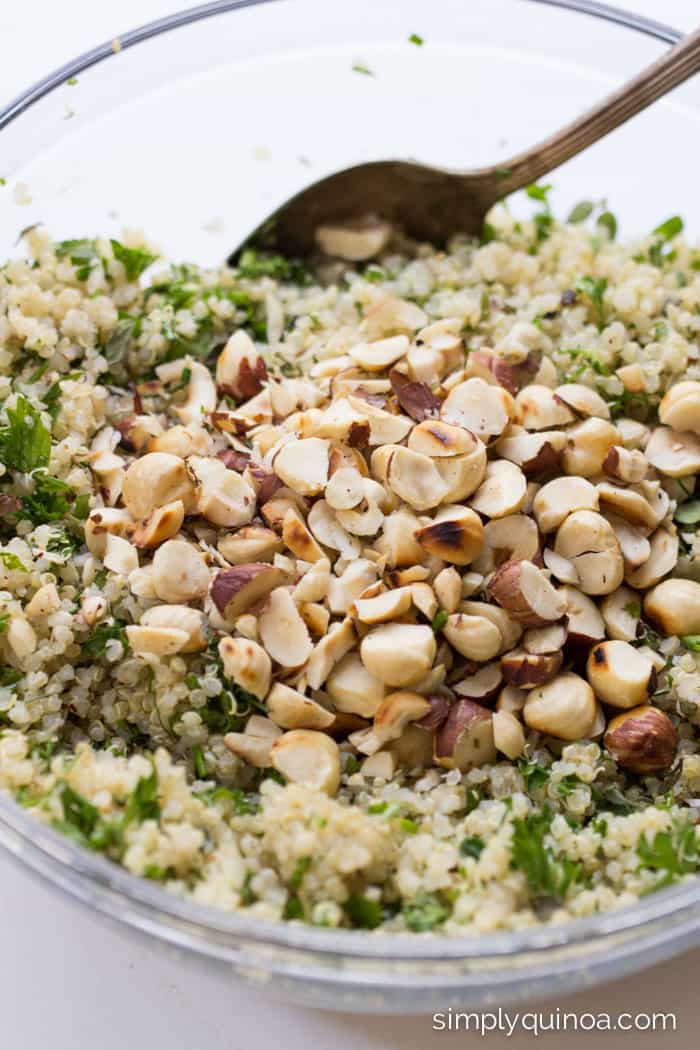 Share this recipe!
More Seasonal Sumer Recipes To Try:
Lemon Herbed Quinoa with Toasted Hazelnuts
It's all about the herbs in this flavorful quinoa salad.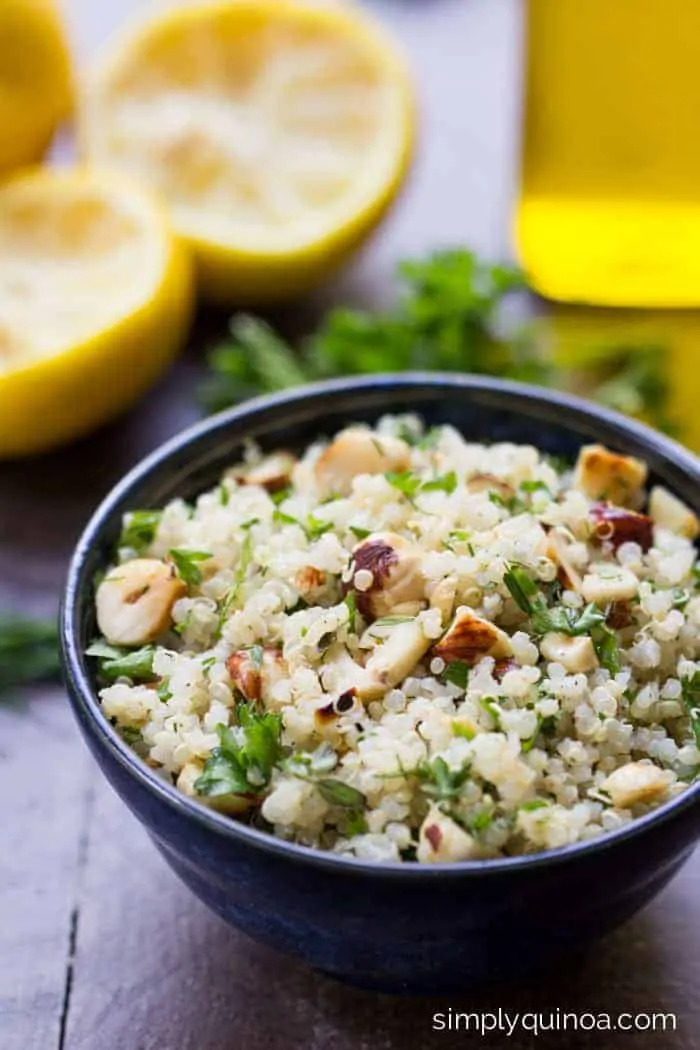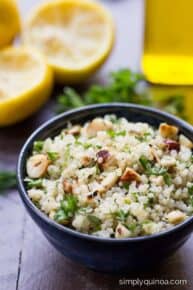 Ingredients
1/2

cup

raw hazelnuts

2 1/2

cups

cooked quinoa

1/4

cup

chopped parsley

1/4

cup

chopped lemon verbena

2

tablespoons

chopped chives

2

tablespoons

chopped dill

2

tablespoons

chopped oregano



Instructions
Add the hazelnuts to a dry skillet over medium heat. Toast until skins have started to brown and are loosening from the nut. Remove pan from heat and transfer nuts to a paper towel lined plate.

Rub the hazelnuts between the paper towels to remove the skins. Don't worry if not all the skins are removed - just as many as you can.

Transfer hazelnuts to a cutting board and roughly chop.

In a large mixing bowl, add quinoa and herbs. Add the hazelnuts and stir everything together.

Whisk together the dressing ingredients and pour it over the salad. Mix the dressing into the salad until evenly combined.

Taste and season with a touch more salt and pepper if desired.
Nutrition
Calories:
281
kcal
|
Carbohydrates:
32
g
|
Protein:
8
g
|
Fat:
15
g
|
Saturated Fat:
1
g
|
Sodium:
302
mg
|
Potassium:
390
mg
|
Fiber:
6
g
|
Sugar:
2
g
|
Vitamin A:
520
IU
|
Vitamin C:
21.4
mg
|
Calcium:
92
mg
|
Iron:
3.8
mg
Filed Under: