Lemon Rosemary Quinoa with Fiddleheads & Mushrooms
Quick and easy to make, this Lemon Rosemary Quinoa Recipe brings local veggies, fresh herbs, bright citrus, and quinoa together in one simple, healthy dish.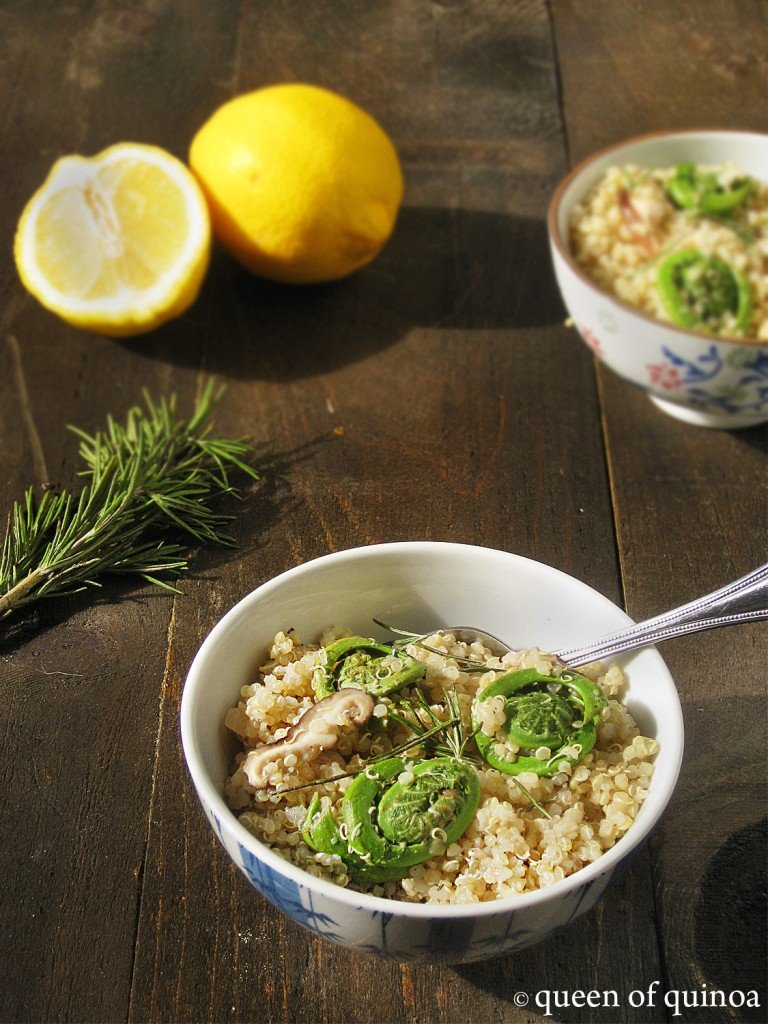 So I don't want to focus on the weather, because that's what people do when they have nothing better to say, but I'm going to in this post. I mean seriously, I live in Vermont and when spring comes and the cold winter months have truly vanished, it's news worthy. Blog worthy even.
Let's first talk about the sun. Have you been missing it like I have been? We get so used to the soft, grey cloudy skies, that when the sun breaks through, we're in awe. It's like we're in a trance. Literally stopping in our tracks tracks and just standing there, closing our eyes, faces toward the warm light, as it radiates waves of happiness throughout our entire bodies.
Pure bliss.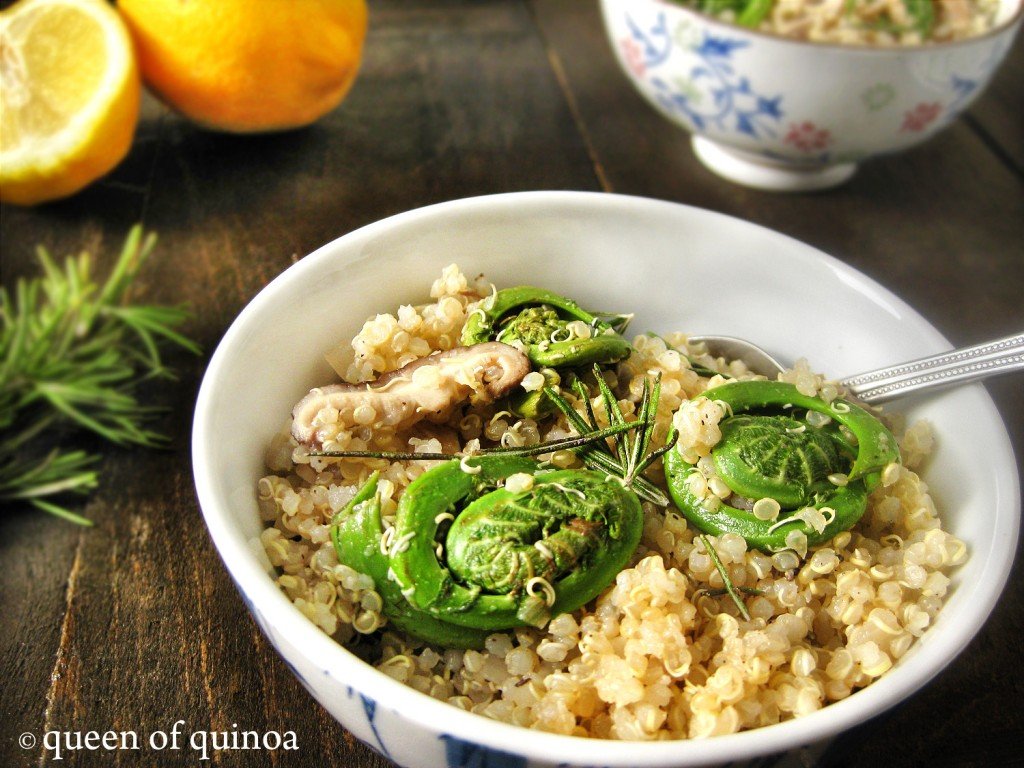 Sunshine doesn't only bring brightness and light into your life, it also brings heat. In Vermont the heat can be unbearable. It's humid and uncomfortable, the is air stifling. Especially in Burlington.
When the heat hits, you find yourself longing for a light breeze, sweeping gently off the lake, carrying the crisp, cool air to the top of the hill. You crave an easy meal, that doesn't keep you locked behind the hot stove, and that is packed with flavor,but still soft and light.
Are you hungry yet?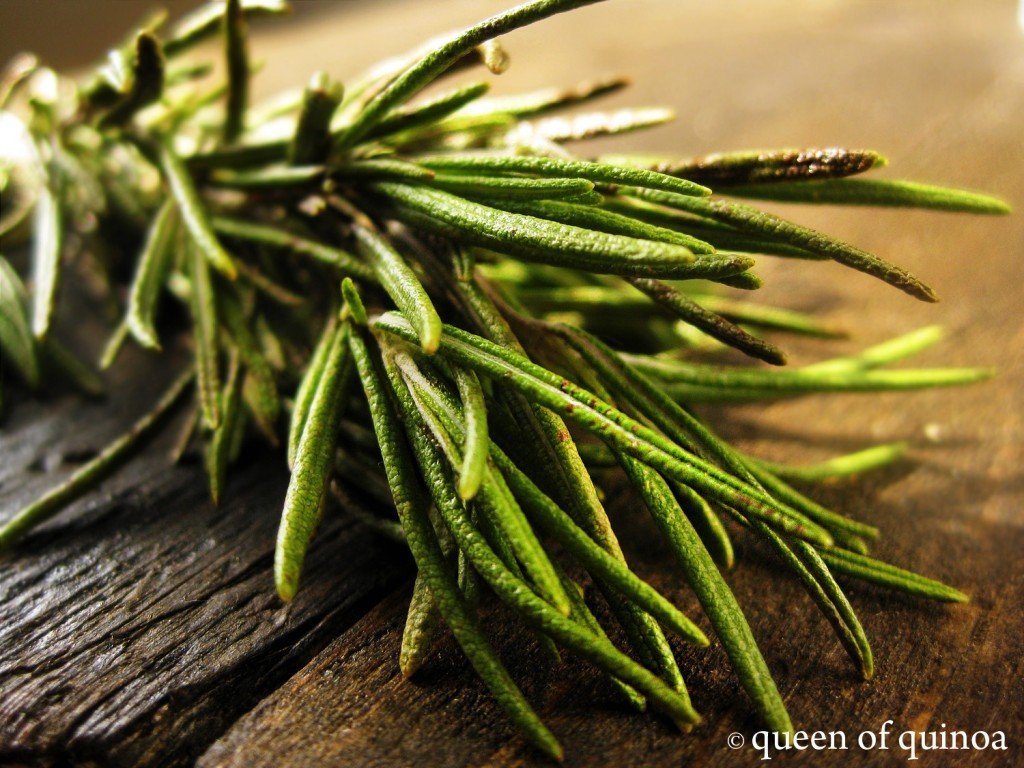 I've been all about the light and healthy quinoa recipes lately. Not only is quinoa insanely versatile, but it's also loaded with nutrients and is perfect when you just need a little snack or are feeling completely famished. It provides the protein you need to stay fuller longer, is awesome as a post workout bite, and of course, it tastes delicious.
Quick and easy to make, this recipe brings all of my favorite things together in one simple dish. Local veggies, fresh herbs, bright citrus flavors and quinoa. It's a rockstar quinoa dish and is simply perfect for spring.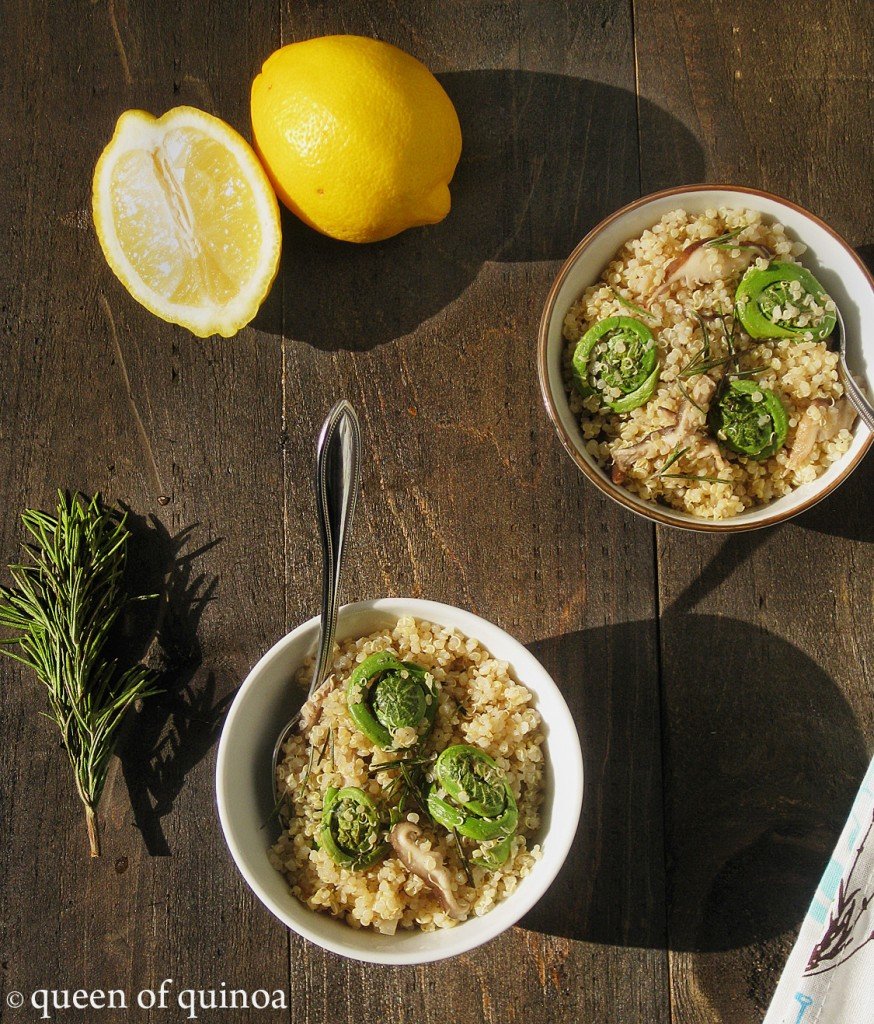 Lemon Rosemary Quinoa with Fiddleheads and Mushrooms
Quick and easy to make, Lemon Rosemary Quinoa with Fiddleheads and Mushrooms brings all of my favorite things together in one simple dish. Local veggies, fresh herbs, bright citrus flavors, and quinoa.
Servings 4
Calories 246kcal
Ingredients
1 cup quinoa
1 pound fiddleheads , stems removed
1/2 pound mushrooms (we used shitake), chopped
4 cloves of garlic , minced
2 tablespoons fresh rosemary , finely chopped (about 2 – 3 sprigs)
1 tablespoon olive oil
Juice of 1 lemon
Zest of 1 lemon
1 teaspoon red pepper flakes (omit if you don't like spicy food)
Salt & pepper to taste
Instructions
Place the quinoa and 2 cups of water in a small sauce pan and bring to a boil. When boiling, cover the pot and reduce to a simmer for 8 – 10 minutes. Once all the water has been absorbed, remove the pan from the heat and keep covered for another 5 minutes.

While the quinoa is cooking, prepare your veggies. First, steam the fiddleheads in a saute pan. Add a touch of water (1/4 cup tops) to the pan and cover to steam for 5 minutes. Remove the fiddleheads and return the pan to the stove.

Heat the olive oil on medium high, add the garlic and mushrooms and saute for 3 minutes until the mushrooms begin to soften. Add the fiddleheads, sprinkle with salt and pepper, and continue to saute for another 5 minutes, until the veggies are completely softened.

Transfer the cooked quinoa to a medium mixing bowl. Add sauteed veggies, fresh herbs, lemon zest and juice, pepper flakes. Toss to combine. Sprinkle with a bit more salt and pepper to taste.

Serve warm or as a cold side. Make sure to enjoy the sunshine!
Nutrition
Calories: 246kcal | Carbohydrates: 37g | Protein: 13g | Fat: 7g | Saturated Fat: 1g | Polyunsaturated Fat: 2g | Monounsaturated Fat: 3g | Sodium: 15mg | Potassium: 868mg | Fiber: 4g | Sugar: 1g | Vitamin A: 4285IU | Vitamin C: 33mg | Calcium: 68mg | Iron: 4mg
share what you make
Tag #simplyquinoa on Instagram with your creations! We love sharing what you make with the community. We can't wait to see!

follow on instagram