This quinoa granola is made with a blend of oats and quinoa flakes, sweetened with maple and applesauce. It's crunchy, it's nutty and it's perfect for fall!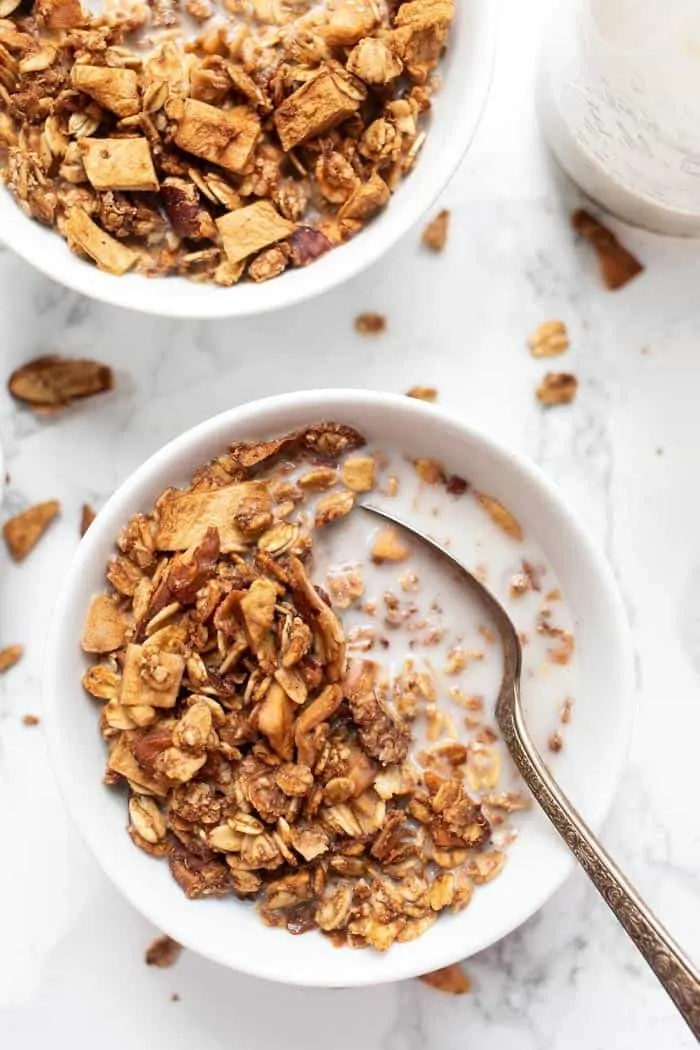 Now that the weather has turned, it's time to whip out all the fall baking things. Pumpkin, apples, cinnamon, nutmeg, pumpkin pie spice, chai. All my favorites that make this time of year so cozy and inviting.
To kick the season off right, we're making one of my all-time favorite fall treats:
Apple Cinnamon Quinoa Granola!
It's packed with flavor, is a cinch to make, has that perfect crunchy texture and nutty finish, AND it's the sweetness of maple syrup. Basically, all your fall dreams coming true in one batch of healthy granola!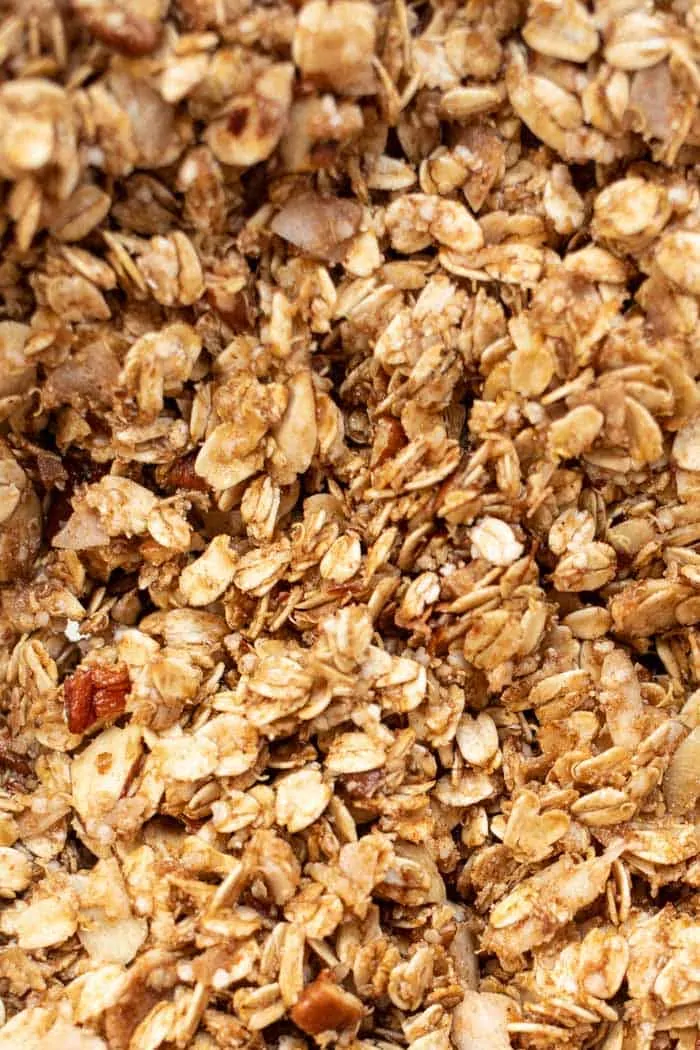 The Art of Homemade Granola
While we can't necessarily consider granola a meal per se, it's definitely one of those things that can help turn a boring old breakfast into something magical.
What I love about making granola at home is that it's so much easier to make it healthy. I'm constantly surprised looking at the nutrition facts of store-bought granola – they're loaded with sugar, often use unhealthy oils AND the sweetener is almost always cane-sugar.
My view is…granola is one of the simplest things to make, so why waste money and calories on ones that just aren't good for us? We can just as easily enjoy a bowl of nutritious, homemade granola in the morning that is not only good for us, but also tastes delicious.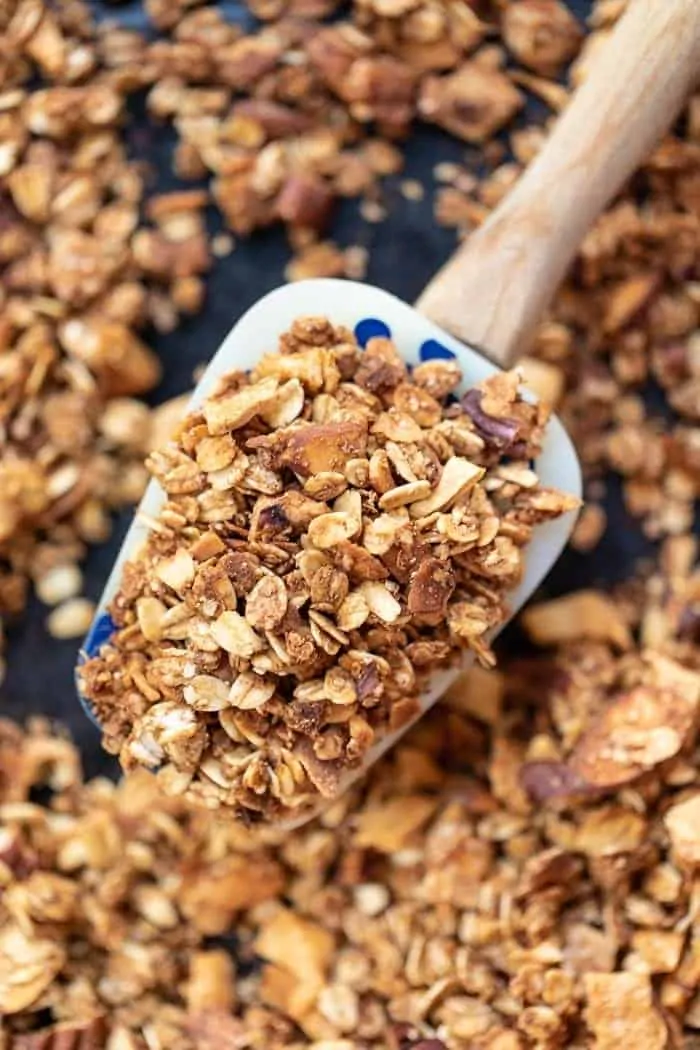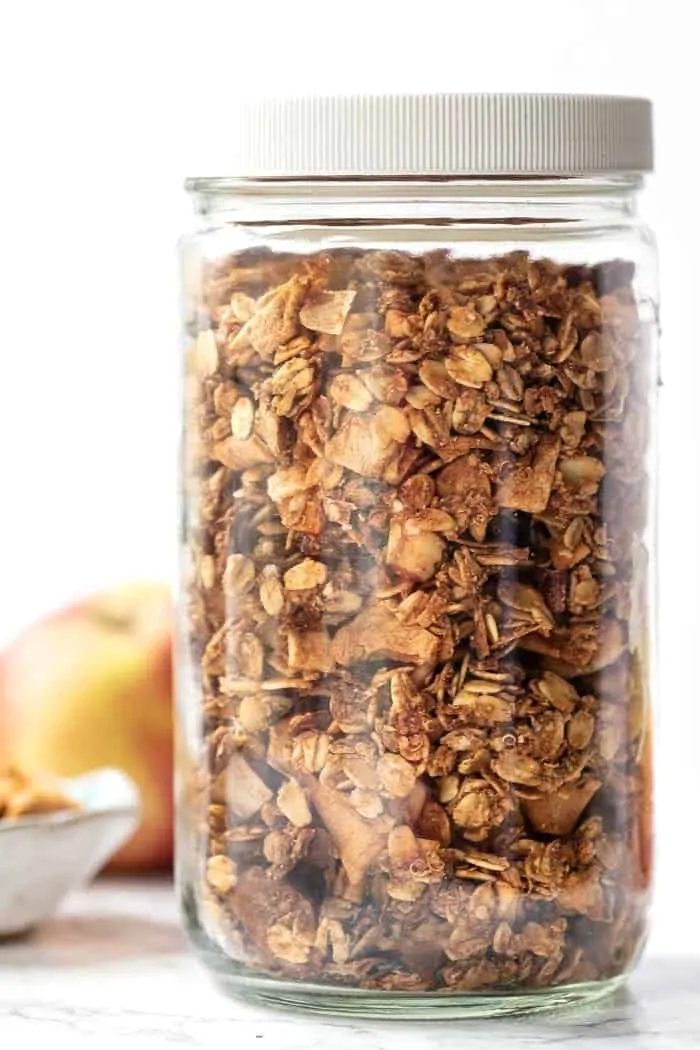 How to Make Healthy Granola
The standard granola recipe starts with oats, then has some add-ins (like nuts), some oil and some sweetener. I use a similar "formula" but when I make granola, I like to make a few swaps to make it even healthier.
1. Quinoa flakes. In addition to the oats, I loving stirring quinoa flakes into my granola recipes. For starters, you get more protein and fiber per serving, but it's also adding a really nice texture and lightness that you don't get from just standard oats.
2. Nuts & seeds. I always add some form of nut or seed. The reason for that is getting in some healthy fats which makes the granola more filling, helps keep us satisfied for longer AND helps balance our blood sugar.
3. Less oil. I have figured out that you really don't need all that oil in granola. My rule of thumb is about 1/4 – 1/3 cup of oil per granola recipe. What I do to compensate for that is either add fruit puree (like applesauce or pumpkin), using nut butter and/or adding in a touch of water. You still get the same result, just a bit healthier.
4. Natural sugars. And finally, I'm all about the natural sweeteners. I will either use maple syrup or honey and often times will also use fruit to get both added flavor and sweetness. We're using applesauce here, but you can also use banana, pear butter, etc.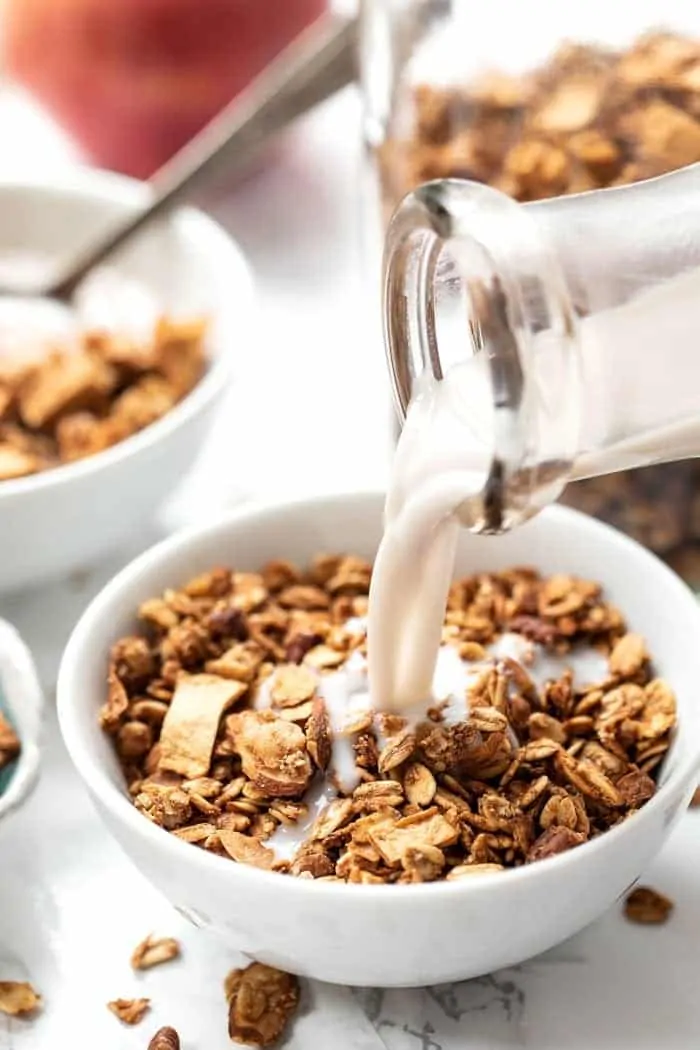 Perfect Cinnamon Quinoa Granola
Since it's that time of year, we're keeping things plain and simple with our autumn flavors.
We've got two forms of apple – applesauce and dried apples – as well as maple syrup, cinnamon and nutmeg. The result is a healthy quinoa granola that is flavorful, but also cozy and perfect for a chilly fall morning.
Just yesterday I sprinkled some on top of a stack of pumpkin pancakes and oh my gosh it was heavenly!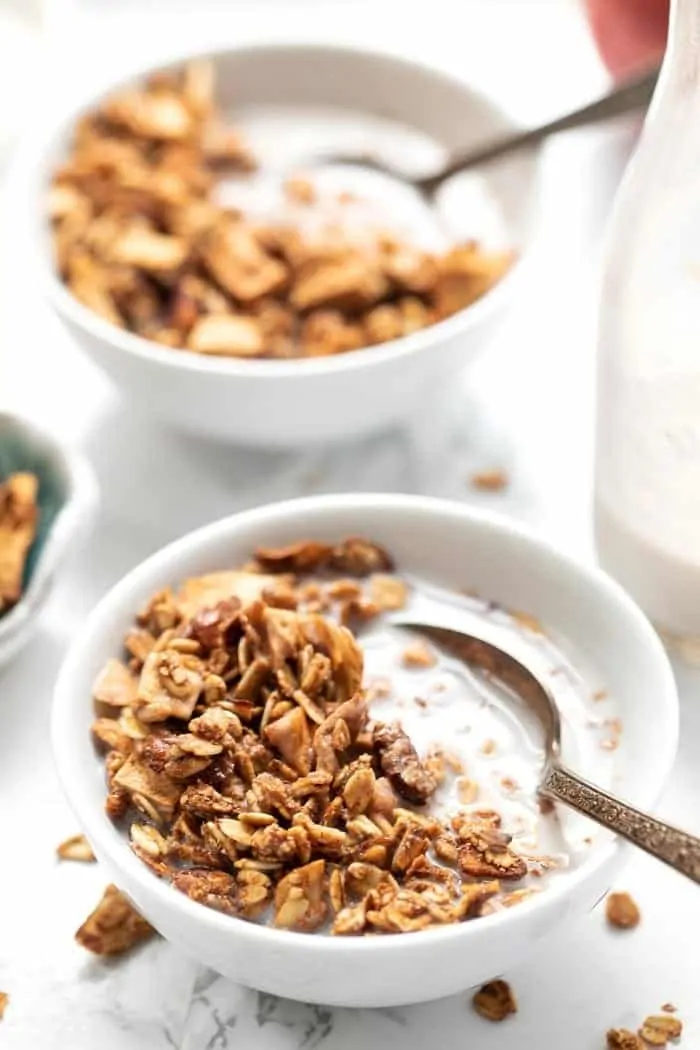 More Healthy Fall Baking Recipes!
Maple, Cinnamon & Apple Quinoa Granola
The ultimate granola for fall! With warm, cozy spices, a subtle sweetness from apple and maple, and crunchy nuts for texture.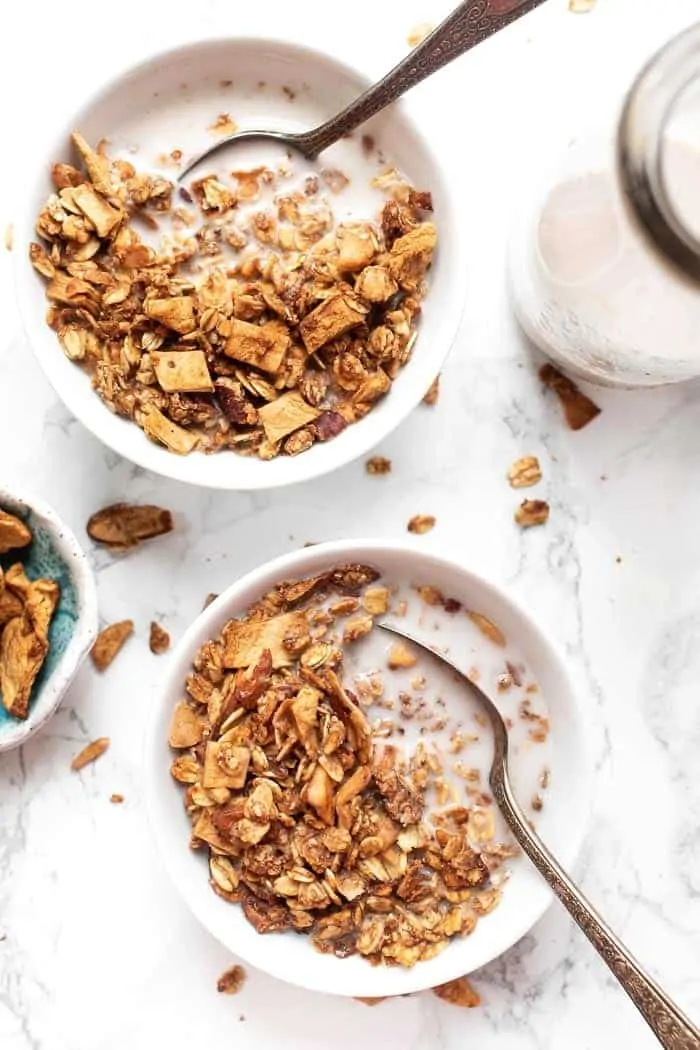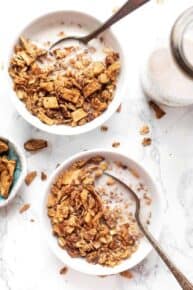 Instructions
In a large mixing bowl, combine all the dry ingredients, except for the apples.

In a separate mixing bowl, beat liquid ingredients together. Add the liquid ingredients to the dry ingredients and stir with a wooden spoon until fully combined and all the dry ingredients are coated.

Spoon the contents of the mixing bowl onto a baking sheet. Bake the granola 20 - 30 minutes until the granola has browned. Make sure to stir it around every 10 minutes, to avoid burning it.

When the granola has finished baking, stir in the chopped apples.*

Cool fully before adding placing in an airtight container. Serve with your choice of milks, yogurts or use as a topping!
Notes
Nutritional value based on 1 cup
Nutrition
Serving:
0.25
cups
|
Calories:
209
kcal
|
Carbohydrates:
22
g
|
Protein:
4
g
|
Fat:
12
g
|
Saturated Fat:
5
g
|
Sodium:
5
mg
|
Potassium:
139
mg
|
Fiber:
3
g
|
Sugar:
5
g
|
Vitamin C:
0.1
mg
|
Calcium:
33
mg
|
Iron:
1.3
mg
Filed Under: