Cinco de Mayo is one of my favorite holidays. It revolves around food and drinking, margaritas and guacamole being the highlights of the day.
Like so many others, fresh tortilla chips and guacamole is my total vice. If that was an acceptable meal for dinner, I'd probably have it three or four times a week. In fact, I'm currently sitting on my couch and eating chips and guacamole. (Ps – let's talk about how the boy came home with no salt chips….ugh…but we're still enjoying them)
There's almost nothing better than slicing into a ripe avocado, mashing it in a bowl with a little lime juice and salt (I keep it simple around here) and scooping an obnoxiously huge bite onto a crispy tortilla chip. Crunch. Crunch. Mmm…
In preparation for tomorrow's festivities, I've whipped up this delightful little treat (which was inspired by my oh-so-talented friend, Beth from Tasty Yummies). I'm calling them margarita mousse bars because margarita bars didn't seem descriptive enough.
The filling (or topping, or whatever you want to call it) is out of this world. First, it tastes like a margarita. Care for a margarita dessert anyone? Why thank you, I think I will. The filling has the most sensational texture. It's what makes my mouth water about these margarita mousse bars.
Soft and pillowy, the topping of these bars is infused with just a little bit of tequila (I mean it is Cinco de Mayo, we gotta get a little boozy) and tons of lime. Just imagine a sip of your favorite margarita, then picture in brownie-like form. That's what this dessert is.. Can it be any more perfect for Cinco de Mayo? I don't think so!!
Stay safe and happy, and enjoy the holiday!
Margarita Mousse Bars
These no bake key lime pie bars are the ultimate healthy treat! Made with a creamy cashew filling, a crunchy crust and bursting with tons of lime flavor!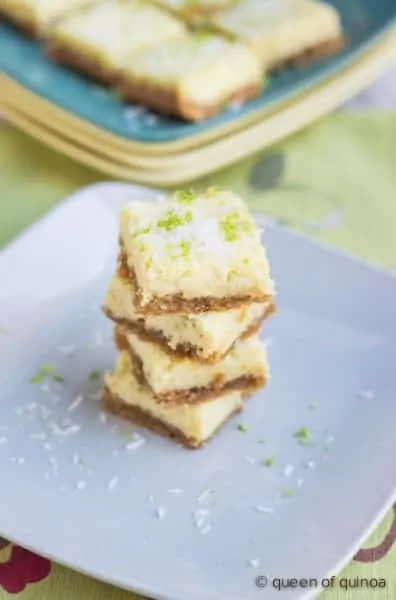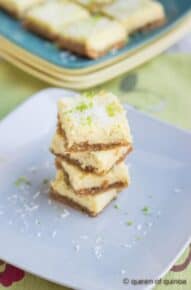 Ingredients
For the mousse:
1

small lime

1/4

cup

lime juice

approx. 3 limes

1

tablespoon

tequila

2

tablespoons

maple syrup

2

large eggs

at room temp

2

teaspoon

tapioca

1

teaspoon

stevia

1/4

teaspoon

salt
Instructions
Preheat the oven to 350 degrees F and line a loaf pan with parchment paper.

Mix all the crust ingredients together until a crumbly dough forms. Press the dough into the loaf pan and bake for 15 minutes, until the crust begins to lightly brown.

Prepare the filling by adding the lime, lime juice, tequila and maple syrup until fully blended and the lime is broken up. Add the remaining ingredients and blend until just combined.

Remove the crust from the oven and pour the filling over it. Turn the oven down the 300 degrees and bake the bars for 20 - 25 minutes until the filling has set.

Remove, let cool completely in the pan before transferring the bars to a cutting board and slicing into bars.

Enjoy! (I sprinkled mine with a little shredded coconut)
Nutrition
Calories:
81
kcal
|
Carbohydrates:
6
g
|
Protein:
2
g
|
Fat:
5
g
|
Saturated Fat:
2
g
|
Cholesterol:
23
mg
|
Sodium:
112
mg
|
Potassium:
31
mg
|
Sugar:
2
g
|
Vitamin A:
35
IU
|
Vitamin C:
2.7
mg
|
Calcium:
22
mg
|
Iron:
0.4
mg
Filed Under: