The 10 best natural winter skincare products to make your skin feel hydrated and nourished. These products are non-toxic and need to be part of your routine.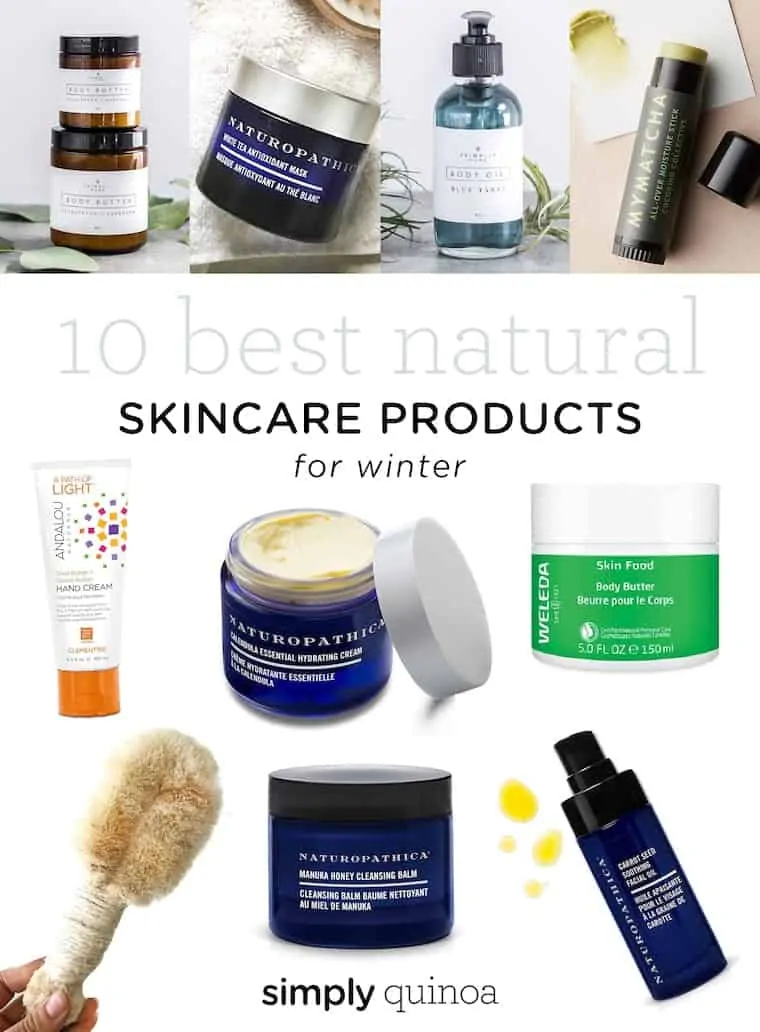 What I've learned over the years is that as the seasons change, our skincare routine should also change. Because the seasons affect our skin and if we just use the same products and not adjust, it can lead to some issues.
In the summertime, the natural heat outside causes us to sweat and create more oil on our skin. In the winter, we tend to dry out. So, for example, if you use the same deeply hydrating products in the summer that you use in the winter, it can cause you to break out. You need to adjust based on the season you're in.
My Must-Have Natural Winter Skincare Products
Since we're in winter right now, I thought it would be helpful to share the products that I'm currently using (and loving). Everything is natural, non-toxic, cruelty-free and good for your skin. Super hydrating, super nourishing and there's something for your entire routine!
Ready to dive in? Let's do it!
---
Naturopathica Manuka Honey Cleansing Balm
Best for: all skin types
Frequency: 2x daily
Price: $62
I'll admit, I was skeptical to try this product, but oh my gosh I am hooked. This is hands down one of my most favorite facial products of all time. It's amazing! And if you've never tried a cleansing balm before, you're in for a treat! You start by rubbing the balm onto dry skin and then gently wash it off with warm water. The result is silky smooth skin that is also super hydrated! It's perfect for the winter, but can also be used year round.
---
Naturopathica Calendula Hydrating Cream
Best for: sensitive, dry or irritated skin
Frequency: 1 – 2x daily
Price: $59
This was the first ever product I tried from Naturopathica and it's what got me hooked on their line. I used to be a facial oil girl, but over the summer I was getting breakouts. I got a facial and they recommended this product to me. I've been using it for over 6 months now and I LOVE it. It's very hydrating but won't leave you feeling oily or greasy. The calendula is also calming which is great for problematic skin. I use this as my everyday moisturizer and my skin has never felt better!
---
Naturopathica Carrot Seed Facial Oil
Best for: red/irritated skin or blemishes and oil control
Frequency: 1x daily (or as needed)
Price: $58
Sometimes we need a little extra oomph in the wintertime, which is where a facial oil can be super helpful. The carrot seed oil from Naturopathica is light, but still quite hydrating. Out of their two oils, this is definitely the one you'd want to use in the winter. This isn't something I use every day, but on super cold or windy days, I'll put mix a drop or two of this with my moisturizer to give me a little extra hydration boost.
---
Cocokind Matcha Stick
Best for: dry patches or undereye circles
Frequency: daily
Price: $13
Now we can't forget our under eyes, now can we? The skin underneath our eyes is the most delicate skin on our face. I don't know about you, but in the wintertime, my eyes tend to run more than normal which can definitely cause some drying/irritation to that skin under my eyes. My go-to solution? The matcha stick from Cocokind. It's super hydrating, but also great for dark circles!
---
Naturopathica White Tea Antioxidant Mask
Best for: dry & dehydrated skin
Frequency: 2 – 3x per week
Price: $50
If you follow me on social media, you know I love a good face mask! The white tea mask from Naturopathica is another product I was introduced to in that facial and I love it. The esthetician recommended that I use two times per week for hydration. It's nice and light, but it also leaves my face feeling super nourished. The other thing I love about this mask is that it can also be used as an overnight cream when you need it. For example, if you went on a ski weekend and your face was dry and irritated, use this mask as your night cream and you'll wake up feeling incredible!
---
All Natural Dry Brush
Best for: all skin types
Frequency: daily
Price: $5 – $10
We've talked about the benefits of dry brushing before, and while I try to do it all year round, I especially love it in the winter. You know when your legs get all scaly and dry? Dry brushing helps exfoliate and get rid of all those dry skin cells. It's also amazing for circulation, can help reduce the appearance of cellulite and makes your skin look radiant. Just make sure to follow up with some of the products below!
---
Primally Pure Blue Tansy Body Oil
Best for: all skin types
Frequency: daily
Price: $46
During the winter we also need to take care of our bodies, not just our face. In the summer I love using a light moisturizer, but in the winter my skin craves something super hydrating. That's where a body oil comes in! Just like a facial oil, body oils are incredible for the skin. I love this one from Primally Pure because it smells delicious and feels great on the skin.
---
Primally Pure Eucalyptus & Lavender Body Butter
Best for: all skin types
Frequency: daily
Price: $5 – $10
If you're not a fan of body oils, body butter is the next best thing for the winter! I have two favorite body butters that I'll share here, and the first one is from Primally Pure. They have three scents (this is my favorite), and they're so luxuriously creamy. They are made from a base of grass-fed beef tallow, so they aren't vegan, but they do still work wonders. They're not oil, they soak into the skin nicely and the scents are divine!
---
Weleeda Skin Food Body Butter
Best for: all skin types
Frequency: daily
Price: $20
If you're plant-based or just don't want to use animal products on your skin, this is my next favorite body butter. I actually just got it and have been loving it! It's whipped so it's really fluffy and it's definitely not greasy or oily. It's very hydrating and takes the place of lotion for me and completely nourishes my skin.
---
Andalou Naturals Clementine Hand Cream
Best for: all skin types
Frequency: daily, as needed
Price: $5
And lastly, we have a hand cream! My hands get very dry in the wintertime, especially since I'm outside a fair amount. I try to remember gloves, but sometimes I forget and then my hands end up dry. Hand cream is essential! There are tons of options out there, but what I love about this one is that it's reasonably priced, it's non-toxic and cruelty-free, and it doesn't have a strong scent. This is something that sits right by my door and also in my travel bags/purses!
What products are you loving?
Let me know in the comments if there are natural winter skincare products you're loving this season. I'd love to know what you're using and what's helping your skin feel hydrated, nourished and glowing!
More Natural Skincare Tips: