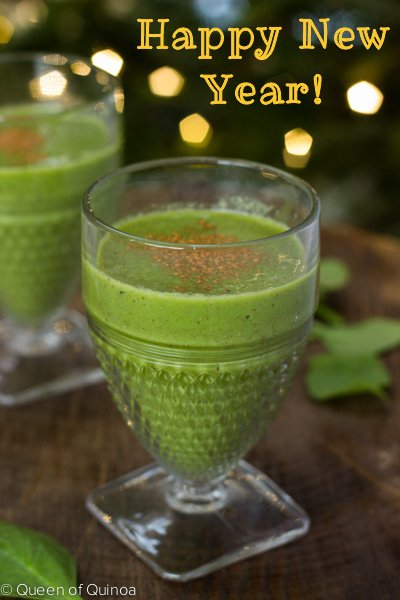 Happy New Year! Can you believe it's 2013 already? I hope you enjoyed ringing in the new year surrounded by your family and friends.
As many do at this time of year, I'm going to dedicate this post to reflections and intentions.
2012 was an amazing year. It was a whirlwind, but the experiences I was left with this year have changed me (and Queen of Quinoa) for the better. I was able to explore my passion for food and photography, readership on the site has blossomed (with more comments, interactions and feedback, which I completely adore!), I have a DSLR camera now so my photos will continue to improve, we have almost 3,500 fans of Facebook, and I released my first eBook. To me, these were this year's greatest milestones, along with many delicious recipes and still being able to share my love for quinoa with all of you.
But I'm really looking forward to 2013. Not only in my personal life (there might be a big move in my near future), but also for QofQ and the world of quinoa. I'm not one to make resolutions, so I've decided to set intentions for this coming year.
Here's a list of what you can expect from QofQ in 2013:
International Year of Quinoa – the United Nations has dedicated 2013 as the International Year of Quinoa. To celebrate, I'm excited to bring you new, exciting, healthy and innovative recipes that center around this amazing food, to share new products and companies that promote quinoa and it's nutritional properties with you, and to build a strong community of all you loyal quinoa fans.
Bi-monthly Quinoa Link Parties – since the start of this site almost two years ago, the recipes have always come from me. This year, I want to see what you cook in your own kitchen. I plan to host bi-weekly link parties that give you the opportunity to share your delicious quinoa creations with everyone!
Monthly Giveaways – each month this year, I plan to host at least one giveaway for a product that I adore and use in my own kitchen. They will range of food products, books, and even kitchen tools. I want you to have the chance to enjoy and learn about the things I love using.
New Quinoa Ebooks – with the success of my first ebook, I have seen that you, my readers, are hungry for books that are focused on quinoa recipes! With my next book in the works, celebrating the many ways to use quinoa for breakfast, I'm already thinking about my third, fourth, fifth (I could go on forever!)… I plan to launch at least four books next year, which will each show you different ways to incorporate this superfood into your everyday meals.
A Balance of Sweet and Savory – I love my desserts, and I know you do too, but this year I'm planning to have more savory recipes on the site. Since desserts are always delicious and I could never give them up, I will strike the delicate balance of sweet and savory, giving everyone a taste of different things.
Although the list is short, the intentions I've set are not lofty or exaggerated. They are ones that I can commit wholeheartedly to. And each one will help grow Queen of Quinoa and build this community to be an even stronger and tighter knit group. I'm excited for what's to come and I hope you are as well. 2013 is going to be a year full of growth, exploration, and most importantly, cooking!!
Your support means the world to me and I could never do this without you. I wish you a happy and healthy new year!
Much love,
Alyssa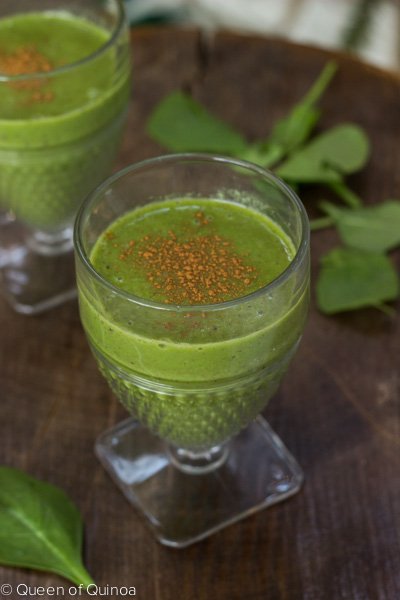 New Year's Intentions + a Green Smoothie
A delicious and refreshing smoothie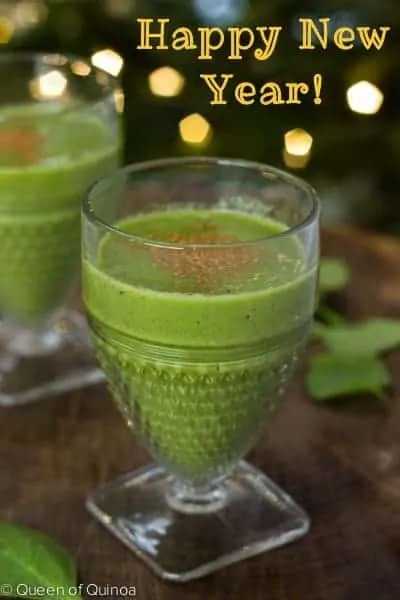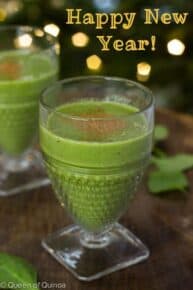 Ingredients
1

cup

almond milk

1/4

cup

apple cider

1

large banana

1

large apple

chopped

1/2

cup

frozen peaches

1/4

cup

flaxseed meal

1

teaspoon

cinnamon

2

cups

baby spinach

Handful of ice cubes

6 - 7
Instructions
Add the ingredients in the order listed to a high powered blender. Blend on high until smooth and creamy.

Serve immediately.

Enjoy!
Notes
gluten-free | dairy-free | vegan | refined sugar-free
Nutrition
Calories:
262
kcal
|
Carbohydrates:
41
g
|
Protein:
6
g
|
Fat:
10
g
|
Sodium:
194
mg
|
Potassium:
741
mg
|
Fiber:
11
g
|
Sugar:
23
g
|
Vitamin A:
3025
IU
|
Vitamin C:
20.3
mg
|
Calcium:
246
mg
|
Iron:
2.3
mg
Filed Under: