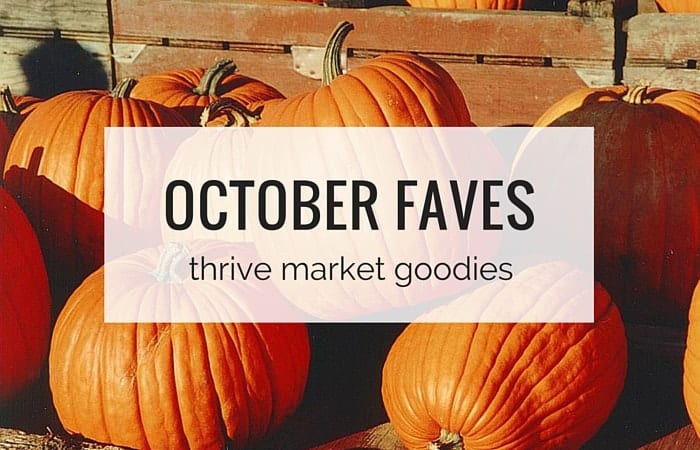 Hi there! I'm back with the second installment of my monthly faves series and I can't wait to share what I picked up this month.
I'm currently in Vermont and soaking up as much of the fall beauty as possible. It's definitely starting to get chilly, but it's gorgeous just the same. I always tell people, if you've never visited this little state, it's an absolute must! Such an amazing place.
October is always a pretty busy month for me – there's a holiday weekend which we usually try to escape the city for (this year it was a friend's wedding in Virginia), my entire family has their birthdays in a span of two weeks (my brother, dad and mom) and then there's Halloween.
I've never really been into Halloween and now that I'm so focused on healthy eating, this holiday is even less appealing to me. All the sugar-loaded candies are filled with chemical and overall junk, that I can't imagine handing that out to little kids, let alone allowing my kids to eat the stuff.
Thankfully, there actually is a solution! To my surprise there are healthy candies out there that don't taste disgusting and that kids will actually enjoy.
Healthier Halloween Treats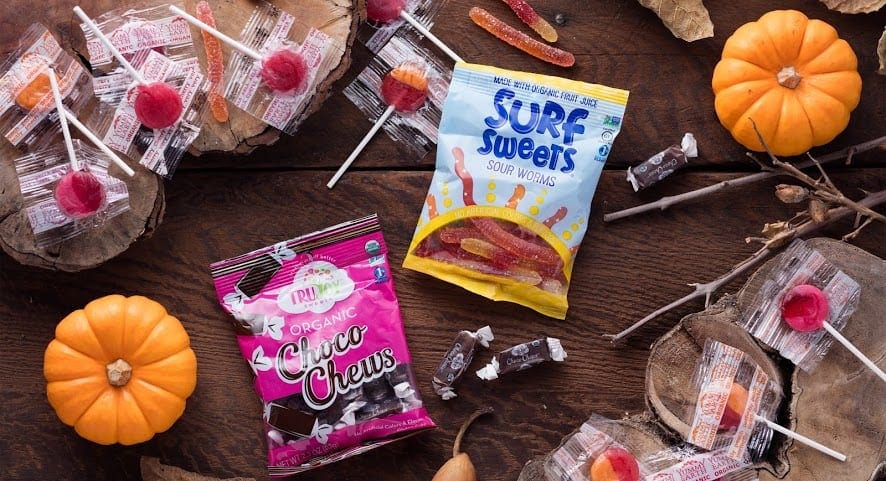 You know how much I love Thrive Market and so I was thrilled to get an email from them last week with a bunch of ideas for healthier Halloween treats. Whether you have kiddos of your own or will have little monsters, ghosts, witches and super heros ringing your doorbell, Thrive has some great options for healthy treats. (check out my top 10 picks!)
From naturally sweetened lollipops to organic, fruit-dyed chewy candies, to healthy sour gummy worms and even jelly beans, there are tons of options to make your halloween healthy and happy.
Click here to check out what Thrive has to offer
(SQ readers get 3 months free AND 25% your first order, so hurry up and grab some candy!)
My October Faves
I'm really excited about what I picked up this month. I discovered some delicious new (and ultra healthy!) snacks, some sweet treats and a few toxic-free beauty products!
So without further ado, here's my October Faves: Thrive Market Goodies video 🙂

Just Pure Foods Spicy Jalapeno Tomato Chips
A perfect friend for your bowl of fresh guacamole or hummus! Bold flavors, pure food ingredients!
Ingredients: Tomatoes, sprouted buckwheat, jalapenos, carrots, onion, sprouted sunflower seeds, onion powder, garlic powder, Himalayan rock salt, olive oil (cold-pressed), parsley, spices, red bell pepper powder.
Price: Retail: $7.65  Thrive: $5.95 (Save 22%, currently out of stock)
Go Raw Raw Pizza Flax Snax
Rumor has it these Go Raw® Pizza Flax Snax are impossible to stop eating! There's no need to order pizza ever again when these gently spiced Flax Snax flavored with organic tomato and garlic are around.
Ingredients: Sprouted Organic Flax Seeds, Sprouted Organic Sunflower Seeds, Sprouted Organic Sesame Seeds, Organic Tomato, Organic Tomato Powder, Celtic Sea Salt, Organic.
Price: Retail: $5.05   Thrive: $3.65 (Save 28%)
Laughing Giraffe's Chocolate Snackaroons
These nutrient rich Snakaroons will satisfy your sweet cravings without sacrificing your wellness. Delivering a healthy dose of proteins and the good fats your body needs, these tasty treats hit your organic sweet spot every time. Made with organic cacao, this cookie will be great for all you chocolate lovers.
Ingredients: Unsweetened Coconut, Agave, Cacao, Coconut Sugar, Vanilla Extract, Himalayan Pink Salt.
Price: Retail: $8.09   Thrive: $5.95 (Save 26%)

Julian Baker Paleo Turmeric Wraps
Clocking in at only 4 net carbs and 70 calories per wrap, this "tortilla alternative" is made from hand-harvested organic coconuts and turmeric, with absolutely no unnatural preservatives. And, since they're made from organic, unrefined virgin coconut oil, these wraps are packed with energy-fueling medium-chain triglycerides (MCTs). So, consider it safe to skip the salad bar and fill up on healthified burritos, quesadillas, or sandwiches instead—without the carb-induced spikes in blood sugar, fatigue, and bloating.
Ingredients: *Coconut Meat, and *Coconut Water, Turmeric, *Unrefined Virgin Coconut Oil (*Derived From Organic Coconuts)
Price: Retail: $9.99   Thrive: $7.95 (Save 20%)
Rawmio Almond Superfood Spread
The journey begins with a base of the finest raw almonds and hemp seeds stone ground to perfection. Sprouted chia seeds, goji berries, and a pinch of Himalayan salt are added for a potent boost of superfood nutrition. Nourish your body while enlightening your taste buds with the perfect combination of powerful nutrition, sultry texture, and decadent taste. Dig in and bliss out!
Ingredients: Almonds*, Hemp Seed*, Goji Berries*, Chia Seeds*, Coconut Sugar*, and Himalayan Pink Salt. *Organic
Price: Retail: $12.95   Thrive: $9.25 (Save 29%)
Manitoba Harvest Dark Chocolate Hemp Protein Powder
Organic Dark Chocolate Hemp Protein powder contains protein, omegas, and fibre. Hemp protein is a plant-based, complete protein.One serving (30g) of Dark Chocolate Hemp Protein powder provides 40% of the recommended daily intake (RDI) of fiber. Containing fair-trade cocoa and sweetened with coconut sugar, Dark Chocolate Hemp Protein powder is a guilt-free pleasure. Blend it into smoothies, stir it into oatmeal, or add it to baking recipes like you would add spelt flour.
Ingredients: raw cold milled organic hemp protein powder, organic palm sugar, and organic fair trade cocoa powder
Price: Retail: $21.99   Thrive: $12.95 (Save 41%)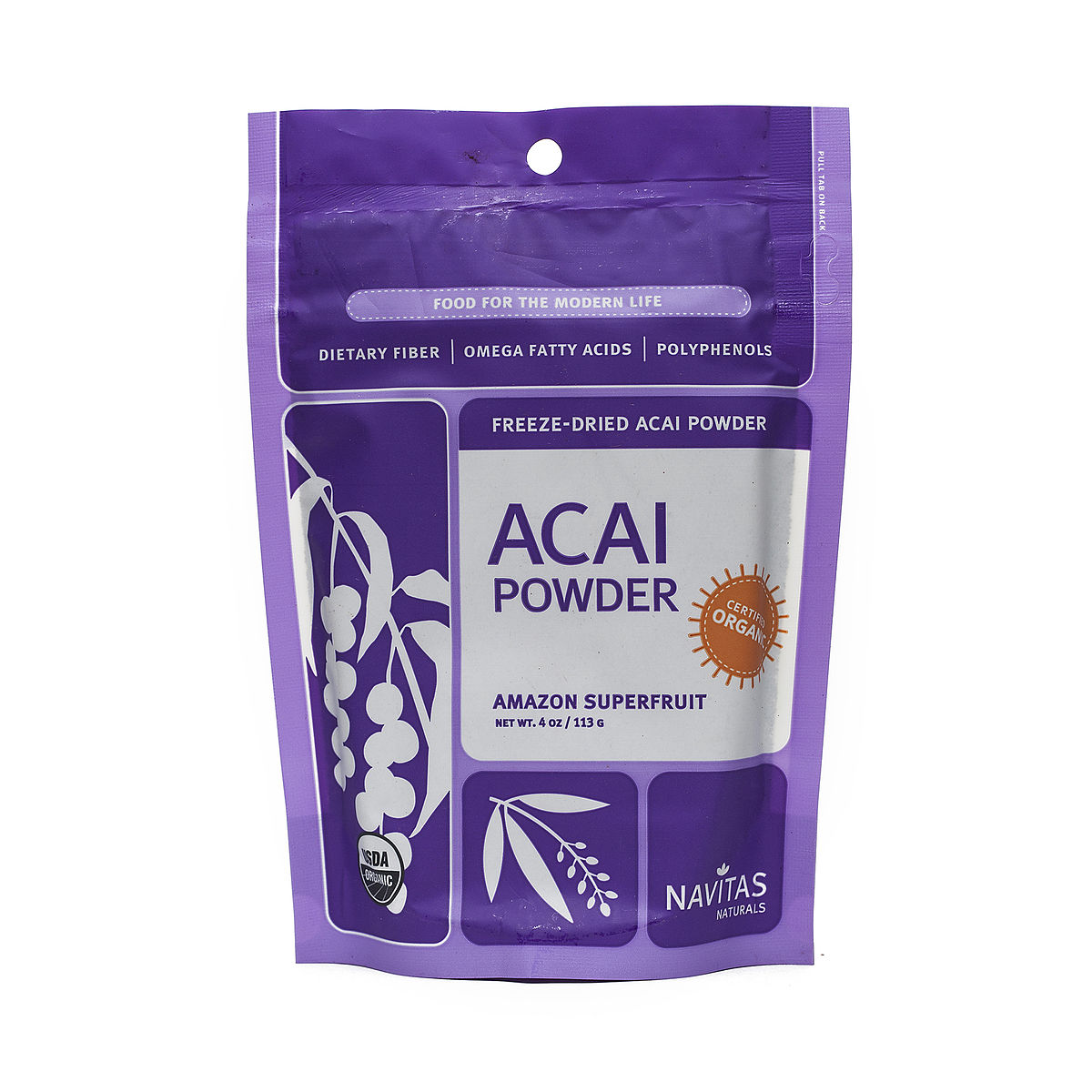 Navitas Naturals Acai Powder
Nativas Naturals sources the finest organic açai berries from the Amazon rainforest to create a freeze-dried powder that retains the vital nutrients and flavor of the fresh fruit. A staple in the diet of indigenous cultures for centuries, açai is a delicious low-glycemic berry that provides exceptional amounts of antioxidants, omega fats, protein, and fiber.
Ingredients: Certified Organic Acai (Euterpe Oleracea Mart), Certified Organic Citric Acid (<1%).
Price: Retail: $20.99   Thrive: $14.95 (Save 29%)
Nutiva Organic Cold-Pressed Hemp Oil
Nutiva® organic hemp oil is cold-pressed and unrefined. Just like hemp seed, the oil contains the ideal 3:1 omega-6 to omega-3 ratio. Unlike flax, hemp has valuable super omega-3 (SDA) and super omega-6 (GLA), which can help the body metabolize fat. Use hemp oil in smoothies, salads, vegetables, and pasta dishes. To conserve the essential fatty acids, we suggest that you use it raw or gently heated.
Ingredients: Raw, Organic, Unrefiend Hempseed Oil
Price: Retail: $17.65   Thrive: $12.75 (Save 28%)
Simply Fair Hydrate Refreshing Coconut Water Facial Toner
A vital blend of fresh, Fair Trade certified live young coconut water & other botanical ingredients designed to refresh as it tones. Perfect for your daily skincare regimen or on the go as a post practice pick me up & re-hydrator. Wake up your skin as you support communities a world a way with every spray. Namasté everyday.
Ingredients:"Aloe Barbadensis leaf juice**, polysorbate 20, glycerin, Camellia Sinensis (green tea) leaf* extract, Arnica Montana (Arnica) flower extract, Cucumis Sativus (cucumber) extract, Cocos Nucifera (Coconut) water*, Cocos Nucifera (Coconut) extract*, Cocos Nucifera (Coconut) oil*, panthenol, glycerin, phenoxyethanol, potassium sorbate, ascorbic acid. *Certified Fair Trade for Life – Social and Fair Trade by IMO ** Certified Organic
Price: Retail: $20.00   Thrive: $12.95 (Save 35%)
Primal Pit Natural Deodorant Stick (Jacked Up Jasmine)
Primal Pit Stick is an organic, all natural deodorant that actually works! Baking soda neutralizes the bacteria that causes odor and organic arrowroot powder helps you to feel dry while allowing you to still sweat and release toxins. These powders are mixed in a base of moisture rich and anti-microbial organic coconut oil and organic shea butter to soothe skin.
Ingredients: Non-Aluminum Baking Soda, Organic Shea Butter, Organic Coconut Oil, Organic Beeswax, Organic Arrowroot Powder, Essential Oils: Ylang Ylang, Jasmine, Gardenia and Bergamot.
Price: Retail: $10.95   Thrive: $7.45 (Save 32%)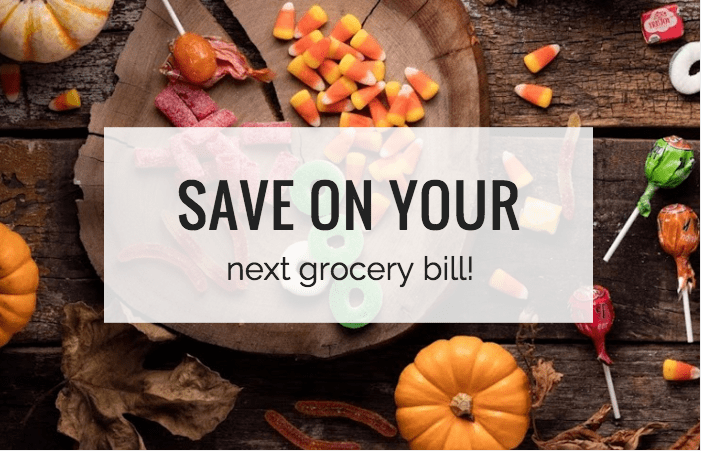 A special offer for SQ Readers!
Like I mentioned above, I'm really excited to be able to offer all my fabulous SQ readers (hey, that's YOU!) with a killer bonus if and when you decide to sign up for Thrive. I'm extremely passionate about all that they stand for – making healthy food more affordable, while also helping families in need – and know that it can also bring tremendous value to your life. ,
Using the button below, you will not only will you get a FREE three month trial period of Thrive, but you'll also get an EXTRA 25% OFF on your first order. And just as an added bonus, they also offer free shipping on orders over $49.
To get started, just visit the Simply Quinoa page, sign up for your free trial and start shopping! And I'd love for you to come back here and let me know what you picked up. I'm so excited for you!