A simple, 5 ingredient recipe for a silky smooth banana soft serve ice cream. Flavored with peanut butter and chocolate, this is the ultimate healthy ice cream recipe!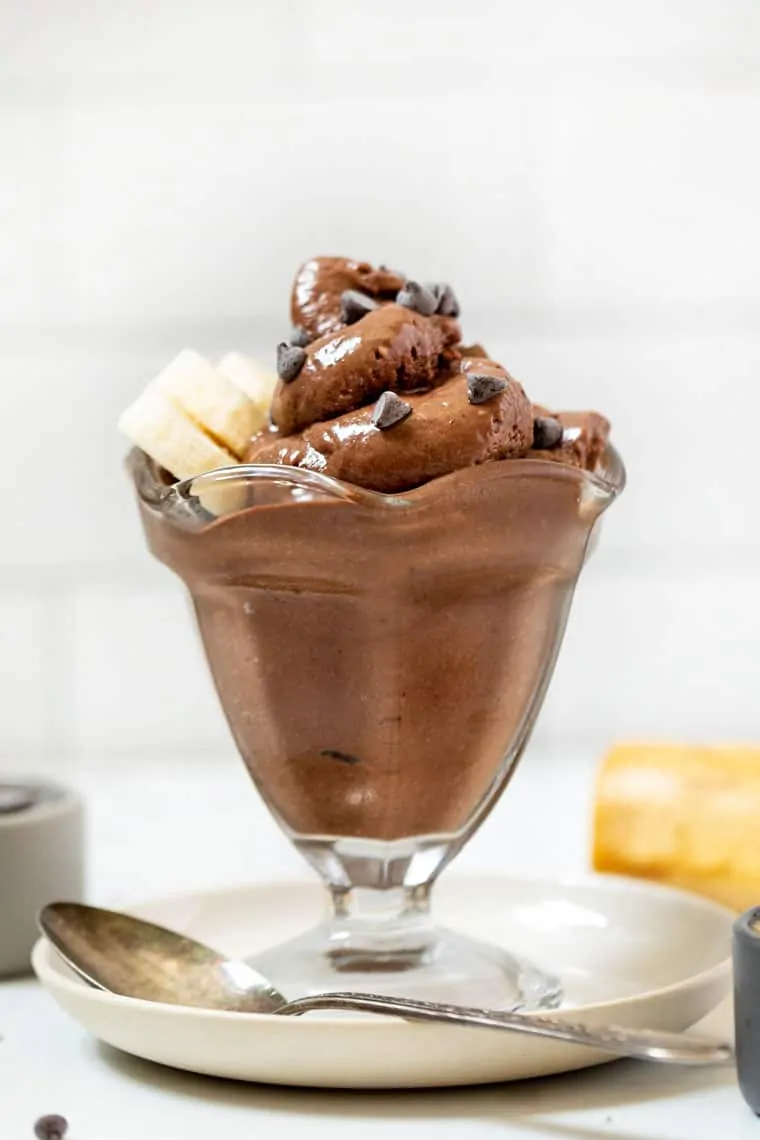 As soon as summer hits, it's all about ice cream for me. I mean honestly, ice cream is awesome at any time of year, but especially during the summer.
I used to LOVE getting soft serve cones during the summer. But since going dairy-free about 10 years ago, that hasn't really been part of my summer routine. Dairy-free soft serve isn't super common.
But I've figured out a way to enjoy this amazing treat in a healthy, vegan way. Banana soft serve! It's banana ice cream, turned into a delicious bowl of soft serve ice cream. We're making a chocolate peanut butter version today and it's absolute perfection.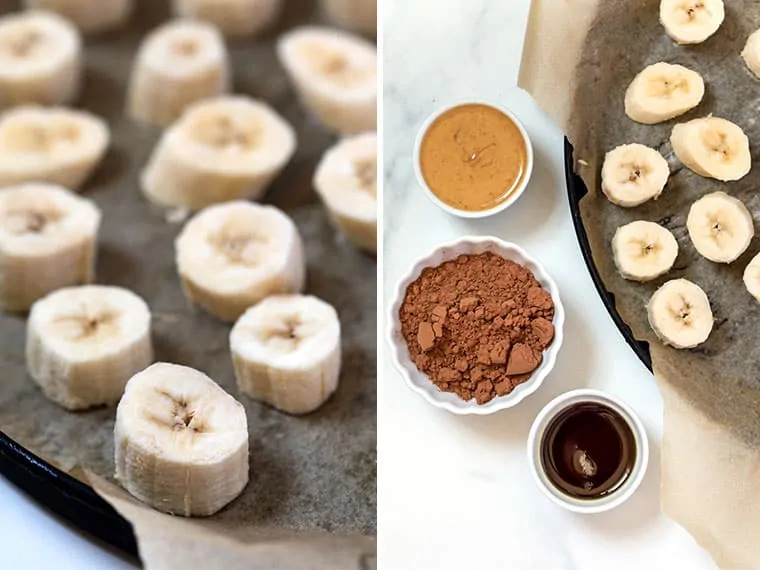 What is Banana Nice Cream?
Banana nice cream is essentially just "ice cream" made out of bananas. The bananas are frozen, then blended up to form a smooth and creamy ice cream consistency!
How to Freeze Bananas for Ice Cream
The key to the perfect banana soft serve is the bananas. They need to be frozen before they're blended. The best way to freeze bananas is to:
cut them into slices
place the slices onto a parchment-lined baking sheet
freeze the baking sheet for at least 3 hours (preferably overnight)
store in a sealed bag or container
The banana slices make them easier to blend when you make your ice cream!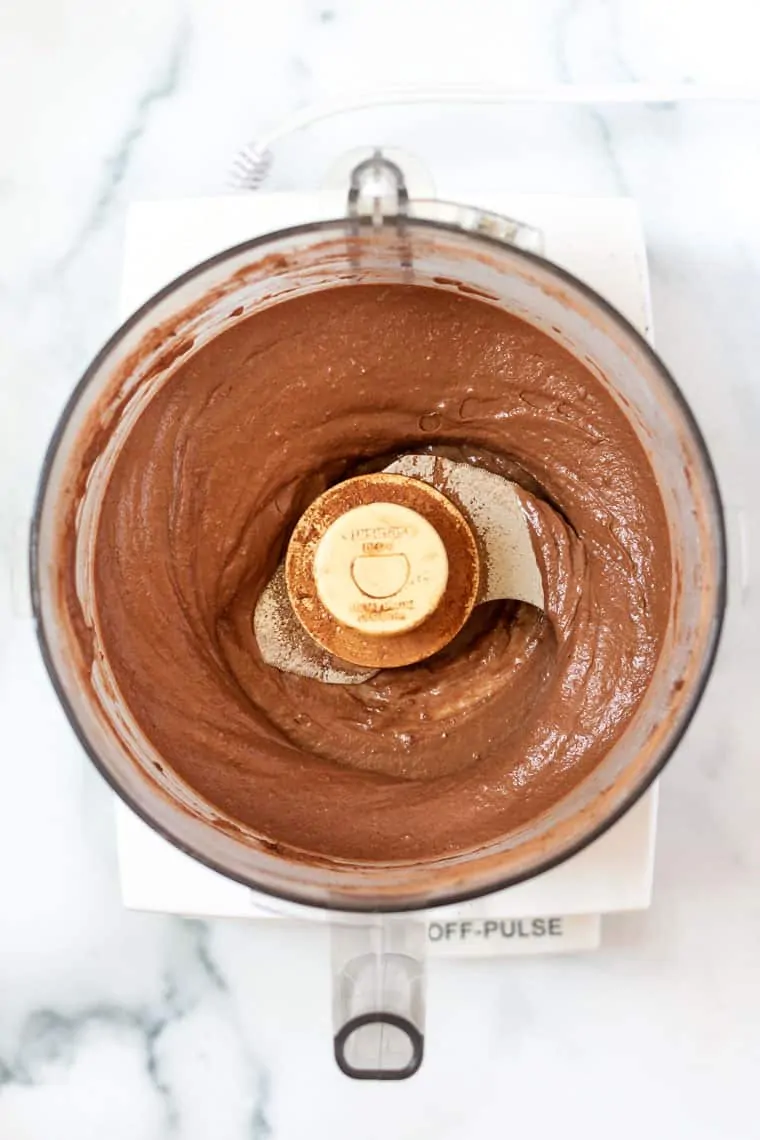 Ingredients for our Chocolate Banana Soft Serve
Banana ice cream typically uses just 1 ingredient, but you can basically flavor it with whatever you want. This ice cream uses just four simple ingredients:
frozen bananas
cacao powder (or cocoa powder)
peanut butter
maple syrup
How to Make Banana Ice Cream
Once you've assembled your ingredients, the next step is to make your banana soft serve! You'll start by blending the bananas together until they're mostly smooth. Once smooth, you can add the rest of your ingredients and blend until incorporated.
If the ice cream is a little too soft, pop it into the freezer for at least 30 minutes to harden. Then you can scoop it and top it with whatever you'd like!
Equipment Needed For Banana Ice Cream
One great thing about banana ice cream is you don't need an ice cream maker, but you will need either a:
I think a food processor is best, but if you have a blender that has a tamper (like a Vitamix) or a twister jar (like the BlendTec), those should work too!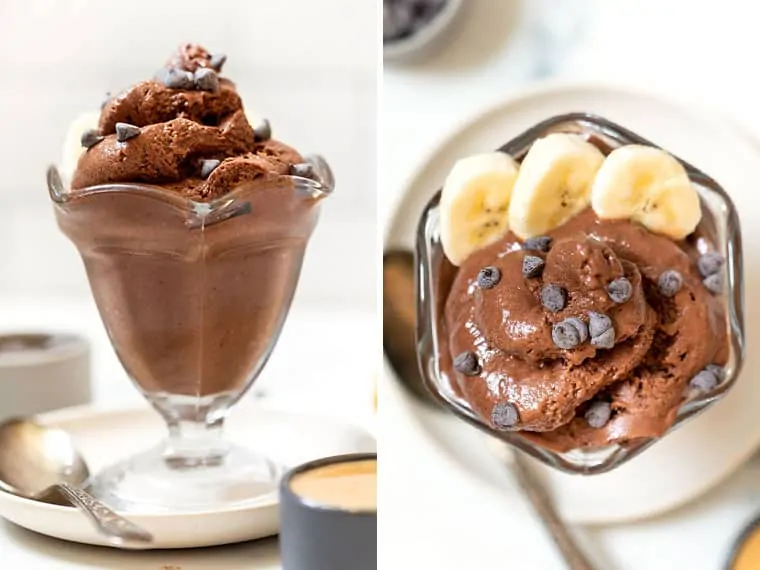 What to Serve with Your Banana Soft Serve
Now that you've got your banana ice cream all done, it's time for toppings. Aren't toppings the best part of a sundae anyway?! It's definitely my favorite part!
I kept the peanut butter-chocolate-banana flavors going, but here's what I would recommend:
Nut butter: just a drizzle is perfect (I went with PB)
Fresh fruit: this is delicious with sliced banana or fresh strawberries
Chopped nuts: almonds, peanuts, even walnuts would be awesome
Something sweet: finish things off with some chocolate chips
And that pretty much makes your ultimate banana soft serve!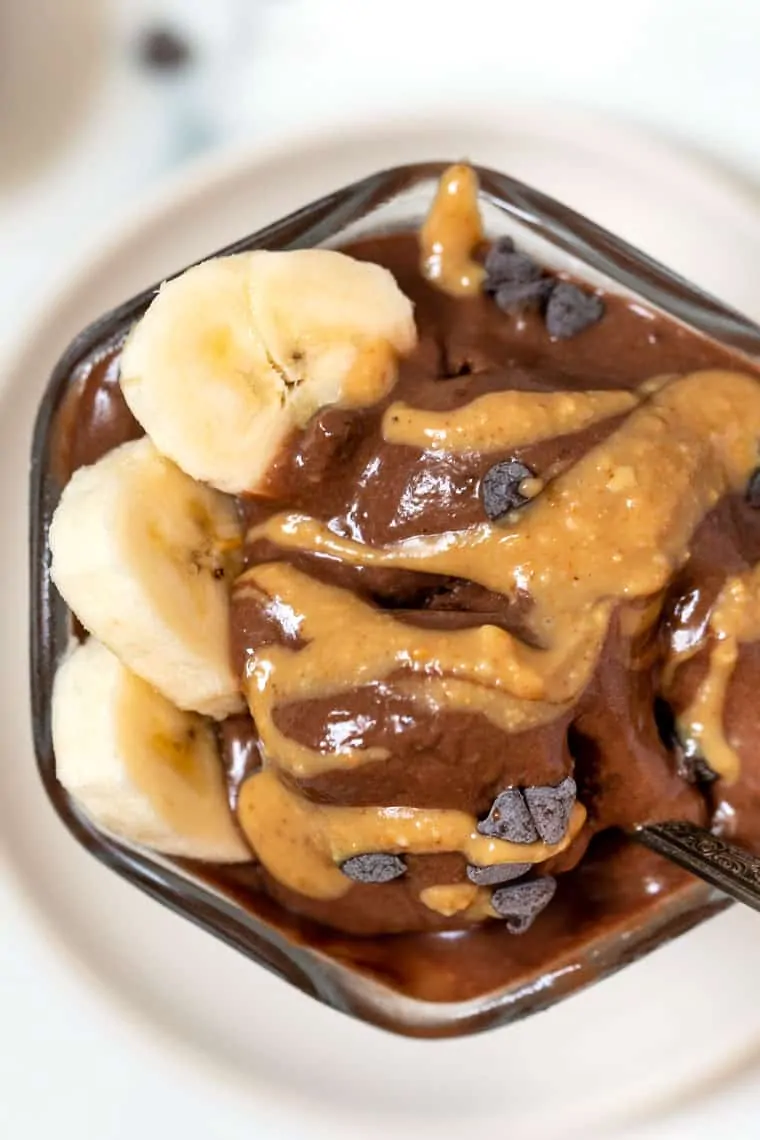 Why You'll Love this Soft Serve
So…are you ready to dive in? I know you're just going to LOVE this recipe! And here's why:
no ice cream maker
ready in about 5 minutes
only 4 ingredients
naturally sweetened
vegan & gluten-free
so creamy & smooth
And it truly is the ultimate sweet treat. Feels like you're eating a decadent bowl of chocolate ice cream, when in reality you're eating fruit. You can't beat that!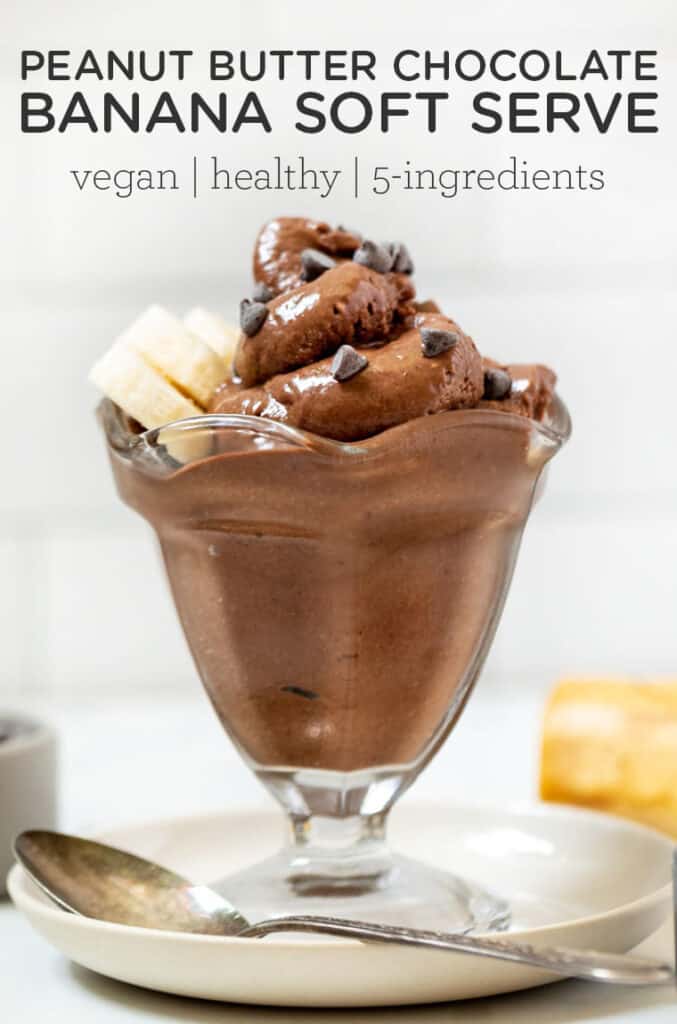 More No Bake Frozen Desserts
Chocolate Banana Soft Serve with Quinoa
A simple, 5 ingredient recipe for a silky smooth banana soft serve ice cream. Flavored with peanut butter and chocolate, this is the ultimate healthy ice cream recipe!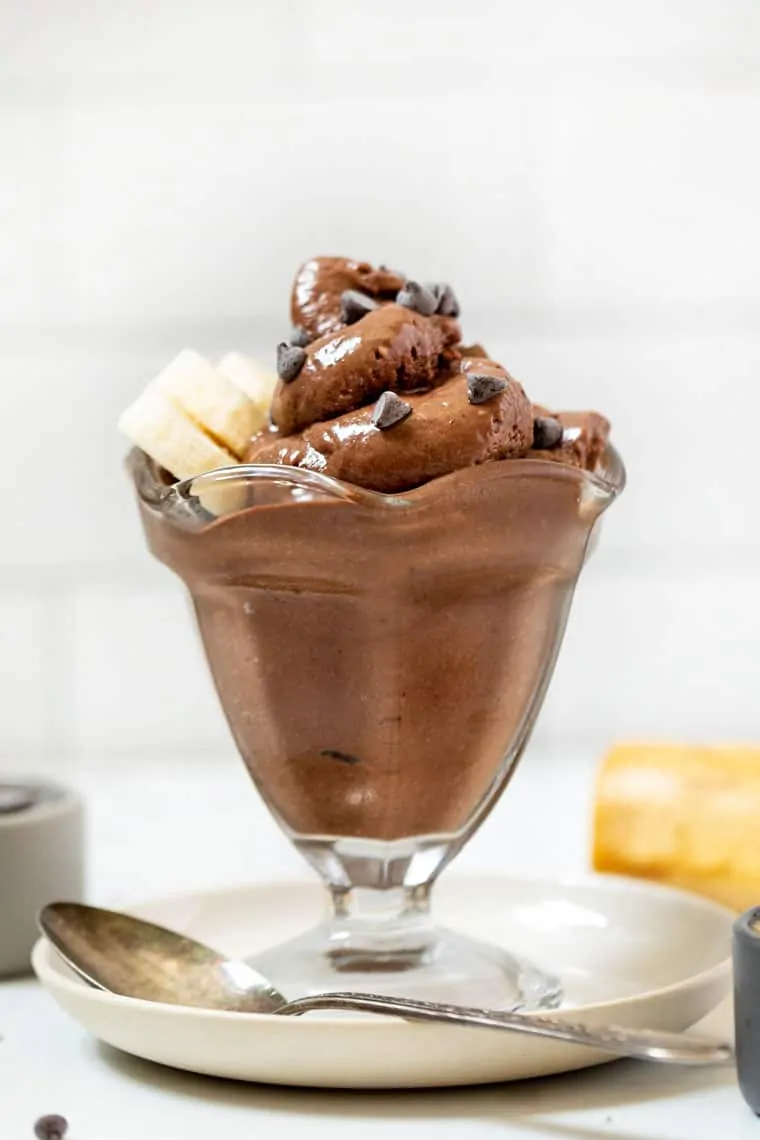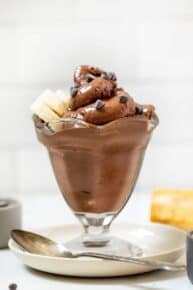 Ingredients
topping ideas:
sliced banana

peanut butter drizzle
Instructions
Add the bananas to a food processor fit with the steel blade and process until the bananas have started to blend together and form an ice cream. Add your remaining ingredients and process until smooth.

If you want the soft serve "look", transfer the ice cream into a piping bag. Freeze for at least 30 minutes then pipe into a dish.

If you don't care about the "look", simply scoop the ice cream into a dish and enjoy! If it's too soft, pop it into the freezer for about 30 minutes, then scoop.

Top with you desired toppings and enjoy!
Nutrition
Serving:
1
"sundae"
|
Calories:
266
kcal
|
Carbohydrates:
47
g
|
Protein:
7
g
|
Fat:
9
g
|
Saturated Fat:
2
g
|
Sodium:
77
mg
|
Potassium:
740
mg
|
Fiber:
7
g
|
Sugar:
26
g
|
Vitamin A:
96
IU
|
Vitamin C:
13
mg
|
Calcium:
32
mg
|
Iron:
1
mg
Filed Under: