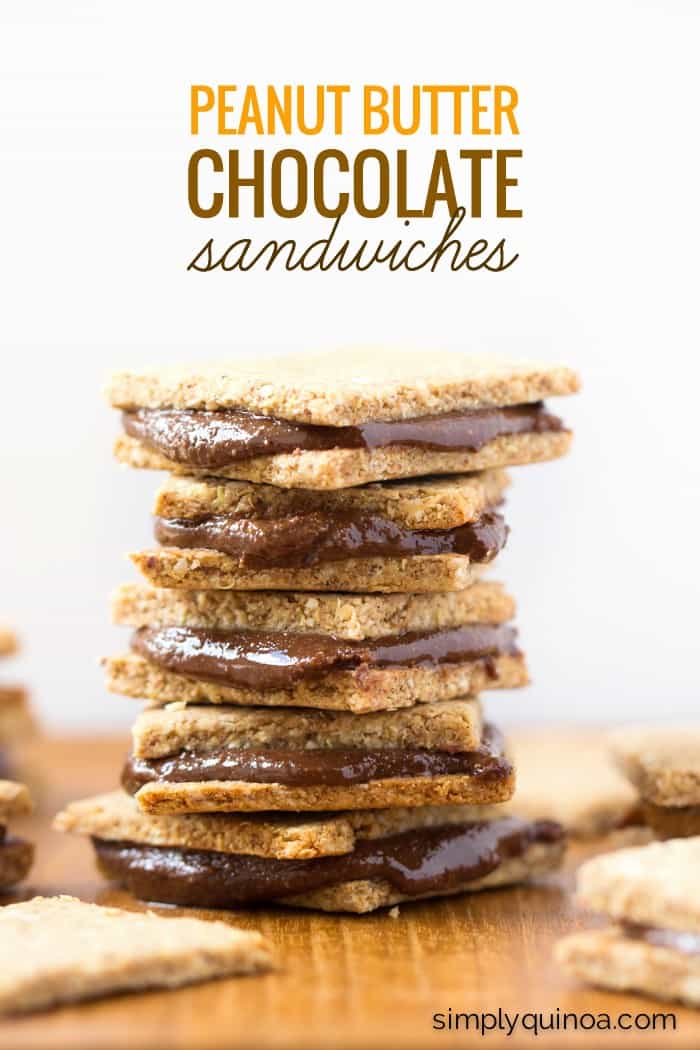 Chocolate and peanut butter. Only the most sensational combination on earth. Am I right? 
I pretty much crave it all the time. Breakfast? Done. Snacks? Done. Dessert? You know it. Even just scooping a spoonful of peanut butter out of the jar and sprinkling a few chocolate chips on top gets me giddy.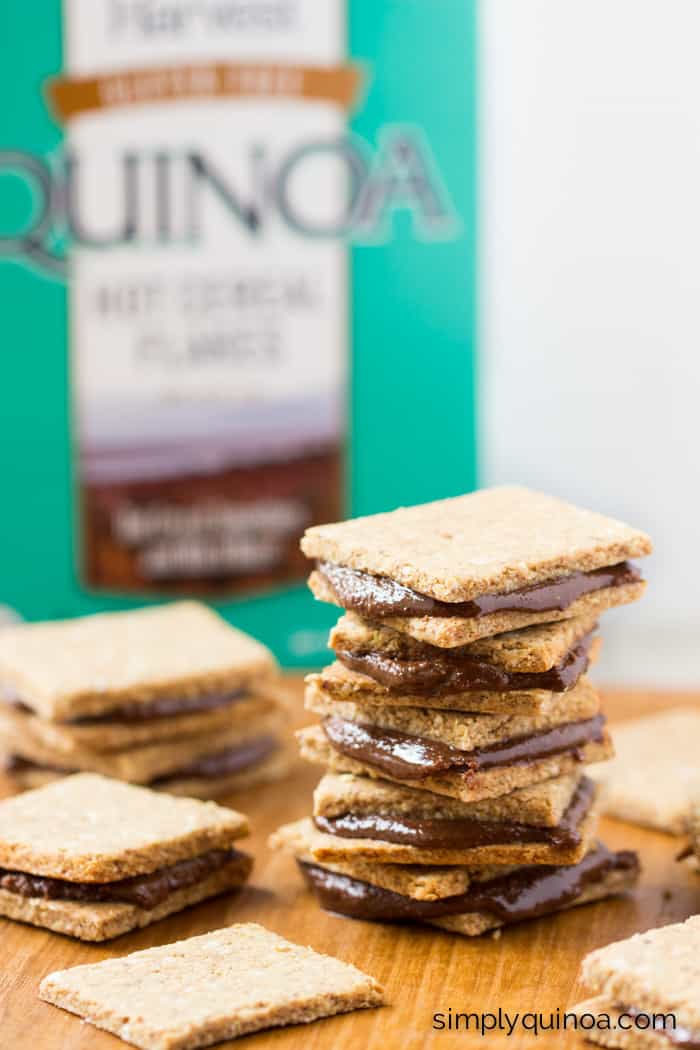 So when this recipe came to me, totally out of no where, I had to make it immediately. I had a little bit of almond flour left and had been wanting to use it to make crackers, but I didn't want my same old savory crackers that I always make. I wanted something that was a little sweet and could curb my sweet tooth in a low-sugar, yet still totally decadent way. 
Enter peanut butter quinoa crackers and homemade nutella sandwiches.
You guys. They're insane. Like ooey gooey chocolatey goodness sandwiched between two layers of totally healthy peanut butter crackers.
Holy moly AMAZING.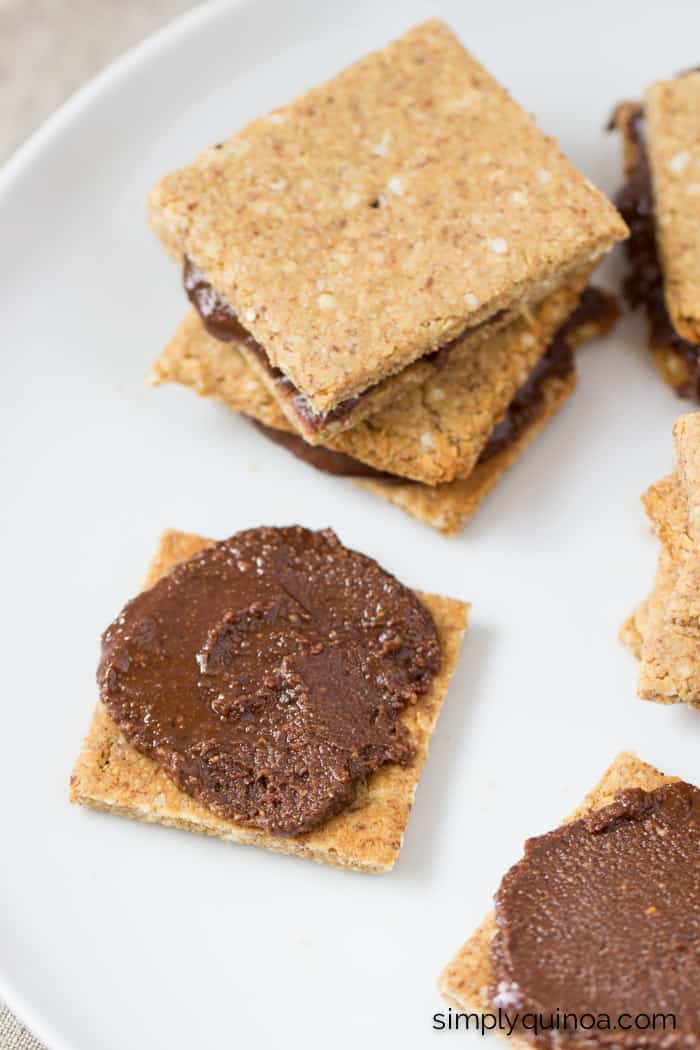 The base of these crackers is a simple blend of almond flour (which I actually made from leftover almond pulp – check out this tutorial post on how to do that), gluten-free oat flour and quinoa flakes. Then you just need some organic peanut butter, some honey (or maple syrup if you're vegan) and some water. Mix it all together, roll it out, cut it into crackers and bake away.
The crackers are light, with a crispy outside and a somewhat soft interior. They remind me of graham crackers, only better. I'm totally bringing these camping this summer. They'd be perfect for s'mores!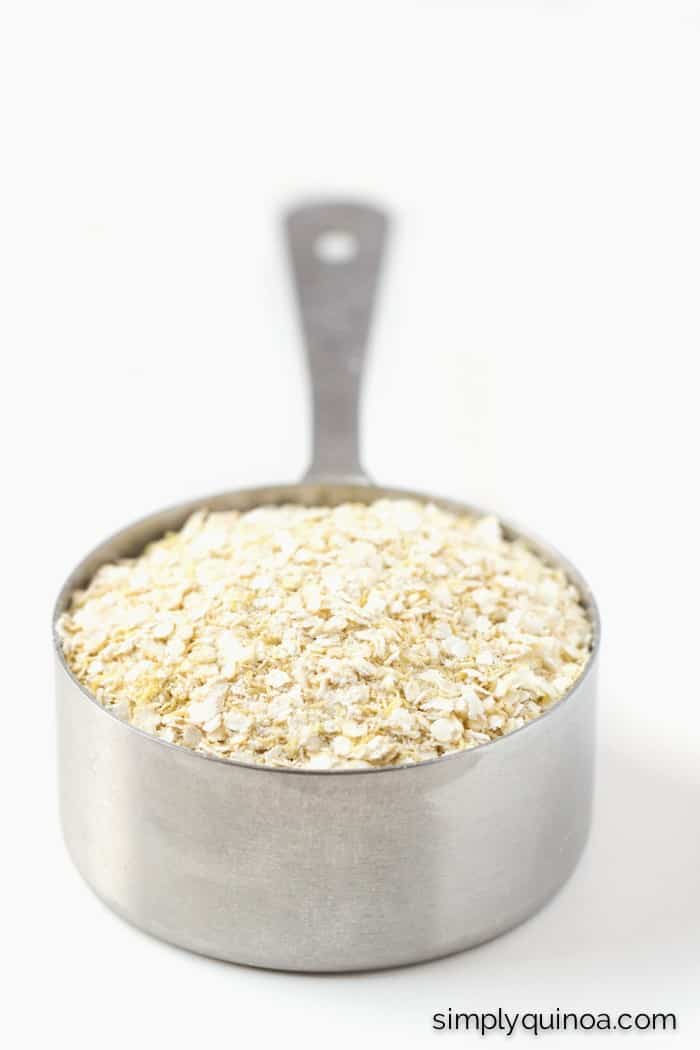 If you've been a reader of SQ for a while, then you know full well about my love for quinoa flakes. They rival my love for the whole seed itself even because they're just so darn versatile. You can use them in baking, like I do with these crackers, turn them into a hot cereal, make granola bars, add them to granola, add them into your smoothies for a bit of protein, or even use them as a breading on your favorite "fried" food.
The brand I always turn when it comes to for my quinoa flakes is Ancient Harvest. The first time I tried them, I was instantly hooked, but it was once I realized that the brand also makes loads of other quinoa products, that I started choosing them for all my other quinoa needs – the seeds, flour and even pasta.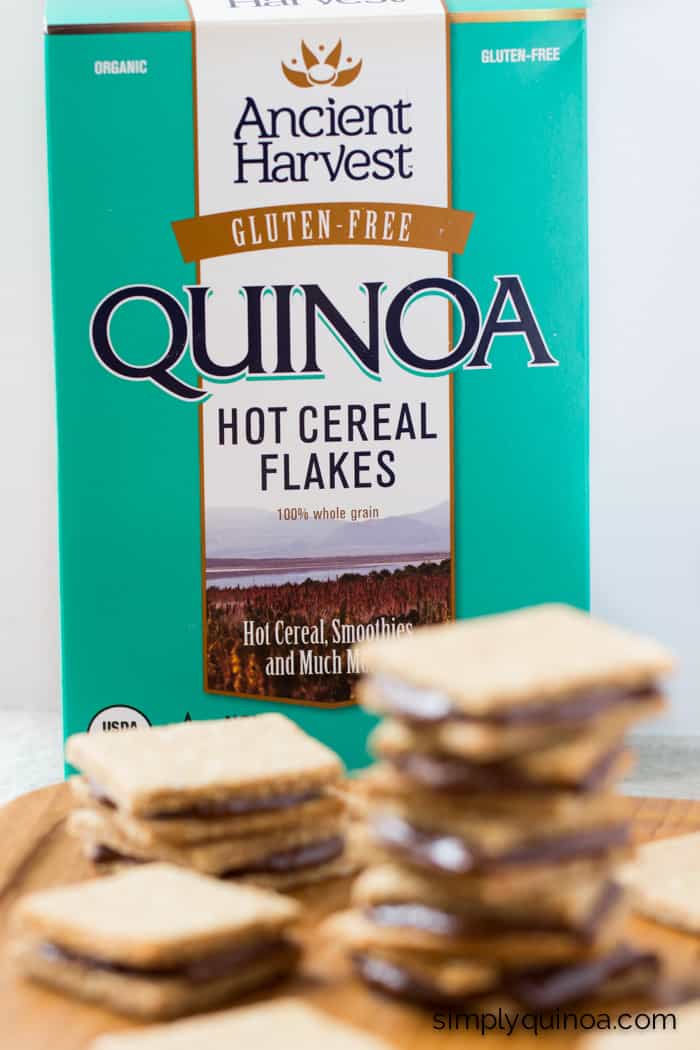 I also love that all of Ancient Harvest's products are organic and sustainably sourced. It's really important to me that the products I'm buying are having a positive impact on the world, and I truly believe that Ancient Harvest is doing just that. Not only are they bringing this amazing product to us, but even more importantly they support the Bolivian farming communities who grow and harvest the crop. They care deeply about the farmers and the farming communities that grow the quinoa, whom they've worked with for 30+ years, as they also sponsor programs to support and teach these communities about organic farming and help them achieve organic certifications. So great, isn't it?
Given my love for the brand (and obvious obsession with quinoa), I was honored when they asked me to join their 2015 Blog Ambassador Program. Throughout the year, I'll be bringing you a bunch of tasty quinoa recipes – using a bunch of different products – and hopefully inspiring you in your own kitchen. I'll also have some other fun surprises throughout the year, where you'll get to interact with me one-on-one, so stay tuned!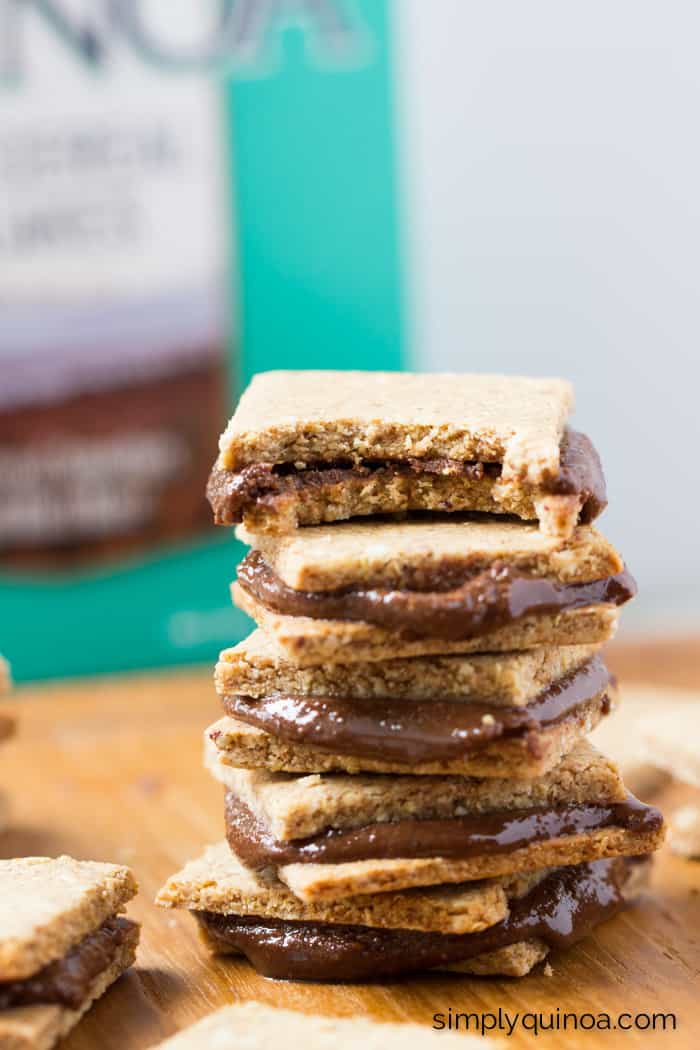 For now, let's just savor the chocolate-peanut butter combination. Let it linger and hope that it will never end. Or if you're like me just make another batch of crackers 🙂 Enjoy!
Love this recipe? Share it with your friends!
Peanut Butter Quinoa Crackers + Homemade Nutella Sandwiches
Ooey gooey chocolatey goodness sandwiched between two layers of totally healthy peanut butter crackers. These Homemade Nutella Sandwiches are not to be missed!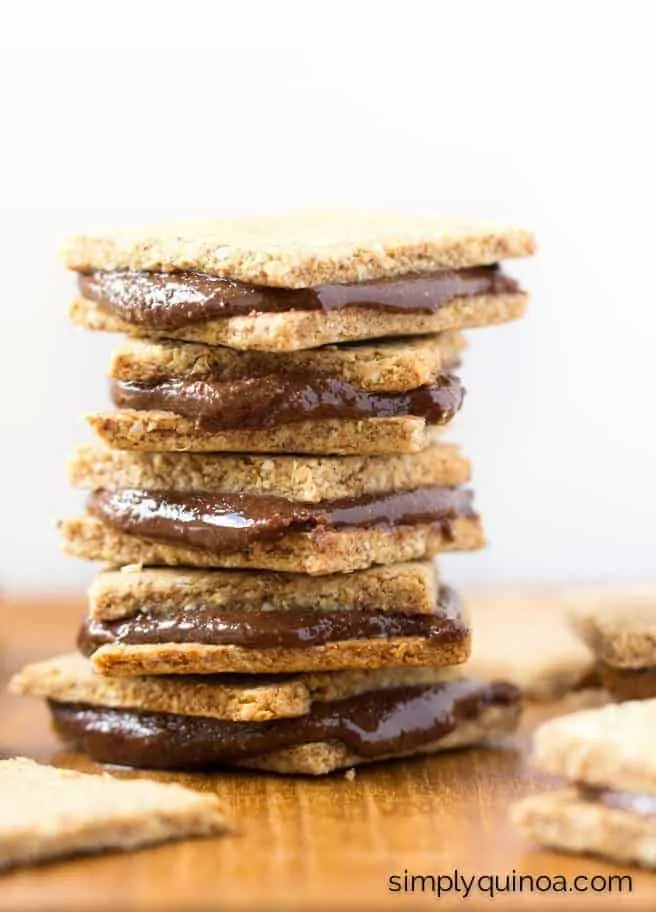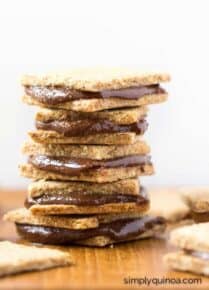 Instructions
Preheat the oven to 350 degrees F.

In the bowl of a food processor, pulse together the dry ingredients.

Quickly melt together the wet ingredients either on the stove or in the microwave. Stir until smooth and combined. Add to the food processor and pulse until a dough begins to form.

Dump the dough onto a parchment lined surface. Lightly dust a rolling pin with oat flour and gently roll the ball out until it's about 1/8" thick.

Cut the dough into square crackers using a pizza cutter. Prick the top of each cracker with a fork or skewer (this will help them no bubble up in the oven).

Bake the crackers for 12 - 14 minutes, until they're starting to brown and feel a little crispy. Remove from the oven and let cool completely.

Once cooled, smear one cracker with 1 - 2 teaspoons of nutella and layer another cracker on top. Store in an airtight container for up to 3 days.
Notes
To make your own oat flour, simply grind up some gluten-free oats in a high powered blender until fine and powdery.
Nutrition
Calories:
176
kcal
|
Carbohydrates:
18
g
|
Protein:
5
g
|
Fat:
10
g
|
Saturated Fat:
2
g
|
Sodium:
113
mg
|
Potassium:
107
mg
|
Fiber:
2
g
|
Sugar:
9
g
|
Calcium:
32
mg
|
Iron:
1.1
mg
Filed Under:

If you make this recipe, make sure to snap a pic and share it on Instagram using #SIMPLYQUINOA – I want to see your own quinoa creations!
This post was sponsored by Ancient Harvest, but all opinions are my own. I only share brands that I am passionate about, so thank you so much for supporting them! Learn more about Ancient Harvest on Twitter, Instagram, Pinterest, and Facebook.