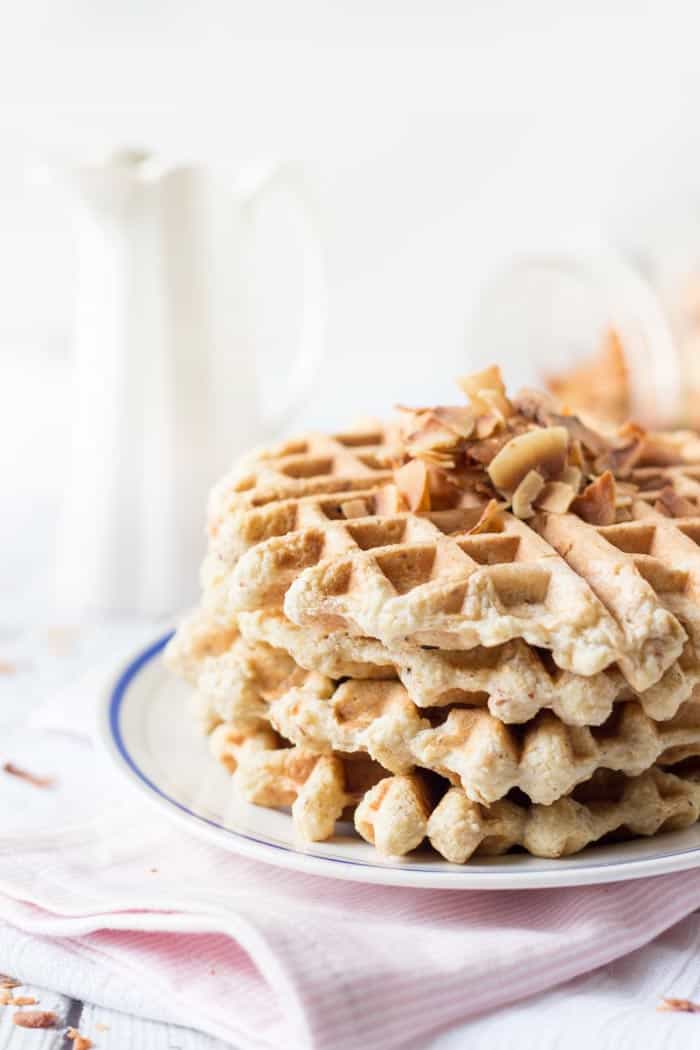 I've said it before and I'll say it again: I have a serious love affair with waffles.
It's the kind of love that bites me every Sunday morning and doesn't leave me be until there's a plate of those fluffy gluten-free waffles sitting in front of me, drenched in maple syrup. Lots and lots of maple syrup.
It's hard to beat. A waffle breakfast on a Sunday morning is sheer perfection in my world.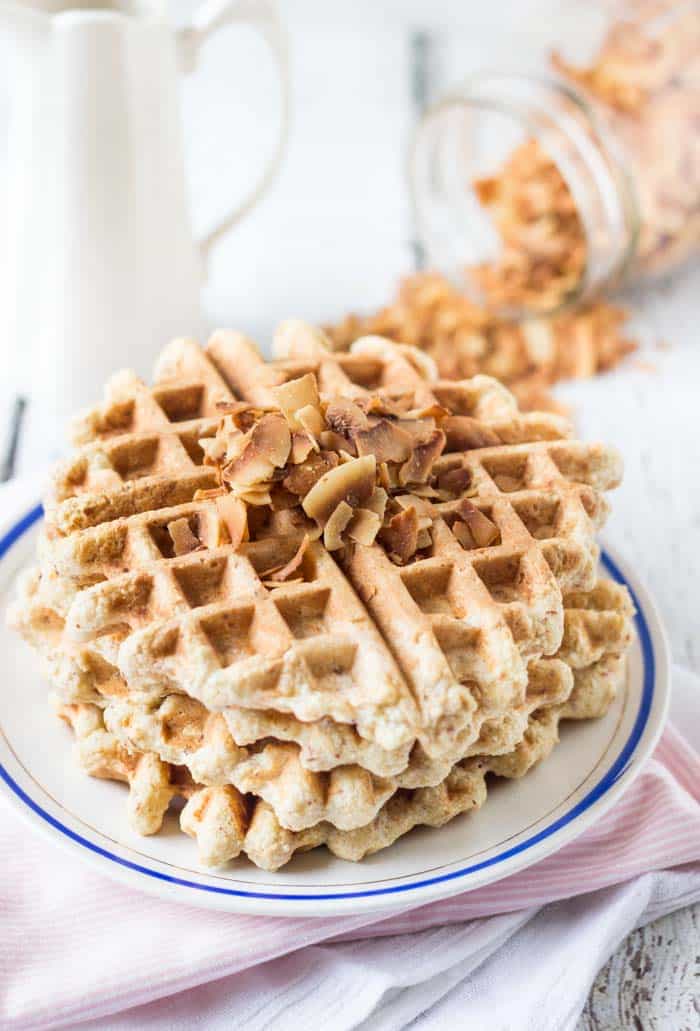 And here's what I love about my Sunday morning rituals.
They're a treat.
Something to look forward to. Something that makes the weekend coming to a close only the slightly bit okay.
In my world, where green smoothies take over six out of my seven mornings, Sunday morning waffles are the balance I need to feel satisfied and happy.
Yes, waffles can (and do) bring happiness. And always a smile.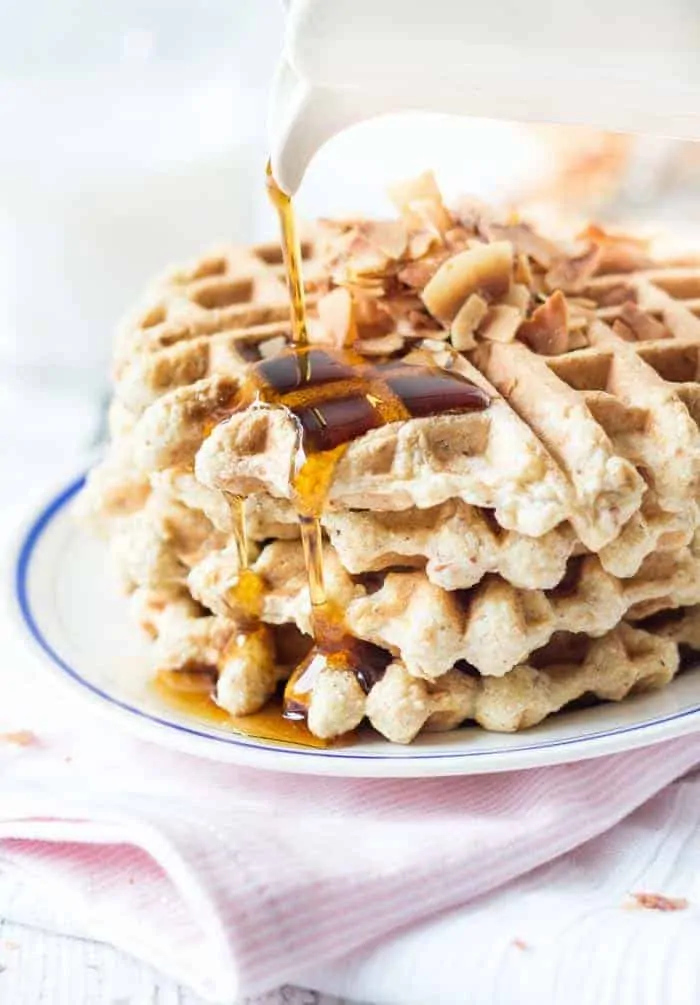 While I usually like making my waffles with a variety of flours (always with quinoa for extra protein) testing new flavor combinations and textures, sometimes I just want to roll out of bed, not worry about my measurements and whip up a batch of gluten-free waffles.
Simplicity is the spice of life sometimes.
But for the longest time I couldn't find an all purpose gluten-free flour that I liked. Some worked really well in savory applications like pizza dough or bread, or in cookies or muffins, but nothing was right for waffles. They were either too dense or wouldn't crisp up. No one wants a soggy waffle…
Until I tried making them with Bob's Red Mill's new 1-to-1 Baking Flour. I followed the recipe that my dad uses for the waffles we had as kids, used the proportions exactly (expect I added a little quinoa of course) and they were simply perfect.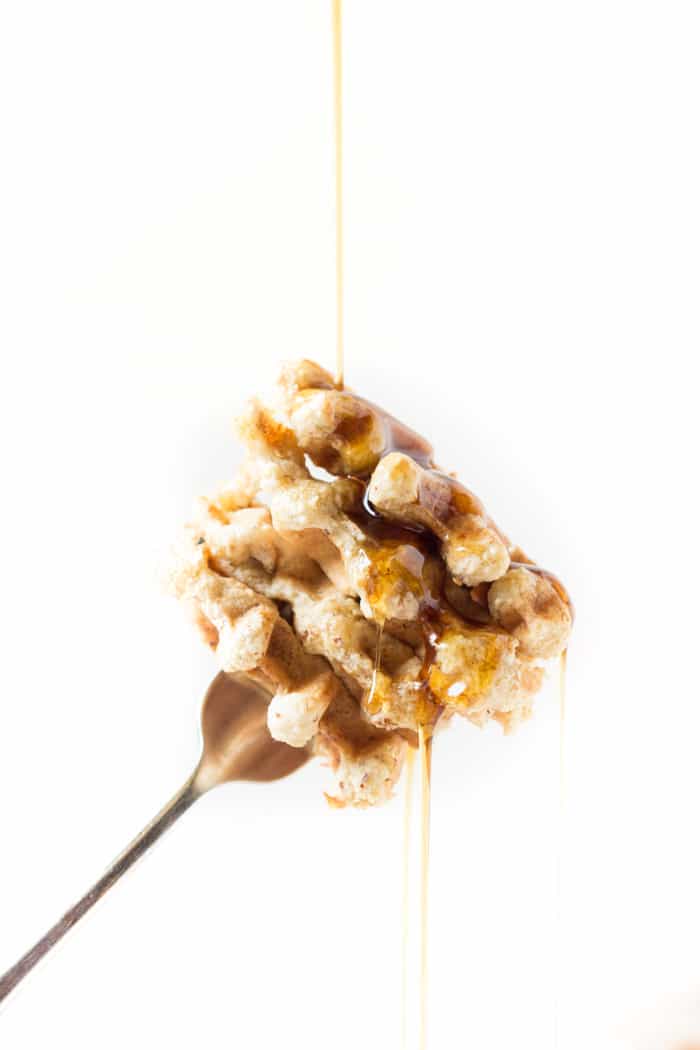 What I think you're going to love most about these quinoa waffles, is that you can do anything with them!
Lemon and blueberries? Just add lemon zest and frozen blueberries.
Peanut butter and bananas? A spoonful of peanut butter and chopped bananas.
Oatmeal and chocolate chips? Swap the quinoa for oats and add chocolate chips.
Toasted almond-coconut? Add crushed almonds and toasted coconut chips.
The possibilities are endless with this recipe. The base is very neutral, delicious on it's own yes, but can be dressed up to your liking. So I welcome your ideas…
What flavors would you add to your waffles?
*** In addition to today's new recipe, the wonderful folks at Bob's Red Mill are also giving one lucky winner 8 bags of their 1-to-1 Baking Flour to experiment with. Just enter in the content below – and good luck!! ***
Simply Perfect Quinoa Waffles
The base is very neutral, delicious on it's own yes, but can be dressed up to your liking.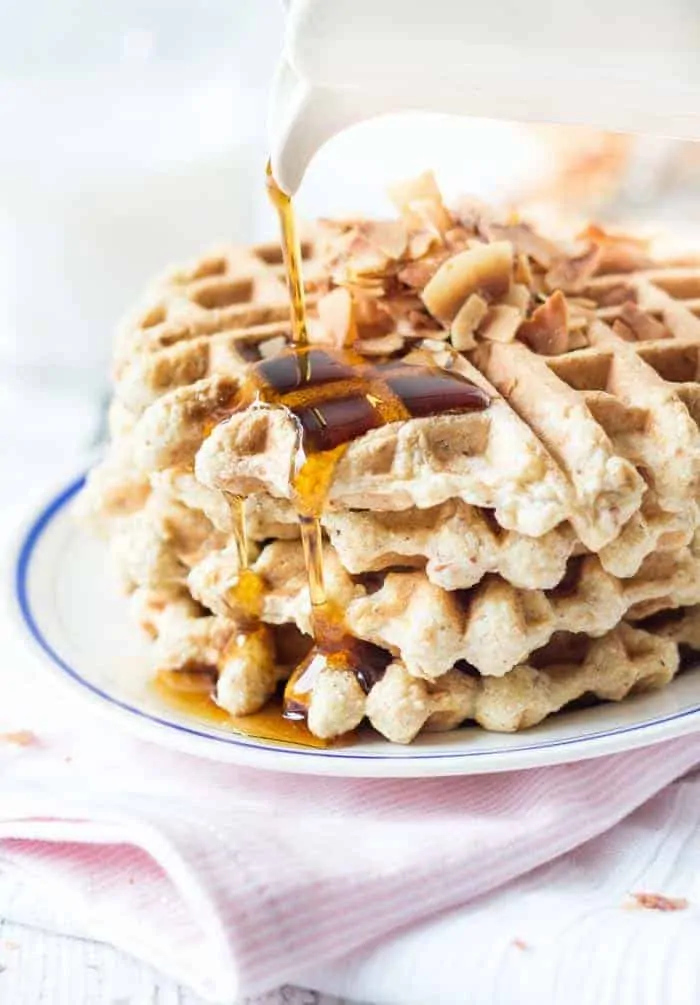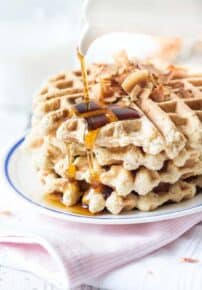 Ingredients
optional toppings:
fresh berries

chopped bananas
Instructions
Whisk flour, quinoa, baking powder, salt and sugar in a large mixing bowl. Set aside.

Gather two mixing bowls. Separate eggs, placing yolks in one bowl, whites in the other.

Add almond milk and oil to bowl contain yolks. Beat until smooth.

Using a clean, dry hand mixer, beat egg whites into stiff peeks, about 30 seconds to 1 minute.

Pour almond milk-egg mixture into dry ingredients and mix until just incorporated. Fold in egg whites.

When ready, add about 1/2 cup of batter to the iron. Cook according to manufacturer's instructions or until crispy. Place cooked waffles on a cooling rack and keep warm in a 200 degree oven (avoid stacking as they'll get soggy).

Serve with desired toppings and enjoy. Happy waffle eating!
Nutrition
Serving:
1
g
|
Calories:
249
kcal
|
Carbohydrates:
34
g
|
Protein:
5
g
|
Fat:
10
g
|
Saturated Fat:
6
g
|
Cholesterol:
55
mg
|
Sodium:
290
mg
|
Potassium:
224
mg
|
Fiber:
4
g
|
Sugar:
11
g
|
Vitamin A:
95
IU
|
Vitamin C:
1
mg
|
Calcium:
156
mg
|
Iron:
1.7
mg