How about a non-traditional pumpkin dessert? Pumpkin bread pudding is just right. It combines pumpkin bread & French toast into one delicious dessert!
With Thanksgiving only two days away, I've been dreaming of new desserts. Desserts that aren't pie. Don't get me wrong, I seriously love pie, especially pumpkin, but sometimes you want something different. Something a little out of the ordinary. Something that knocks your socks off.
Bread pudding, my friends, might just be that dessert.
I've never made bread pudding until now and I feel crazy for not trying it earlier. It reminds me of eating a bowl of French toast. Like cereal, but made out of French toast. But better than Cinnamon Toast Crunch. It's like…okay, I'll stop. It's just amazing.
And when it's made out of my vegan pumpkin bread? Mmmhmm!
When I set out to make this pumpkin bread pudding, I wasn't too sure how it would turn out. I had made a loaf of pumpkin bread earlier in the week, froze it and figured why not turn it into bread pudding? At least give it a whirl and see how it turned out. Turned out to be awesome.
Now, the key to a good bread pudding (at least what I've read) is to dry out the bread a little bit. It helps keep the pudding from getting mushy.
Typically along with the eggs, you'll find that recipes call for heavy creamy. I thought that full-fat coconut milk would work, but didn't have any on hand, so I made some thick cashew milk, sweetened just lightly with honey and sprinkled with cinnamon. It ended up being just right.
Then, to finish off this bowl of pumpkiny goodness, I decided to add something sweet and sugary on top. I tossed some leftover quinoa with coconut sugar and cinnamon, added it on top and it was this perfection. A little cinnamon-sugar never hurt anyone 🙂
Now, a question for you:
Are you making any non-traditional desserts for Thanksgiving this year?
Let me know in the comments below and Happy Thanksgiving – to all of my American readers out there 🙂
Pumpkin Bread Pudding with Cinnamon-Sugar Quinoa Topping
Like cereal, but made out of French toast. But better than Cinnamon Toast Crunch. It's like...okay, I'll stop. It's just amazing.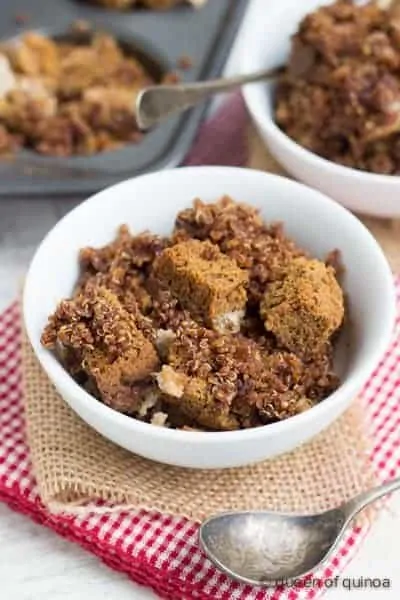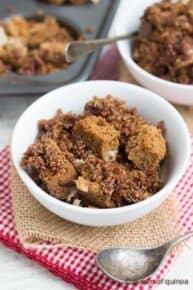 Instructions
Preheat oven to 350 degrees F. Slice bread into 1" slices, then cube it into 1" squares.

Arrange bread cubes on a baking sheet and bake for 8 - 10 minutes to dry out.

Meanwhile, blend the cashews, water, honey and cinnamon on high for 2 minutes. Add eggs and vanilla, and blend for another 30 seconds until smooth.

Mix quinoa topping ingredients together in a small bowl, set aside.

Grease a muffin tin with nonstick spray. Add bread cubes until each tin is full. Pour egg-cashew custard 3/4 way up. Top with cinnamon-sugar quinoa topping.

Bake on the center rack for 35 - 40 minutes. Scoop into bowls and enjoy!
Nutrition
Calories:
129
kcal
|
Carbohydrates:
16
g
|
Protein:
3
g
|
Fat:
5
g
|
Saturated Fat:
1
g
|
Cholesterol:
27
mg
|
Sodium:
84
mg
|
Potassium:
111
mg
|
Fiber:
1
g
|
Sugar:
8
g
|
Vitamin A:
40
IU
|
Calcium:
22
mg
|
Iron:
1.2
mg
Filed Under: