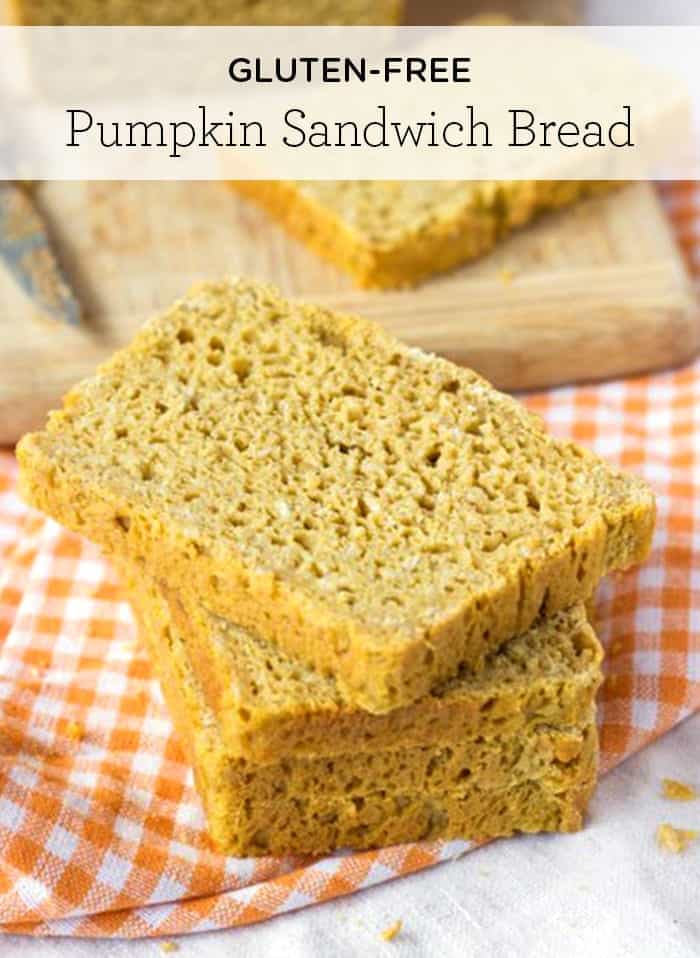 I think I've come up with the perfect gluten-free sandwich bread recipe. Because it's made with pumpkin. I've already confessed my love for pumpkin (probably too many times, sorry), but I seriously can't help myself.
I've made bread for you before, but this times it's different. This time it's bringing my love for pumpkin bread and throwing it together with my obsession of sandwiches – which I'm now realizing you might not know because I don't share sandwiches that often. Well, from here on out, expect more sandwiches in your future 🙂 I hope you're okay with that.
If you're not, let me know in the comments below!
It may sound nuts, but pumpkin sandwich bread is where it's at. I'm totally going to be making this year-round even though it's technically an autumn recipe. It's too good not to.
I'm not really sure what inspired this recipe. I was dreaming of pumpkin bread, but didn't want something that was super sugary. My cravings then switched to avocado toast, but I didn't have bread on hand…don't you hate it when that happens?
So I decided I'd combine the two and see what happened.
It's now my favorite gluten-free sandwich bread ever. It has this faint sweetness of the pumpkin and honey, but still tastes yeasty and delicious. And it toasts up beautifully. That's always my test to see if a bread is a success or not. If it's toasts without getting crumbly, can handle some almond butter and sliced apples on top, then it's a win.
This? Totally a win.
I'm bringing a loaf for Thanksgiving to have with our leftover turkey and cranberry sauce. I'm dying just thinking about it!
I adapted this bread from the French Bread recipe in my book, Baking with Quinoa. If you haven't picked up a copy yet – which I highly recommend that you do 🙂 – now is your chance.
All this week, Baking with Quinoa is part of this killer ebook bundle that people are absolutely raving about. The bundle contains 86 ebooks, a 12-week online mentoring program (I can finally "meet" all of you!!), and a bunch of other free bonuses. Including three exclusive bonuses I've set up just for you!
Just click here if you're interested 🙂
Now for the recipe…
Pumpkin Sandwich Bread
It may sound nuts, but pumpkin sandwich bread is where it's at. I'm totally going to be making this year-round even though it's technically an autumn recipe. It's too good not to.
Servings 18 Slices
Calories 98kcal
Instructions
Line a 9" loaf pan with parchment and spray the uncovered sides with cooking spray.

Combine the milk and water and whisk in the yeast and honey. Let stand until the mixture gets puffy, about 5 - 8 minutes.

Meanwhile, whisk together all the dry ingredients and add them to the bowl of a stand mixture fit with the paddle attachment. Add the yeast mixture, remaining wet ingredients and beat for 2 minutes, scraping down the bowl as necessary.

Transfer the dough to the prepared loaf pan and let rise in a warm spot for 20 - 30 minutes, until the loaf has doubled in size.

While the loaf is rising, preheat the oven to 350 degrees F. Bake in the center of the oven for 35 - 40 minutes until the top is golden brown and sounds hollow when you tap on the top.

Let cool in the pan for 5 minutes, then transfer to a wire rack and cool completely before slicing.

Store in a cool dry place for 2 days. Wrap extra slices in tinfoil in a plastic bag before freezing.
Nutrition
Calories: 98kcal | Carbohydrates: 19g | Protein: 1g | Fat: 1g | Cholesterol: 9mg | Sodium: 83mg | Potassium: 64mg | Fiber: 1g | Sugar: 2g | Vitamin A: 1600IU | Vitamin C: 0.4mg | Calcium: 13mg | Iron: 0.7mg
share what you make
Tag #simplyquinoa on Instagram with your creations! We love sharing what you make with the community. We can't wait to see!

follow on instagram