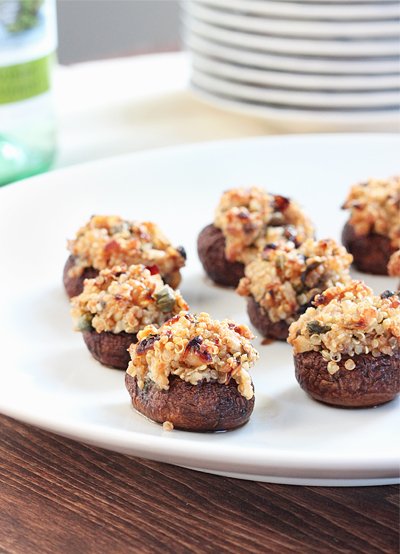 My favorite thing about quinoa, aside from the fact that it's naturally gluten-free, is its versatility. Quinoa is not only incredibly healthy, but it absorbs flavors and morphs with ingredients, making it an excellent choice in a variety of recipes.
Traditionally, most people use quinoa in place of rice or other grains, as the base of their dish, but quinoa has so much more potential than that. It can be used in baked goods, in soups, salads and appetizers alike. Quinoa can be the star of the meal or simply the little gem that holds it all together. Still amazing in every capacity.
I'm from a big Italian family. We're loud. We like to eat. We love red wine. And we love our gluten. And I used to be a part of that. But now that I'm happily gluten-free, I've worked to transform those recipes that bring a smile to my face and warm my heart, to be deliciously gluten-free.
Stuffed mushrooms have been a staple at my family's dinner table for years. Served before one of our elaborate feasts, they're the perfect little, pre-dinner bites. Usually made with bread crumbs, stuffed mushrooms are now one of my favorite things to make gluten-free (using quinoa of course!).
These quinoa stuffed mushrooms are filled with my favorite italian flavors: sweet shallots, fragrant garlic, salty capers and sharp goat cheese. Tossed with fresh basil and stuffed into mini crimini mushrooms, these appetizers will be sure to wow your house guests and mesmerize their Italian palettes.
Quinoa Stuffed Mushrooms – Easy Eats Magazine
These quinoa stuffed mushrooms are filled with my favorite italian flavors: sweet shallots, fragrant garlic, salty capers and sharp goat cheese.
Servings 16 Mushrooms
Calories 64kcal
Ingredients
15 crimini mushrooms stemmed
1 ?3 cup shredded sharp cheese I chose goat
1 shallot diced
2 garlic cloves minced
2 tablespoons capers finely chopped
2 tablespoons olive oil
2 tablespoons fresh basil coarsely chopped
1 teaspoon crushed red pepper
Salt & pepper to taste
Instructions
Preheat the oven to 400 degrees F. Spray a baking sheet with nonstick cooking spray and place the mushrooms, stem side up, and set the sheet aside.

Heat 1 tablespoon olive oil in a saute pan over medium heat and saute the shallots, garlic and capers until fragrant, about 2 - 3 minutes.

Add the cooked quinoa, sauteed vegetables and cheese to a mixing bowl. Stir to combine. Toss with the fresh basil and crushed red peppers. Season with salt and pepper.

Spoon the mixture into each of the mushrooms, about 1 teaspoon into each (depending on the size). Bake in the center of a warmed oven until the mushrooms have softened and the topping begins to brown, about 20 - 25 minutes. Serve immediately.
Notes
This recipe is easily doubled (or even tripled) if you're feeding a crowd or taking them to a party.
Nutrition
Calories: 64kcal | Carbohydrates: 3g | Protein: 2g | Fat: 4g | Saturated Fat: 1g | Cholesterol: 7mg | Sodium: 93mg | Potassium: 118mg | Vitamin A: 120IU | Vitamin C: 0.2mg | Calcium: 57mg | Iron: 0.4mg
share what you make
Tag #simplyquinoa on Instagram with your creations! We love sharing what you make with the community. We can't wait to see!

follow on instagram