If you told me four years ago that I'd be not only eating, but also making vegan meatballs, I'd say you were crazy. No way. No how.
Me? Vegan? Meatless meatballs? I don't think so.
I'm an Italian girl through and through. I love me my pasta, I love me some fresh tomato sauce, and I adore homemade meatballs (especially when my mom makes them). It's our go-to comfort meal and always makes me feel better eating it.
But I have to admit, sometimes meat just doesn't sound good to me. Sometimes I'm just craving something meatless.
And lately I've been finding myself actually craving more vegetables, beans and vegan proteins.
I don't know if it's the books that I've been reading, or if it's the fact that I want to experiment more with vegetarian / vegan cooking because so many of you ask for egg-free recipes, or really if it's just that my body is craving something different, but I'm going with it. And I'm excited to see where it takes us.
Right now…it's taking us to awesome town.
I was skeptical of meatless meatballs just from the name, but wanted to cook a meal that would be lighter on the calorie side, fill me up less, but still be healthy and nutritious.
When I first tried one of these vegan meatballs, I was shocked. Not only did they hold up well against sauce and noodles, they also tasted phenomenal.
The secret to these babies? Mushrooms and lentils.
If you're new to vegan cooking and baking, I've learned a few things through my experimenting that I have found to be really helpful:
Mushrooms are a great alternative to meat
Chia seeds do wonders for binding things together
You can use flaxseed meal and water to replace eggs
Beans are your friend (and they're not hard to make at home)
This recipe uses two of those things to turn a traditional meat-filled dish into one that's plant-based and completely egg-free. With a soft blend of sautéed mushrooms, cooked lentils and quinoa, these meatballs are not only delicious served on top of noodles, but also make the perfect dipping vessel into your favorite sauce or spread.
And I can't wait to hear what you think of them! Leave a comment below telling me how you would first try these: noodles or dip?
Vegan Quinoa Meatballs with Zucchini Pasta
These vegan quinoa meatballs are the perfect alternative for plant-based eaters. They're hearty, quick to make, naturally gluten-free and of course, vegan!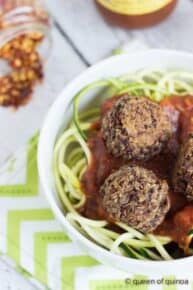 Instructions
Preheat the oven to 350 degrees F. Lightly spray a baking sheet with cooking oil and set aside.

In a large skillet, heat oil over medium heat. Add onions and mushrooms and cook until onions are almost translucent and the mushrooms have softened, about 5 minutes. Add seasonings and cook 1 minute more.

While mixture is cooking, add sunflower seeds to a food processor and pulse until coarse. Add onion-mushroom mixture along with half of lentils and pulse until mixture is coming together, 10 – 15 pulses. Transfer to a bowl.

Add remaining lentils, quinoa, chickpea flour and nutritional yeast (if using) and stir together to form a dough. Season with salt and pepper.

Shape dough into golf ball-sized meatballs and place on baking sheet. Repeat until no dough remains.

Bake on center rack for 30 minutes, flipping halfway through, until balls are browned and crispy on the outside. Remove and let sit for 5 – 10 minutes.

While balls are resting, spiralize the zucchini (using this spiralizer). Cut into spaghetti sized noodles and place in serving bowls.

Heat sauce over medium-low heat until bubbling. Pour over noodles and top with three meatballs.

Sprinkle with additional red pepper flakes and nutritional yeast if desired.

Enjoy!
Nutrition
Serving:
3
meatballs
|
Calories:
464
kcal
|
Carbohydrates:
54
g
|
Protein:
23
g
|
Fat:
19
g
|
Saturated Fat:
2
g
|
Sodium:
271
mg
|
Potassium:
1642
mg
|
Fiber:
17
g
|
Sugar:
14
g
|
Vitamin A:
815
IU
|
Vitamin C:
34.9
mg
|
Calcium:
105
mg
|
Iron:
7.2
mg
Filed Under:
Never heard of a spiralizer? Basically, these magical tools turn vegetables into noodles! It's a low calorie, low fat and more nutritious way to enjoy your favorite pasta dishes. Here's the spiralizer that I wholeheartedly recommend! It's become a staple in my kitchen, helps me eat more vegetables, saves me time and money, and I never find myself feeling overly stuffed or unsatisfied.