Ditch the sandwich and try these healthy collard wraps. They're easy to make, totally meal prep friendly and full of veggies. With step-by-step photos too!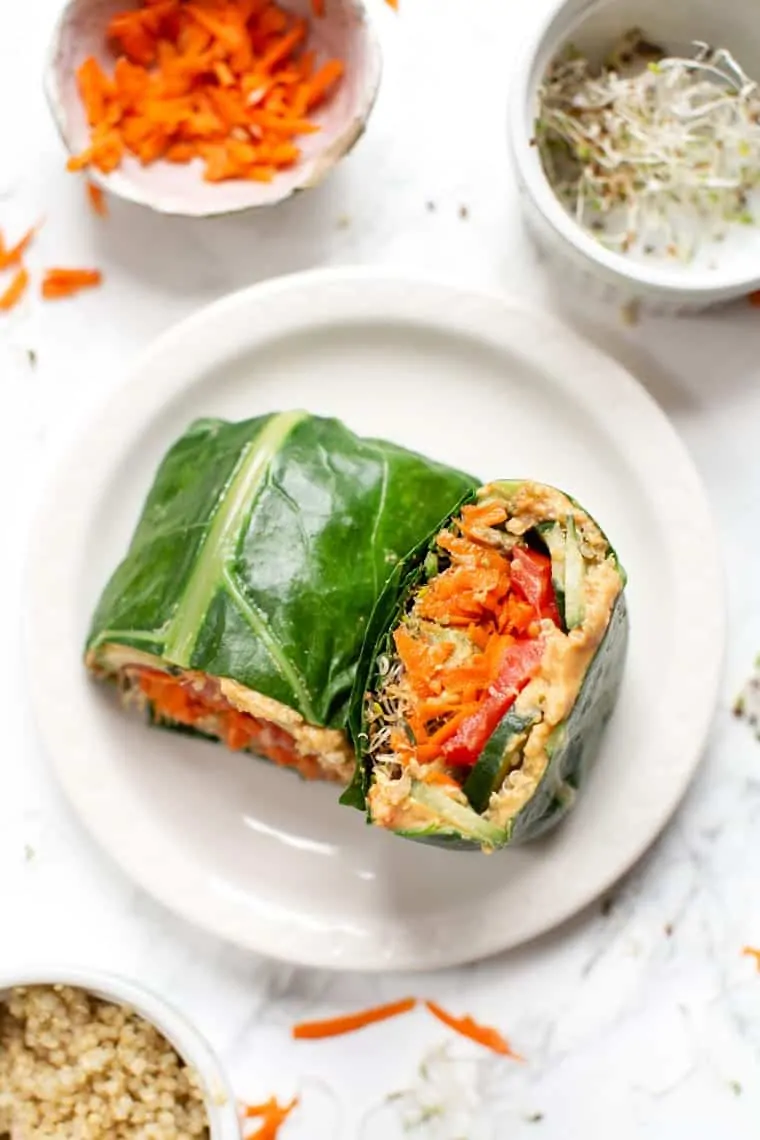 I've recently fallen in love with collard wraps.
It stems from my love of sandwiches, which turned into a love for wraps in high school when I wanted to go lighter on the carbs and skip the bread. But now, while I still love my gluten-free wraps and sandwiches, I've realized that I can have that same exact lunch taste just as delicious, but pack it with even more veggies.
It's basically like eating a salad just in wrap form. And by eating it in wrap form, it no longer tastes like that boring old salad. Instead, you're eating a wholesome sandwich that's loaded with nutrition.
It's fun. It's exciting. And it's yummy.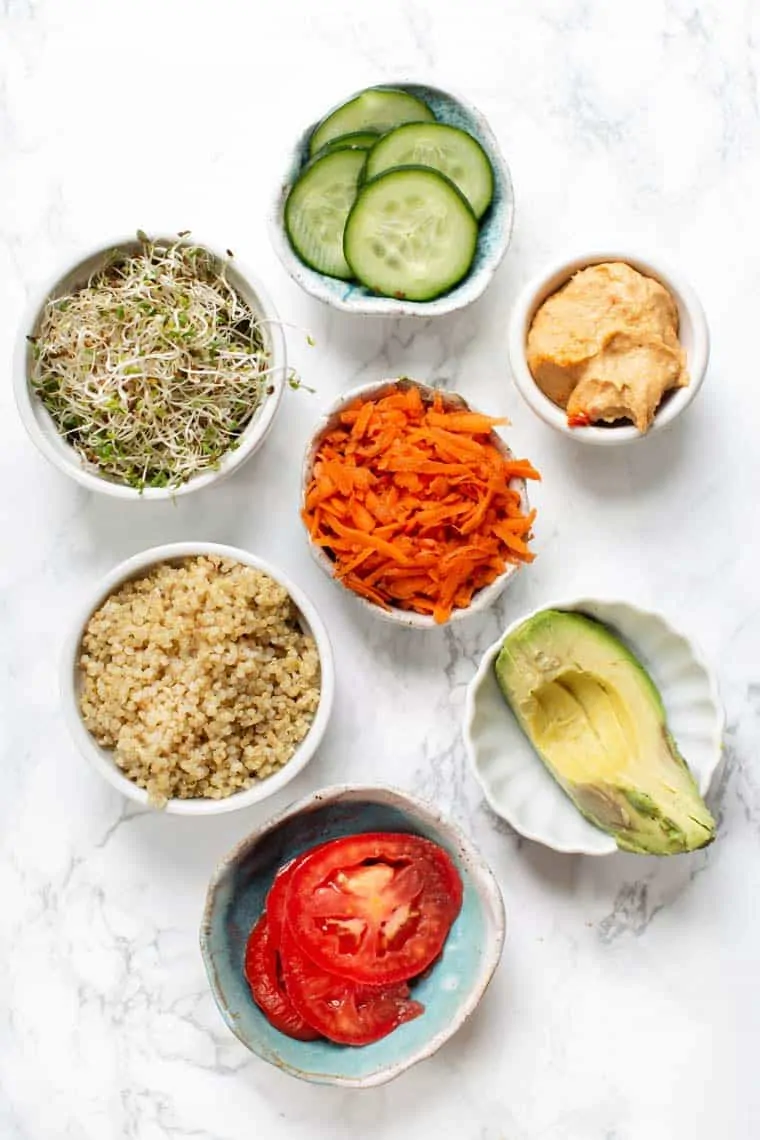 How to Make Wraps Stick Together
Ever make a lunch wrap only to open it up and it just falls apart? Here's the key: you've got to start with a nice, sticky base. Something that will hold the ingredients together, but will also meld with all the flavors and give the wrap some substance.
There are only two things that do that for me: hummus and guacamole
Not only do they help hold all your fillings together and keep everything nice and wrapped up, but they double as healthy ingredients as well. Of course, you're getting some protein from the hummus and then you're also getting healthy fats from the avocado.
Once you've decided on your base, it's time for the other fillings. I'll detail my layers out below, but it's really about texture. Crunchy veggies, some greenery, and a little extra protein for good measure.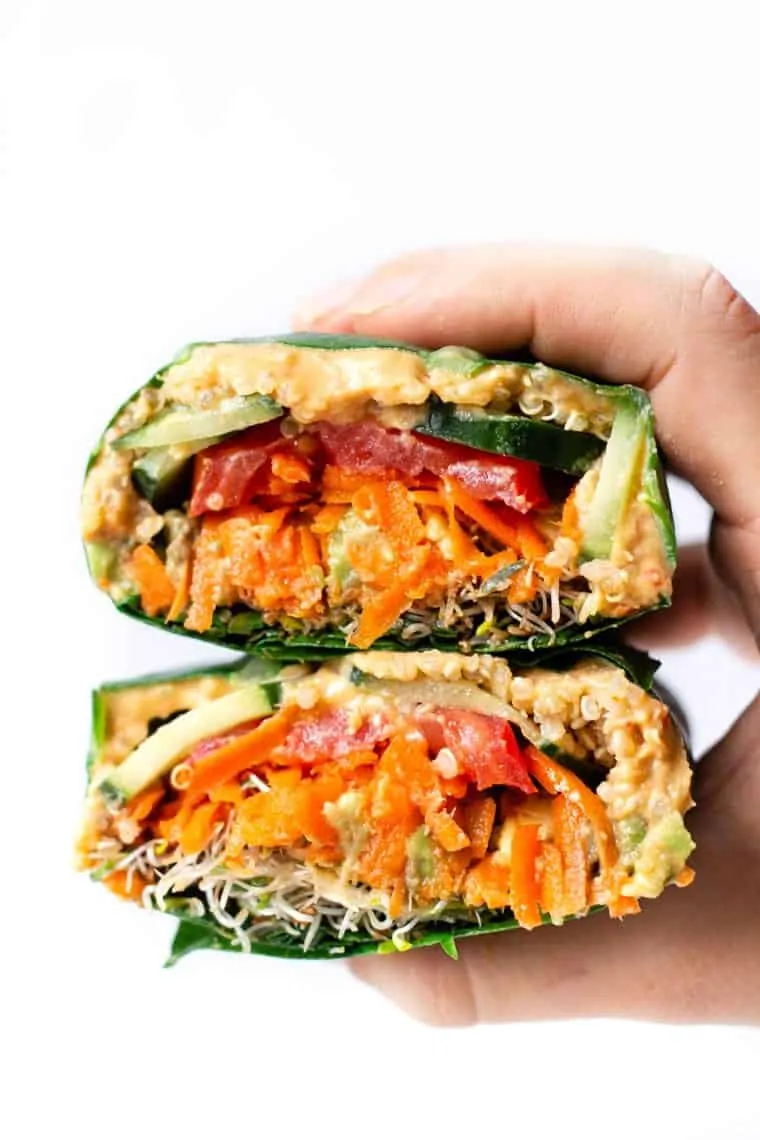 How to Blanch Collard Greens
Now, let's talk about collard wraps specifically. There are a few things you're going to want to do to ensure your collard wraps stays together and actually rolls up:
blanch it
remove the stem
Blanching collard greens is super simple. Just add about 1″ of water to a skillet, bring it to a boil and dip the leaf in a few times. It will cook super quickly. Then just leave it aside and let it cool.
Once you have your cooked collard leaf, just carefully slice off the stem, going up as high as you can into the leaf. This is going to make the whole thing a lot more pliable and flexible, making it easier for you to roll it up.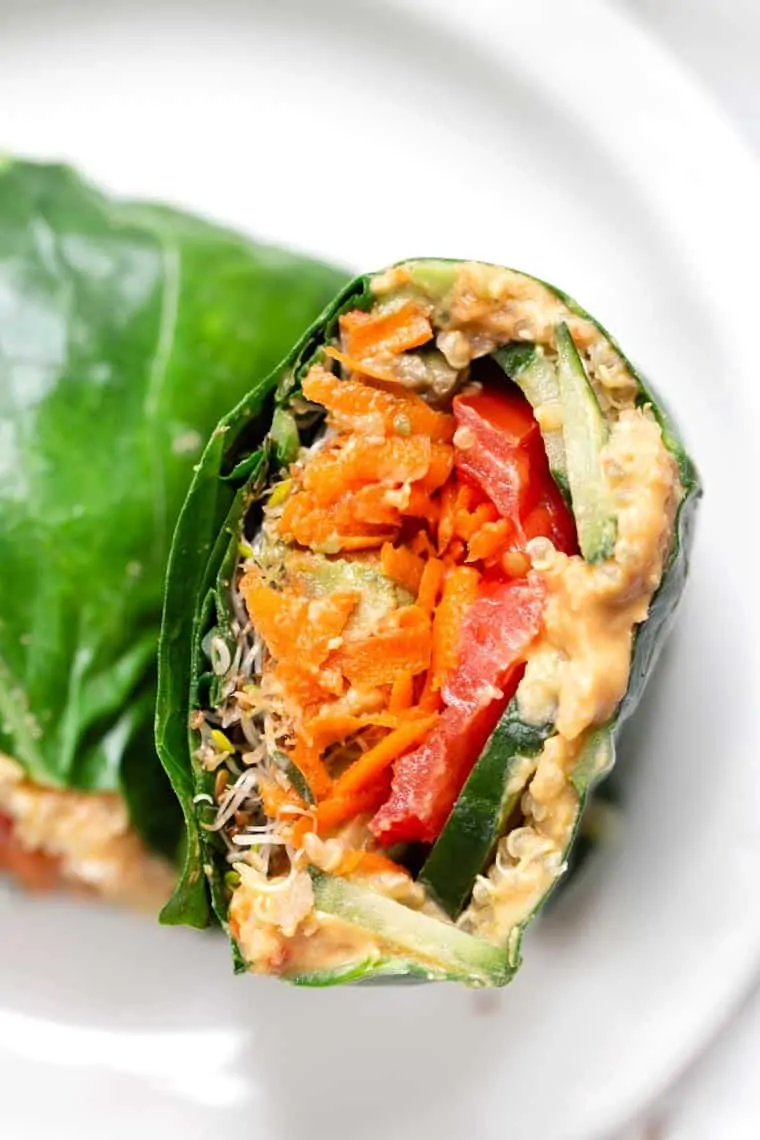 A Super Healthy Lunch Wrap Recipe
They all come together into the perfect lunch wrap.
You know, I feel like often times collard greens get a bad rap. I'm guilty of that because whenever I used to hear "collards", my mind immediately jumped to the traditional Southern dish that frankly doesn't sound too appealing.
But as I started to learn more about them, I realized that collards are one of those greens, like kale and chard, that are packed with good-for-you nutrients.
Some health benefits of collards include:
protein
fiber
chlorophyll
and tons of other vitamins
And with their broad, sturdy leaves, and mild flavor, they make the perfect sandwich wrapping vessel. They're low in calories, but still give you that "burrito" style feel. Plus, you can find some big a$$ leaves sometimes, which means you can really fill them up!
So next time you're reaching for those overpriced gluten-free wraps at the grocery store, stop in the produce section and pick up a bunch of collards. I promise you won't be disappointed.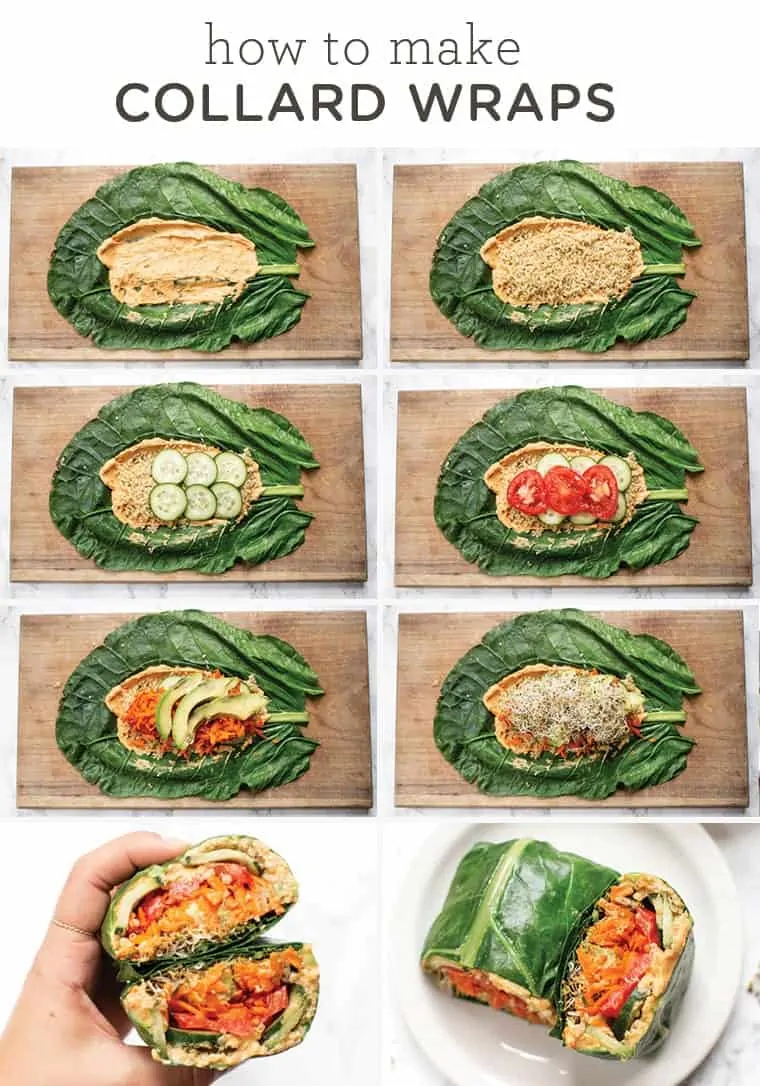 How I Make My Collard Wraps
While I do change up my wrap fillings most days, this combo has to be my favorite.
I start with a layer of hummus, then some cooked quinoa (adding it in next helps it stick a little better). Finish with my veggies: crunchy cucumbers, juicy tomatoes, sweet carrots, perfectly ripe avocado and some jazzy sprouts for good measure.
Your final job? Fold in the sides, roll it up like a burrito and enjoy!
These wraps are the ultimate healthy lunch. They're a cinch to make, they can be meal prepped, they can be filled a million different ways and they never get old. If you're just learning about collard wraps, I know you're going to fall in love!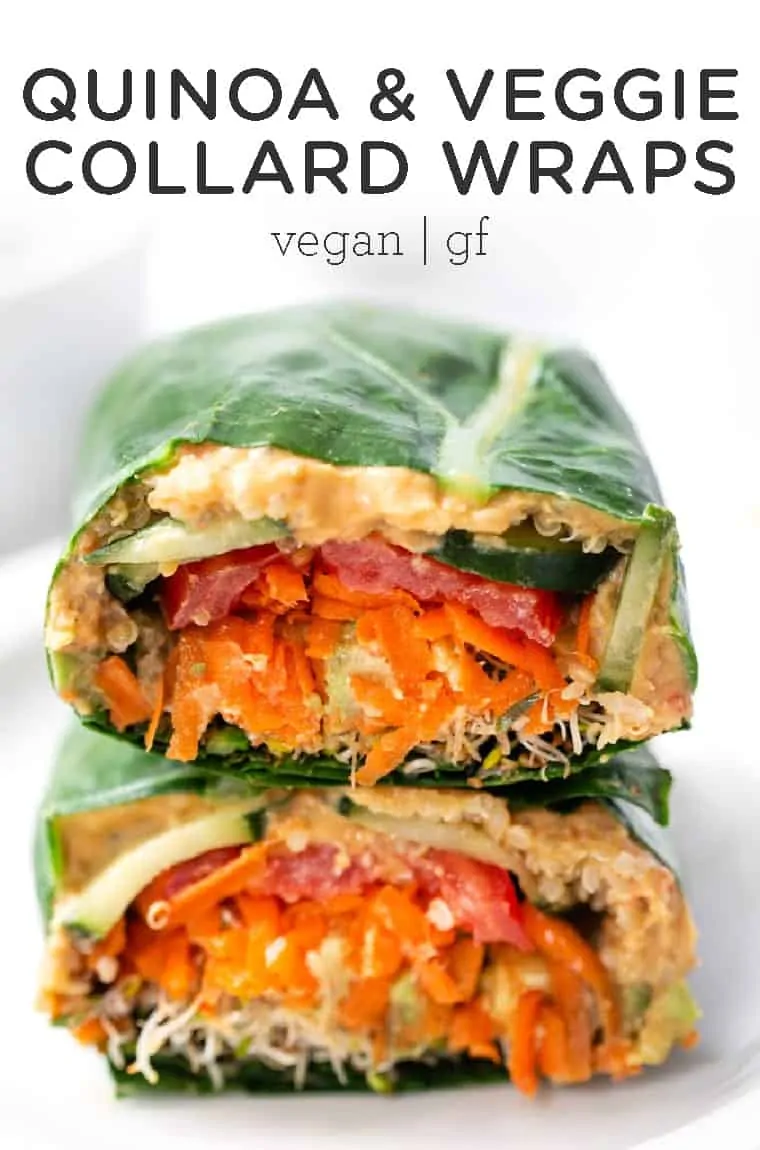 More Easy & Healthy Lunch Ideas:
Quinoa & Veggie Collard Wraps
Ditch the sandwich and try these healthy collard wraps. They're easy to make, totally meal prep friendly and full of veggies. With step-by-step photos too!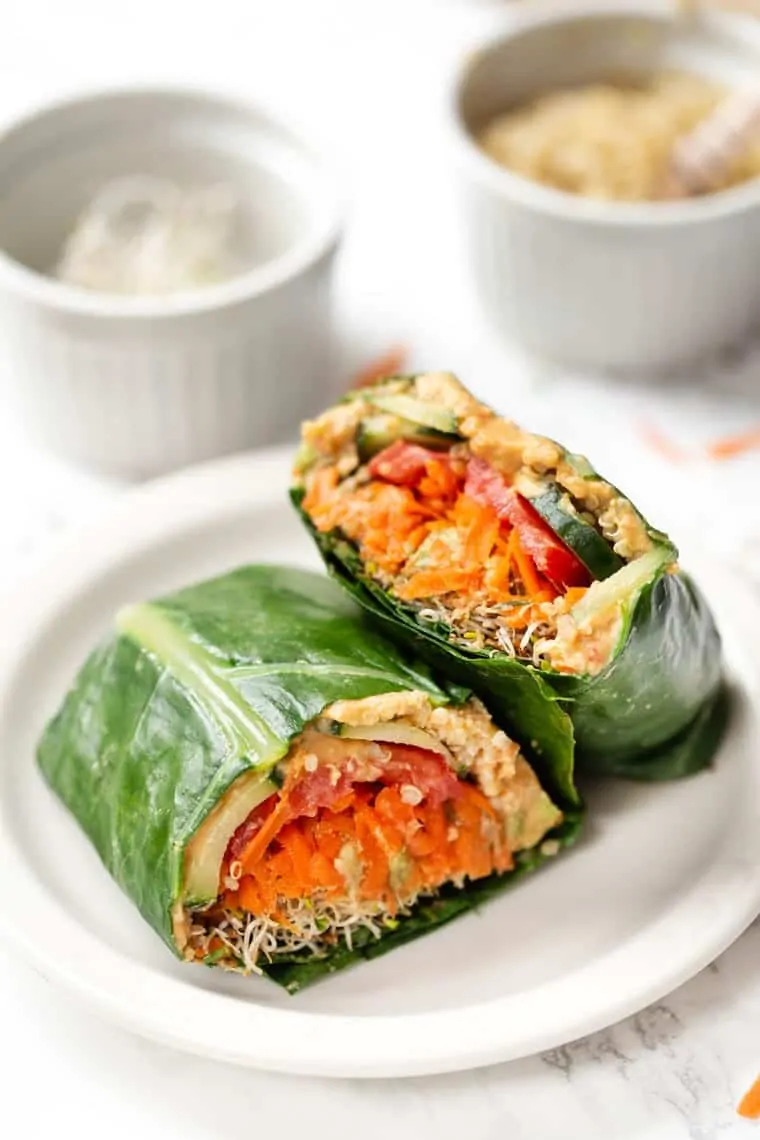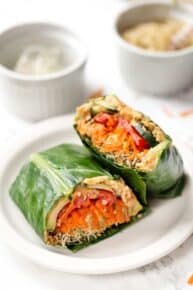 Ingredients
4

collard leaves

1/2

cup

hummus

(any variety)

1

cup

cooked quinoa

1

medium cucumber

1

medium tomato

2

carrots

, grated

1

avocado

, sliced

1/2

cup

sprouts
Instructions
To cook the leaves: Fill a skillet 1" high with water. Bring the water to a boil then, one at a time, submerge the collard leaves into the water allowing them to cook for 15 - 20 seconds. Move the leaves around in the water (flip if necessaruntil the whole leaf has turned bright green and is cooked. Repeat with remaining leaves. Allow the leaves to cool completely.

To prepare the leaves: When ready to assemble, carefully cut the stem out of the leaf. Start towards the top, run your knife along the rib of the leaf, being careful not to cut a hole in the leaf itself. Cut all the way to the bottom of the stem and cut the stem off.

To assemble: divide all the ingredients into four. Spread the hummus into the center of each leaf, then top with quinoa, cucumber, tomato, carrot, sliced avocado and finishing with the sprouts.

To fold the wraps: fold in the sides. Take the edge facing you and fold it over the ingredients. Roll away from you as tightly as possible.

Store the wraps whole and enjoy for 2 - 3 days.
Nutrition
Calories:
218
kcal
|
Carbohydrates:
25
g
|
Protein:
7
g
|
Fat:
12
g
|
Saturated Fat:
2
g
|
Sodium:
149
mg
|
Potassium:
687
mg
|
Fiber:
9
g
|
Sugar:
4
g
|
Vitamin A:
5980
IU
|
Vitamin C:
17.3
mg
|
Calcium:
72
mg
|
Iron:
2.1
mg
Filed Under: