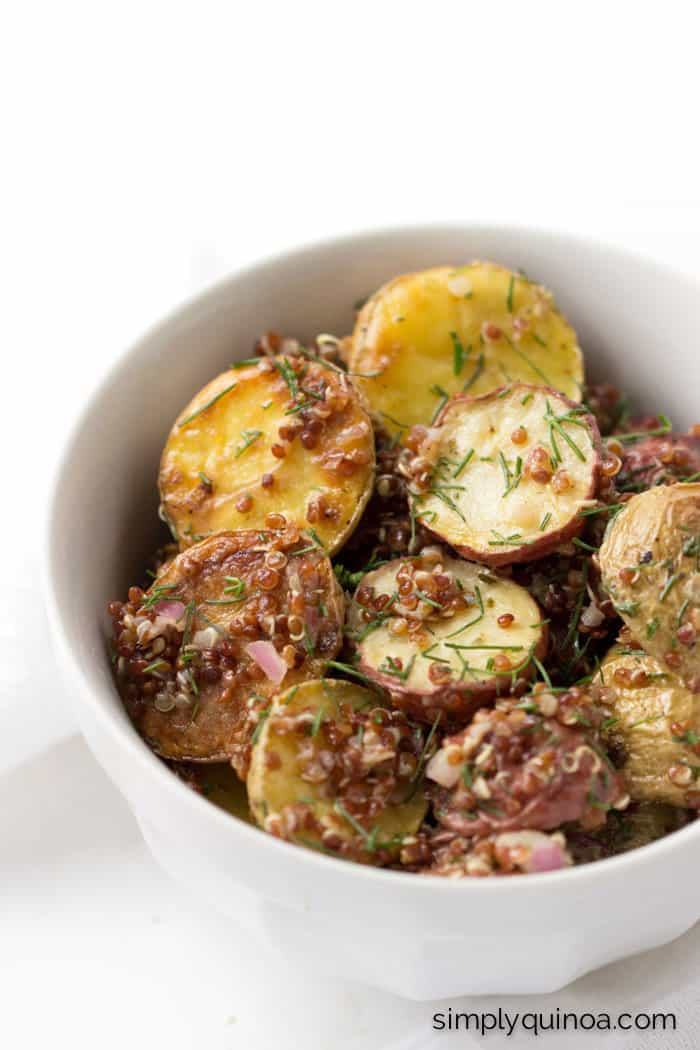 I've really been pushing myself outside of my comfort zones these past few weeks. I had a huge recipe testing day and whipped up some things that I almost never make. Like fennel. And beet noodles. And caramel made from honey. And now it's potatoes.
Potatoes you might be thinking? Who doesn't make potatoes? Well, me. I don't.
It's not that I have anything bad to say about potatoes, they're just not something I ever buy or make at home. I think it's probably because they don't have as much nutrition as sweet potatoes, so that's always my choice. And sweet potatoes are my frickin' jam. So there's that.
But these roasted potatoes? These might be my new jam. Because this red quinoa salad is crazy delicious.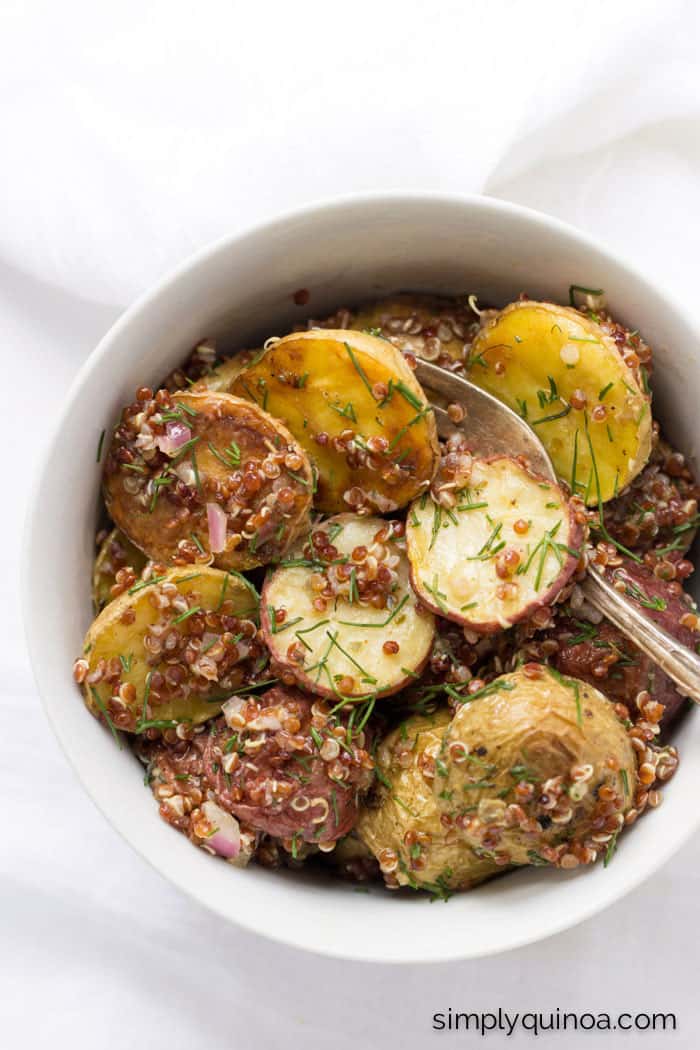 It starts with new potatoes (which, if you're wondering are basically just baby potatoes <– I just figured that out. thanks, Google). Just give them a quick chop so they're a bit more manageable to eat, toss them in some olive oil and season them with herbs, salt and pepper. The throw some sliced garlic on top and give them a good roast until they get golden brown and crispy.
Then there's red quinoa. Which I've been really getting into lately! Loving the crunch that it's adding to my salads.
Finally the dressing. Oh this dressing! (but we'll get to that in a sec)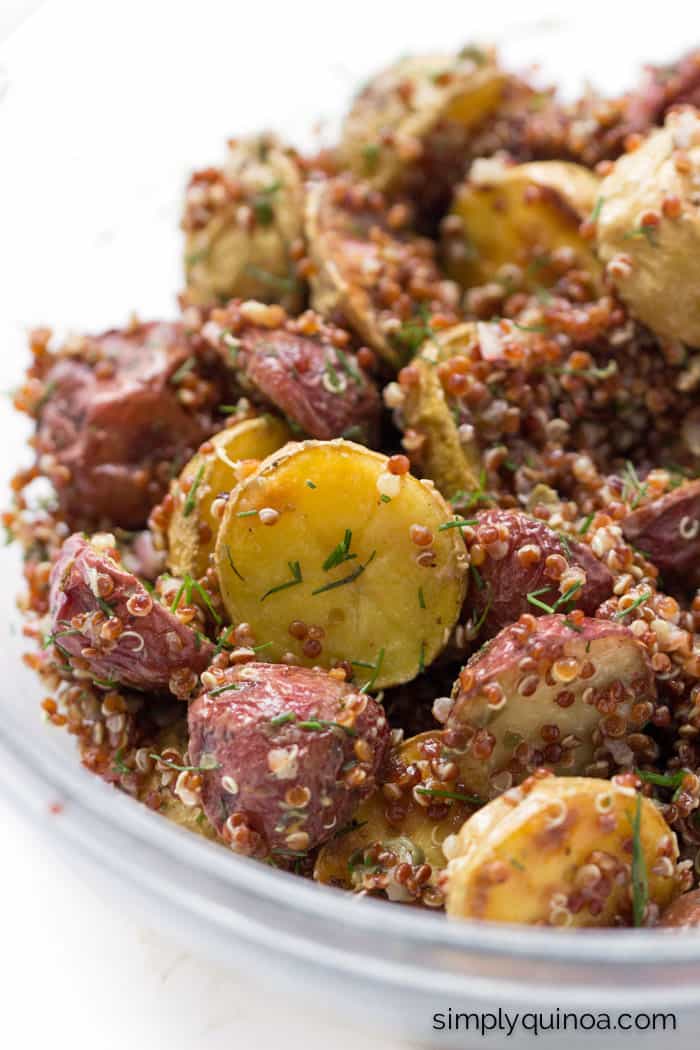 Okay, so red quinoa isn't always the easiest to find in your local store (I always get mine from Ancient Harvest!). I'd say it's probably the third most common type of quinoa – behind white/golden and rainbow/tri-color – so if you can't find it, feel free to swap in your favorite variety.
Buuuuut, red quinoa is so perfect here.
Since it's a little crunchier than white quinoa, it really stands out in this salad. It gives potatoes some added texture, because once you get past the crispy edges, the potatoes are soft and creamy on the inside. The red quinoa also sops up all the amazing flavors of the dressing.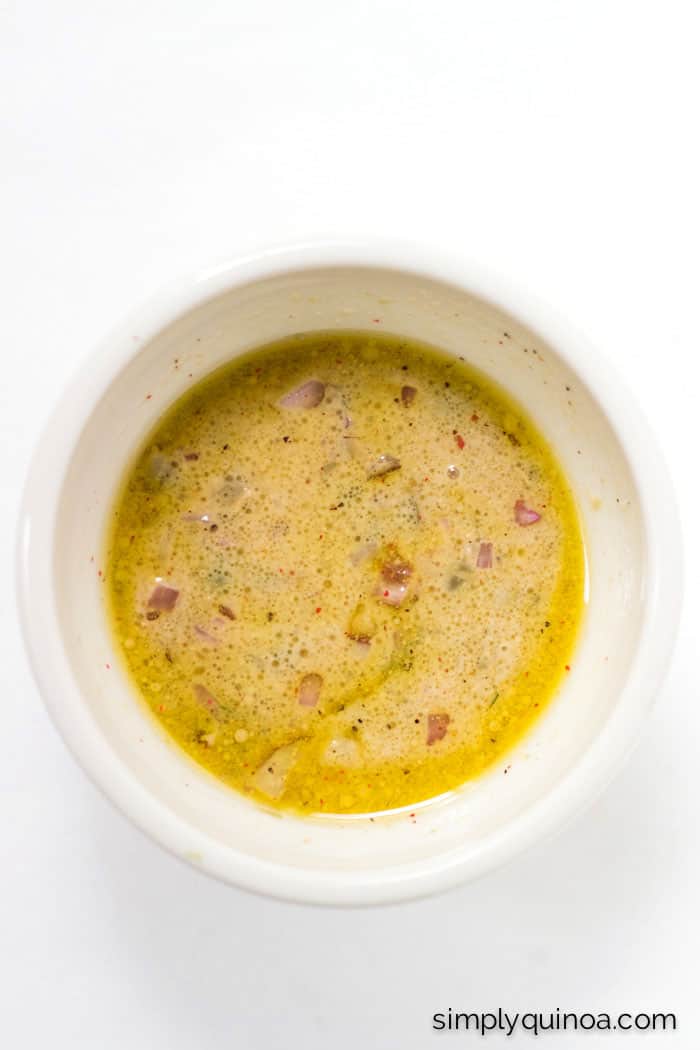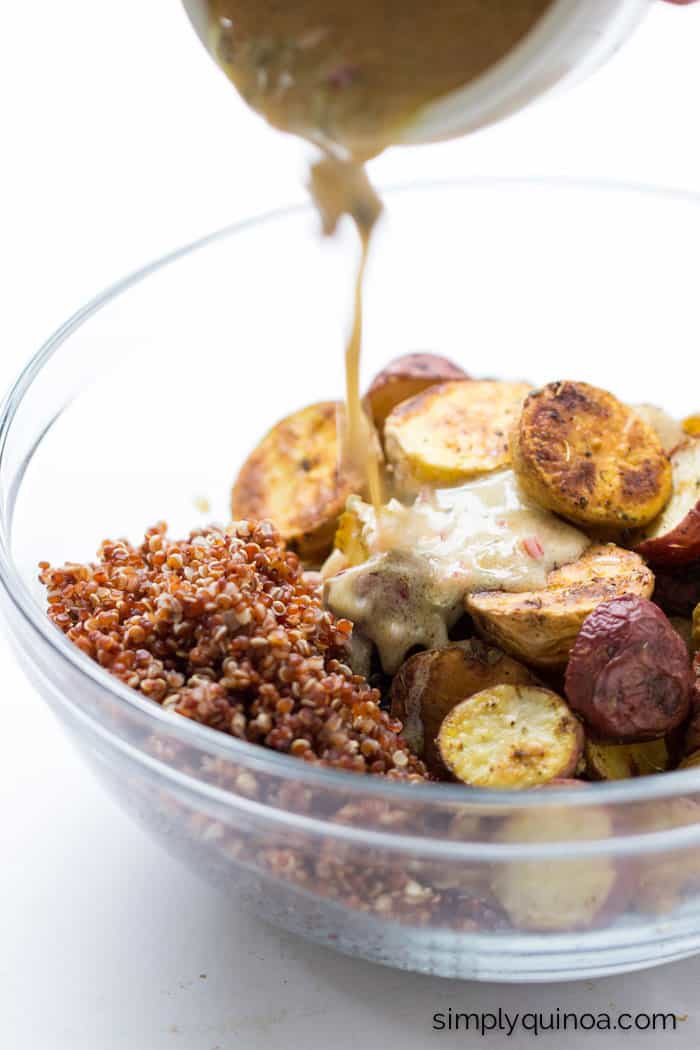 Here's what we're working with:
shallots
capers
olive oil
dijon mustard
apple cider vinegar
and lemon
Mixed together and it's basically the best thing ever. I found myself taking taste after taste directly from the bowl. And now I pretty much want pour it on everything.
But it's perfect for this salad. The shallots bring a faint sweetness but also a crisp bite, while the capers are briny and salty, the oil makes it rich and smooth, the dijon is a bit tangy, and the vinegar and lemon brighten the whole thing up. The perfect balance.
Yep, this is one for the recipe books my friends. And you should totally save it for later too because this would make an awesome side dish for Thanksgiving!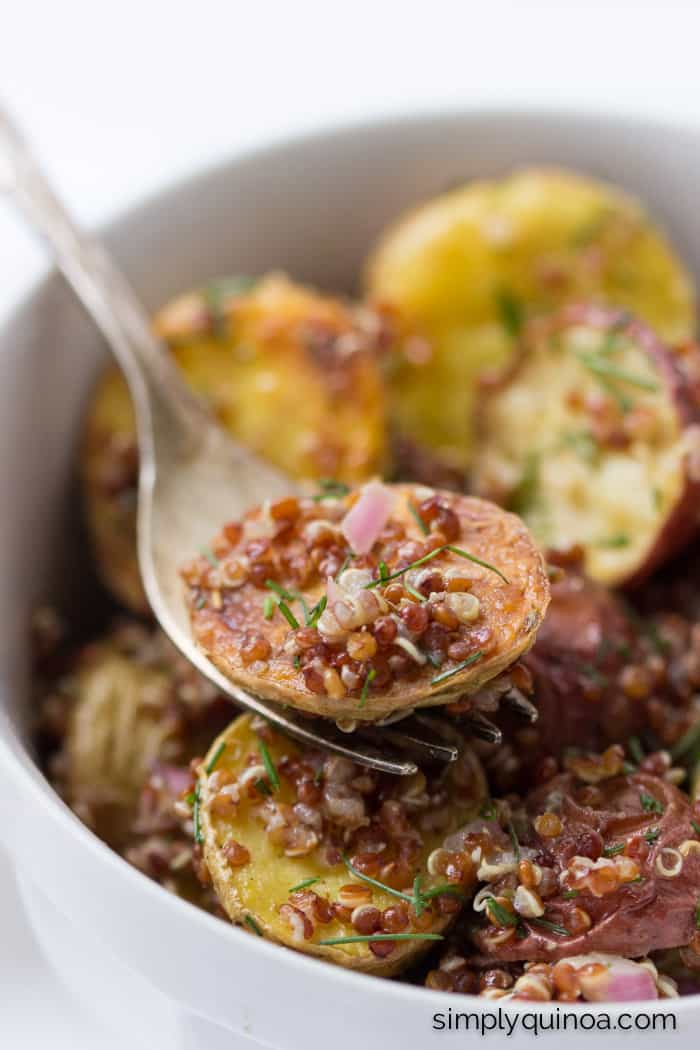 Roasted Potato + Red Quinoa Salad
These might be my new jam. Because this red quinoa salad is crazy delicious.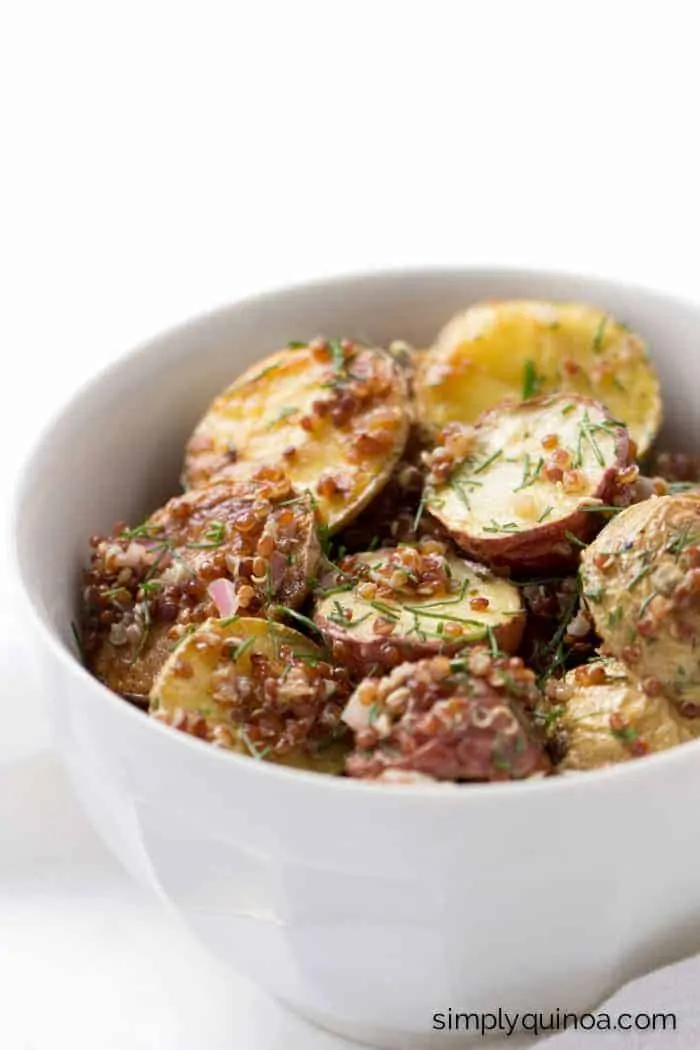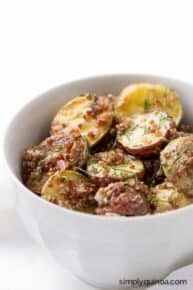 Ingredients
for the potatoes
2

lbs

new potatoes

halved

2

tablespoons

olive oil

1/2

teaspoon

dried oregano

Salt + pepper

1

garlic clove

thinly sliced



Instructions
Preheat the oven to 400ºF.

Add potatoes, oil, herbs, salt and pepper to a large bowl. Toss to combine. Transfer potatoes to a baking sheet and sprinkle with sliced garlic. Roast potatoes until golden brown and crispy, about 25 - 35 minutes.

Meanwhile, whisk the shallots, capers, oil, vinegar, lemon juice, and dijon. Season with salt and pepper, taste and adjust seasonings as necessary.

When potatoes are done roasting, transfer them back to the mixing bowl. Add red quinoa. Pour dressing over salad and mix to combine. Garnish with fresh dip if using and serve.*
Notes
This salad is also delicious served cold, so feel free to make it up to one day ahead and keep chilled in the fridge.
Nutrition
Calories:
305
kcal
|
Carbohydrates:
57
g
|
Protein:
9
g
|
Fat:
5
g
|
Sodium:
184
mg
|
Potassium:
1553
mg
|
Fiber:
9
g
|
Sugar:
1
g
|
Vitamin C:
55.4
mg
|
Calcium:
87
mg
|
Iron:
8.4
mg
Filed Under:
OTHER AUTUMN QUINOA SALADS TO TRY: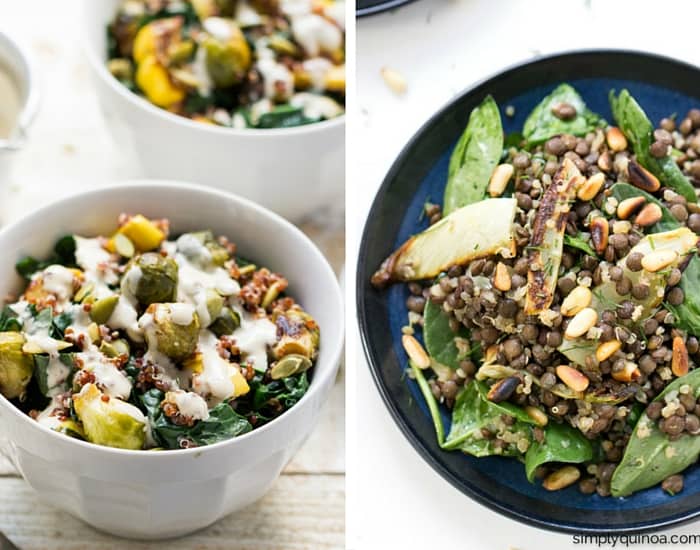 Red Quinoa Salad with Roasted Squash + Brussel Sprouts (Simply Quinoa)
Warm Lentil Salad with Spinach + Quinoa (Simply Quinoa)
Fall Quinoa Salad with Kale + Sweet Potatoes (She Likes Food)
Roasted Acorn Squash with Quinoa + Kale (Edible Perspective)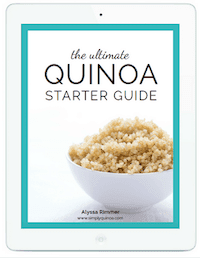 New to cooking quinoa? Grab your FREE Quinoa Starter Guide!
Become part of the Simply Quinoa community and receive weekly emails with exclusive content that I only share in email, as well as my in-depth guide to starting your quinoa journey.
This post was sponsored by Ancient Harvest, but all opinions are my own. I only share brands that I am passionate about, so thank you so much for supporting them! Learn more about Ancient Harvest on Twitter, Instagram, Pinterest, and Facebook.