These Savory Almond Flour Waffles are packed with healthy ingredients like zucchini, quinoa and flax. They're light, fluffy, gluten-free, dairy-free and a nutritious way to start your day!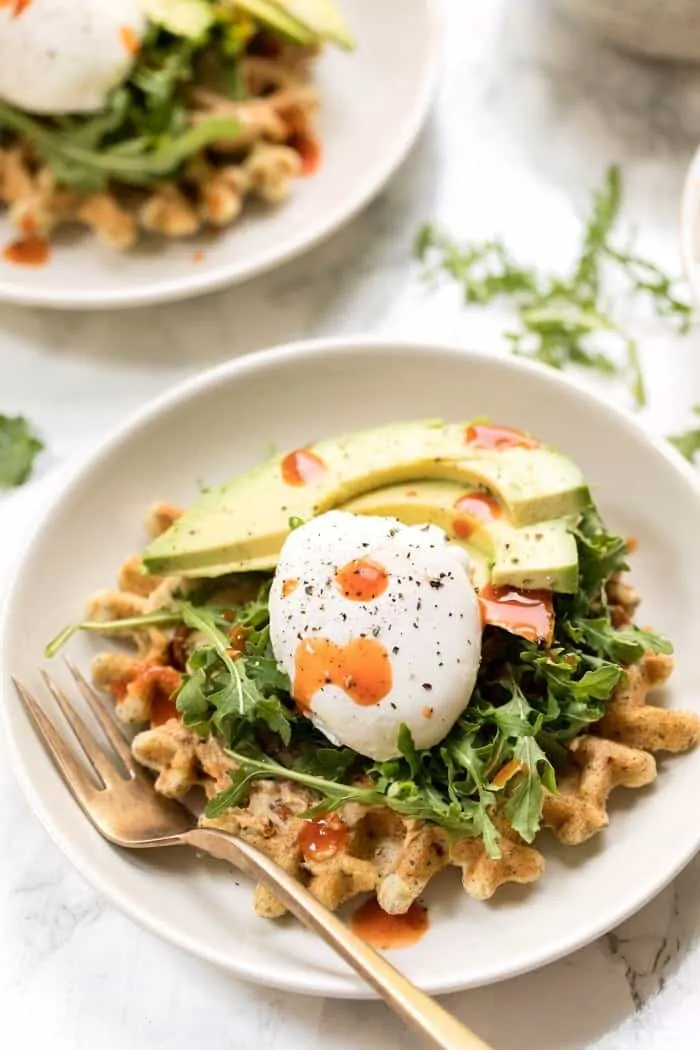 Savory waffles. Can we just pause and talk about how strange those words feel coming out of my mouth!?
My entire life, waffles have always been synonymous with sweetness, specifically maple syrup, yogurt and berries. It's my Sunday jam, it's what I grew up on and it's just how it's supposed to be done.
But today I'm venturing out of my comfort zone and making you these savory zucchini almond flour waffles.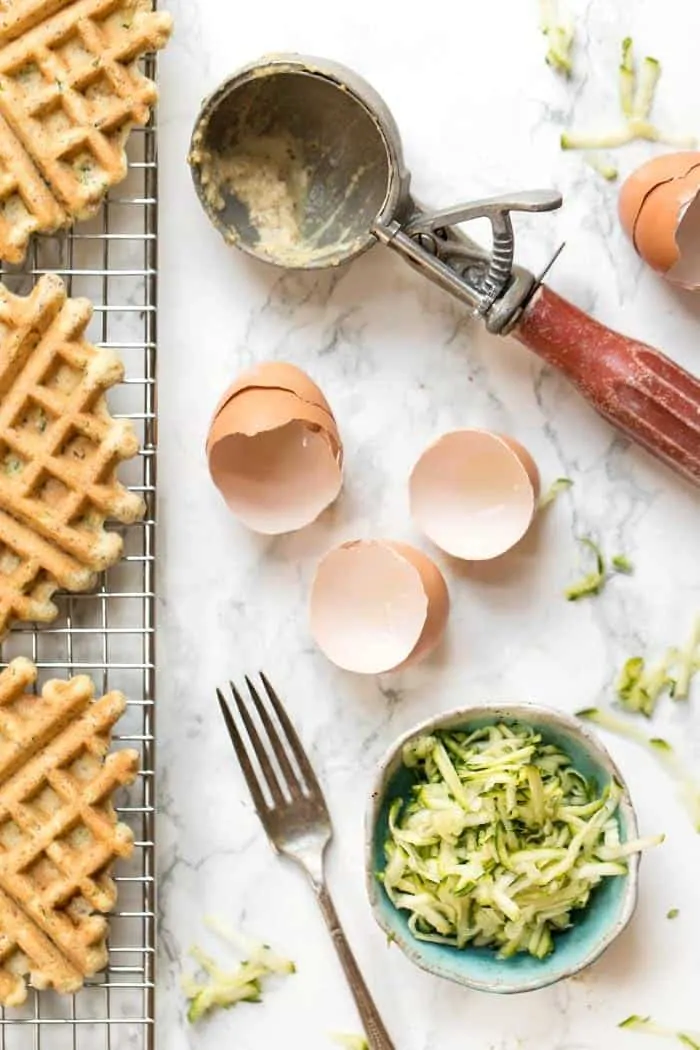 Guys, I'll admit it. It's taken me almost 30 years to turn my beloved fluffy waffles into something savory, but dang am I glad I did! Because I gotta tell you…savory waffles are incredible!
And the beauty is, this is definitely going to be my go-to waffle recipe when Matt and I are stuck in the weekend breakfast debate between sweet and savory.
This satisfies my love for waffles and his need for savory. It's a win-win!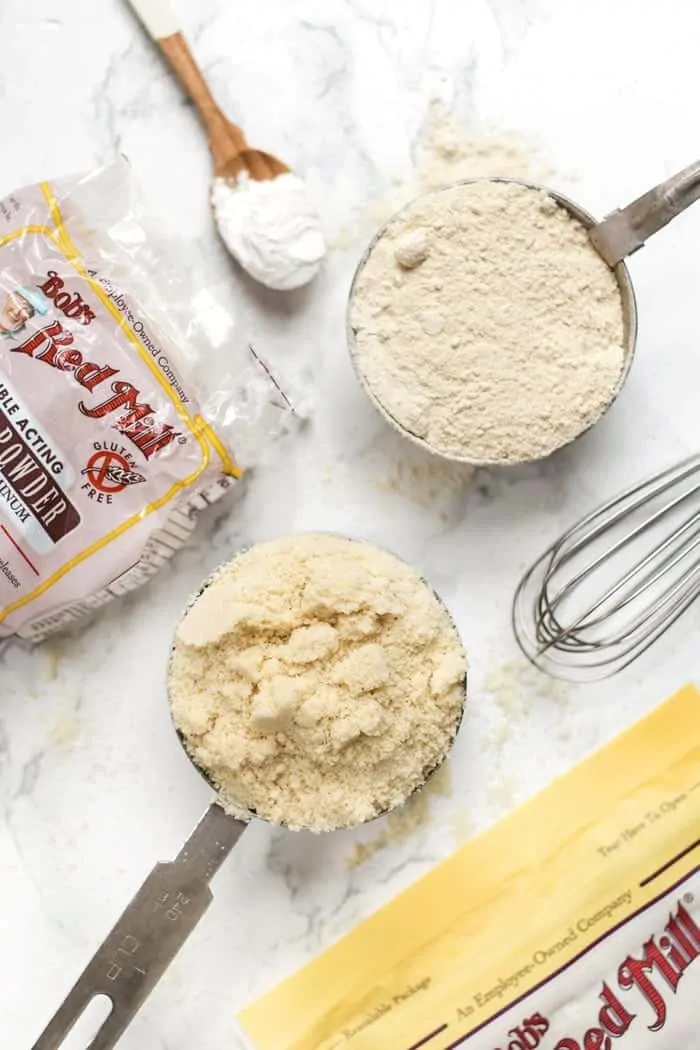 For the actual waffle itself, I'm actually using a variation of my Wholesome Almond Flour Waffle recipe, which has the absolute best texture! So fluffy, nice and light, but still nutritionally dense and super filling.
I used a blend of all my favorite flours from Bob's Red Mill to make these waffles nice and wholesome. Here's what we're working with…
Almond flour. This is one of my go-to flours because it's nutrient-rich, with lots of healthy fats, protein and fiber, but it also brings an amazing texture and natural sweetness. I love the one from Bob's Red Mill because it's made from blanched almonds and has a superfine texture!
Quinoa flour. Another go-to for added protein, some trace minerals, as well as added fiber and complex carbohydrates. Quinoa flour can be on the pricey side, but the one from Bob's Red Mill is amazing!
Flaxseed meal. Usually, I only use flax for my egg replacements, but this time we're tossing it into the flour combo for some added nutrition. Flax contains a ton of omega-3s, as well as protein and healthy fats. I find that it also adds a bit of nuttiness to the texture of the waffles which I really love! Also really love that Bob's Red Mill makes giant bags of this!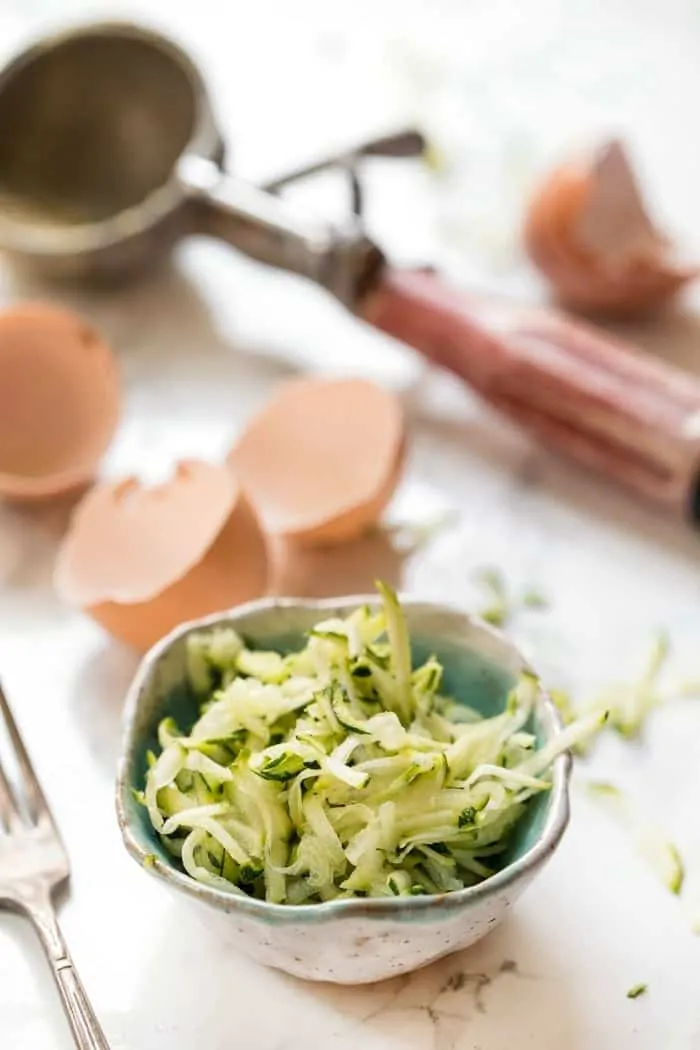 Then we just stir in some egg yolks, almond milk and olive oil, followed by some whipped egg whites and shredded zucchini and call it a day!
They're pretty much exactly the same as making standard waffles, you just don't have that sweetness and can have all sorts of fun when it comes to the topping.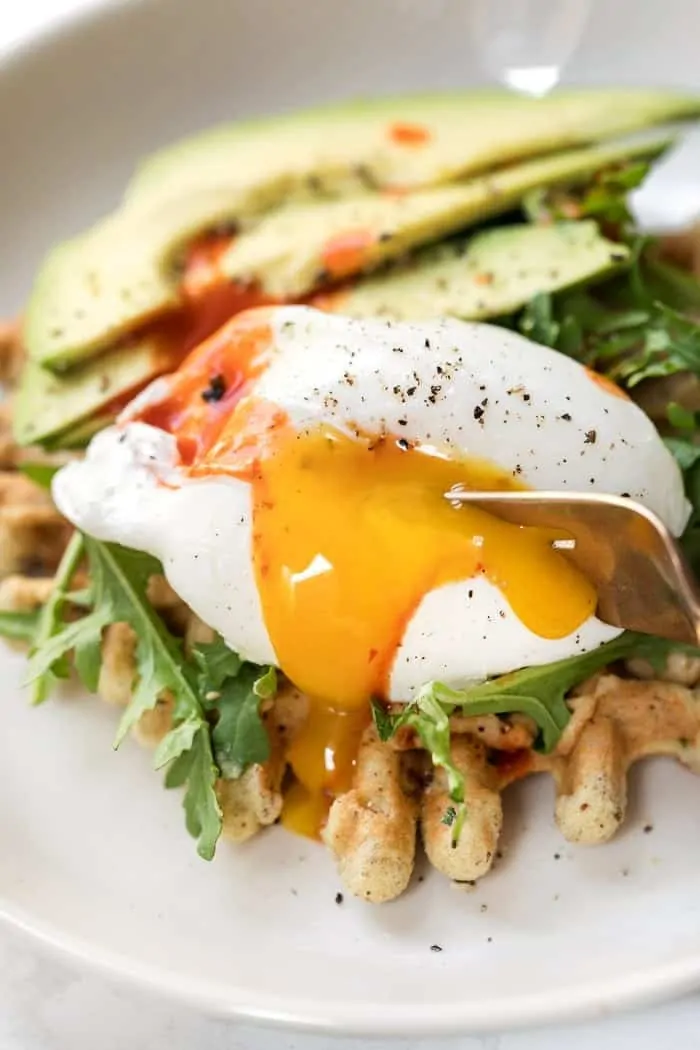 Which gets us to the fun part…the toppings!
I wanted to make these waffle suitable for any meal of the day. They're perfect for those of you savory breakfast-lovers out there but also double as an awesome lunch option or even a healthy brinner (breakfast+dinner).
I did a layer of hummus on the bottom (although it's equally delicious with non-dairy cream cheese), followed by some greens, sliced avocado and a poached egg.
Talk about perfection on a plate right there!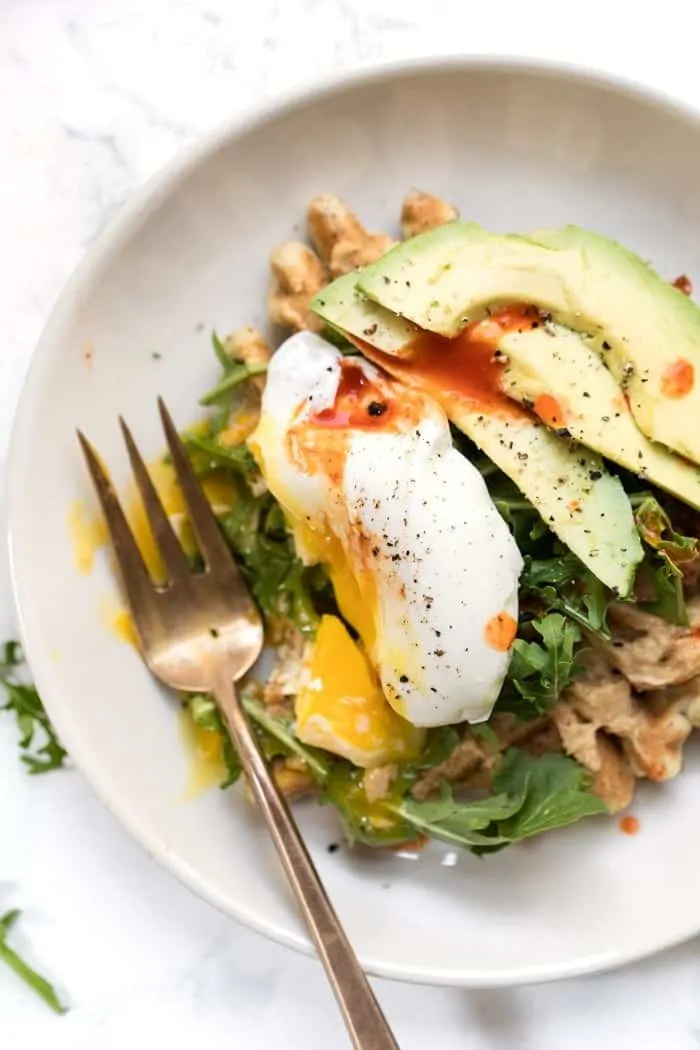 I'll be the first to admit, I'm a creature of habit, so the tough of savory waffles just totally put me off, BUT it's one of those things where you can't knock it till you try it.
They're filling, they're satisfying, their protein-packed, they're gluten-free and dairy-free and they are downright delicious!
Once you try them, I think you'll be convinced. The savory almond flour waffles definitely deserve their own spot on the breakfast table!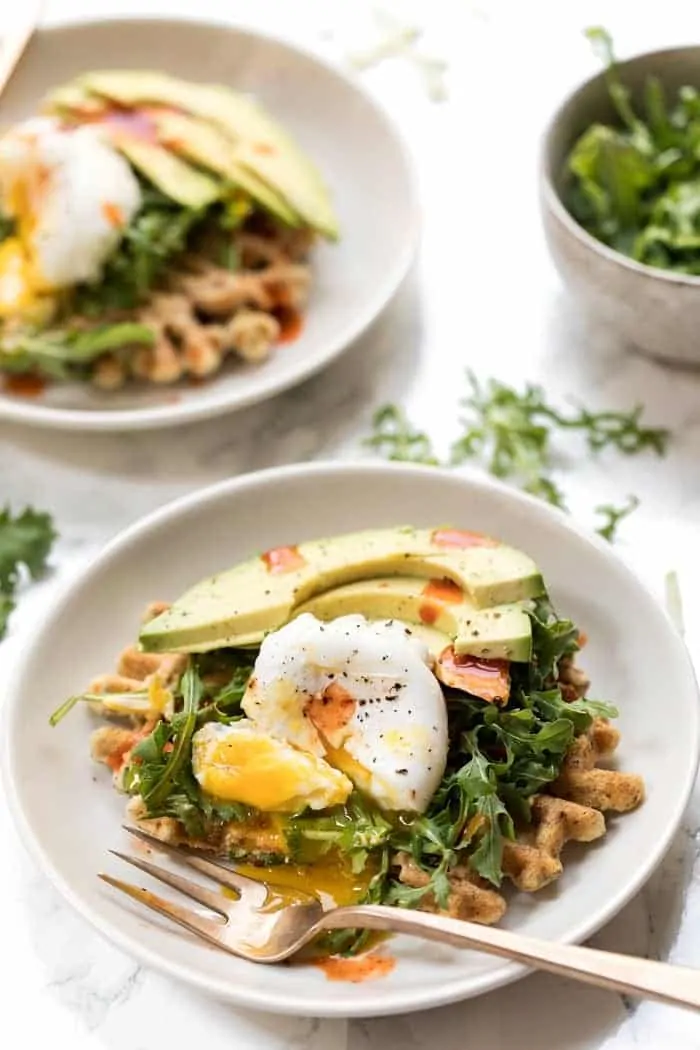 More savory breakfast recipes to try!
Savory Zucchini Breakfast Waffles
These savory almond flour waffles are the perfect breakfast treat! Wholesome, filling, high in protein and healthy fats, these will become a staple on your breakfast table!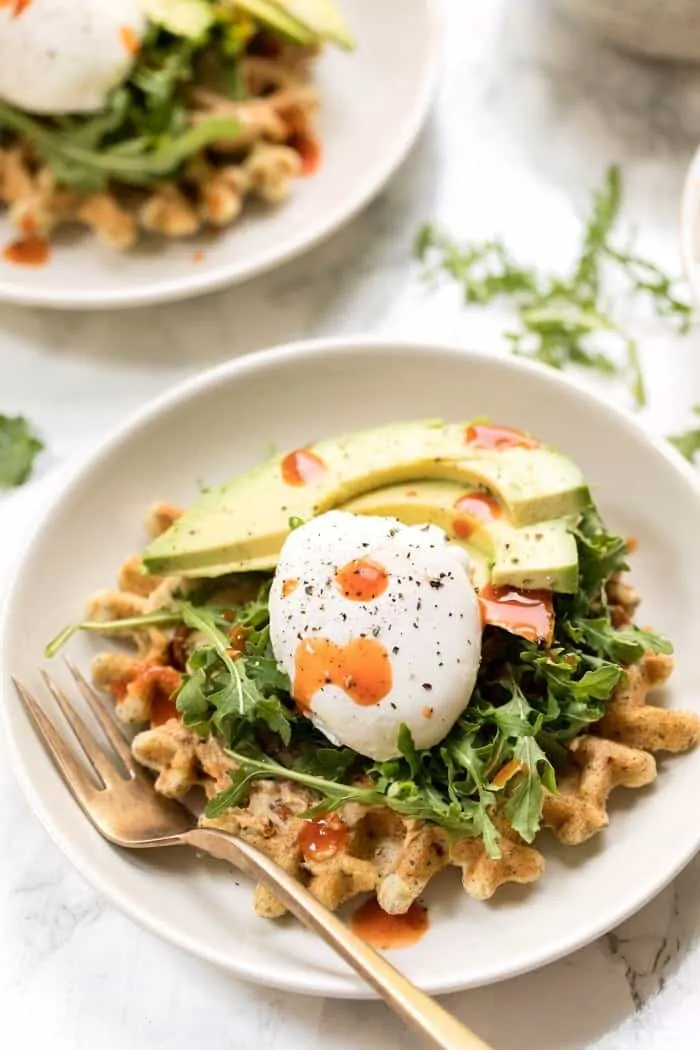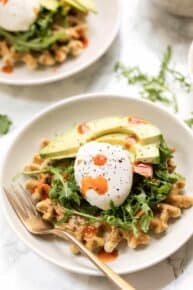 Instructions
Heat a waffle iron to medium-high.

In a large bowl, whisk together the dry ingredients and set aside.

Separate the eggs into two additional mixing bowls. To the bowl with the yolks, add the almond milk, oil and apple cider vinegar, and beat together until smooth. For the whites, beat on high with an electric mixer until they can hold stiff peaks.

Add the yolk mixture to the dry ingredients and mix until just combined. Add the whites and gently fold until the batter is just combined again. Careful not to over mix as you don't want to deflate the egg whites.

Place the zucchini in a clean dish towel and squeeze out all the excess moisture. Add that to the bowl and gently fold together.

Grease the waffle iron and drop 1/4 cup of batter into the center. Cook according to your waffle maker's instructions until golden brown and lightly crispy; typically about 2 - 3 minutes.

Transfer waffle to a wire rack and repeat with remaining batter.

When ready to serve, top with a layer of hummus, greens, sliced avocado and your poached egg!
Nutrition
Serving:
1
waffle
|
Calories:
128
kcal
|
Carbohydrates:
7
g
|
Protein:
6
g
|
Fat:
11
g
|
Saturated Fat:
1
g
|
Cholesterol:
61
mg
|
Sodium:
193
mg
|
Potassium:
180
mg
|
Fiber:
2
g
|
Sugar:
1
g
|
Vitamin A:
135
IU
|
Vitamin C:
4.1
mg
|
Calcium:
102
mg
|
Iron:
1.3
mg
Filed Under:
This recipe is brought to you in partnership with Bob's Red Mill. As always, all opinions are my own. I only share companies I love and trust, so thank you for continuing to support Simply Quinoa!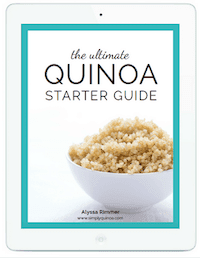 New to cooking quinoa? Grab your FREE Quinoa Starter Guide!
Become part of the Simply Quinoa community and receive weekly emails with exclusive content that I only share in email, as well as my in-depth guide to starting your quinoa journey.