Check out our fave September Thrive Market finds – healthy snacks, toxin-free beauty products, natural supplements and so much more – all for big discounts.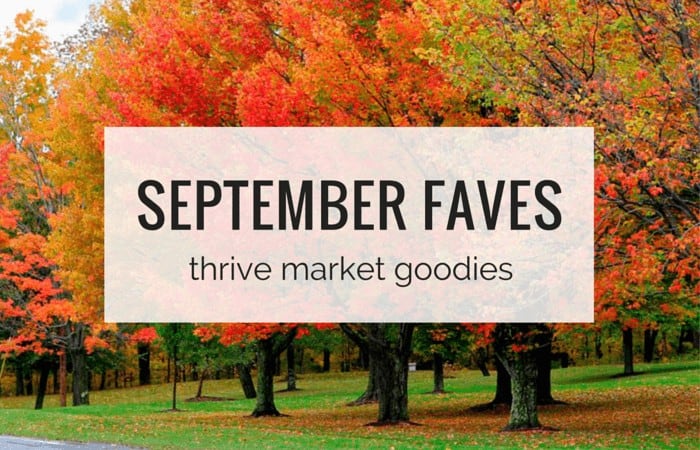 Hi you! It's hard to believe we're already through September.
It's really starting to feel like Fall around here too. Currently, I'm bundled up in a cozy flannel shirt, wearing my slippers and drinking a cup of chamomile tea. This might just be one of my favorite times of the year. I love the smells, the crisp, cool air, and seeing the leaves turn colors.
I just wish I was experiencing it in Vermont. My heart misses that place every year around this time – it's one of the most stunning places on earth.
But anyway…as we're winding down on the month of September, I wanted to introduce a new, monthly series I'll be doing on the blog!
Introducing My Monthly Faves
As I'm sure you have figured out, I love trying new healthy goodies. I'm always testing new food products, trying new ingredients in my cooking and discovering alternative (and toxin-free) beauty products, so I thought it would be fun to share which ones I'm enjoying most with you.
Since health food products can be expensive, most of my experimenting is actually being done with Thrive Market. For the last few months, I've been challenging myself to purchase 1 box of goodies for under $100 and see how much money I can save. I have been totally astounded at the number of things I can pick up and how much money I'm saving!
The first month I saved over $50 and last month it was over $100!
What will we chat about?
Each month I'll be sharing a brand new video showing you everything that's inside my box from Thrive. I'll walk through each of the products I purchased, what I like about each of them and share how much money I'm saving 🙂 I think this is going to be a really fun experiment, we're going to discover some really great new products and I'm excited to have you along for the ride.
So without further ado, here's my September Faves: Thrive Market Goodies video 🙂
My September Faves
Each month I'll also include a blog post to go along with the video which will provide more detailed information about each product. Here's what was in my box this month: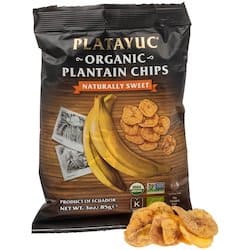 Platayuc Organic Plantain Chips, Lightly Spicy
This product is made from organic plantains rich in protein and energy which are grown in the local farms of Ecuador. The farmers use environmentally friendly techniques to grow and cultivate the plantains, and Platayuc the transforms the plantains into magic golden coins called "Plantain Chips".
Ingredients: Organic green plantain, organic high oleic sunflower oil and /or organic palm oil (Non-hydrogenated), organic spices.
Price: Retail: $6.99  Thrive: $4.45 (Save 36%)
Star Anise Foods Vietnamese Brown Rice Spring Roll Wrappers
Tasty, healthy and quick to make, this is the only brown rice wrapper in the market. They are great for making appetizers, snacks or meals and are versatile, convenient, light and delicious when served fresh or fried. Suitable for special diets, these wraps are gluten-free, macrobiotic, low sodium, and vegetarian/vegan.
Ingredients: Brown rice, cassava, water, organic green tea, salt
Price: Retail: $4.55   Thrive: $3.45 (Save 24%)
Gopal's Nori Plus Rawmesan
Rawmesan – the perfect topping. An all-natural, wholesome alternative to Parmesan cheese, that can be added to soups, salads, pastas or any side dish for a delectable nutritional boost.
Ingredients: Sesame Seeds*, Nutritional Yeast, Herbs*, Spices*, Stone Ground Himalayan Crystal Salt, Nori*, Spinach*, Alfalfa*, Barley Grass*, Rye Grass*, Wheat Grass*, Maca* and Spirulina. *Organic
Price: Retail: $9.85   Thrive: $7.25 (Save 26%)

Doctor in the Kitchen Savory Flax Seed Crackers
Flackers are a delicious, super healthy, gluten-free flax seed cracker. The organic flax seeds are sprouted, making them easier to chew, digest and absorb. Flackers are dehydrated at low temperatures to ensure that all the nutrients, including the omega-3's and important enzymes, remain vitalized and stable.
Ingredients: Organic flax seeds, organic apple cider vinegar, bragg liquid aminos (vegetable protein from non-gmo soybeans and purified water), organic garlic, organic onion, organic red chili pepper, organic basil.
Price: Retail: $6.39   Thrive: $4.45 (Save 30%)
Dr. Bronner's Organic Fair Trade Virgin Coconut Oil
Certified organic to USDA National Organic Program standards, Dr. Bronner's Fair Trade & Organic Whole Kernel Virgin Coconut Oil (VCO) is expeller pressed from fresh, carefully dried coconuts, giving it a delicious aroma. Versatile and healthy, VCO can be used for stir-frying, making sauces, baking and body care.
Ingredients: 100% Expeller-Pressed Unrefined Organic Whole Kernel Virgin Coconut Oil
Price: Retail: $21.99   Thrive: $14.95 (Save 32%)
Navitas Naturals Organic Camu Powder
The camu berry is one of the world's most abundant sources of vitamin C—as much as 60 times more C per serving than an orange. This antioxidant-rich berry from the Amazon is also a plentiful source of potassium, calcium, protein, beta carotene, amino acids and powerful phytochemicals.
Ingredients: Certified Organic Camu Camu Powder (Myciaria Dubia)
Price: Retail: $21.05   Thrive: $13.95 (Save 34%)
Pure 7 Salted Almond Chocolate Bar
Our 2oz. salted almond bar features our super-smooth dark chocolate generously studded with raw organic almonds, and just the right amount of Himalayan sea salt. The result is bursts of sea salt and almonds – the ultimate sweet and salty crunch in perfect balance.
Ingredients: Fair trade organic raw cacao powder, fair trade organic raw cacao butter, local raw honey, organic raw almonds, organic vanilla bean, organic raw lucuma, himalayan pink salt, organic cinnamon.
Price: Retail: $6.99   Thrive: $4.65 (Save 33%)
Rawmio Active Superfood Raw Chocolate Bark
This superfood bark combines some of the world's most powerful mushrooms and nutritious superfoods. Chaga, cordyceps, reishi, red clover, and maca are just some of these highly potent foods. Our handcrafted stone-ground chocolate is the perfect medium for these carefully selected and synergistically blended ingredients. We top this "healing" chocolate bark with omega fatty acid rich chia seeds, delicious mulberries, and crunchy cacao nibs.
Ingredients: Organic Raw Cacao Nibs, Organic Raw Cacao Butter, Organic Coconut Sugar, Organic Raw Maca Powder, Organic Raw Mulberries, Organic Raw Chia Seeds, Potent Organic Raw Mushroom Blend: Chaga, Reishi, Cordyceps, Lion's Mane, Organic Raw Sprouted Red Clover, and Organic Truly Raw Coconut Sugar Sweetened Cacao Nibs.
Price: Retail: $6.99   Thrive: $4.95 (Save 29%)
EatingEvolved Caramel + Sea Salt Coconut Butter Cups
We've combined the cleanest Caramel with our famous Coconut Butter Cups to create a truly magical chocolate experience. With only five simple ingredients you'll be left wondering how so much delicious taste could be packed into one cup! This is one of our favorite products, we hope you enjoy it as much as we do!
Ingredients: Organic Coconut, Organic Cacao, Organic Cacao Butter, Organic Maple Sugar, Himalayan Sea Salt
Price: Retail: $2.99   Thrive: $2.29 (Save 23%)
Natural Vitality Natural Calm Magnesium Supplement Drink (Raspberry Lemon)
Magnesium and calcium are fundamental nutrients that need to be in balance with each other in order for you to fully experience good health. Their importance on a cellular level is critical. Calcium and magnesium are opposite sides of a coin. It also excites nerves, while magnesium calms them down. Calcium makes muscles contract. Magnesium is necessary for muscles to relax. Calcium is needed for blood clotting, but magnesium keeps the blood flowing freely.
Ingredients: Ionic magnesium citrate (created from a highly absorbable proprietary blend of citric acid and magnesium carbonate), organic raspberry and lemon flavors and organic stevia
Price: Retail: $23.95   Thrive: $12.95 (Save 46%)
Source Naturals Yaeyama Chlorella – 200mg
Yaeyama Chlorella is 100% fresh-water chlorella, grown on the coral reef island of Ishigaki, Japan. Chlorella may enhance health naturally by supporting the immune system and promoting energy, vitality, and natural cleansing. Yaeyama Chlorella is rich in chlorella growth factor (CGF), vitamins, minerals, chlorophyll, beta-carotene, and other phytonutrients.
Ingredients: Yaeyama Chlorella, Protein, Vitamin A (as beta-carotene), Vitamin C, Thiamin (vitamin B-1), Riboflavin (vitamin B-2, Niacin, Vitamin B-6, Vitamin B-12, Magnesium, iron, potassium, Chlorella Growth Factor, Chlorophyll, Mixed Carotenoids
Price: Retail: $17.25   Thrive: $8.95 (Save 48%)
Nourish Organic Intensely Moisturizing Fair Trade Shea Butter
This pure, Fair Trade organic shea butter will deeply hydrate and soothe even the driest skin. Clinically proven to improve skin elasticity, this rich butter absorbs quickly, heals irritated skin and reduces the appearance of fine lines, scars and stretch marks. Can be used all over the body, including elbows, knees, feet, hands, lips, face and hair.
Ingredients: Fair Trade Certified™ Organic Shea Butter
Price: Retail: $14.99   Thrive: $9.45 (Save 37%)
Twist Scrub Sponge
The Scrub Sponge from TWIST is the perfect multipurpose scrub sponge for your kitchen, furniture, bath and outdoor purposes. Unlike the conventional yellow-green scrub sponge, the TWIST scrub sponge is dye-free, and also doesn't use any plastics or toxic adhesives. Best of all, they are priced to compete with the conventional yellow-green scrub sponges!
Price: Retail: $3.95   Thrive: $2.95 (Save 25%)
A special offer for SQ Readers!
As you might remember, I've teamed up with the folks at Thrive to offer ALL my fabulous Simply Quinoa readers a super special offer that you can't find anywhere else. Not only will you get a FREE two month trial period of Thrive, but you'll also get an EXTRA 15% OFF on your first order. And just as an added bonus, they also offer free shipping on orders over $49.
So basically, you're saving on top of saving!
To get started, just visit the Simply Quinoa page, sign up for your free trial and start shopping! And I'd love for you to come back here and let me know what you picked up. I'm so excited for you!
share what you make
Tag #simplyquinoa on Instagram with your creations! We love sharing what you make with the community. We can't wait to see!

follow on instagram