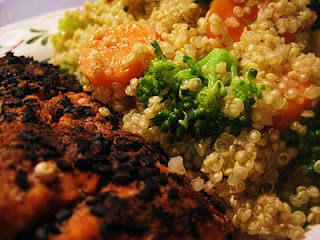 I have decided to go on a cleanse diet. Today is my second day and I feel like I'm adjusting fairly well. The program is called the Clean Program and so far is has been wonderful. I purchased the book on my Kindle (and by mine, I mean the one I am "borrowing" from my mom), and read it all the way through before beginning the cleanse. If you are ever considering doing something like this, make sure you do your homework! Read blogs and user testimonials to hear other people's experiences. Make sure you understand the science and reasoning behind the program. Most importantly, choose a program that will work for you and suit your lifestyle.
For me, the Clean Program was a no-brainer. The underlying premise of the program, like many others, is to detoxify your system by flushing out all the toxins you consume on a daily basis. It begins with an Elimination Diet, which for my fellow gluten and dairy free peeps this is a cinch. The point is to eliminate all foods that are common allergens (like gluten and dairy, among a few other things). Luckily for me, I haven't been eating many of these foods for over a year now, so I figured it would be simple!
I have to have two liquid meals a day, one for breakfast and one for dinner. Lunch has now become the meal that I get to have fun with – and of course, eat quinoa! I still get to chef with Matt which is fabulous. We've hatched a plan that we will cook dinner for him and I will just take the second half for my lunch the next day. Yes, very sensible I know, that's just how we roll.
Before I share tonight's dinner with you, I would like to mention that playing with smoothie ingredients has actually been really fun (and very rewarding!). I've discovered my secret weapon: avocado. Not only does it have great flavor, but it brings this creamy, fatty, yumminess that is totally unexpected. They are super healthy and oh so good! I highly recommend mixing avocado, mango, lime juice and salt for a delicious "dinner" shake.
Okay, so now for our recipe of the night. I will say, tonight was an experiment for sure. Because I have eliminated practically all sauces from my diet, food has a tendency to be a teensy bit dry. Tonight was just that: dry.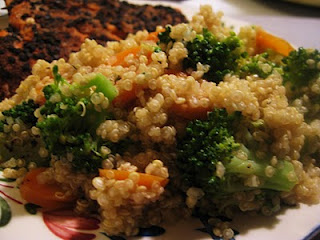 Sesame Crusted Salmon and Quinoa with Asian Vegetables
If you enjoy salmon, you'll love this fun twist! This sesame crusted salmon is easy to make and served with a delicious side of quinoa and Asian vegetables.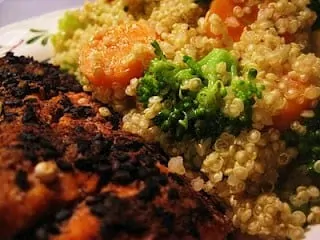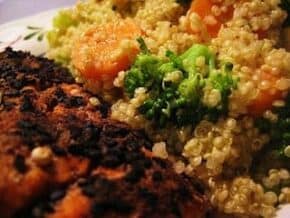 Instructions
Preheat your oven to 400° F.

Fold your two pieces of parchment paper in half, width wise. With scissors, cut the paper into a half heart shape, using as much of the paper as you can (it doesn't have to look like a perfect heart). Lay the hearts flat and open on a baking sheet.

Sprinkle your salmon with the sesame seeds and then with the Chinese five spice. Place the salmon fillets on one half of the heart-shaped parchment paper. Squeeze the lime over the salmon. Now, for the tricky part! Fold the other half of the parchment paper over the top of the fillets and roll/fold the edges together so the salmon is sitting in a small "pocket" (a tip: secure the edges with paper clips if you have them).

Place the salmon in the oven for 10 - 12 minutes depending on the thickness of your fillets. When the salmon is flaky, it's done!

While the salmon is cooking, start the quinoa. Set 1 cup of water to boil, add quinoa, and let simmer for 8 - 10 minutes.

In a small saute pan, heat the oil over medium heat. Add the carrots and saute for 3 minutes. Add the celery and saute for another 2 minutes. When these veggies are tender, add the steamed broccoli. Saute all together - make sure to toss it around the pan so the veggies absorb the sesame flavor.

When the quinoa is done, transfer it to a small bowl and add the in your veggies. Add your brown rice vinegar, ginger and salt and pepper and toss to combine.
Notes
If you can, add some sauce to the quinoa. Since I can no longer eat soy sauce, I overloaded the vinegar a bit. I would use the soy sauce to balance this flavoring.
Watch your salmon carefully. Ours turned out the be overcooked and dry. Make sure you pull it out and check its progress!
Nutrition
Calories:
531
kcal
|
Carbohydrates:
41
g
|
Protein:
38
g
|
Fat:
23
g
|
Saturated Fat:
3
g
|
Cholesterol:
77
mg
|
Sodium:
253
mg
|
Potassium:
1351
mg
|
Fiber:
7
g
|
Sugar:
2
g
|
Vitamin A:
4660
IU
|
Vitamin C:
68
mg
|
Calcium:
193
mg
|
Iron:
6.3
mg
Filed Under: