Looking for a healthy vegan lunch idea? These quinoa lettuce wraps have chickpeas and avocado, and are loaded with protein, fiber, and healthy fats!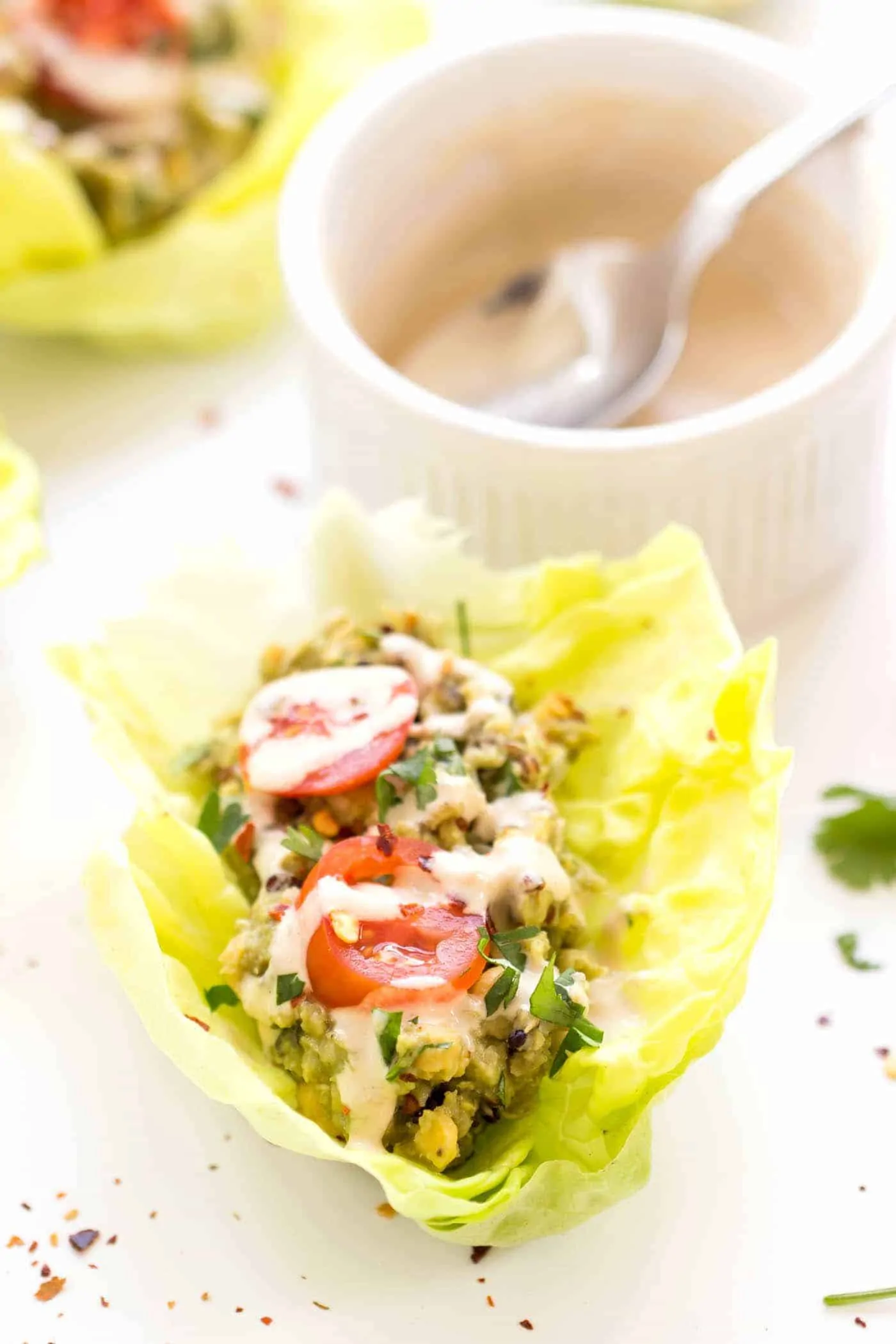 Did you know that there is a food called a pulse?
Well, it's not one food, but rather a group of foods, that most of us eat on a pretty regular basis. This group of foods is also a staple in almost every single type of cuisine across the globe. But the name itself is totally unknown.
What are they? BEANS! …specifically dried beans, lentils, chickpeas, and split peas. They sound a lot like legumes and are actually part of the legume family, but pulses don't include things like peanuts, soybeans, fresh beans, and fresh peas.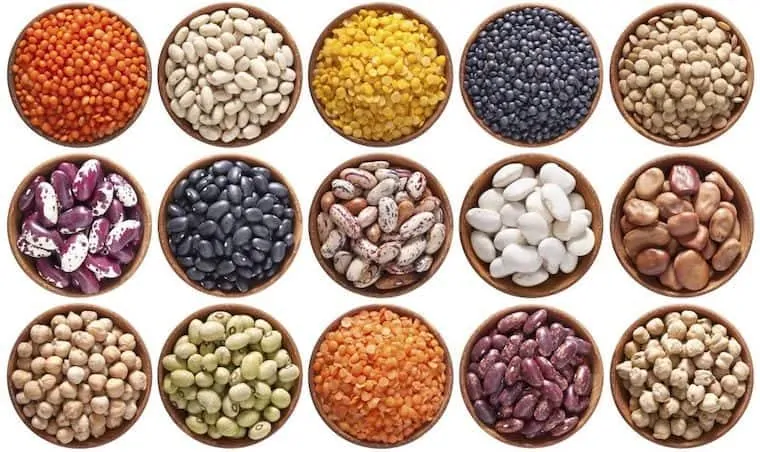 I mean these are probably things that you eat fairly regularly…did you know they were called pulses?! Up until a few weeks I literally had never heard of them.
But pulses are starting to get their time in the spotlight because this year the United Nations declared 2016 to be "The International Year of Pulses". Remember when we had the international year of quinoa in 2013? It's the same concept except for this time we're focusing on pulses.
Why should we care about it? Well, I think what gets me so jazzed about this celebration of pulses is that a global organization like the UN is recognizing how important they are; not only for their exceptional nutritional value but also for food security and sustainability. There are so many benefits to eating pulses that it really just makes sense to try to get more and more people to make them a regular part of their diet.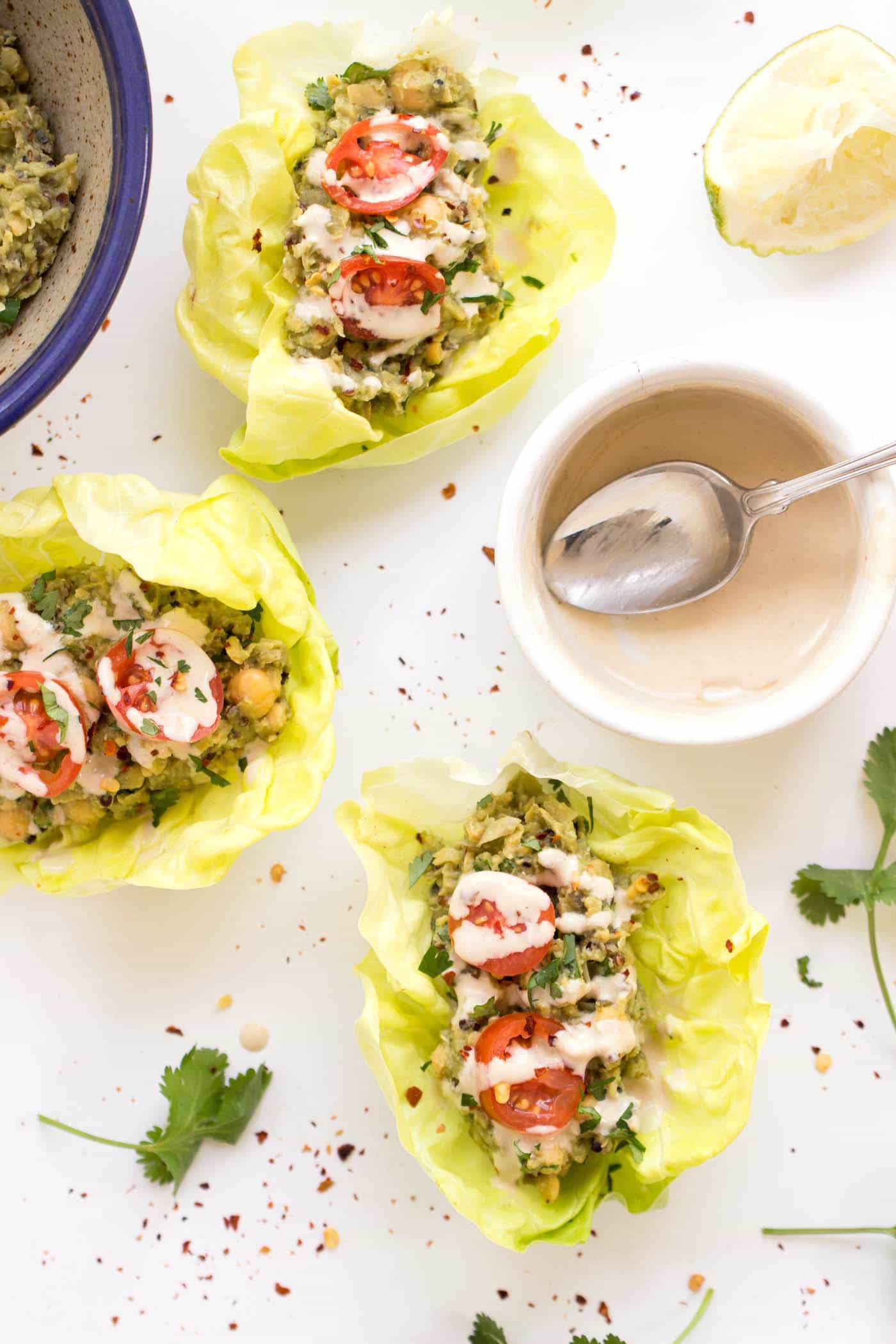 Why I love Eating Pulses
Without even knowing it, I found that I was eating pulses almost every single day. Whether it was hummus as a snack, lentils in a spaghetti sauce or split peas in soup, pulses have a way of weaving themselves into my meals without much effort at all. (kind of like quinoa!)
I know that people can get a little put off by eating a lot of beans, and understandably so. I'm sure you're familiar with the little jingle, "Beans, beans, they're good for you heart. The more you eat the more you fart!", and there is truth in that. Beans have (not necessarily all pulses) a sugar inside that doesn't get digested well by the stomach. Instead, it gets passed through the stomach and small intestine into the large intestine where bacteria begins to break it down, which can create little gas and cause some bloat.
There are a few ways to combat that, some believe soaking your beans before cooking them helps. Others say cooking them with some kombu (a seaweed) makes them more digestible. I think it's a combination of lots of things, but I've personally found that the more frequently I add beans to my diet the easier they are on my digestive system. It's almost like my body just needs to get used to them.
Benefits of Eating Pulses
Very nutritious – high in protein, fiber, iron, potassium, as well as antioxidants
Affordable – one serving of pulses in the US costs about $.10 as opposed to meat products which range from $.63 – $1.49
Versatile – you can be used in all types of cuisine and all types of food (everything from breakfast, lunch, dinner, snacks, and desserts!)
Sustainable – pulse crops are natural fertilizers, drought- and frost-tolerant, have a low carbon footprint AND are very water efficient
DELICIOUS – can't forget the most important part; pulses are super tasty!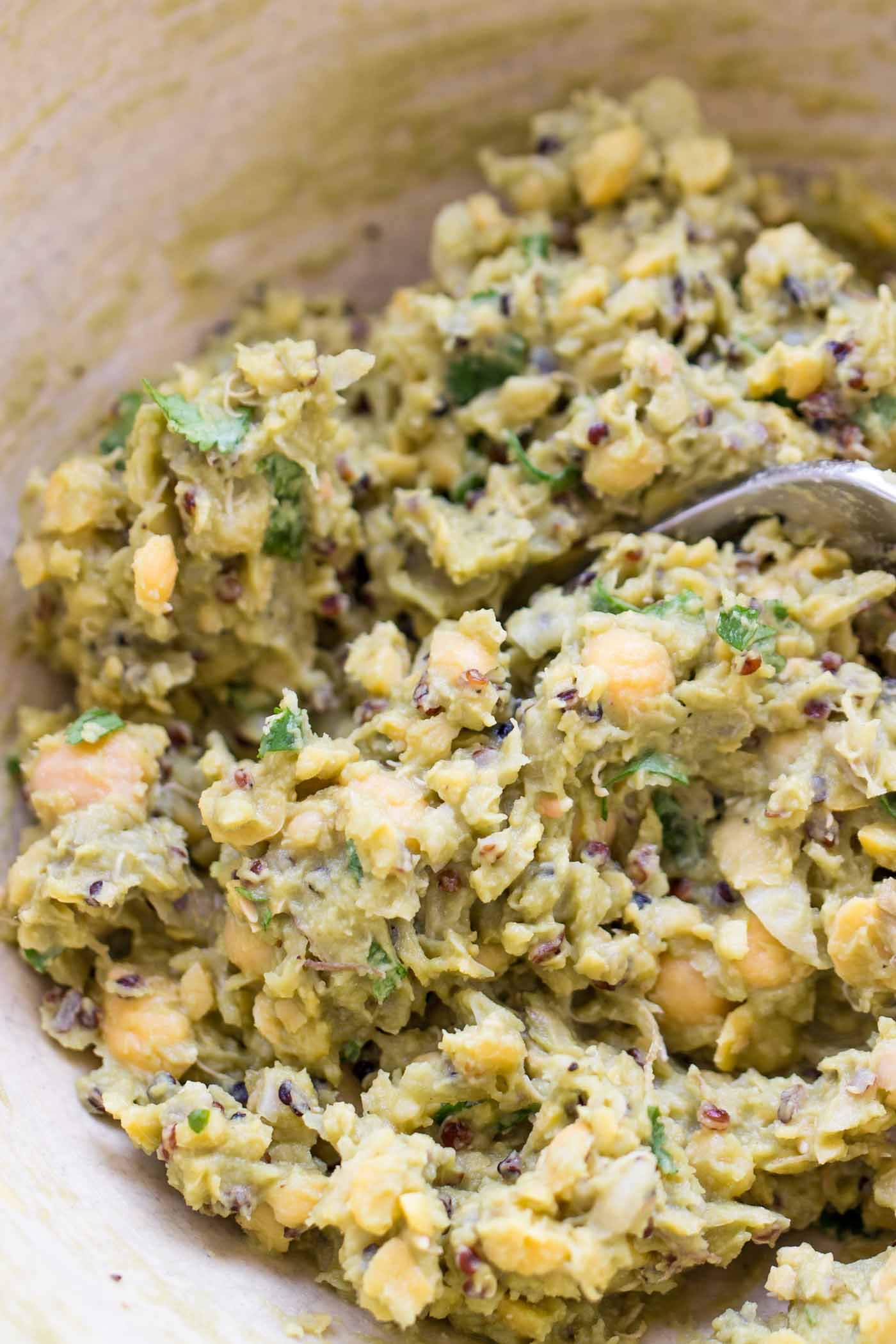 How to Use Pulses in Your Diet
While pulses are really great on their own as a stand-alone addition to your meal, I think they're even better when you mix them with quinoa. I often find myself eating quinoa and beans together; they're a natural fit both nutritionally speaking but also flavor wise.
Both quinoa and pulses are very high in fiber and protein. They also contain lots of essential vitamins and minerals. In addition, they're both incredibly adaptable. Just do a quick Google search of "chickpea recipes" or "quinoa recipes" and you'll get billions of results!
Today I've got a fun combination for you that can act as a filling lunch, a salad topper, a breakfast, and even just a snack!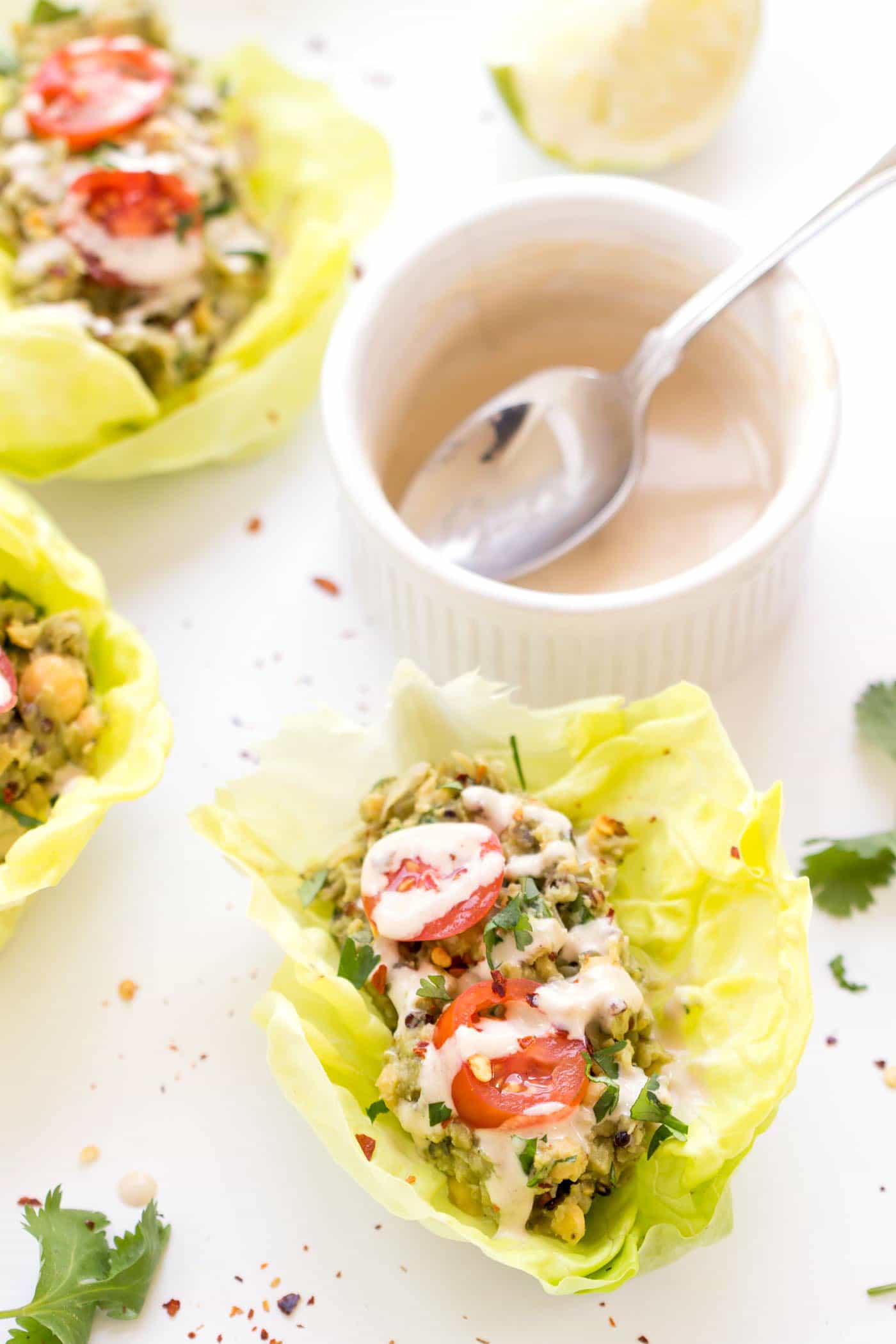 The Best Lettuce Wraps Ever
These smashed chickpea and quinoa lettuce wraps are light and healthy, but still filling and quite satisfying. Kind of like an egg or tuna salad, it makes for an awesome sandwich filling but uses 100% plant-based ingredients.
Rather than mayo, as you would see in a traditional spread like this, the creaminess comes from avocado. But unlike mayo, you also get all the added nutrition from the avocado – healthy fats, fiber, and vitamins.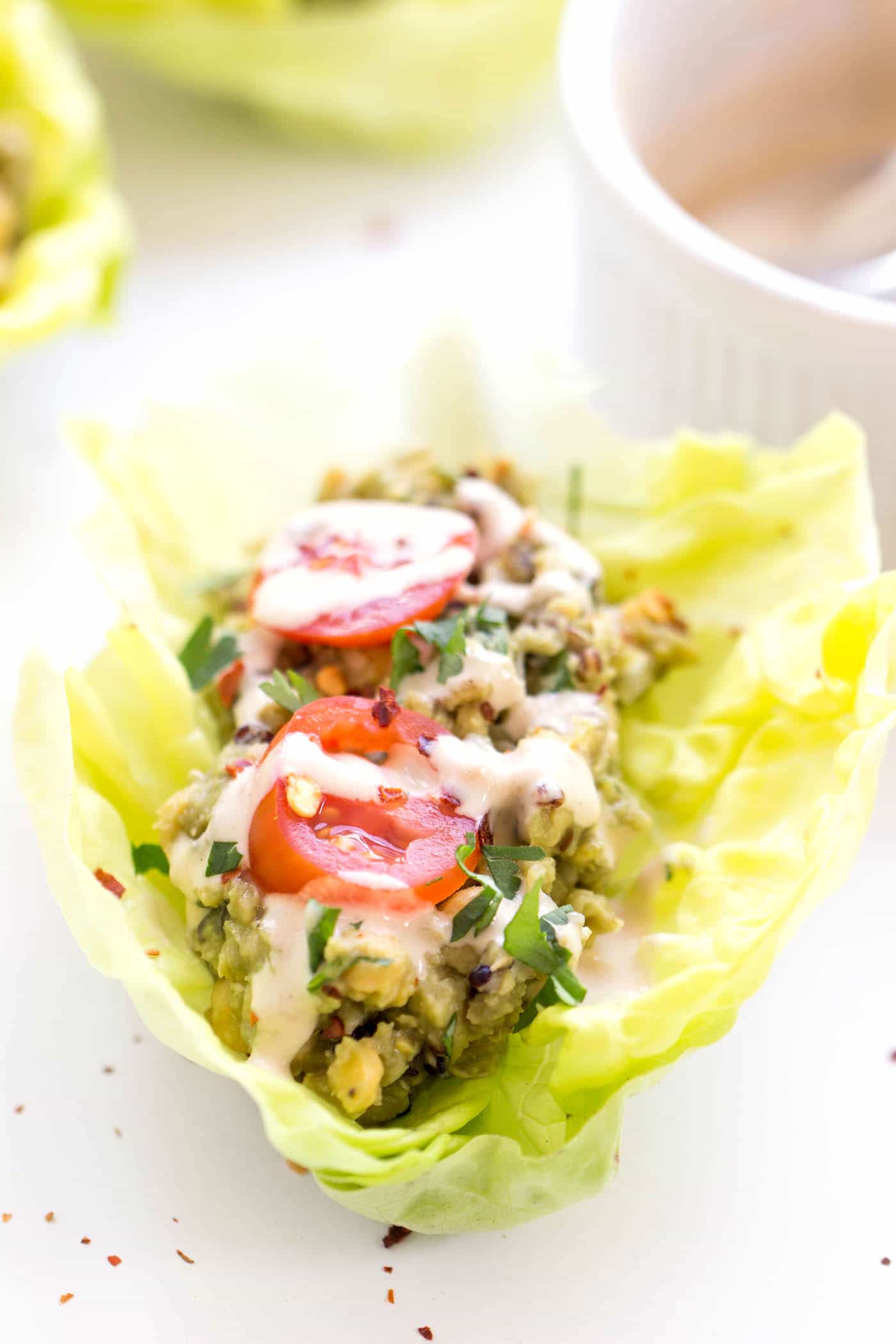 This reminded me kind of a cross between guac and hummus, except chunky. I added in lime and cilantro to give it a Mexican flare, but then topped it with tahini which pays homage to hummus's Middle Eastern routes. Even though it might sound like a mishmash of flavors, it totally worked.
I loved putting it inside lettuce wraps too. It didn't make me feel overly full like bread sometimes can, but it was still very filling. And it's also super portable, so this would make a great lunch if you work at an office.
OR even more options for using this recipe would be to put it on top of a piece of toast for breakfast, dip some crackers in it for a dip or on toss in on some greens for a protein-rich, vegan salad topper.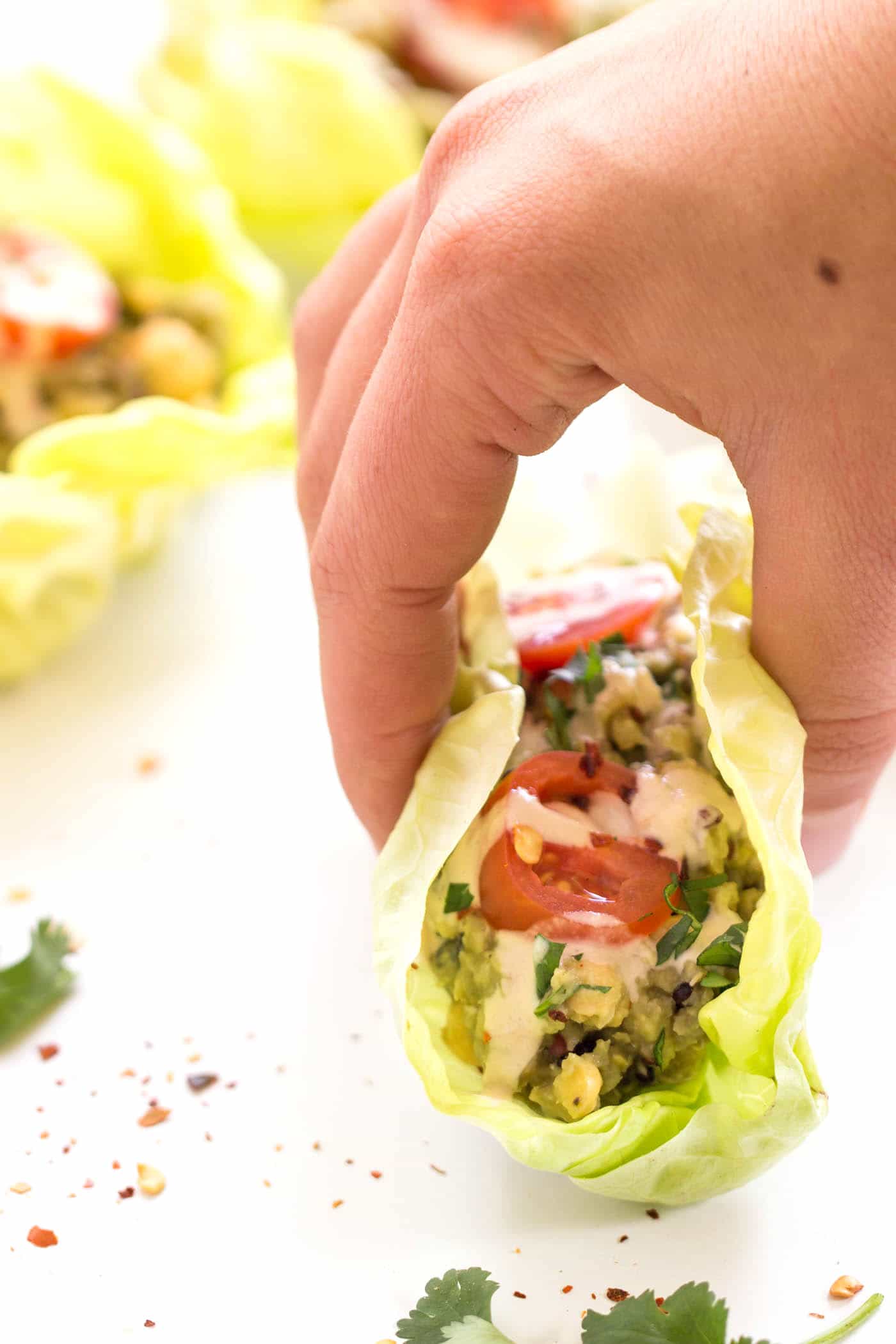 No matter how you choose to enjoy it, this smashed chickpea salad is just one of those things that I know I'm going to keep coming back to. It's so easy to make, uses only a few simple ingredients and is incredibly nutritious. Packed with fiber, protein and healthy fats, it's balanced AND flavorful!
Your turn…
Now that you know what pulses are, I'm curious: how often do you eat them? If pulses are something you'd like to add more of to your diet, I encourage you to join The Pulse Pledge. The pledge asks that you commit to eating pulses only once per week for 10 weeks – which will not only decrease your carbon footprint but will also improve your health.
I'm a HUGE proponent of eating pulses and have personally seen the benefit of adding more to my diet. Plus, it's only once per week, so that's only one of our your 21 weekly meals! Sign up to take the pledge and join nearly 15,000 other people who have become part of this movement.
xx Alyssa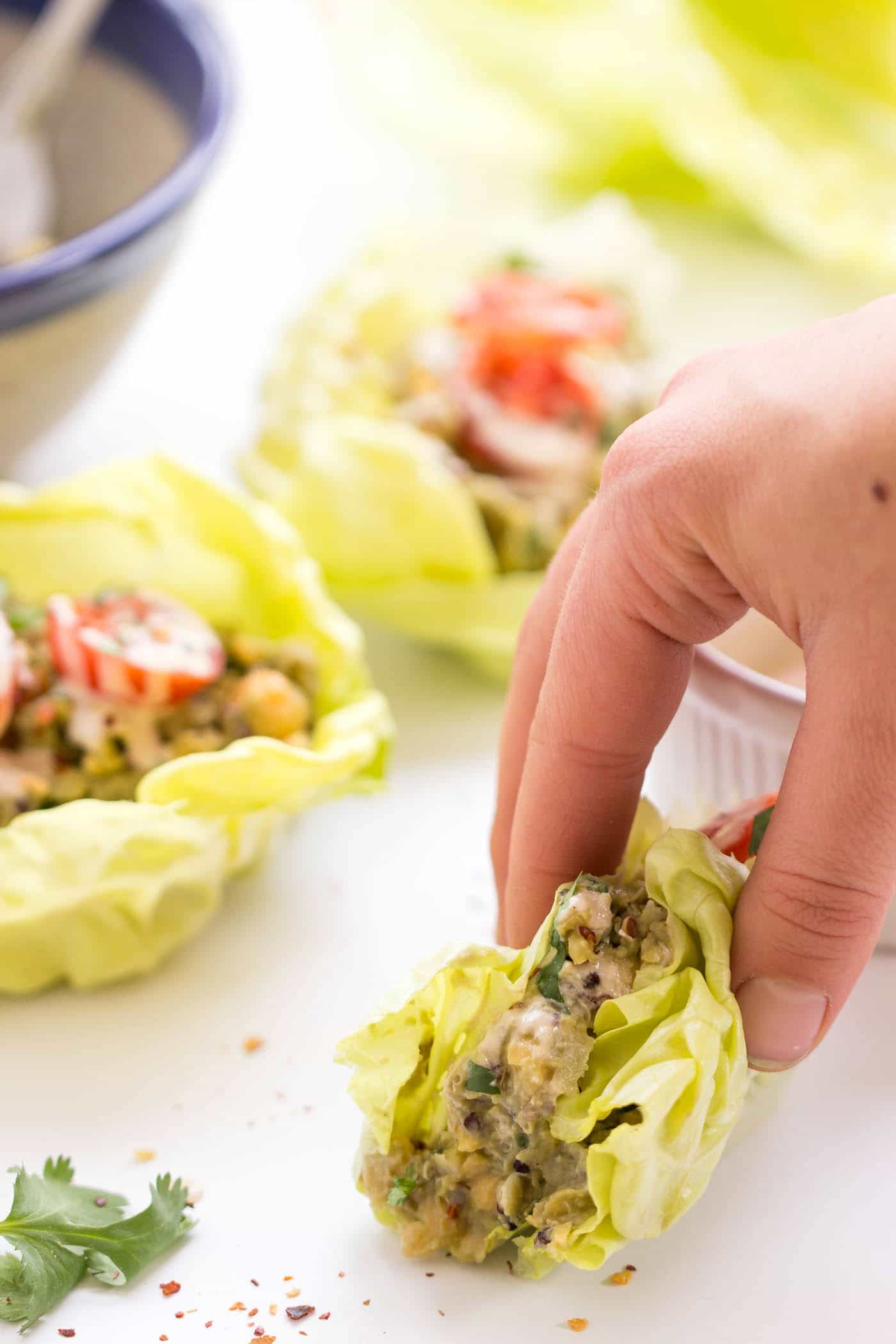 More Delicious Lunch Ideas:
Smashed Chickpea, Avocado + Quinoa Lettuce Wraps
Today I've got a fun combination for you that can act as a filling lunch, a salad topper, a breakfast and even just a snack!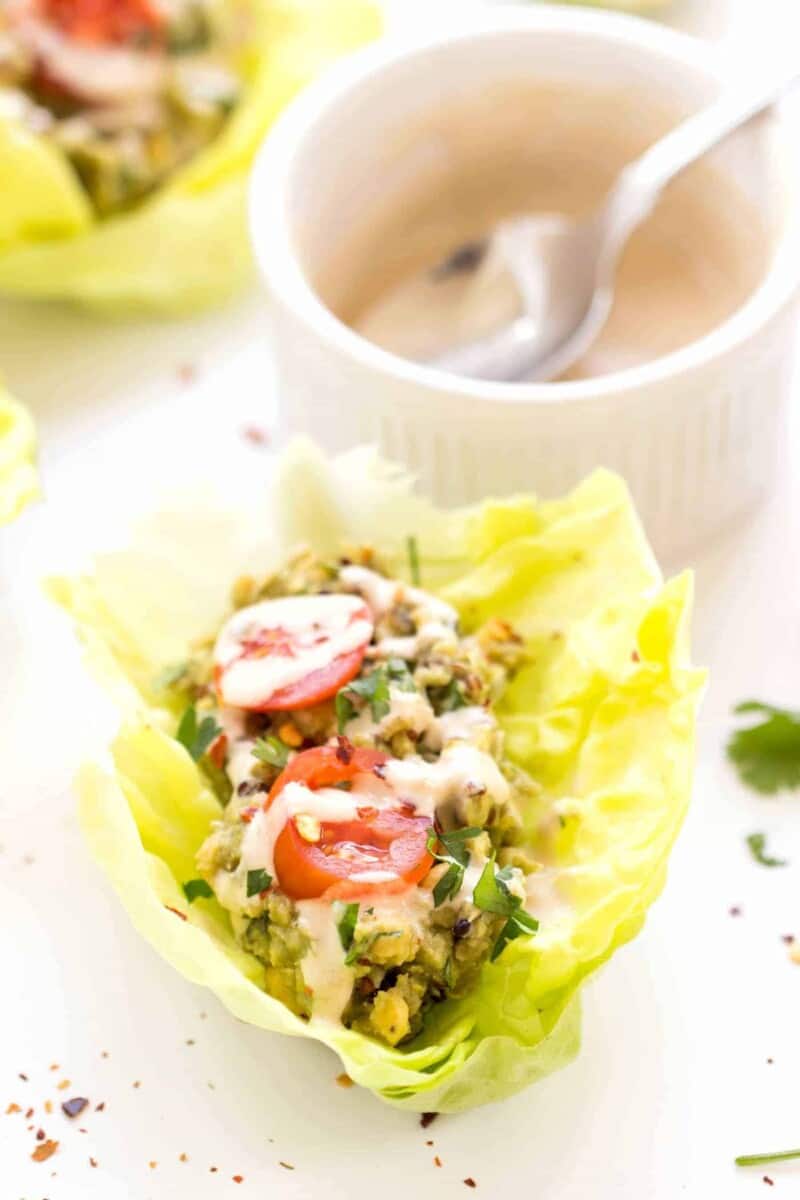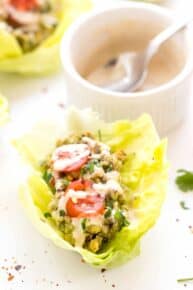 Ingredients
1

medium avocado

1/4

cup

cooked quinoa

1/4

cup

chopped cilantro

Juice of half a lime

Pinch

of sea salt

Cracked pepper to taste

1

head boston bib lettuce

or romaine

Optional toppings: sliced cherry tomatoes

chopped cilantro, vegan sour cream/tahini
Instructions
Add the chickpeas and avocado to a large bowl. Mash with a potato masher or fork until chickpeas are broken up and the avocado is creamy.

Stir in quinoa, cilantro and lime juice. Season with salt and pepper, taste and adjust seasonings as necessary.

Add into lettuce leaves and top with desired toppings.*
Notes
*if you're bringing these for lunch at the office, store the salad and lettuce separately then assemble just before you're ready to eat.
Nutrition
Calories:
98
kcal
|
Carbohydrates:
11
g
|
Protein:
3
g
|
Fat:
4
g
|
Sodium:
187
mg
|
Potassium:
256
mg
|
Fiber:
4
g
|
Vitamin A:
755
IU
|
Vitamin C:
4.6
mg
|
Calcium:
30
mg
|
Iron:
1.2
mg
Filed Under:
This post was sponsored by USA Pulses and Pulse Canada in celebration of the International Year of Pulses. Please consider taking the Pulse Pledge to support a more sustainable and healthy world. All opinions are my own; thank you for support the companies and organizations that I believe in!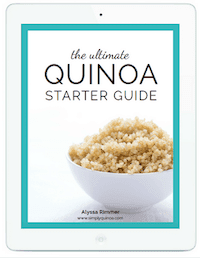 New to cooking quinoa? Grab your FREE Quinoa Starter Guide!
Become part of the Simply Quinoa community and receive weekly emails with exclusive content that I only share in email, as well as my in-depth guide to starting your quinoa journey.