This hearty Smashed Chickpea and Quinoa Salad is a healthy take on potato salad: a creamy, fresh, and zesty dish that's perfect for your next cookout. A dairy-free, high-protein recipe!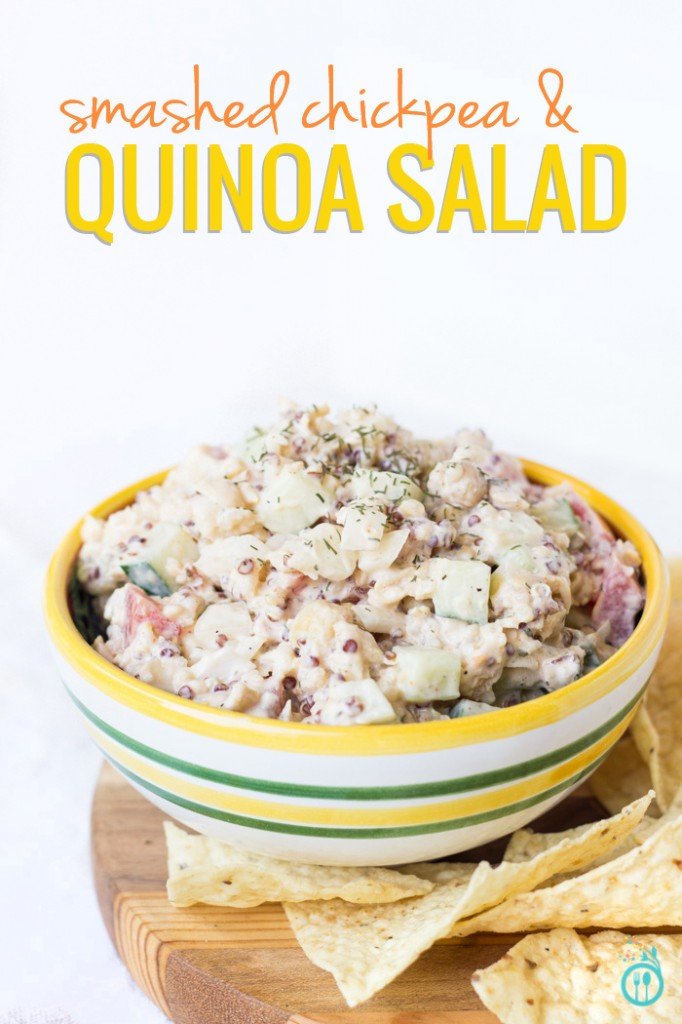 There are fewer things better than a summer cookout.
You're surrounded by friends and family, sun shining on your face, a cold beverage in hand, laughter, the smell of a smoky grill and food.
Oh the food. It's totally the best part, am I right?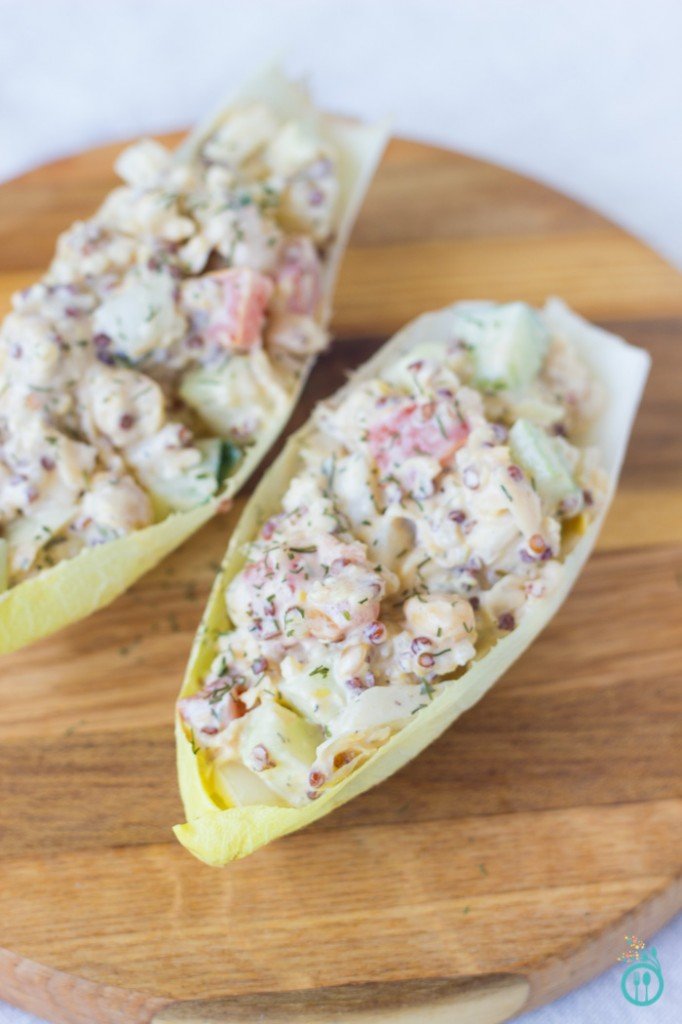 I really love the side dishes.
I'm not a big hamburger or hot dog fan (although I do love me a good veggie burger), so when I make my way over the food table, I'm sure to load up my plate with sides.
Of course, since it's me, you have to assume that I'm bringing something with quinoa to any party I attend. But quinoa isn't a standard "All-American" side (at least not yet).
So with this particular dish, I wanted to recreate a classic summer cookout dish and put my own healthy, quinoa salad spin on it.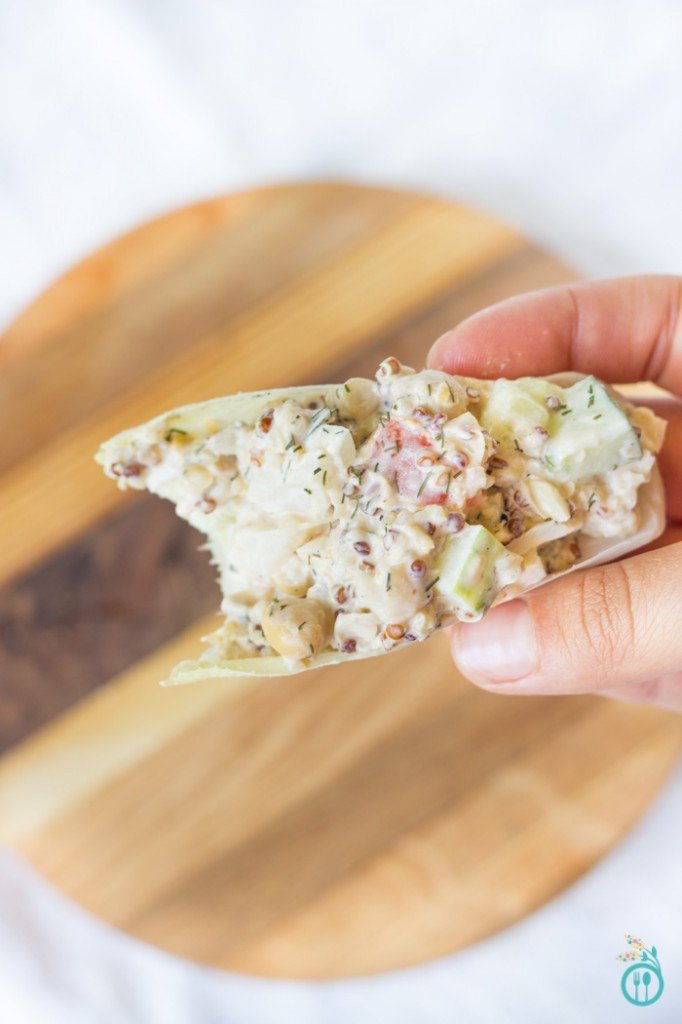 My mind immediately jumped to potato salad; it's just one of those dishes someone inevitably brings. It's almost expected.
Personally, I'm not a fan of potato salad. Or pasta salad for that matter. There's just something about them that don't jive with me. It's probably all the dairy and crummy ingredients.
But what I do love, is that everyone has their own version; their own recipe and you're never quite sure what it's going to taste like.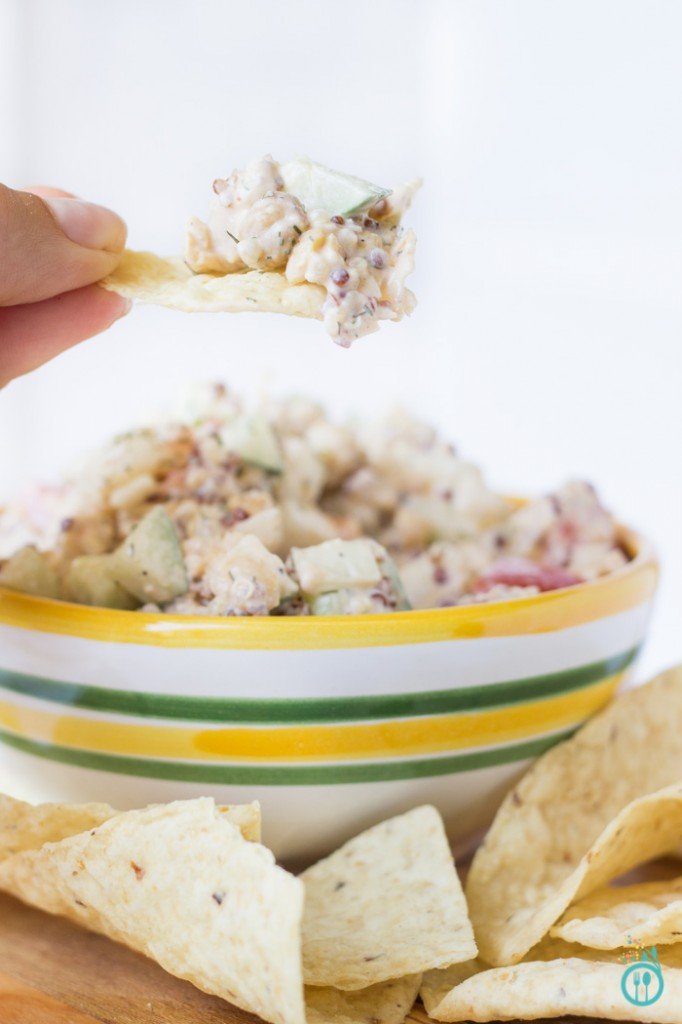 Since everyone in my family enjoys a good old fashioned potato salad, I thought I'd bring a quinoa salad that was similar in taste and flavor but way more nutritious.
Not heavy on the starches. Skipping out on the dairy. And actually with some protein.
So in essence it's a quinoa salad that can act as a full meal or a side; you decide!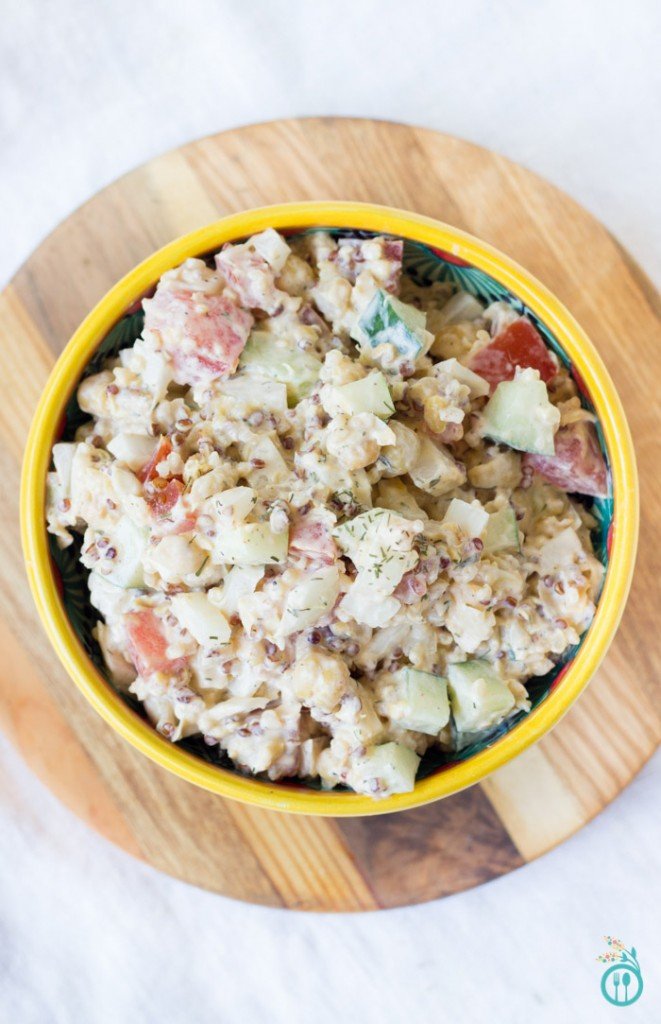 And when it comes to serving, have some fun!
The first time I served it, I used this quinoa salad as a dip for chips and crackers. The second, I wanted to have it for lunch and made little boats out of endives. Then finally, I've also had it on a sandwich (which I made with my quinoa bread) and I have to say, every time it was delish.
I can't wait to hear what you think of this recipe. I've made it four times so far and it's by far one of my favorites. Even Matt likes it, who is a total chickpea skeptic.
Leave your thoughts in the comments section below and let me know what your favorite backyard cookout dish is your favorite!
Smashed Chickpea Quinoa Salad
Easy and delicious smashed chickpea quinoa salad!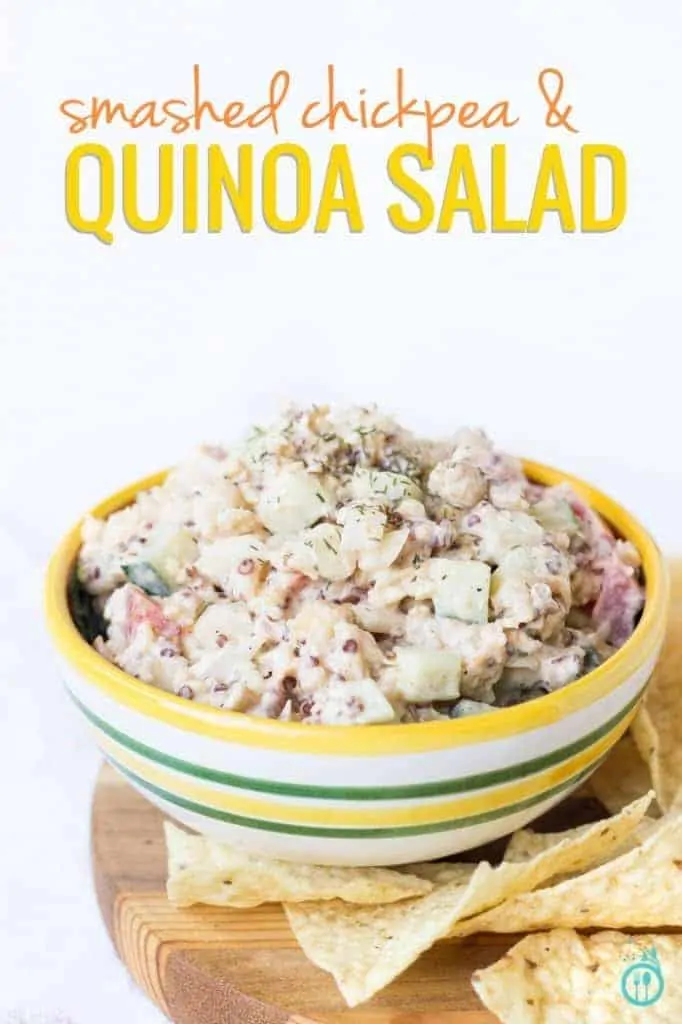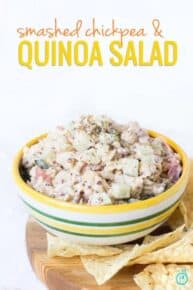 Instructions
Rinse and drain chickpeas and add to a large bowl. Using a potato masher or fork, mash chickpeas until mostly crushed but still some beans remain intact.

Add quinoa, tomato, cucumber, and onion and set aside.

In a small bowl, whisk together the mayonnaise, oil, mustard, sriracha, lemon juice and spices.

Pour over salad and stir until all ingredients are coated. Taste and adjust seasonings.

Serve immediately or chill in fridge for 1 – 2 hours. Salad can be made 1 – 2 days ahead of time (or can be used as leftovers).
Nutrition
Calories:
339
kcal
|
Carbohydrates:
40
g
|
Protein:
12
g
|
Fat:
16
g
|
Saturated Fat:
2
g
|
Sodium:
666
mg
|
Fiber:
10
g
|
Sugar:
7
g
Filed Under: