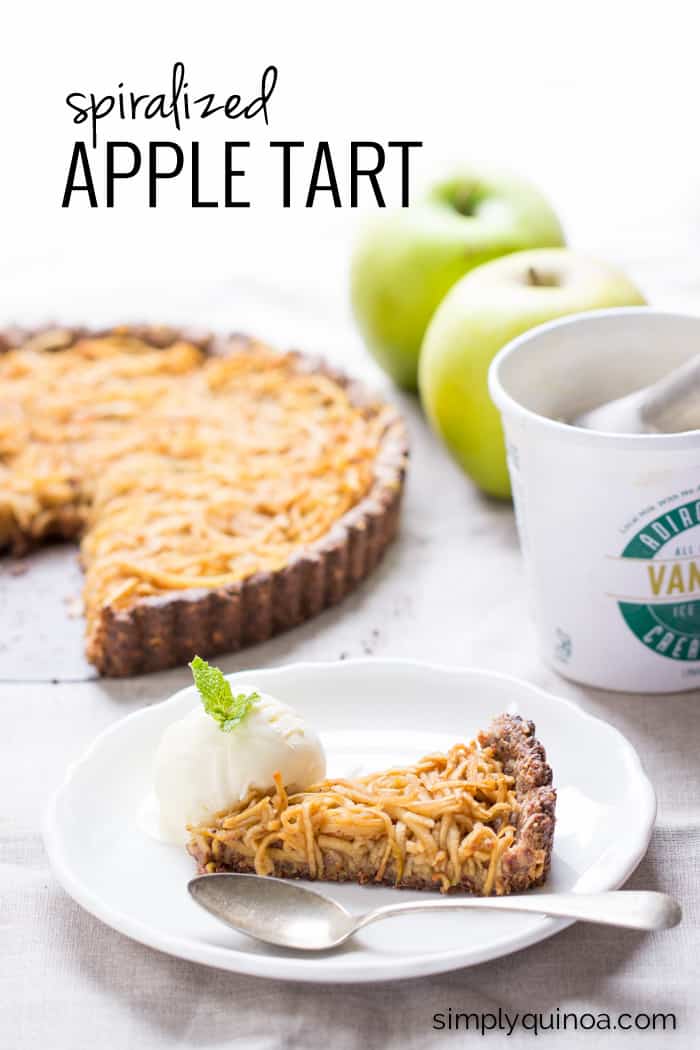 Our farmer's market is finally back open, after what feels like the longest winter ever, and even though there isn't much fresh produce yet, I'm going every weekend to browse the stalls and get recipe inspiration. This past weekend, one of my favorite farmers was selling their extra delicious apples, so I knew I had to snatch some up and get to baking.
Even though Spring isn't technically apple season, there's a certain level of comfort I get from apple-filled desserts.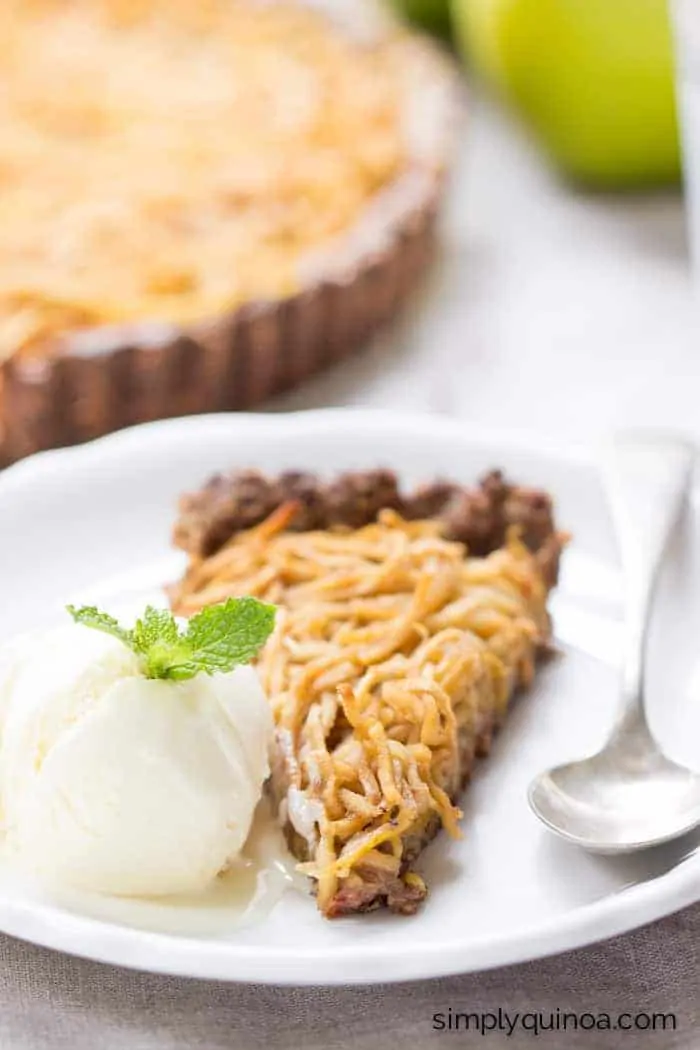 When I was invited by Tutorrosso to join the Inspiralize the Spring campaign with five other fabulous bloggers, I jumped at the chance. We're hosting a virtual dinner party and each blogger is bringing a different course.
Here's a sneak peek at the other ladies who are joining this dinner party! Make sure to stop by their blogs to see the recipes they brought for the event.
You already know I love my spiralizer, but I was asked to bring dessert…
…a spiralized desser, huh?
It took me a little while to decide what to make, but I settled on this delicious apple tart because apples are one of the few fruits I know you can spiralize – just take a peek at Ali's site, she's got a few tasty apple recipes to choose from. But in addition to the apples being spiralizable (is that a word…?), it's also really easy to make, is beautiful and is gluten-free and vegan. Basically, it's the perfect dish to bring to any party with minimal effort on your part.
Don't you just love when that happens?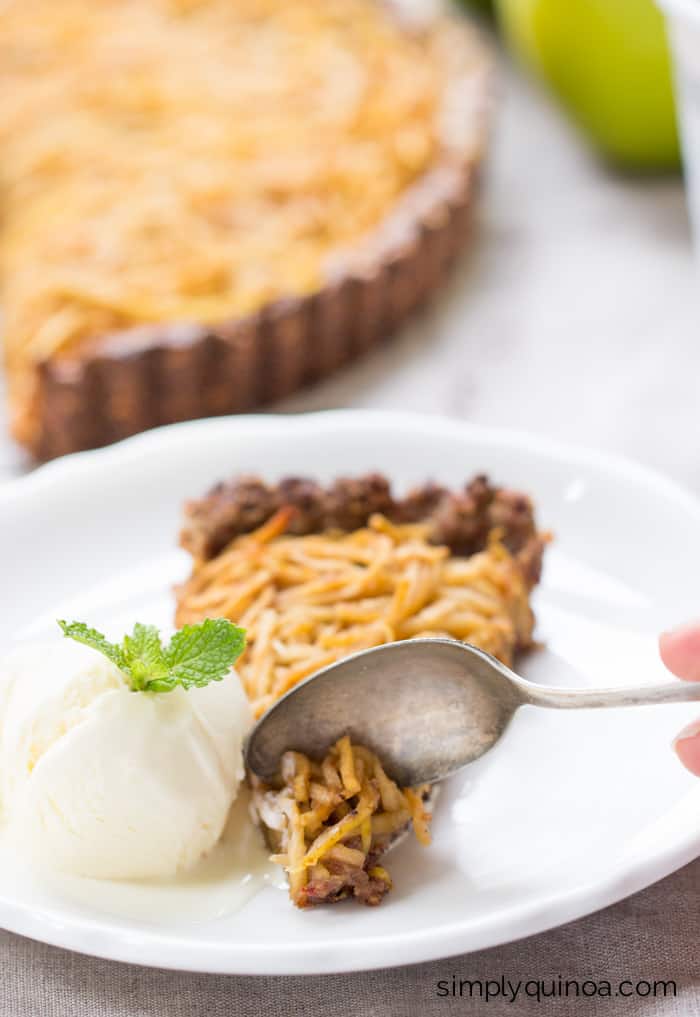 The crust for this apple tart is made from a simple blend of pecans, dates, quinoa flour and oats, with just a touch of coconut oil mixed in. You just whizz them up in your food processor, press it into a tart pan and you've got a totally tasty base to add to this super healthy dessert. I love how the pecans and dates have that soft caramel undertone which pair perfectly with the spiralized apples. And the oats and quinoa flour add just a touch of nuttiness into the mix, while also making the crust feel a bit more substantial.
And then there's the apples. Just like a traditional apple pie filling, after I spiralized them, I sprinkled them with a touch of lemon juice and a generous helping of coconut sugar. I was sure to let them marinate while I par-baked the crust so they really soaked up that sugary goodness.
What I love about this tart is how incredibly similar it is to apple pie, yet it's like 1000 times better for you. We've skipped out on all the gluten, butter and sugar, and kept all the ingredients close to their natural form, helping to lock in all those nutrients. In fact, while this tart does make the perfect dessert, I'm not going to lie and say that I didn't have a big slice for breakfast this morning too!
Share this recipe!
Spiralized Apple Tart
What I love about this tart is how incredibly similar it is to apple pie, yet it's like 1000 times better for you.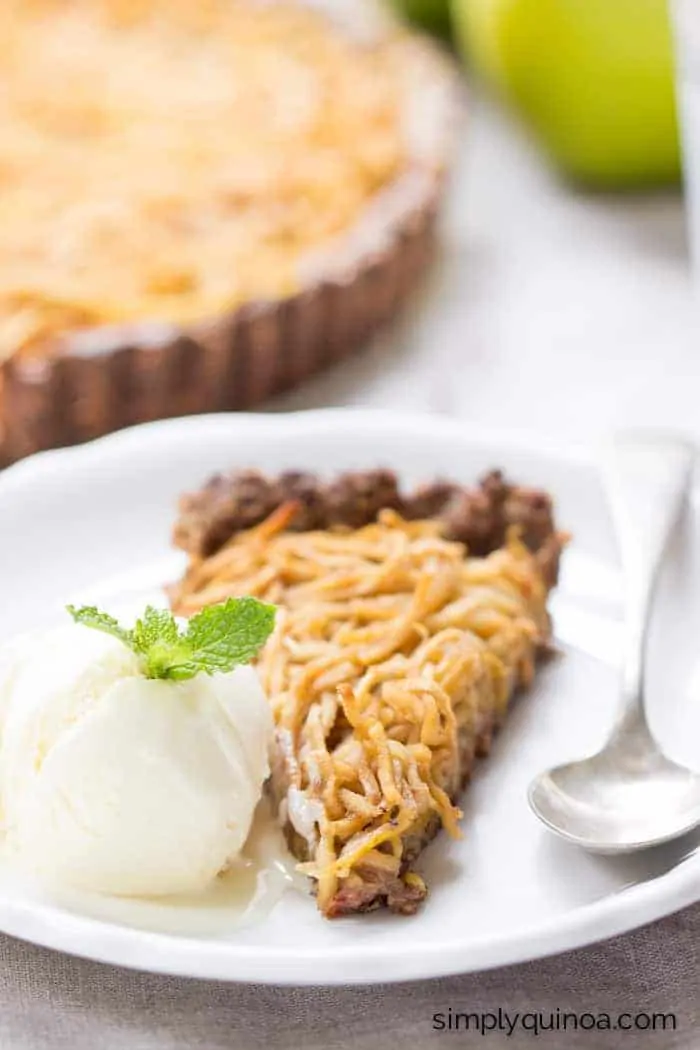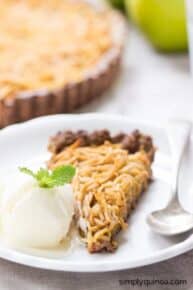 Instructions
Preheat the oven to 350 degrees F. Grease a tart shell and set aside.

Add the nuts to the bowl of a food processor. Process on high until chopped and they resemble a coarse sand. Careful not to over-process or you'll end up with nut butter!

To the bowl add the dates and coconut oil and process until a dough begins to form. Add the quinoa flour and oats and pulse until everything is combined.

Dump this mixture into the prepared tart pan and press the dough out until the sides and bottom are evenly covered. Bake for 10 minutes until starting to brown.

While the crust is baking, spiralize the apples. Use whichever blade you'd like - I opted for the smallest one, but the would work with any.

Add the apples to a large mixing bowl, followed by the lemon juice and coconut sugar. Toss with a pair of kitchen tongs until the apples are evenly coated with sugar. Set aside until crust is done.

Pour apples into the hot tart shell and return to oven to bake for another 25 - 30 minutes. Half way through you might want to cover the tart with tinfoil so as to protect the crust from burning.

Remove the tart from the oven and let cool. Cut into triangles and serve with your favorite ice cream!
Nutrition
Serving:
1
g
|
Calories:
244
kcal
|
Carbohydrates:
44
g
|
Protein:
3
g
|
Fat:
15
g
|
Saturated Fat:
2
g
|
Sodium:
21
mg
|
Potassium:
342
mg
|
Fiber:
5
g
|
Sugar:
32
g
|
Vitamin A:
80
IU
|
Vitamin C:
3.1
mg
|
Calcium:
38
mg
|
Iron:
1.1
mg
Filed Under:

If you make this recipe, make sure to snap a pic and share it on Instagram using #SIMPLYQUINOA – I want to see your own quinoa creations!