Spiralized Butternut Squash Bowls with Harissa Chickpeas + Quinoa
These hearty quinoa bowls are filled with spiralized butternut squash, harissa chickpeas, roasted brussels sprouts and topped with a tahini-miso sauce.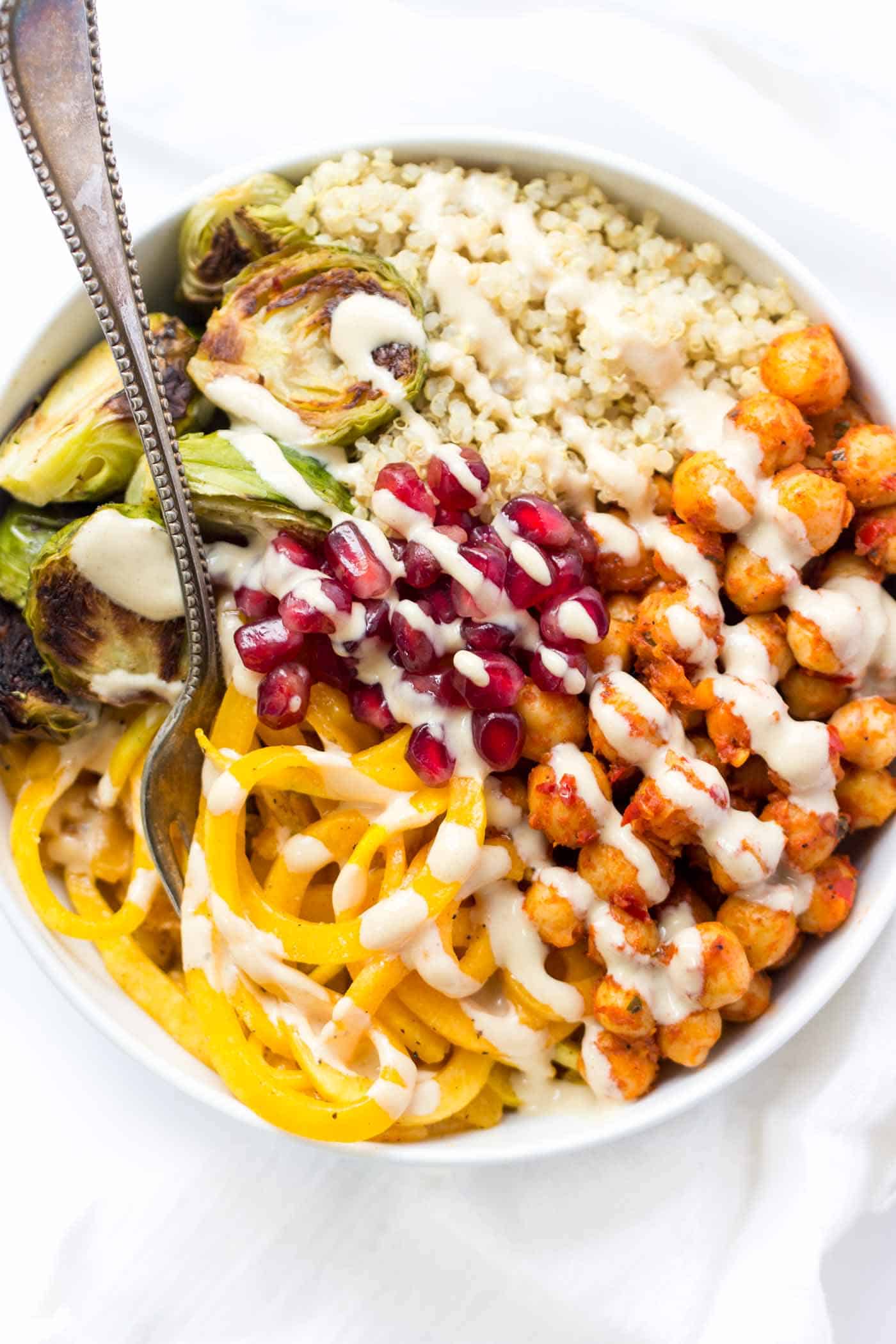 Well, well, well… lookie what we have here: another bowl recipe! 😉
Okay, I'll admit it, I'm going a little bowl crazy these days. It's all I find myself eating and creating, and since they're one of those meals that are just the simplest to throw together (which I know you and I both love), when I come up with a good combo, I'm gonna share it with you. Agreed? Agreed.
If you have yet to hop on the bowl bandwagon, here's three more reasons why they're the most perfect meal ever…
1) they're simple. 2) they're nutritious. and 3) eating food from bowls is F-U-N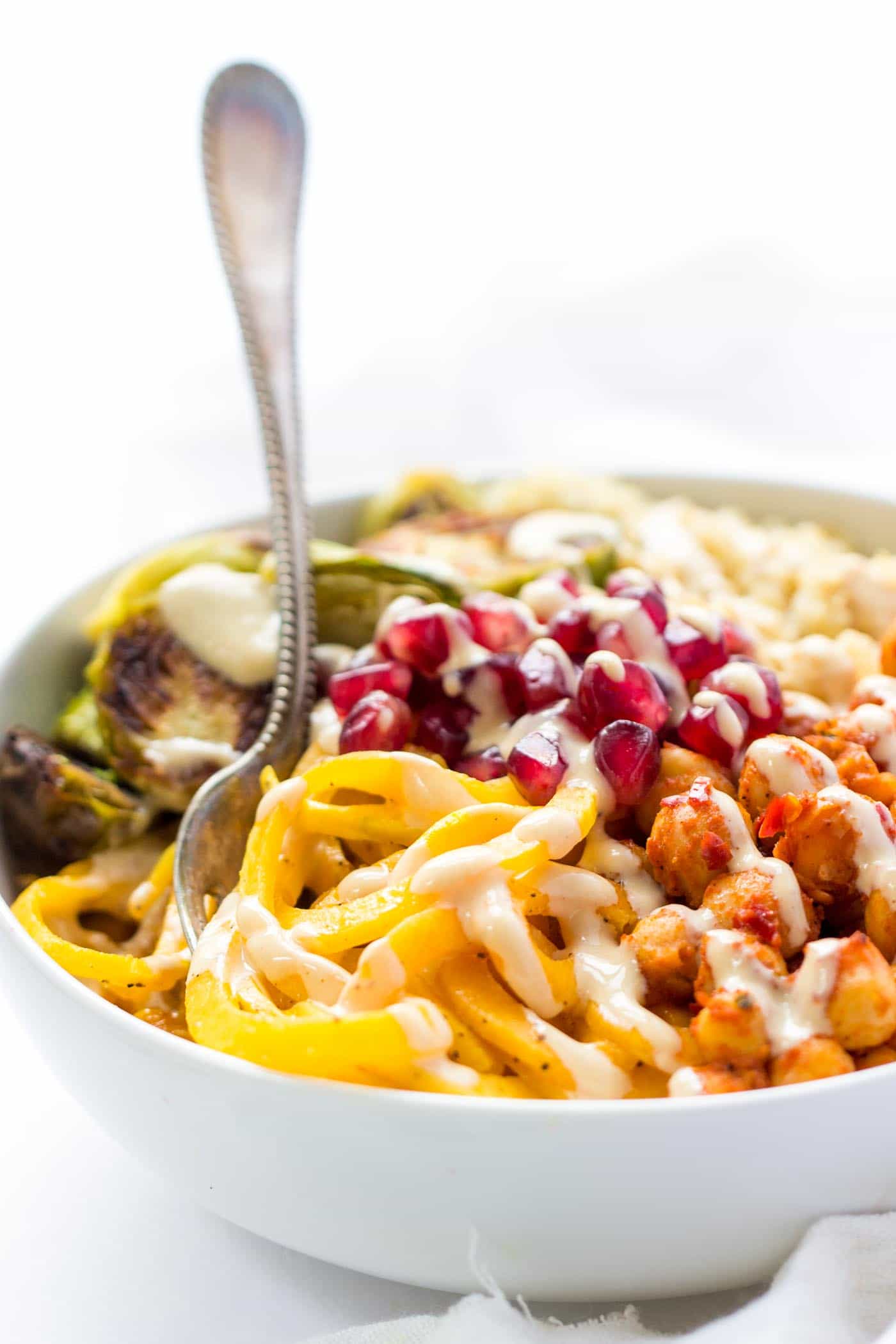 And this one I have to say is particularly fun. Why? Because, instead of simple roasted squash/sweet potato (which tends to be my go-to), it's got spiralized butternut squash. Yes, that means squash turned into noodles. So veggie noodles. So basically the best thing ever.
How you might wonder? One simple tool that I can't imagine living without my inspiralizer.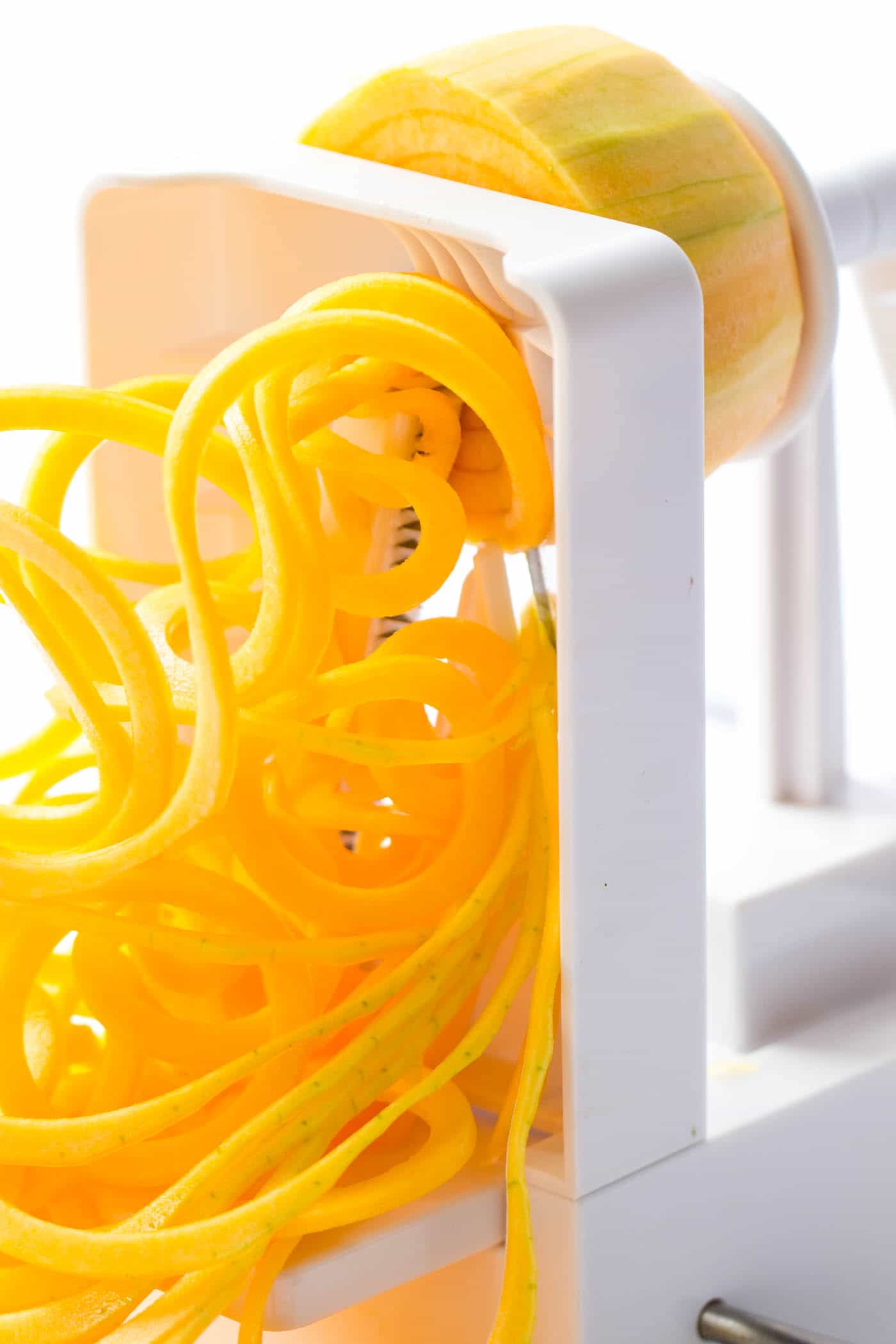 Now you've heard about my love for spiralizing, but it wasn't until I got The Inspiralizer that I fully appreciated the world of veggie noodles. You see my old spiralizer (which was the Paderno one from Amazon) could only really handle the easy vegetables. Things like zucchini and cucumbers. Not hard ones like beets and butternut squash.
That's why I love this tool. It can handle anything. Which means…more healthy noodles!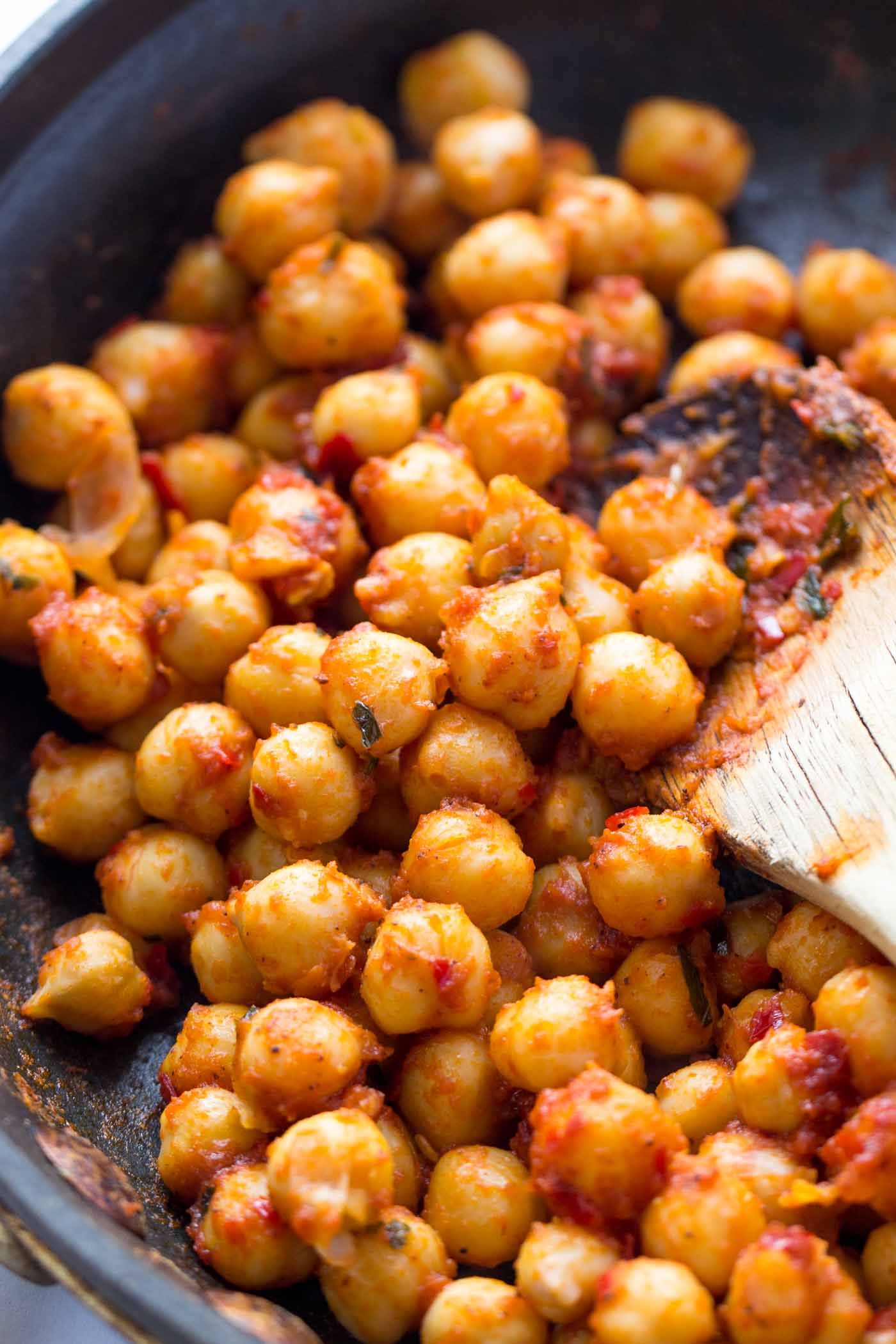 In addition to our lovely spiralized butternut squash, the other star of this dish is the harissa chickpeas.
Until this recipe, I had never had harissa before and honestly didn't know what to expect, but it caught my eye the other day when I was grocery shopping and I had to try it. I just love the name – it sounds so exotic and fun.
Well, the flavor definitely didn't disappoint either. It was spicy and bright but wasn't too overpowering that it took over the whole dish. I was contemplating putting it in the dressing, but I'm glad that I kept it on just the chickpeas. It gave the dish a nice zing but didn't cause your whole mouth to burn (yes, it's certainly spicy!)
Plus since I was craving a warm bowl, I heated the chickpeas up in a skillet and tossed them in the harissa until they were a little crispy. It made the whole thing so much cozier.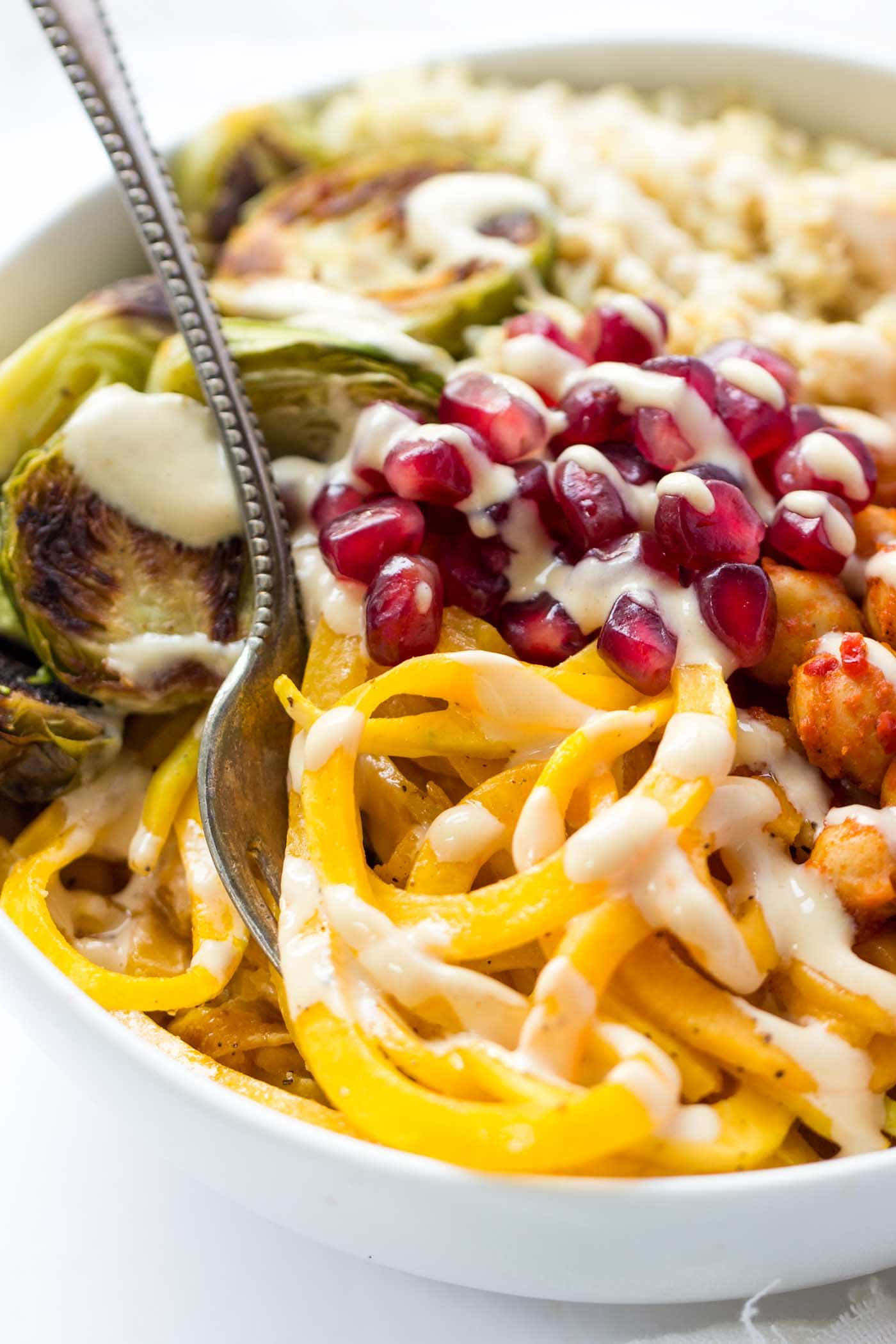 If you're looking for a simple and delicious weeknight dinner, this is it my friends. The whole thing came together in about 40 minutes and makes for great leftovers. If you do end up wanting to save some for leftovers I would recommend storing the ingredients separately. It will help them keep their individual flavors and then once you're ready to serve it pop it into your bowl and top it with the dressing.
One last thing about the dressing: it can be made ahead of time and stored in the fridge. I actually keep a jar of this on hand since I love it on bowls and even salads. The miso + tahini combo? Magical.
Your turn…
Have you ever tried spiralizing before? What is your favorite veggie? I would love to hear about your spiralizing adventures in the comments! AND if you haven't tried it before and are in the market for a spiralizer, I highly HIGHLY recommend The Inspiralizer. I've tested a bunch of machines and this one is by far the best. It's easy to use, easy to clean and can spiralize anything.
And my friend, if you end up creating this dish or any other recipes from the site, I'd love to see your creations. Make sure to use #simplyquinoa and share a pic on Instagram!
xx A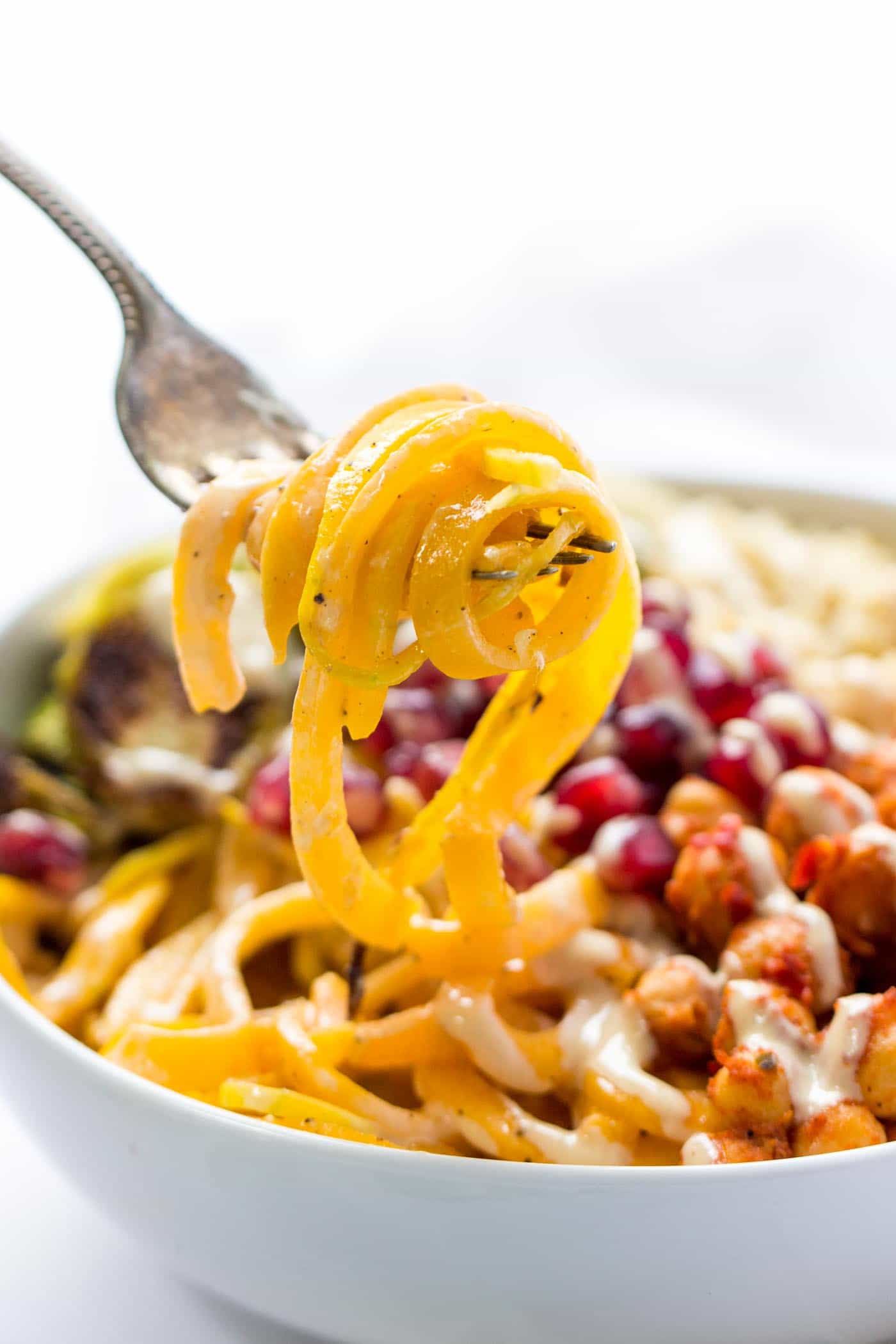 More Amazing Spiralized Recipes to try:
Spiralized Butternut Squash Bowls with Harissa Chickpeas + Quinoa
Instead of simple roasted squash/sweet potato (which tends to be my go-to), it's got spiralized butternut squash. Yes, that means squash turned into noodles. So veggie noodles. So basically the best thing ever.
Servings 4 servings
Calories 410kcal
Ingredients
1 lb brussels sprouts halved
1 batch of spiralized butternut squash noodles I used this method from my girl Ali
1 tablespoons harissa paste
1 tablespoon water
1/2 cup pomegranate seeds
2 cups cooked quinoa


2 tablespoons tahini
2 teaspoons miso paste
1 teaspoon lemon juice
1 teaspoon rice vinegar
1 small garlic clove pressed or grated
Pinch of turmeric + ginger
Water to thin
Instructions
Preheat the oven to 400 degrees. Toss the brussels sprouts in some oil, salt + pepper (optional) and transfer to a baking sheet. Roast in the oven for 20 - 25 minutes until browned and soft.

Once the brussels are in the oven, prepare the butternut squash.

I used this method for peeling and spirazling

(I had a medium butternut squash for these 4 bowls). When the brussels have about 5 minutes left, add the squash noodles to the pan and roast until tender. Remove from the oven and set aside.

Add chickpeas, harissa and water to a skillet. Cook until chickpeas are warm and starting to get a little crispy, about 5 - 7 minutes. Remove and assemble the bowls.

Evenly divide ingredients among four bowls, arranging quinoa, chickpeas, squash noodles, brussels sprouts and pomegranate however you'd like (I do mine in a circle).

Whisk together dressing ingredients and pour over bowls. Then dig in!
Nutrition
Calories: 410kcal | Carbohydrates: 73g | Protein: 17g | Fat: 8g | Saturated Fat: 1g | Sodium: 503mg | Potassium: 1509mg | Fiber: 16g | Sugar: 10g | Vitamin A: 20830IU | Vitamin C: 139.5mg | Calcium: 201mg | Iron: 6mg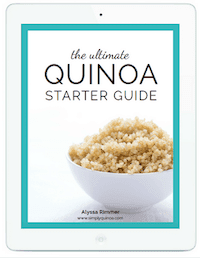 New to cooking quinoa? Grab your FREE Quinoa Starter Guide!
Become part of the Simply Quinoa community and receive weekly emails with exclusive content that I only share in email, as well as my in-depth guide to starting your quinoa journey.
share what you make
Tag #simplyquinoa on Instagram with your creations! We love sharing what you make with the community. We can't wait to see!

follow on instagram