Spring is just around the corner, meaning that swimsuit season is close on its heals. I know, scary thought isn't it? But don't worry, there's plenty of time to get that smokin' hot bod that you've always dreamed of. We just have to work at it, don't we?
Whenever this time comes around, many of us make new resolutions. Whether it's renewing the ones you made back in January or making new ones that you're determined to stick to until the weather gets cold again, many of us promise ourselves a new way of life.
For me, it's not about new beginnings or even a drastic change in my normal behavior. I know the two most important things for getting that body you want. They're the two things we hear about on a daily basis.
Diet and exercise.
Yes, you read that right. But you already knew that didn't you?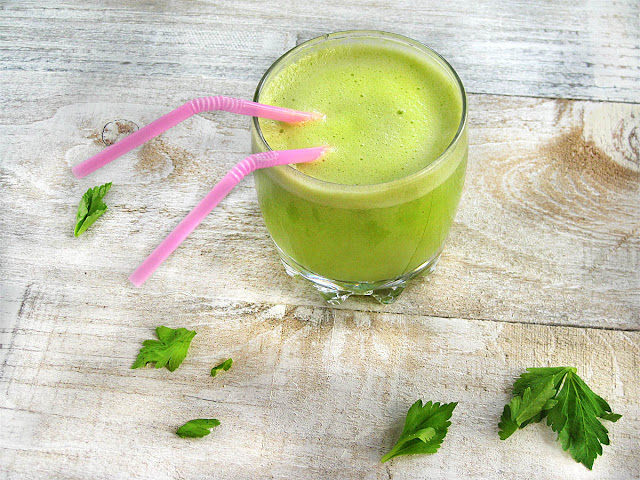 I'm no fitness guru, so I'm not here to give you tips on getting in shape. For me, it's yoga mixed with a bit of cardio – long walks, bike rides, or maybe attempting to run (which isn't likely knowing my lack of motivation). But that's just me, for some of you it may be all about hitting the gym or sweating your butt off in spin class. Wish I could be more like that…
Even though fitness may not be in my wheelhouse, healthy, nutritious, wholesome, gluten-free food is. It's my passion. The reason I share all these recipes with you. To help you stay happy and healthy while eating gluten-free.
One of my new favorite healthy habits is juicing. It's an awesome way to start your day. It's now an integral part of my diet and helps me stay on track when my choices begin to stray. With a quick shot of nutrients, loaded with fresh fruits and veggies, my juices are what I look forward to each morning.
When it's time for a spring cleaning, this juice is absolute perfection. It's sweet, mixed with a hint of tartness, light, and lusciously green. It's like spring in a glass. Fabulous enjoyed slowly, with the morning sunshine beaming through the slightly opened window.
Can you hear the birds chirping too? At long last, spring has come and I for one, am welcoming it with open arms.
Springtime Green Apple Juice
This Springtime Green Apple Juice is a great way to start your day. A blast of quickly-absorbed fruit and veggie nutrients that will boost your energy, in just a few sips!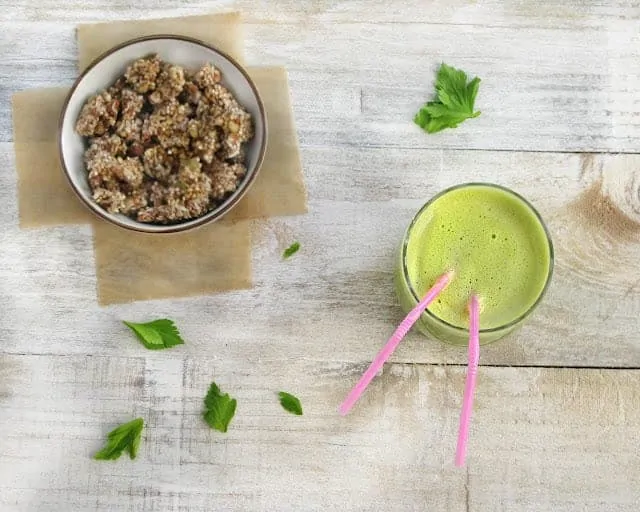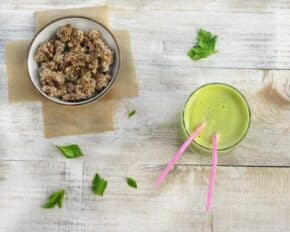 Ingredients
1

green apple

, cored

4

celery stalks

1/2

medium cucumber

1/2

inch

fresh ginger
Instructions
Wash all ingredients thoroughly and cut into sizes that will fit within your juicer. Put all ingredients through the juicer and mix with a spoon before drinking.
Nutrition
Calories:
138
kcal
|
Carbohydrates:
34
g
|
Protein:
3
g
|
Fat:
1
g
|
Saturated Fat:
0.2
g
|
Polyunsaturated Fat:
0.2
g
|
Monounsaturated Fat:
0.1
g
|
Sodium:
133
mg
|
Potassium:
829
mg
|
Fiber:
8
g
|
Sugar:
23
g
|
Vitamin A:
925
IU
|
Vitamin C:
18
mg
|
Calcium:
96
mg
|
Iron:
1
mg
Filed Under:
With a mixture of fruits and vegetables, this juice is a great way to start your day. Like all juices, you get the blast of nutrients in just a few sips. As they are quickly absorbed into your body, you'll be left feeling energetic and happy all day long. I promise. Don't forget, as many organic ingredients as possible!
Be sure to enjoy your juice slowly. Sit down. Relax. Sip (no slurping here). Pure bliss.
Happy Spring!