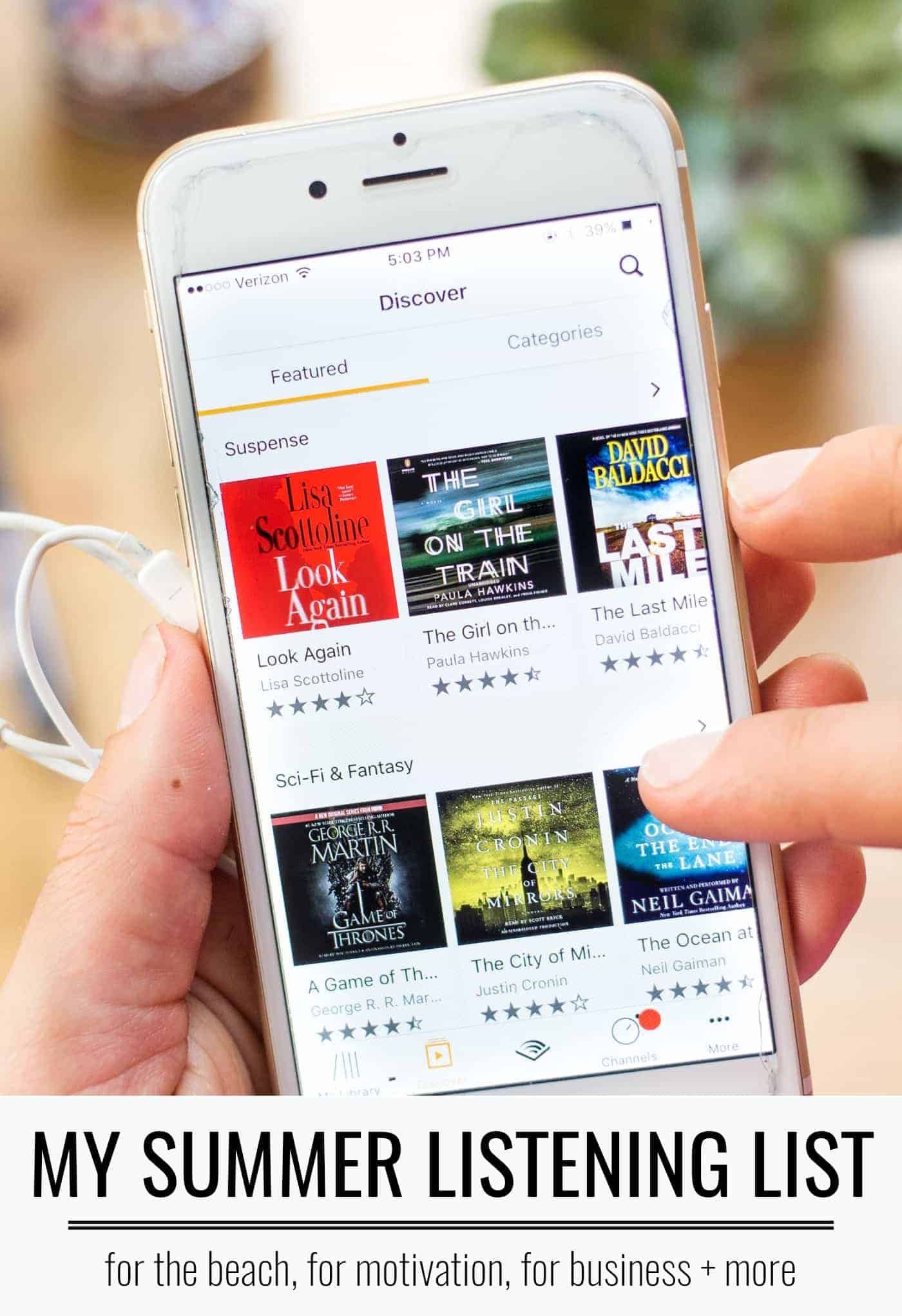 This past week was our first taste of summer. The weather was warm, the sun was shining. It's almost here, friends. Summer is just around the corner!
This summer I'm going to try my best and unplug a little bit. We have a busy month in June, a few weddings, and some fun trips, but the rest of the summer we're pretty open. Like most New Yorkers (I can't believe I just called myself a New Yorker!), we like to escape on the weekends during the summer. This summer we'll likely escape to Vermont a few times and hopefully get in a few weekends in Maine. And the beach. Definitely need to spend some time on the beach.
Most of the destinations we're going to require a fair amount of driving, so this year, instead of downloading book after book on my Kindle and then never getting around to reading them all, I'm going to give audiobooks a chance! Do you listen to audiobooks?
I just signed up for a one-month free trial of Audible (which is owned by Amazon), which I'm also partnering with on this post, and I thought it would be fun to share some of my top listening picks with you. I've broken them down by category and put just a few in each one since I don't want to overwhelm myself too much.
So…here's a taste of what's going to be streaming through my earbuds this summer:
Beach Bum
These are the fun books. The ones that are easy to listen to, are entertaining and (fairly) lighthearted. I've actually read the first one before, but want to listen to it again because it was really sweet, and I've heard so much about the others, I just had to add them to the list!
Sweet Salt Air by Barbara Delinsky
The Alchemist by Paolo Coelho
It Was Me All Along by Andie Mitchell
The Girl on The Train by Paula Hawkins
#GetSh*tDone
These are for all my entrepreneurs out there! I have a few of these in printed form on my shelves but have yet to crack them open. I'm hoping that by snagging them as audiobooks, I'll actually get around to listening to them!
#GIRLBOSS by Sophia Amoruso
Essentialism by Greg McKeown
#AskGaryVee by Gary Vaynerchuk
The $100 Startup by Chris Guillebeau
Mind, Body + Soul
I've been trying to work on mindfulness lately, and while I do feel like I'm making progress, there is still A LOT more to learn. I've heard amazing things about these books and authors, and plan to add them all to my listening collection. These are placed in order, and "The Power of Now" is definitely going to be one of the first ones I listen to this summer.
The Power of Now by Eckhart Tolle
Big Magic by Elizabeth Gilbert
The Gifts of Imperfection by Brene Brown
Kid Time
And sometimes…it all comes down to feeling like a kid again. I absolutely adore these books and they're ones that I could listen to over and over again. Peter Pan, which is a total classic, was actually just released as an audiobook and it's narrated by Lily Collins (who I think is the cutest thing ever). Definitely listening to that!
Peter Pan by J.M. Barrie
Harry Potter (any and all) by JK Rowling
So…now it's your turn!
I want to hear what you're going to be listening to/reading this summer! Leave some of your favorite books below so that I can check them out. I'm always looking for new ones to add to my collection!
And if you are interested in trying out audiobooks, Audible actually does offer a pretty great free trial option. You can sign up for a 30-day trial AND they'll give you an audiobook for free! Pretty sweet deal if you ask me 😉
Can't wait to see what books you recommend!
xo Alyssa
Thank you to Audible for sponsoring this post! Audiobooks are a great way to enjoy your favorite books while you're in the car or on a trip this summer. Don't forget, you can signup for a 30-day trial and receive a free download!
share what you make
Tag #simplyquinoa on Instagram with your creations! We love sharing what you make with the community. We can't wait to see!

follow on instagram