With summer winding down, you're probably already mentally gearing up for the Fall, but hopefully you're at least able to squeeze in one more vacation day (or even half day) before the season is over. Even if it's just a beach day over the weekend or hiking a nearby mountain, let's soak up as much of this time as we can!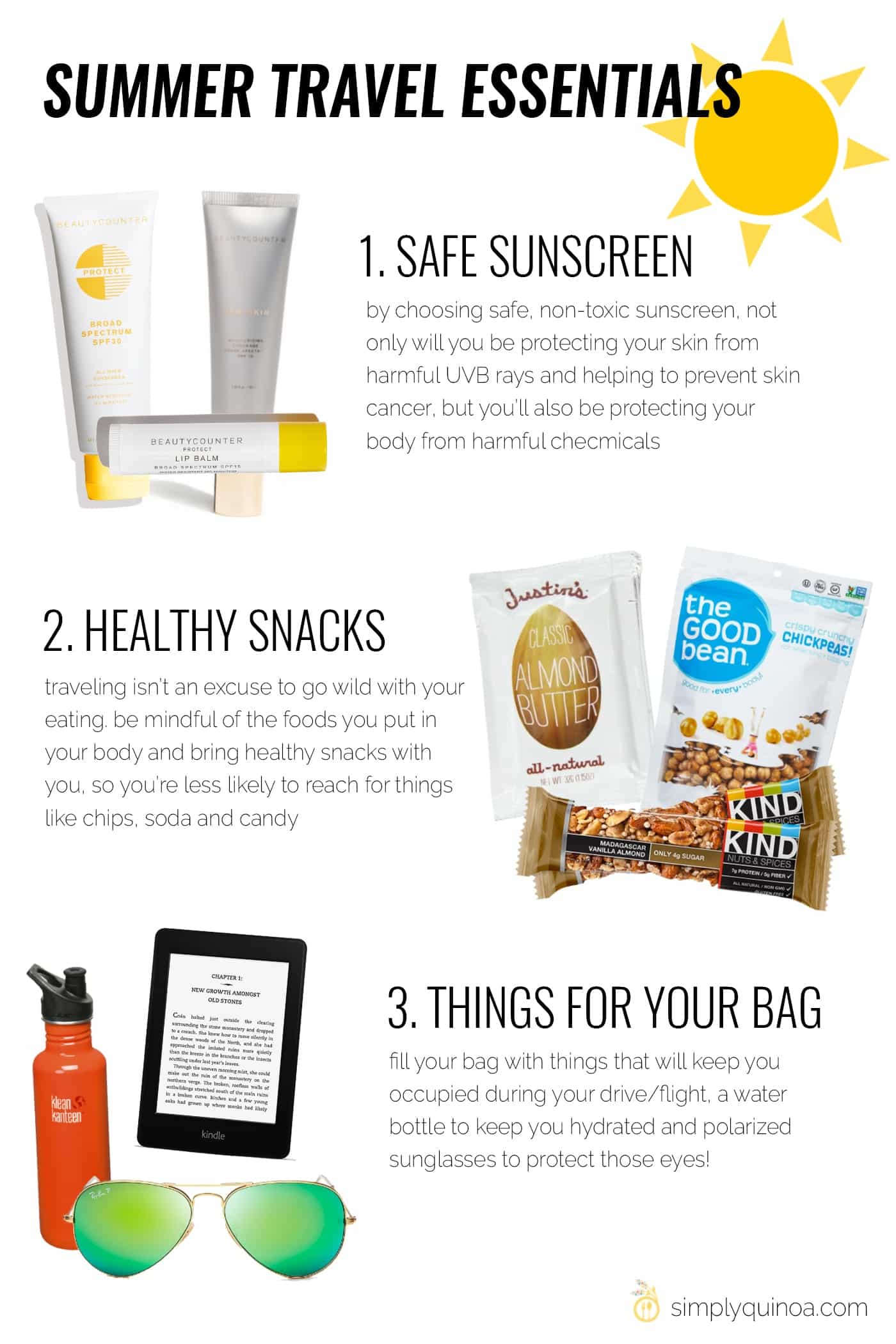 It might seem a little late in the game to be sharing my summer travel staples with you, BUT these are really applicable all year round, especially if you live (or are planning to visit) somewhere warm. I've got my favorite non-toxic products to protect for you from the sun, my fave ways to keep you occupied, the best store-bought snacks and even some recipes you can make at home and bring with you.
Hope these help you have a healthy and happy rest of your summer!
Safer Sun Protection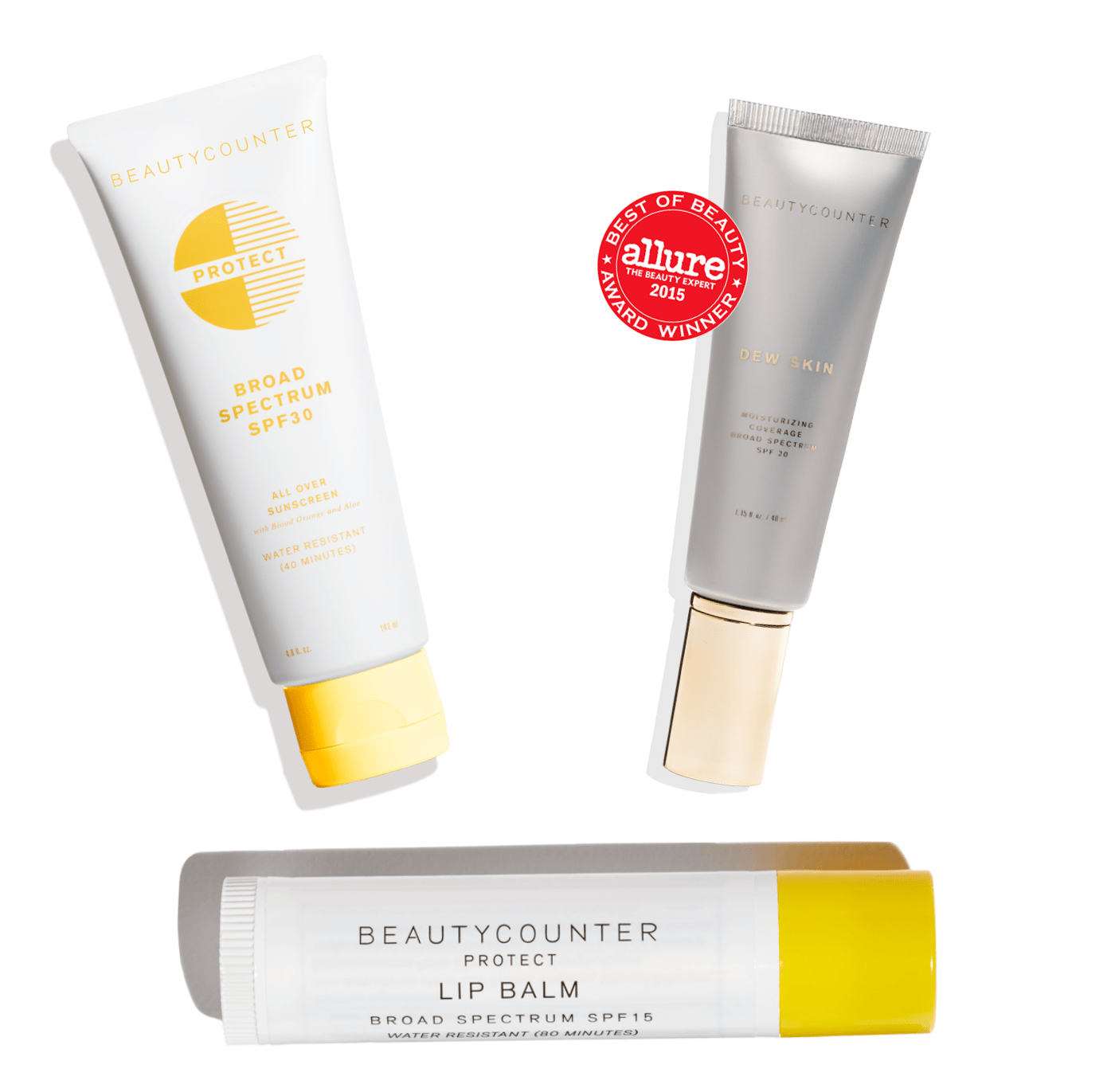 First thing I want to focus on, being that it's summer and all you're most likely going to be out in the sun, is properly protecting your skin from the sun. I'm sure you already know this, but long-term sun damage not only causes wrinkles and dark spots (we don't want that!), but of course it can also cause skin cancer. Scary yes, but also preventable.
Thing with traditional sunscreen though is that it's FULL of nasty chemical that can cause reproductive issues, hormone irregularities and so much more. Not to mention, most of them are also tested on animals, which honestly, I just can't even bring myself to think about.
Of course, there are natural options out there that are safe and effective, BUT what I have found after testing tons of different brands, is that most natural sunscreens are not very fun to use. They're thick and don't rub in easily, so you end up with this white tint. But I have found a few products that check all the boxes; they're safe, non-toxic, cruelty-free, is easy to use and it actually works. Here are my must-have products to keep your skin protected:
All Over Broad Spectrum Sunscreen (SPF 30) from Beauty Counter — perfect for a day at the beach or just any time you're going to spend a chunk of time in the sun)
Moisturizing SPF Lip Balm
Tinted Moisturizer with SPF 20 — perfect if you're going out and about, heading to brunch or something where you want a light coverage on your face, but also want to protect your skin (I wear this almost every single day)
Tote Bag Essentials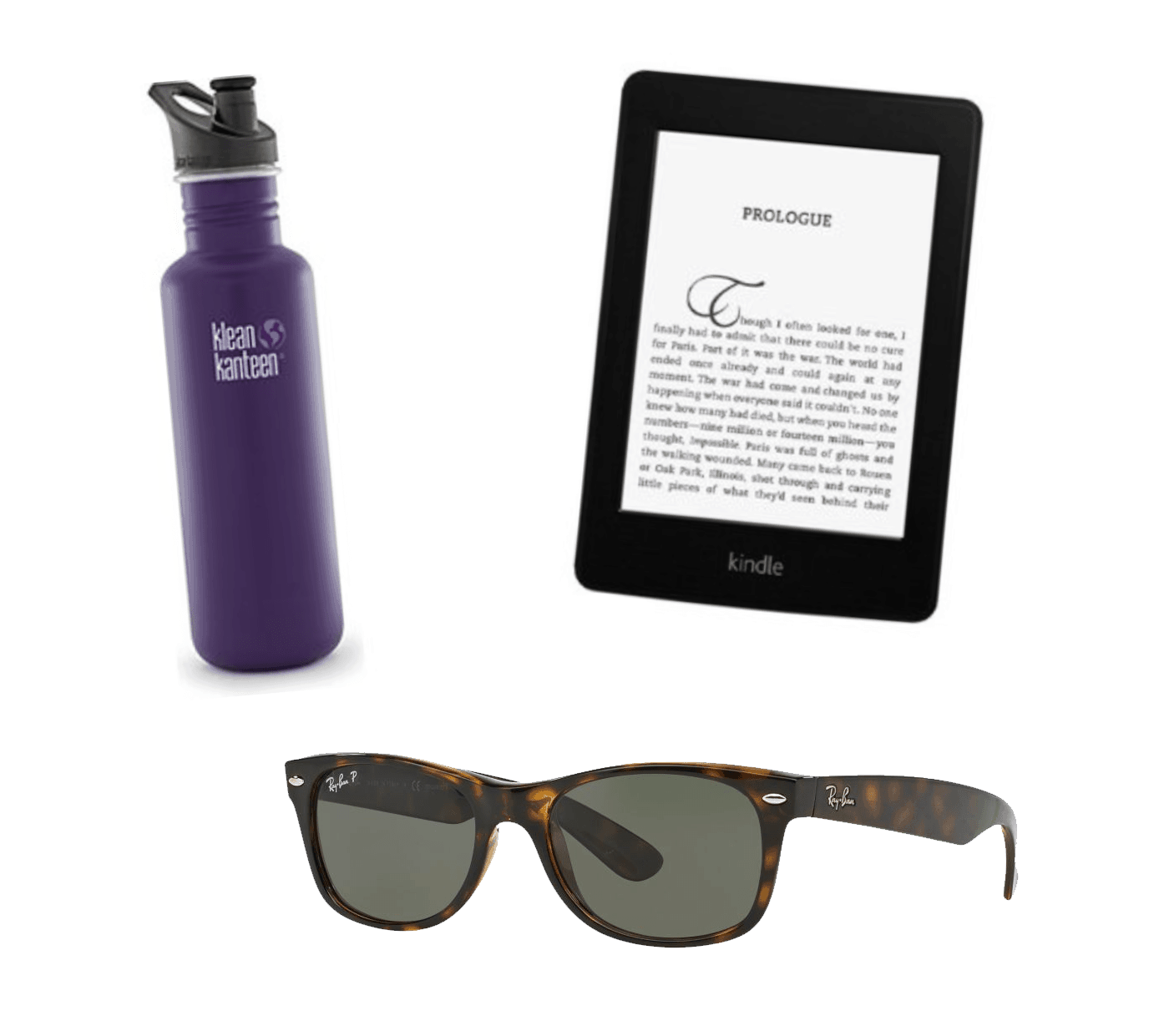 Technically these are all tote bag essentials, but these next few are what I always take with me on a trip–whether that's to the beach, up a mountain, a day in the park or even just a long road trip/plane ride. These almost never leave my side.
Insulated Water Bottle
Kindle Paperwhite
Polarized Sunglasses — just like your skin needs protection from the sun, so do your eyes! polarized glasses protect from the UV rays and you'll also find that you're not squinting as much.
Healthy Travel Snacks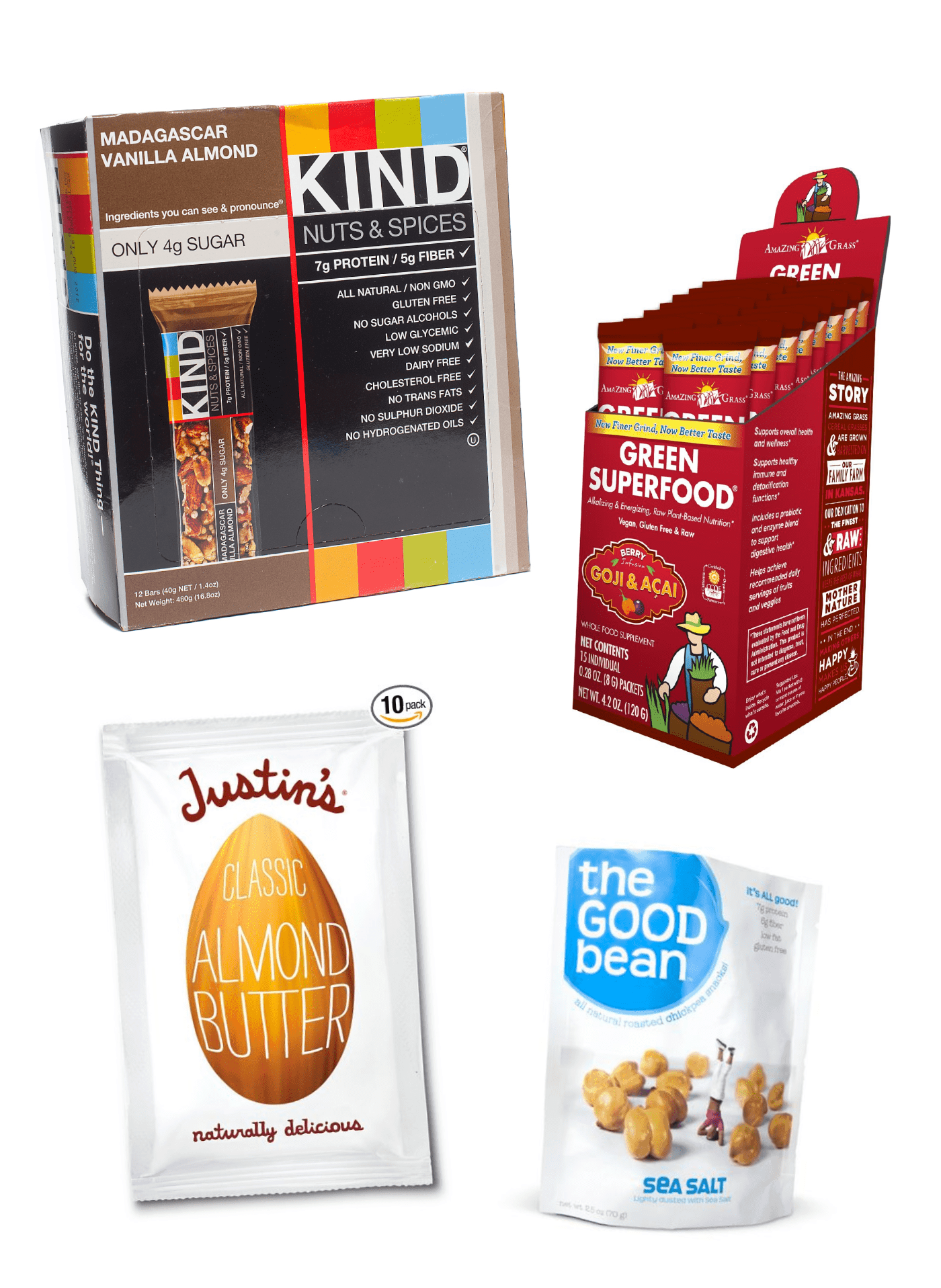 Now you guys know I can't go anywhere without my snacks, so I had to pull together some of my favorites.  Snacks can be tricky when you're on the road, so I like to stay prepared to ensure that I'm always nourishing my body with nutritious foods. These ones you can find at most grocery stores (and even some gas stations these days!), so whenever I'm going on a trip, I like to make sure to stock up!
Kind Bars (Madagascar Vanilla Almond is my fave)
Crispy Chickpea Snacks
Almond Butter Squeeze Packs — high in protein and healthy fats, they're easy to take with you and they're the perfect snack with an apple or banana
Green Juice Powder — I like to buy the little packets because they're portable and super easy to just toss in your bag
Healthy Homemade Travel Snacks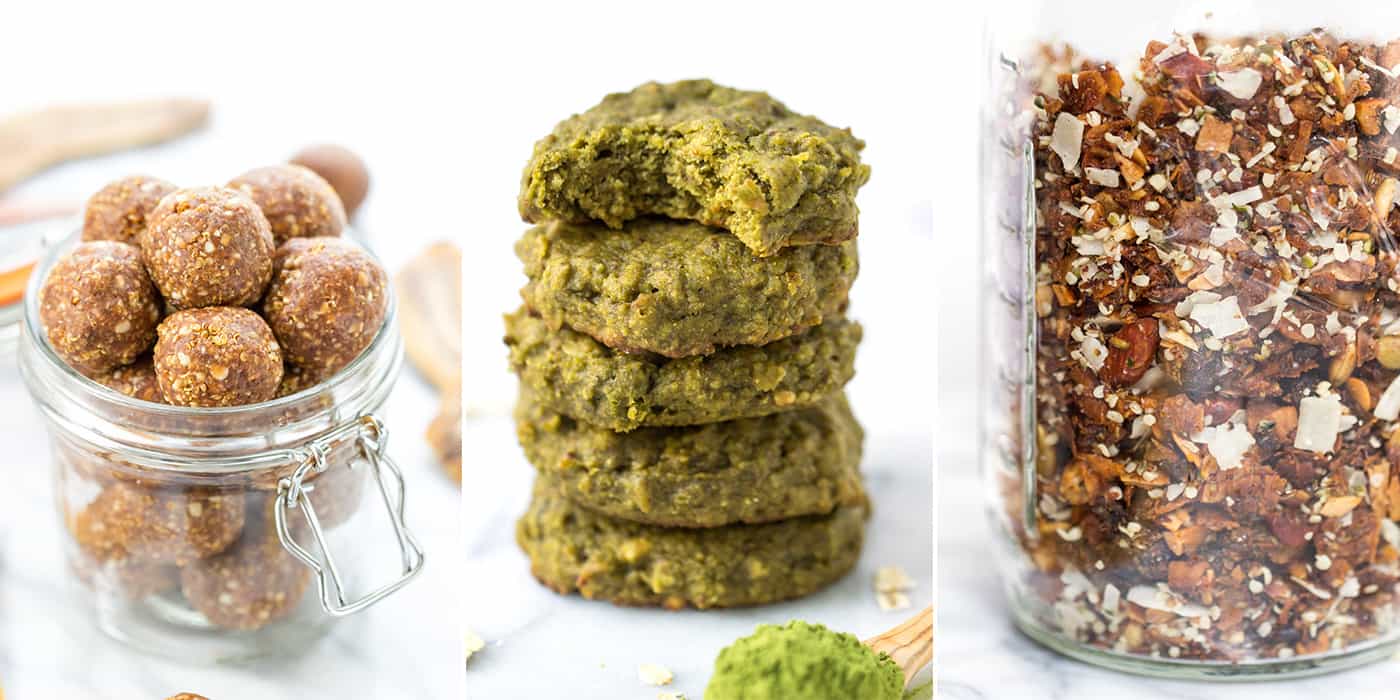 And of course, if you don't feel like spending money on snacks at the store…there are also tons of recipes you can make at home! You can really choose from any of my energy balls or quinoa breakfast cookie recipes, but here are 10 of my favorite homemade travel snacks:
Banana Peanut Butter Quinoa Energy Bites
Sea Salt + Dark Chocolate Quinoa Energy Balls
Snickerdoodle Energy Bites
Matcha Quinoa Breakfast Cookies
Zucchini Bread Quinoa Breakfast Cookies
Chunky Monkey Quinoa Breakfast Cookies
Grain-Free Coconut Granola
Crispy Honey Quinoa Granola Bars
Garlic + Rosemary Quinoa Crackers
Pumpkin Chocolate Chip Quinoa Bars
Happy Summer! ????☀️????