Perfect for a hot summer day, this summertime Asian quinoa slaw is loaded with hydrating veggies that will keep you cool and leave you feeling refreshed.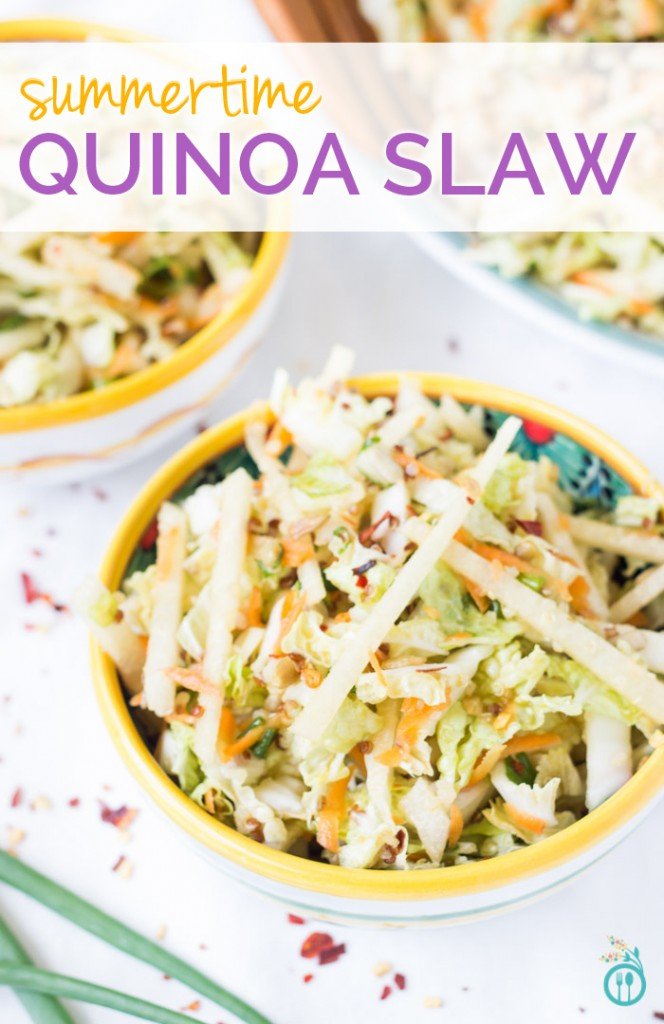 So…I just started doing Bikram yoga.
I've always loved yoga and have been practicing on and off since high school (which yes, was a long time ago), but there was something about Bikram that just didn't jive with me.
In all honestly, I think it was the fact that I didn't want to be sweating my butt off in a room full of complete strangers. And also the fact that I have this weird thing about smell and I seriously did not want to be smelling other people. TMI?
But I decided to try it.
And I've totally fallen in love. Why? A) I've realized that everyone else is going to be sweating a ton, so it totally doesn't matter; b) sweating feels really great and c) the poses aren't so challenging that my body feels crippled afterwards, it's just challenging enough that I feel like I got a good workout in.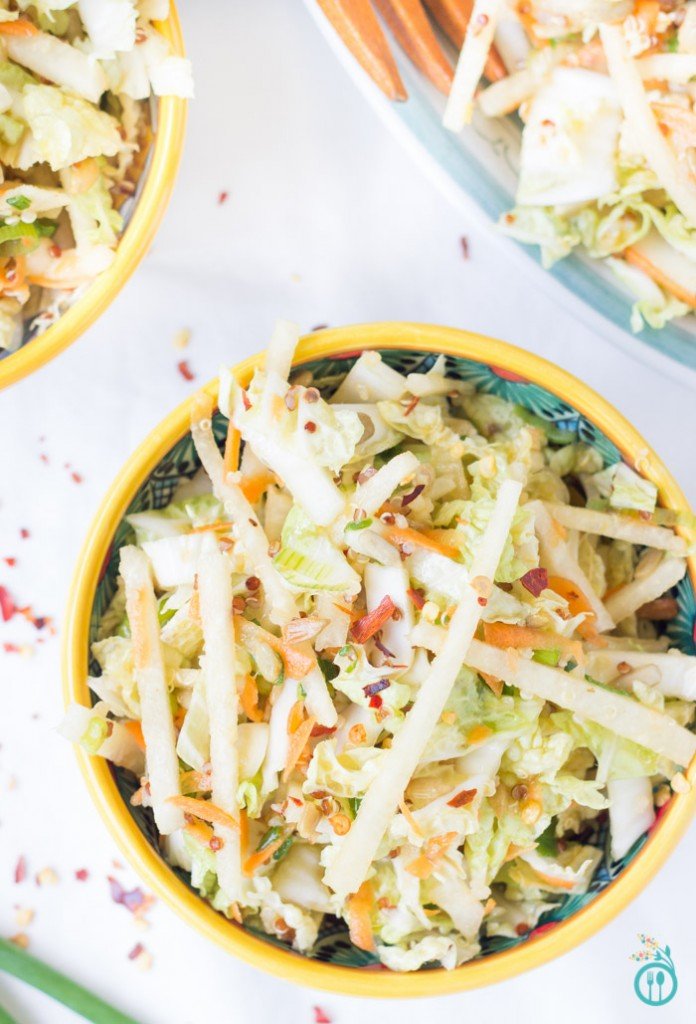 But what in the world could bikram yoga have to do with this summertime quinoa slaw recipe? Water. Water. Water.
After my first class, all I wanted was something super hydrating to munch on. Of course, I chugged multiple bottles of water, but I was hungry and needed something that would not only fill me up, but also quench my thirst.
Immediately my mind jumped to coleslaw. It's cool on a hot summer day (or after a sweaty yoga session), is full of hydrating veggies and is easy to whip up.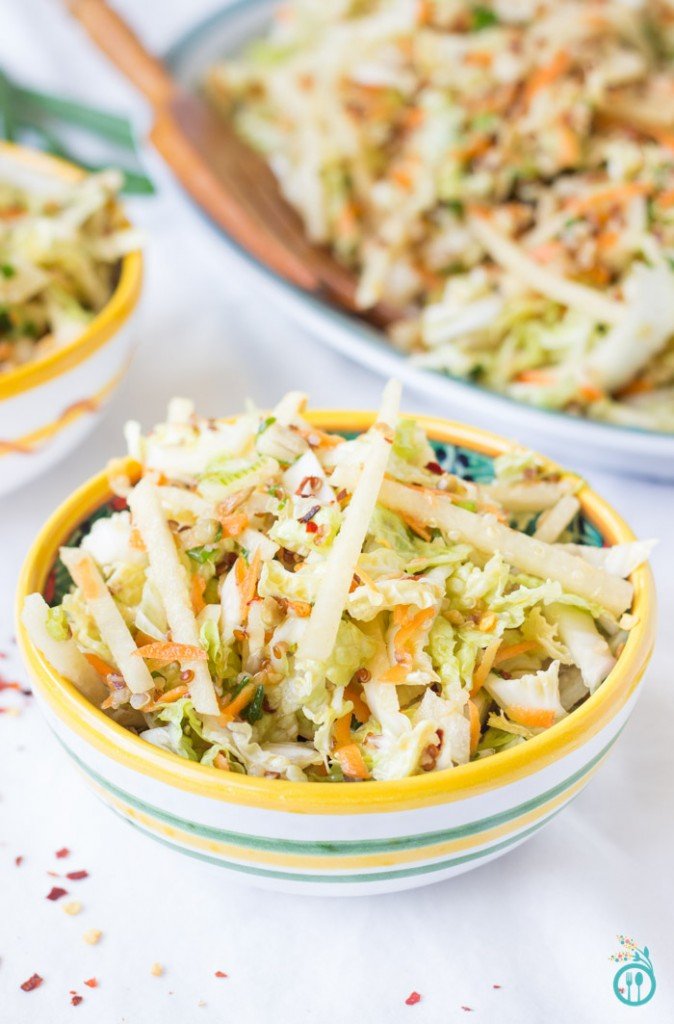 Unlike a traditional coleslaw that you might find at your neighborhood barbecue party, we're bringing an Asian flare to this recipe and spicing it up with some fun ingredients.
The base is napa cabbage which is just now hitting the farm stands up here in Vermont. I bought a big head of it at the Farmer's market and made a huge batch of this slaw. Everyone loved it!
Next up I wanted to add something that gave the slaw some crunch. I went for jicama because it's really light and refreshing, but also mingles well with other flavors and works perfectly in cold salads.
Then I went with some more traditional ingredients like carrots, scallions and quinoa (although I don't think most people put quinoa in there coleslaw, but you know how we do it around here…quinoa everything!). Just right.
Finally, I tossed this quinoa slaw in a spicy, salty, sweet dressing made from a mixture of gluten-free tamari, rice vinegar, sesame oil, honey, ginger and red chili flakes.
This recipe is the ultimate summertime slaw. It's great for a neighborhood cookout, or can easily be turned into a full-blown dinner by adding some chicken, chickpeas or tempeh. Served chilled and it's just the refreshing bite that you need after a long day in the sunshine.
What's your favorite summer dish? I'd love to hear in the comments below!
More Healthy Summer Side Recipes:
Summertime Asian Quinoa Slaw
It's cool on a hot summer day, is full of hydrating veggies and is easy to whip up.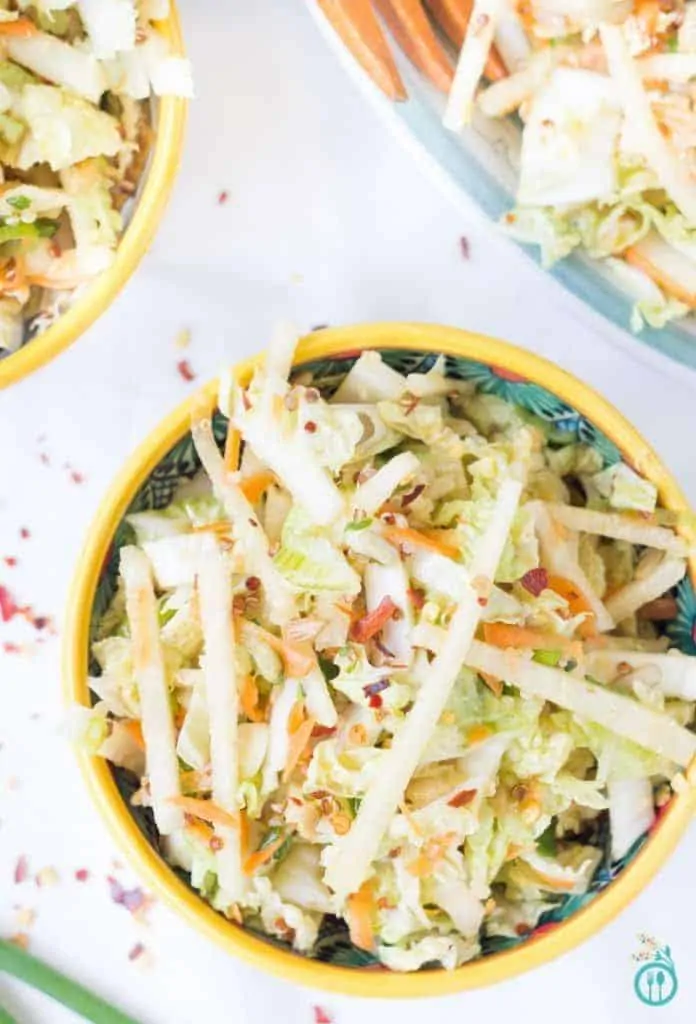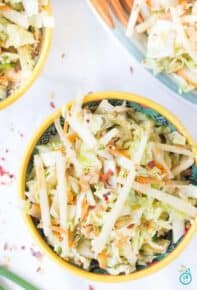 Instructions
Start by whisking all the dressing ingredients together in a small bowl. Set aside and prepare the slaw.

Rinse cabbage and remove any exterior leaves that have wilted or gone limp. Thinly slice the head of the cabbage and place contents in a large mixing bowl.

Cut both ends off jicama so it can stand flat on cutting board. Using a sharp knife, cut the exterior of the jicama off, exposing just the interior flesh. Slice in half, placing the flat side down and slicing it into ¼" strips. Then cut each strip into matchsticks. Place in bowl along with cabbage.

Add carrots, remaining ingredients, and pour dressing over top. Toss until everything is coated evenly.

Chill in refrigerator for 1 – 2 hours.

For best results, enjoy same day, but will keep overnight.
Nutrition
Calories:
192
kcal
|
Carbohydrates:
25
g
|
Protein:
5
g
|
Fat:
8
g
|
Saturated Fat:
1
g
|
Sodium:
182
mg
|
Potassium:
589
mg
|
Fiber:
7
g
|
Sugar:
9
g
|
Vitamin A:
4225
IU
|
Vitamin C:
53.5
mg
|
Calcium:
115
mg
|
Iron:
1.9
mg
Filed Under: