Sun potion review featuring the 6 must-have products. This honest review includes a list of the Sun Potion products to buy and what to purchase elsewhere.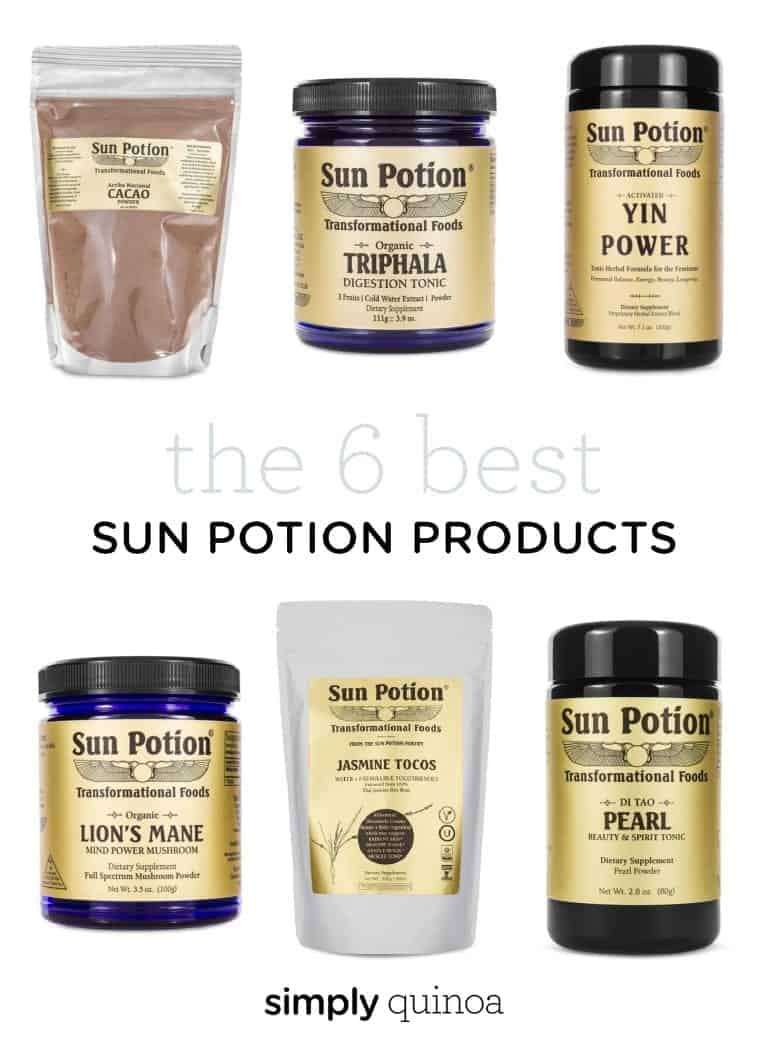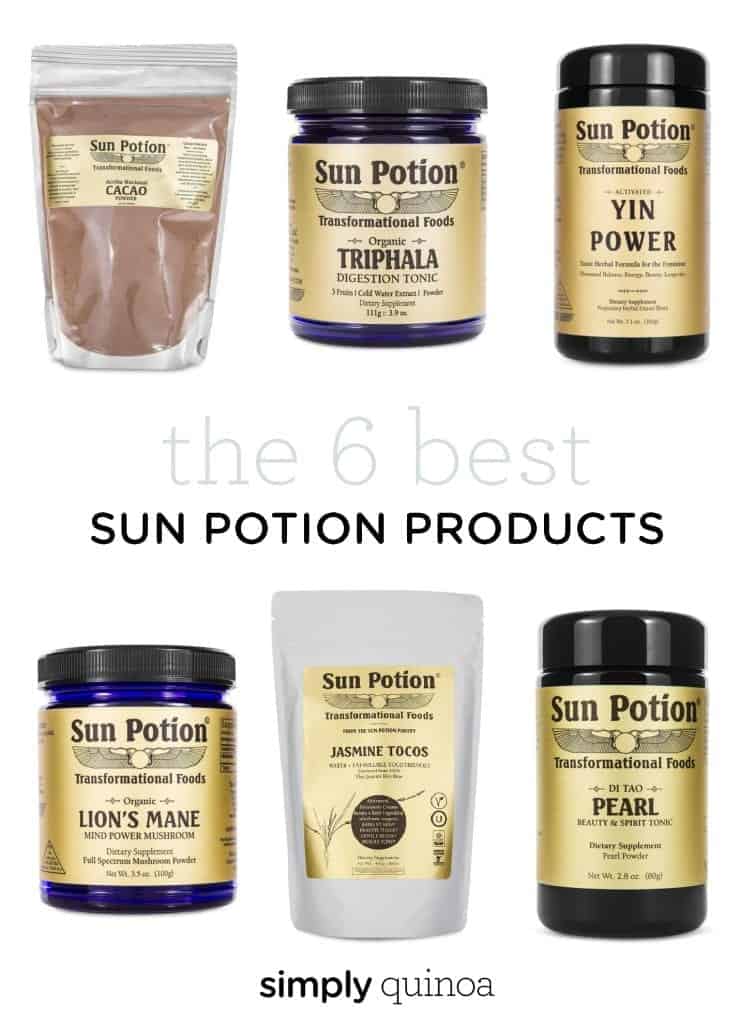 At least a few times a week I get asked about adaptogens. They're curious about which ones to buy, which brands are best, where to invest and where to save, etc. So today I thought I would share more about one of my favorite brands and the products that I like the most!
Sun Potion is probably one of the more well-known adaptogen brands. At first, I felt like they were just trendy, but when I started to learn more about them, I realized they're incredible. They produce extremely high-quality products, focus intensely on their souring and the brand is rooted in health.
I love the information they share and I truly love their products!

Sun Potion Product Review: What To Buy
Now their product line is quite large at this point, so it can be a little confusing when you look on their website. I wanted to share my favorite products, but also want to note that adaptogens are also an individual thing! Just because something works for me, doesn't mean it's going to work for you.
So you need to ask yourself: what do I need support with?
From there, you can find an herb or tonic to support that need. Maybe it's your skin. Maybe it's your mental clarity. Or perhaps you want to boost immunity. There are a ton of different things that each of us might be struggling with on an individual basis, so take that into account first before you start shopping.
With that in mind, this is my honest review of what I think is worth buying from Sun Potion and what I think you can skip on. I've clearly outlined what I love, why they're beneficial, how I use them and also shared alternatives for the ones that I don't love so much.
Ready to learn more about adaptogens? Let's dive in!
---
Sun Potion Yin Powder
Overall benefit: nourishes feminine energy and harmonize the whole system
May support: immunity, hormonal balance, stress relief, mental clarity, radiance, circulation and more
Price: $115
The price point for this product might put some people off, but I have to say it's one of my favorites! It's a proprietary blend of herbs that are specifically designed for women. These herbs are combined to create a superpower tonic that can support the entire female system. I take this almost every single day with my smoothies and absolutely love it! Bonus: it's a very large serving and will last you at least 3 months!
---
Sun Potion Jasmine Tocos
Overall benefit: beauty and body radiance
May support: radiant skin, healthy tissue, gentle detox, muscle tone
Price: $28
I've heard a lot of things about tocos, but hadn't tried them until this product came on the market. It's made from Thai Jasmine rice instead of brown rice, and it's amazing! I absolutely love how creamy it makes my matcha, I adore the delicately sweet flavor and I honestly think it's helped my skin. It's one of those products that you can use in pretty much everything (including DIY beauty products) and it will quickly become a staple in your tonic pantry.
---
Sun Potion Lion's Mane
Overall benefit: brain & nervous system tonic
May support: memory, mental clarity, enhanced concentration, balanced mood, athletic recovery
Price: $53
For me, Lion's Mane has become my favorite mushroom. I can immediately notice a difference if I have it in the morning vs. not and I adore it. I add it into my matchas and it helps me focus and stay clear. It doesn't have any sort of flavor – which means you can add it to pretty much everything – and a little goes a long way. I use just 1/2 teaspoon in my matcha and it's plenty! One thing to note is that Lion's Mane is a mushroom, so if you have a fungi allergy, this is one you'll have to pass on.
---
Sun Potion Pearl Powder
Overall benefit: support your inner and outer radiance
May support: body's natural collagen production, clear & even skin, bone strength, nervous system, healthy sleep cycles
Price: $57
I'll be honest and tell you I bought this mostly because I was intrigued by the idea of consuming pearl, but after using it for about a month all I can say is WOW! I love it! Really, really love it. I use a very small amount in my matcha, but I have noticed a difference in my skin tone, radiance, and health. My skin is clearer and I feel like my hair and nails are stronger. I take it in the morning, so I don't know how it impacts my sleep cycles, but I'm a great sleeper so it can't be hurting!
---
Sun Potion Triphala
Overall benefit: ayurvedic digestive tonic
May support: gentle cleansing, regularity, weight balance
Price: $43
I've talked a lot about my digestive issues over the years, so I like having remedies I can turn to when I need a little extra support. Triphala is a blend of three fruits that have been shown to strengthen and tone the digestive system, without stripping away any nutrients. Triphala is designed to be taken before bed in a little warm water and it should assist in you going to the bathroom in the morning. It's not a laxative, but it will help get things moving! I don't take it every day, but use it more as a supplement when I'm feeling like my digestive system could use some extra lovin'!
---
Sun Potion Raw Cacao Powder
Overall benefit: nourishes the brain and nervous system
May support: cognitive health, heart health, reduce stress and anxiety
Price: $20
By now you probably know how obsessed I am with chocolate, right? Well if you don't, here's the deal: I have some form of chocolate every single day and most days I start with a chocolate smoothie bowl. Not only do I love the taste of chocolate, but I also love its nutritional benefits. Especially raw cacao powder. Raw cacao hasn't been heated so it retains all the essential vitamins, minerals and antioxidants that are found in the cacao plant. This is a powder you can use for any and everything including smoothies, hot chocolates, baking, oatmeal, etc. It's delicious!
---
Sun Potion Product Review: What To Skip
As with any company, there are also going to be some products that you can skip. While I haven't tried every single one on this list, I'm putting them on here as a "skip" because there are brands with just as high-quality products that sell the same product for less money. Here are the products I think you can skip from Sun Potion:
Matcha: the matcha is expensive and not great. My favorite brand is Ipoddo, which you can find on Amazon, and it's far less money and much higher quality.
Ashwagandha: I feel like this is one of the adaptogens they're famous for, but I despise the flavor. I think it's super bitter, it's overpowering and I just can't get over the taste. I've stopped taking ashwagandha for this reason and instead have it incorporated into my adrenal health supplement.
Chaga: I get mine cheaper from Root & Bones and it's just as good
Cordyceps: the same thing again! Root & Bones is a better value.
Pine Pollen: again, another vote for Root & Bones.
Reishi: any guesses what I'm going to say? Yep, it's Root & Bones for the win here!
If you want to try Root & Bones for yourself, use my code ("simplyquinoa") to get 15% off your order!

How to Use Sun Potion Products
Last but not least, how do you actually USE these products?! As you read in this post, I use them mainly in my matchas and my smoothies. Since I eat/drink both of those every day, it's an easy place for me to slip in my adaptogen powders.
If you aren't a matha drinker, you can add them to coffee, turmeric lattes, hot chocolate or any other warm drink that you might blend. Other options are stirring them into your morning oatmeal, mixing them with some almond milk or even adding them into energy balls/bites. Really, you can sneak them in wherever is easiest for you!
Now… do you have any questions about adaptogens you want me to answer? If so, I'd love to hear from you in the comments!