A power-packed green quinoa bowl tossed in an avocado and hemp seed pesto. It's a filling, nutritious and seriously flavorful plant-based lunch or dinner!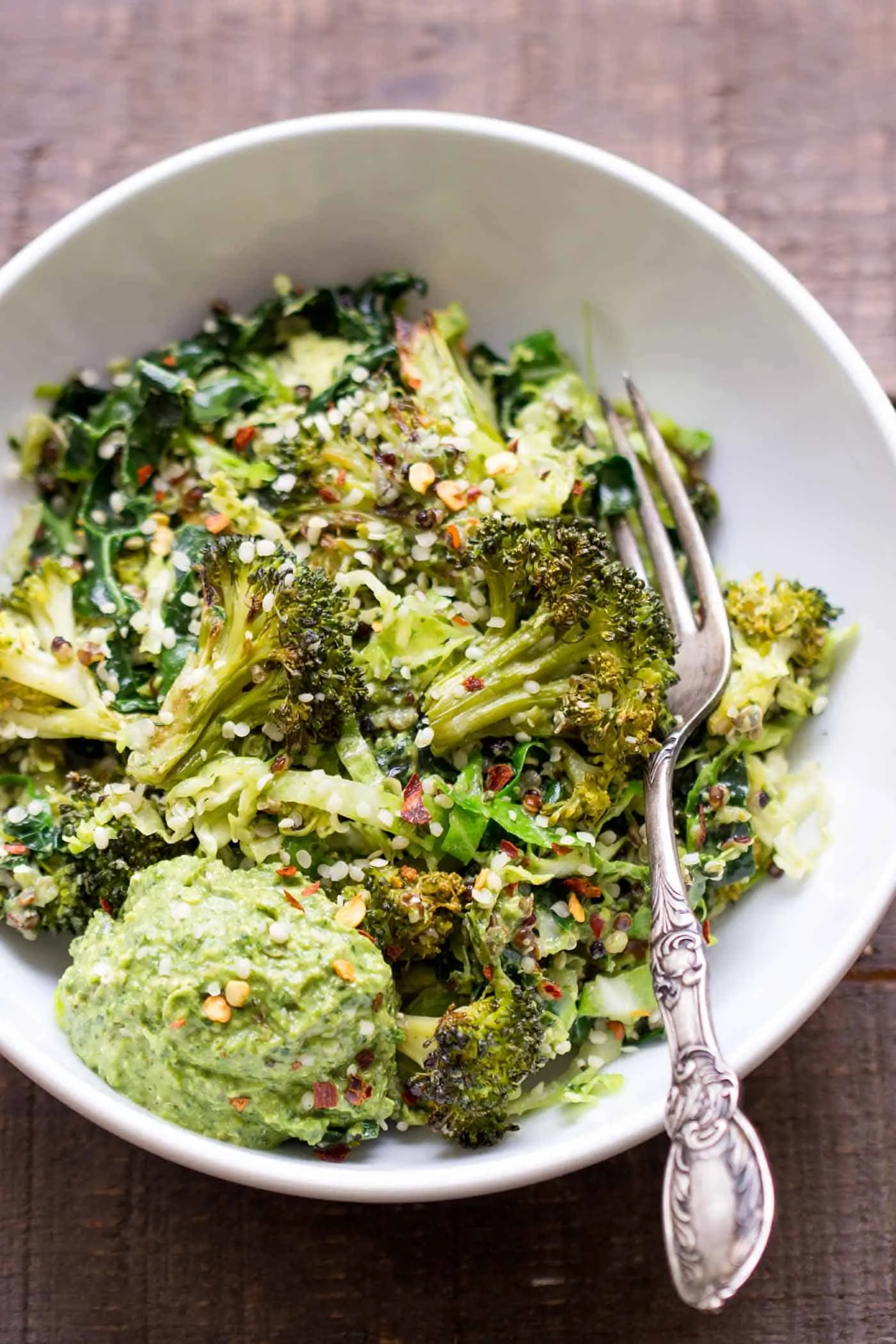 Sometimes it's easy to get down during the winter.
I mean right now it's literally -5ºF out, there's a dusting of snow on the ground and it's not even sunny. Everything looks cold and dead outside and it's hard to not think about the abundance of summer. Green grass, colorful flowers and fresh produce galore. Okay…now I'm just torturing myself.
But on the bright side, there is some fabulous produce that grows all winter long. And I've packed some of my favorites into this tasty green quinoa bowl.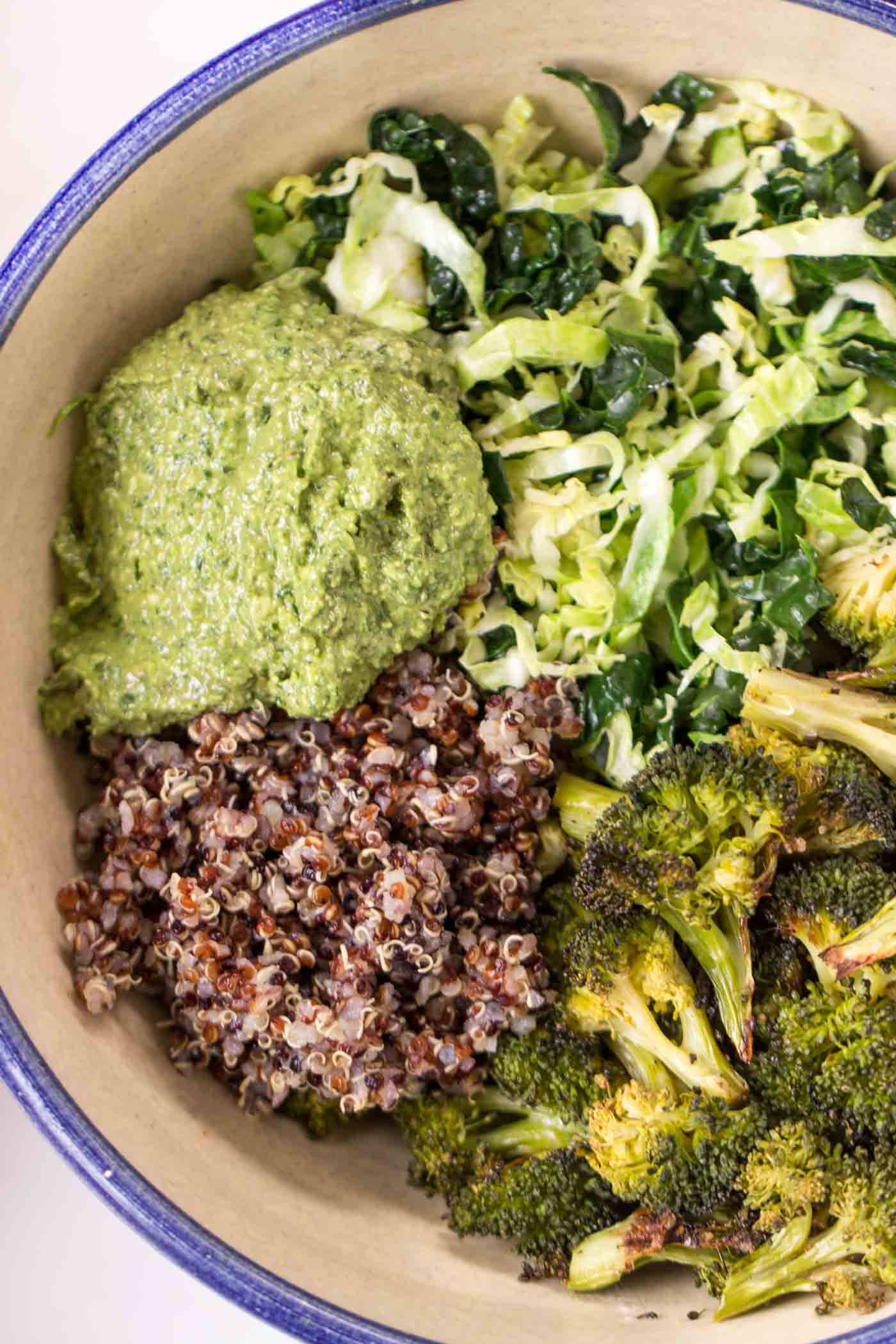 This bowl is everything. All those lovely green things that make winter a bit more tolerable tossed together to make a warm, seasonal salad. Served in a bowl. Because food in bowls = true love.
We've got kale. brussels sprouts. roasted broccoli. quinoa. AND homemade hemp seed pesto made with Bob's Red Mill hemp hearts.
Is there anything better than freshly made pesto? Actually, scratch that. Don't answer that. I know there probably is something better than homemade pesto, but when I was making this recipe it was the best thing since…well, anything. I was eating it by the spoonful. I'm actually lucky I had enough left to make this salad…
Kind of like when I have a jar of nut butter in front of me. The spoon just magically finds my hand. And then it's dip, dip, dip. Can't. Stop. Won't. Stop.
Same thing with this pesto. I could eat it all day long.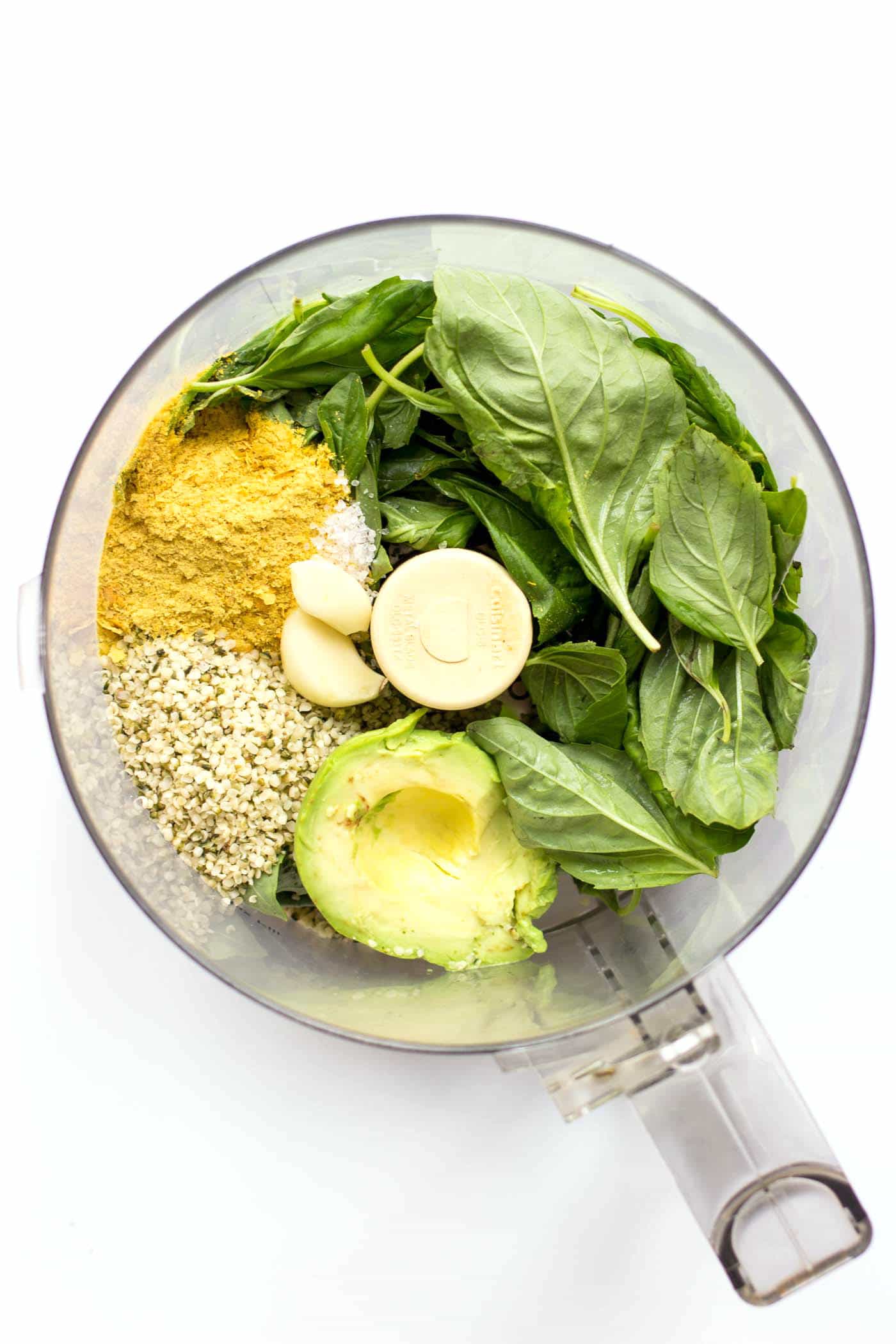 What's so freaking fabulous about pesto is how adaptable it is. You can make it any which way you please as long as you have a few of the basics in place. Most foods aren't like that (well, besides quinoa). They have their place or formula and when you veer too far off course things start to get a little strange.
This pesto though, I didn't venture too far. There's my basil, my garlic, my lemon and my salt and pepper. (the basics) But how I changed things up was by adding in some avocado and hemp seeds.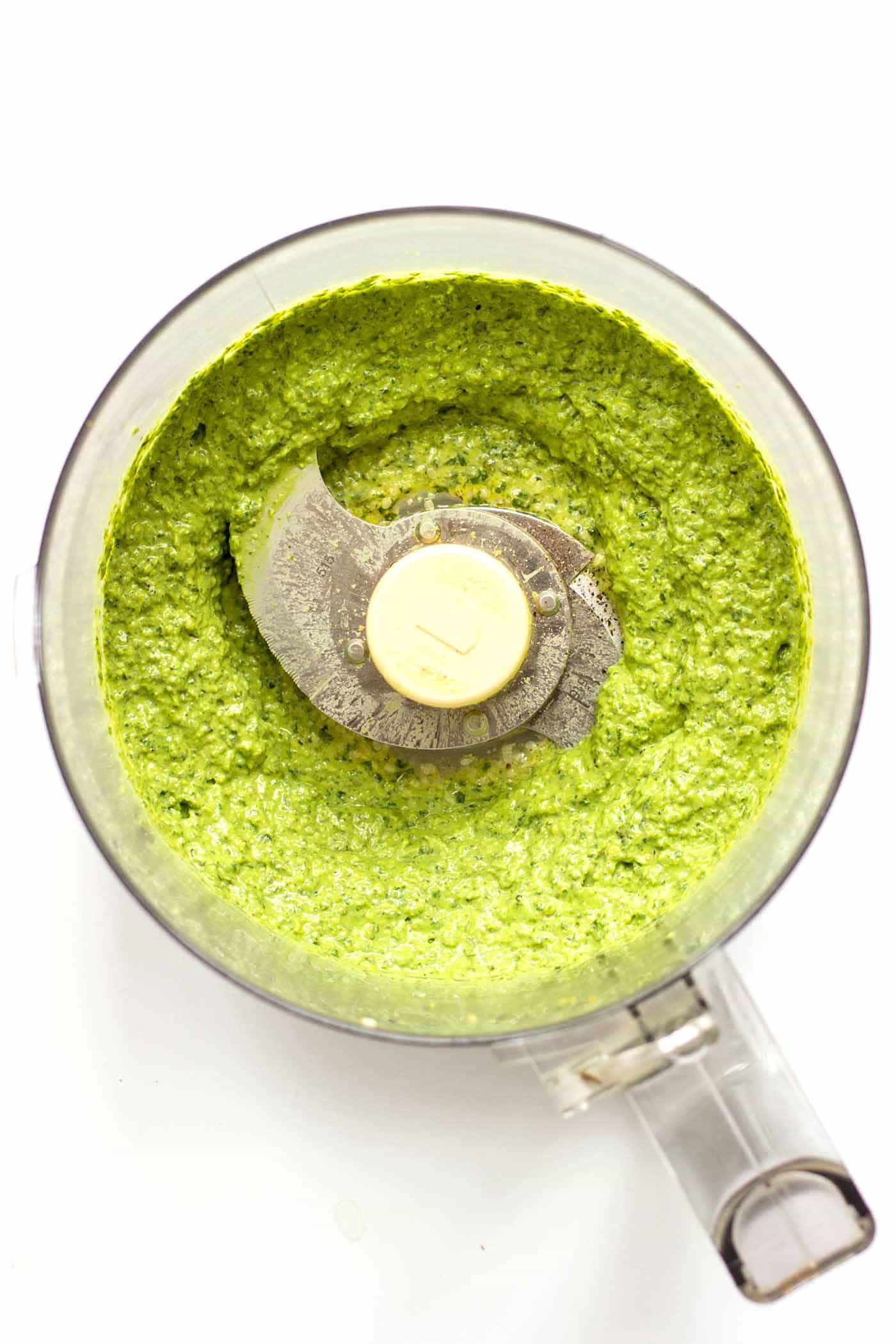 This was my first time making pesto with avocado. Why have I not done this before? I add avocado to everything else! It's amazing. Plain and simple. There's a creaminess that you would never get from straight oil, it carries the flavors of everything else  and you're also able to cut down the fat and calories of traditional pesto since you don't need as much oil.
So avocado, awesome.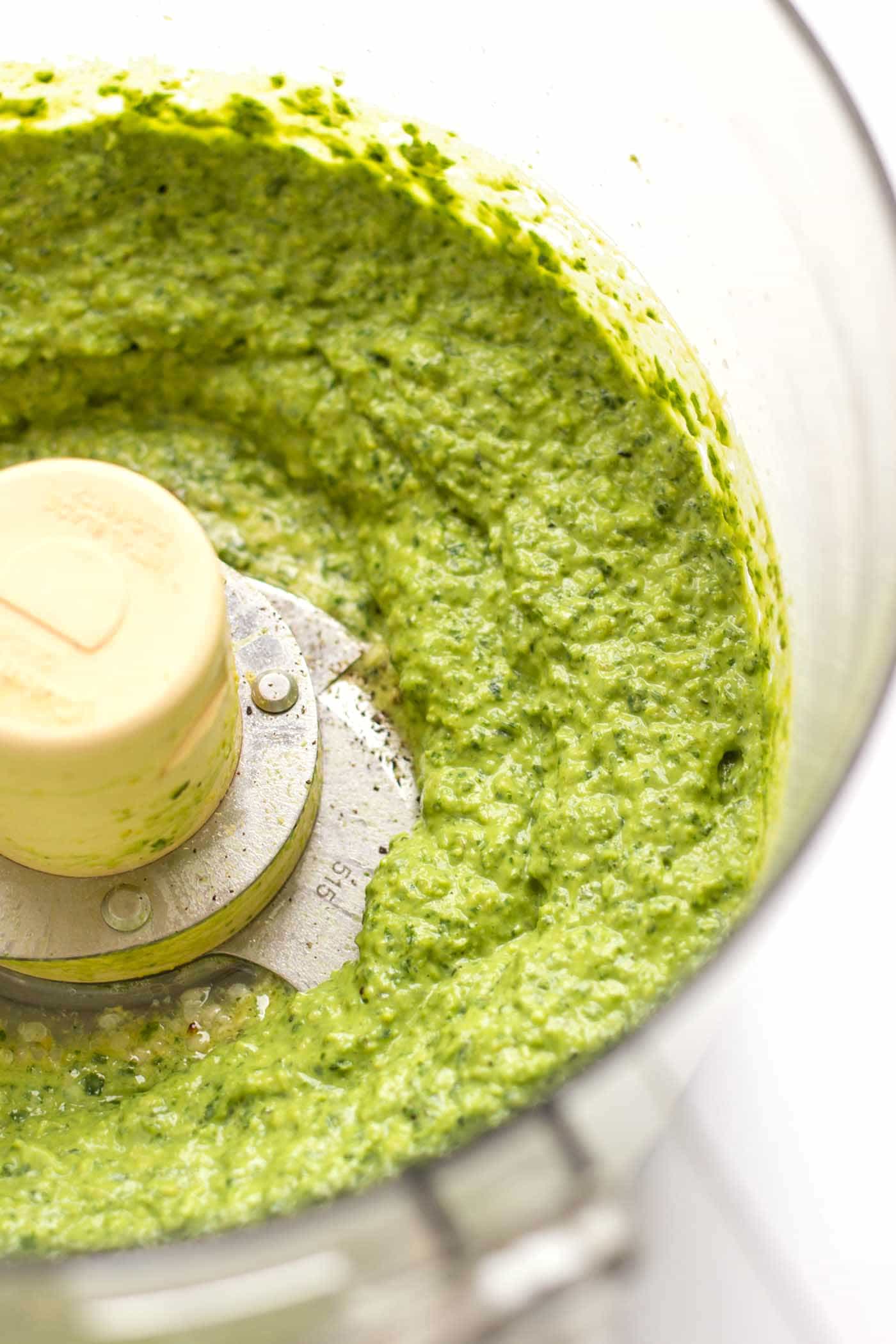 Next is the hemp seeds. Like I mentioned before I used Bob's Red Mill hulled hemp hearts which are delish. The flavor is perfect, I know they're high quality and it's a brand that I believe in and trust. Not to mention I'm on a real tear with hemp seeds lately.
I'm putting them onto everything. Especially my bowls. They're the easiest addition to pretty much any meal and pack on some major benefits in the nutrient department.
One thing to note: while hemp seeds do come from the hemp plant, which also produces the somewhat infamous recreational drug, hemp seeds are NOT going to make you feel high or loopy. Instead they're going to infuse your body with some pretty amazing vitamins and minerals.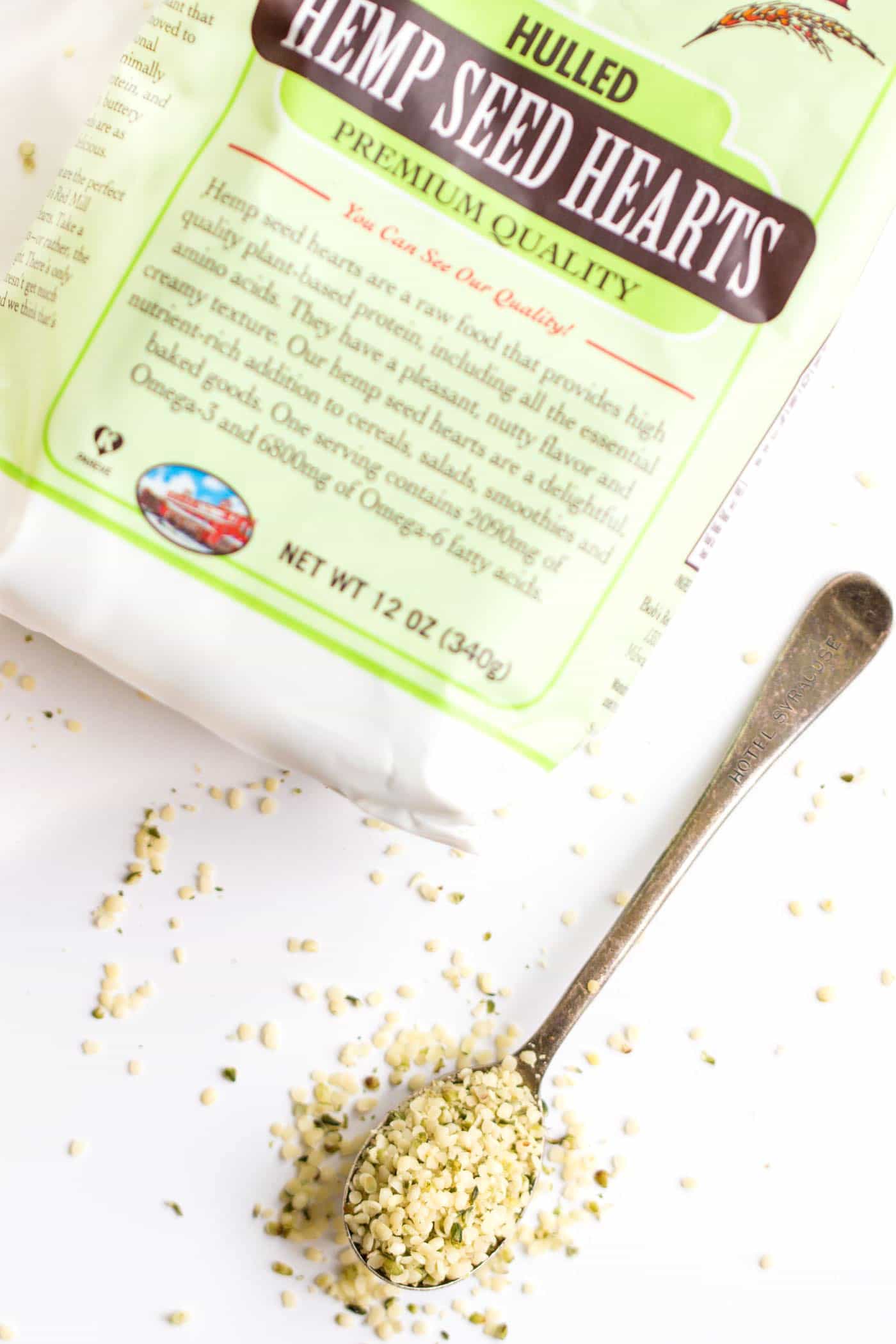 Here's why I LOVE hemp seeds (and I know you will too):
High in easily digestible protein. 4 tablespoons of hemp seeds has 15g of protein AND it's so much easier to digest than meat, dairy, eggs, legumes and even grains.
Excellent source of Omega fatty acids. Our bodies can't produce the acids naturally so we have to get them from food and hemp seeds have BOTH!
Have all 20 amino acids. Yep, hemp seeds contain 20 (that's 2-0!) amino acids, including the 9 essential amino acids that our bodies can't produce naturally.
High in vitamins and minerals. Hemp seeds have a bunch of vitamins: A, B1, B2, B3, B6, D and E as well as minerals like: iron, calcium, phosphorus, magnesium, manganese and zinc.
Packed with soluble and un-soluble fiber. Which means these seeds are great for digestive health and can also help curb sugar cravings.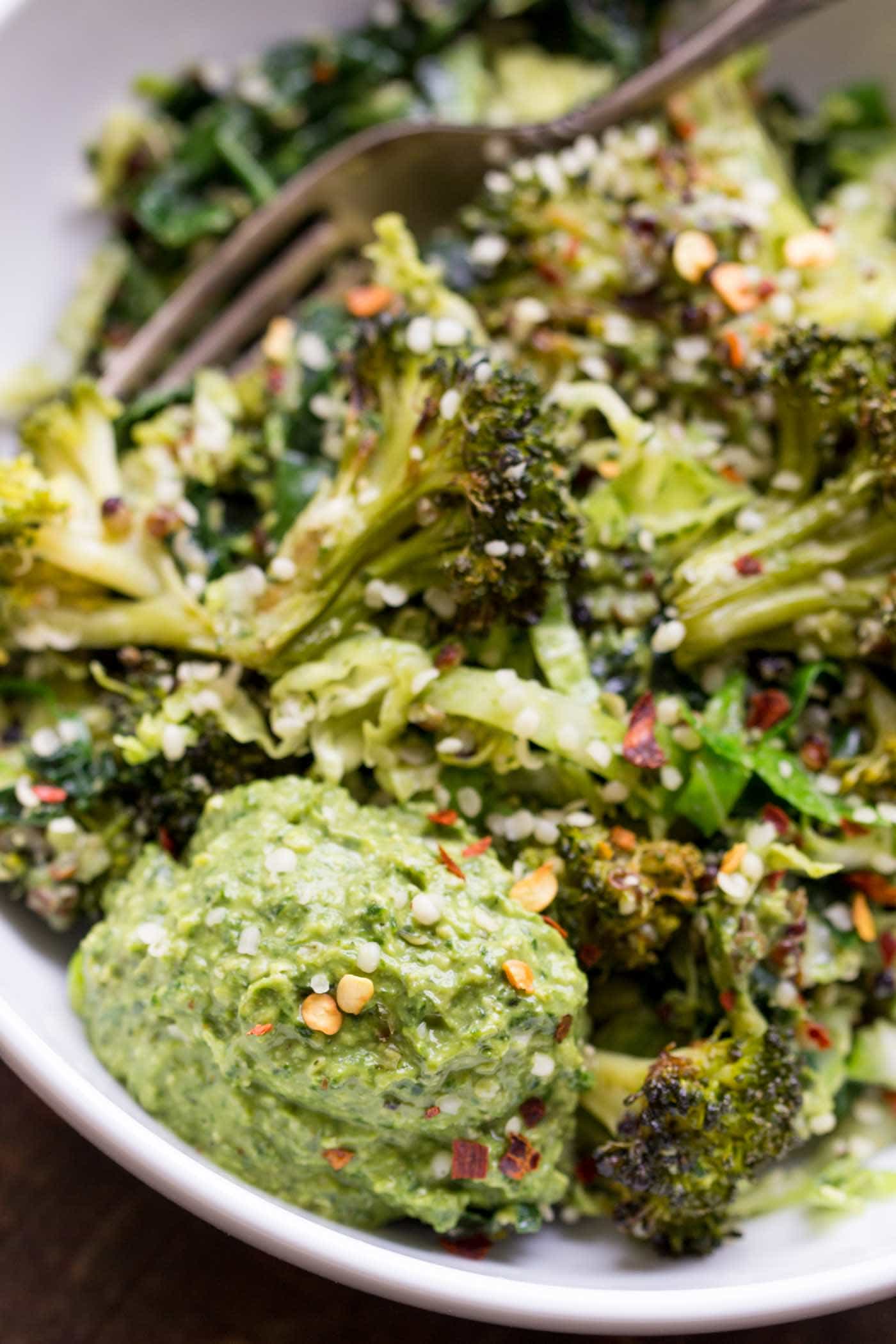 For the pesto, the hemp seeds are basically just taking the place of the pine nuts. While you don't get the exact same buttery flavor you would from pine nuts, the hemp seeds do make it a teeny bit nutty and also a little crunchy, which I really love. And plus you're getting the benefits from the avocado, hemp seeds AND the nutritional yeast (which is also high in vitamins, minerals and protein).
Basically this should be our go-to pesto from now until forever.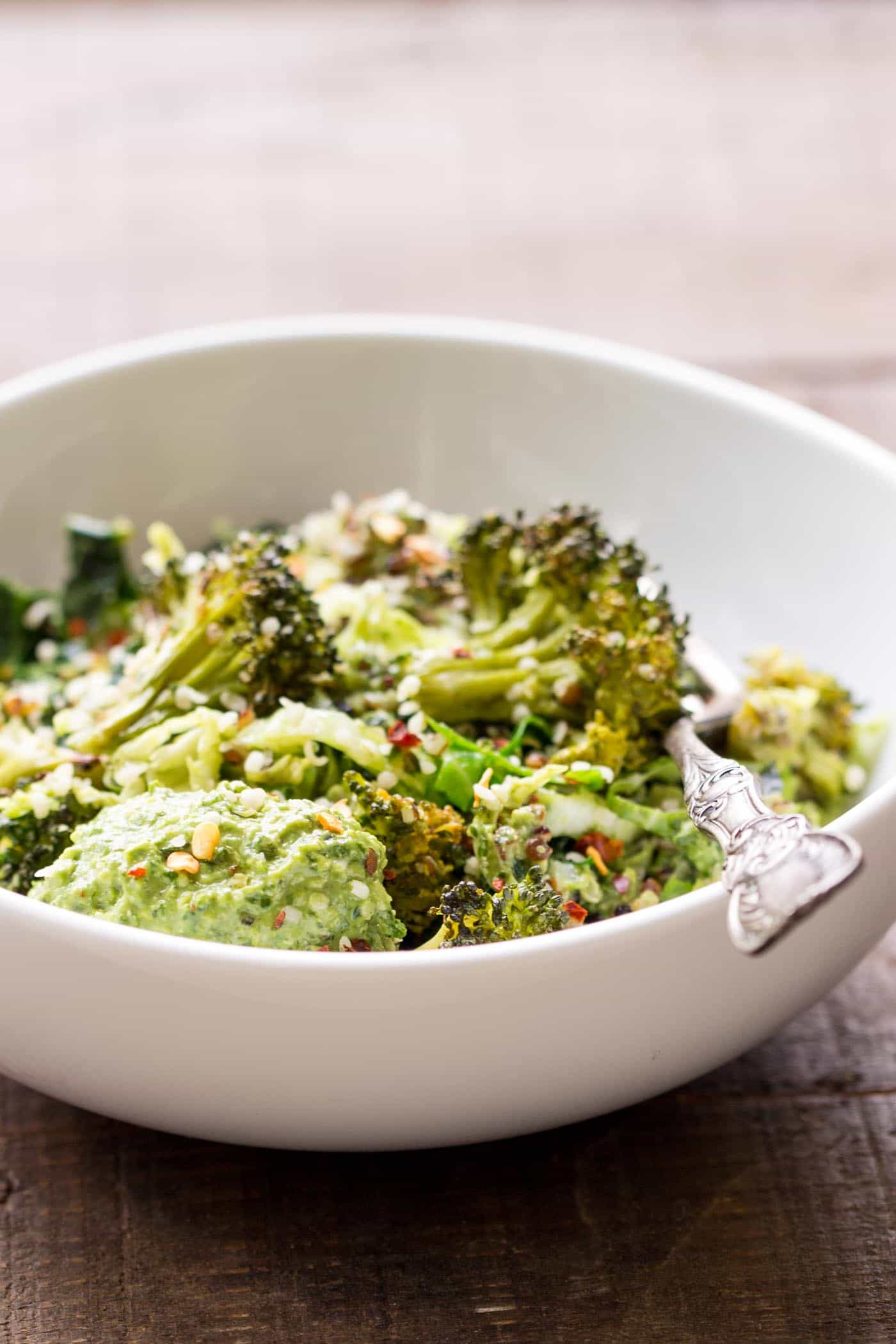 And on that note, I'll just leave you with this: a simple, nourishing and flavorful warm quinoa bowl that full of wintery green goodness. Let's celebrate this otherwise bitter time of year and rejoice in the fruits (or veggies) of the season!
Your turn…
Have you tried hemp seeds before? If you have, what is your favorite way to add them to your meals? I'd love to get some more inspiration for my own recipes!
And of course, if you're looking to pick up a bag of hemp hearts for yourself, I highly recommend that you take a peek at the ones from Bob's. I love them and I know you will too.
xx Alyssa
More Healthy and Cozy Winter Recipes to try:
Super Green Quinoa Bowls with Hemp Seed Pesto
A simple, nourishing and flavorful warm quinoa bowl that full of wintery green goodness. Let's celebrate this otherwise bitter time of year and rejoice in the fruits (or veggies) of the season!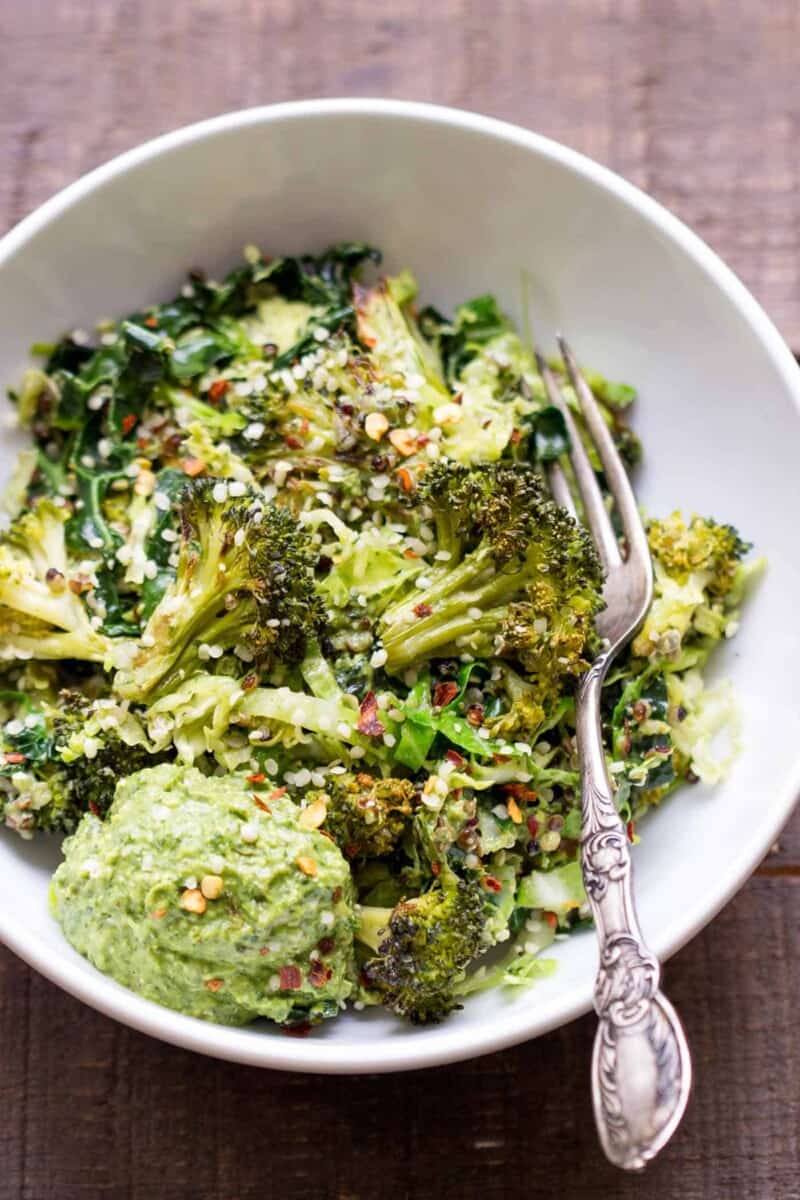 Ingredients
for the salad

2

cups

chopped broccoli

3

cups

finely chopped kale

3

cups

shredded brussels sprouts

1/2

cup

cooked quinoa

1/3 - 1/2

cup

pesto

3

cups

basil

1/2

avocado

1/4

cup

hemp seeds

2

tablespoons

nutritional yeast

2

garlic cloves

1

tablespoon

lemon juice

1/4

cup

olive oil

2 - 3

tablespoons

water

to reach desired consistency

Salt + pepper to taste
Instructions
Preheat the oven to 400ºF. Add broccoli to a sheet pan and drizzle with olive oil. Roast for 20 - 25 minutes until the broccoli is starting to brown.

While broccoli is roasting, make the pesto. Add the basil, avocado, hemp seeds, nutritional yeast, garlic and lemon to a food processor and process until combined. With the processor running, drizzle in oil and then water 1 tablespoon at a time until you reach the desired consistency.

Once the broccoli is done, remove and let sit while you prepare the remainder of the salad.

In a large skillet over medium heat, quickly saute the kale and brussels sprouts (either with olive oil or water, your choice). Cook until just tender, about 2 minutes.

Transfer kale and brussels sprouts to a large bowl and add the quinoa, broccoli and 1/3 cup of pesto. Mix together with tons or forks until pesto is evenly distributed throughout the salad. Add more pesto if needed to coat.

Transfer to serving plates and garnish with additional hemp seeds and red pepper flakes if desired.
Nutrition
Calories:
522
kcal
|
Carbohydrates:
26
g
|
Protein:
17
g
|
Fat:
41
g
|
Saturated Fat:
5
g
|
Cholesterol:
2
mg
|
Sodium:
417
mg
|
Potassium:
936
mg
|
Fiber:
8
g
|
Sugar:
3
g
|
Vitamin A:
7495
IU
|
Vitamin C:
164.7
mg
|
Calcium:
239
mg
|
Iron:
5.8
mg
Filed Under: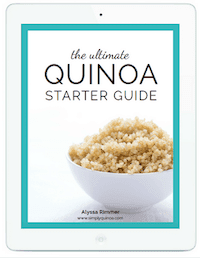 New to cooking quinoa? Grab your FREE Quinoa Starter Guide!
Become part of the Simply Quinoa community and receive weekly emails with exclusive content that I only share in email, as well as my in-depth guide to starting your quinoa journey.
Love quinoa served in bowls??
Follow my board on Pinterest!