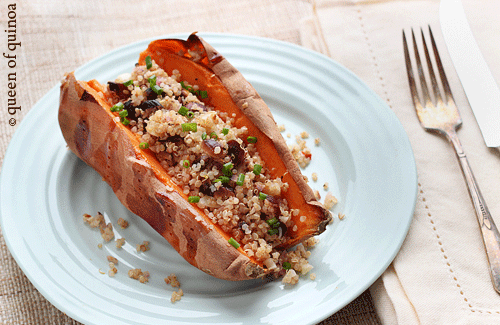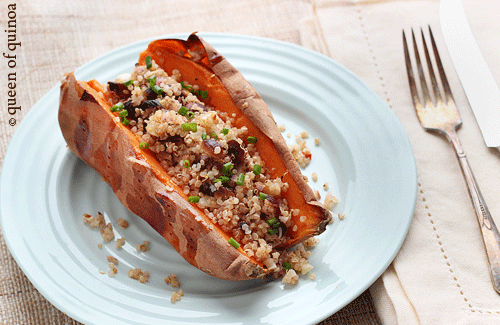 Welcome to Thank Goodness it's Quinoa! The first ever link party celebrating quinoa and all its wonderfulness. 2013 being the International Year of Quinoa and all, I could think of no better way to commence this exciting time than with a celebration like this.
A few reasons why I decided to start this event:
I love quinoa and I know you do too. It was time to create a space where we could all come together and share our love for this amazing food.
Inspiration. We now have one place where you can be inspired to incorporate this healthy food into your everyday diet.
I see tons of quinoa recipes all over the web (I even have a Pinterest board dedicated to quinoa) and wanted to create one repository on this site where you can come back and find delicious recipes.
Celebrate the Year of Quinoa in style and increase visibility for this nutritious superfood.
So far, 2013 hasn't had much quinoa yet from Queen of Quinoa. I used it a ton before the holidays (with my Week of Quinoa Christmas Cookies), but I haven't shared a quinoa recipe yet. But that's all about to change. We're here to talk quinoa and I can't wait to see what you all have to share!
Linking Up Guidelines:
Please link to your individual post, not your homepage. We want everyone to be able to find the recipes!
Include a link back to TGIQ somewhere in your blog post. Recipes that do not include a link back will not be eligible for next week's highlights.
Recipes must contain quinoa in some way. I encourage creativity – any way that you use quinoa (from whole quinoa to quinoa flakes to quinoa flour, etc.), it's welcome! The hope is to inspire other people to use quinoa in new and different ways.
Recipes do NOT have to be gluten-free – or allergy free – they just have to use quinoa in some way.
When you add a link, leave a comment below the post. Tell us what you're linking, why this recipe is so awesome, really anything you want to share!
Thank you for stopping by Thank Goodness it's Quinoa! I'm excited to see your recipes and to find inspiration in your cooking!
My submission this week is these Quinoa Stuffed Sweet Potatoes.