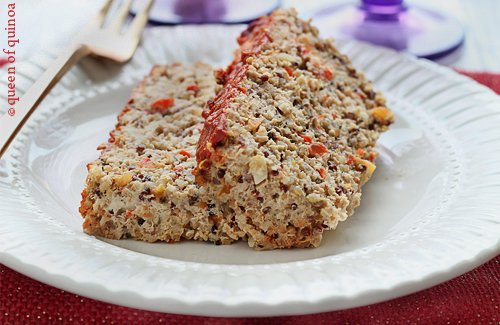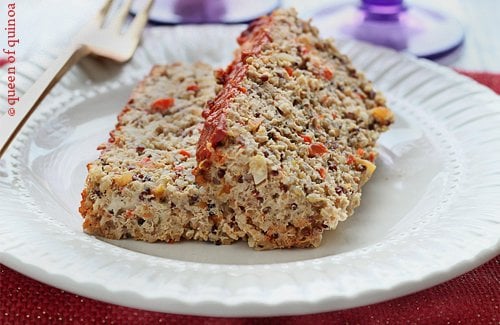 Welcome back to TQIG – the bi-weekly link party celebrating all things quinoa! We had a great first showing, with lots of  delicious recipes and fun tips for cooking quinoa. And I'm even more excited to see what this week brings! So let's start sharing some quinoa recipes, shall we?
This week I'm entering one of my favorite savory quinoa dishes, healthy quinoa meatloaf. Although quinoa might not be the star of this dish, it's exactly how I enjoy using it in my cooking. Adding this all-star ingredient to meals to make them healthier and gluten-free, meaning safe and delicious for me and my family to eat.
Highlights from the last TGIQ
My Favorite: Ginger Quinoa Granola by Meg from Beard & Bonnet
Reader Favorite: Quinoa Bakes – Pizza Style by Sarah from Celiac in the City
Linking Up Guidelines:
Please link to your individual post, not your homepage. We want everyone to be able to find the recipes!
Include a link back to TGIQ somewhere in your blog post. Recipes that do not include a link back will not be eligible for next week's highlights.
Recipes must contain quinoa in some way. I encourage creativity – any way that you use quinoa (from whole quinoa to quinoa flakes to quinoa flour, etc.), it's welcome! The hope is to inspire other people to use quinoa in new and different ways.
Recipes do NOT have to be gluten-free – or allergy free – they just have to use quinoa in some way.
When you add a link, leave a comment below the post. Tell us what you're linking, why this recipe is so awesome, really anything you want to share!
Thank you for stopping by Thank Goodness It's Quinoa! I'm excited to see your recipes and to find inspiration in your cooking!