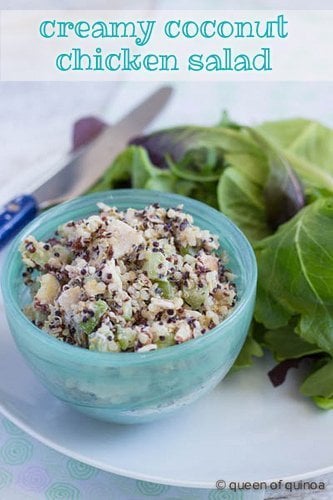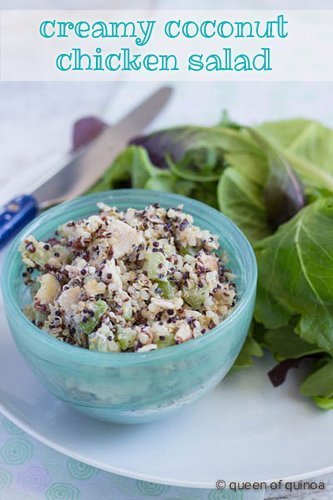 Welcome back to TGIQ – the bi-weekly link party celebrating all things quinoa!
This has been a crazy week for me so far. We just moved to NYC, so I'm slowly getting settled into our new life here. Working from home is a huge adjustment. There's pros, like being able to wear yoga pants and sweatshirts all day long. But there's also cons – I'm by myself all day long with no one to talk to. It's a little lonely, but I know I'll get used to it!
Okay, so back to quinoa. I actually haven't had an ounce of quinoa all week long. That's insane to me. I've been doing a quick, week-long slim down and it includes removing all carbs (minus fruits) – lots and lots of veggies and lean proteins. Hard, but hopefully worth it at the end. So this TGIQ extra special for me. I can't wait to see what fabulous quinoa dishes you've been whipping up. I'm ready to eat vicariously through you.
Highlights from the last TGIQ
My Favorite: Single-Serving Chocolate Quinoa Protein Cake by Jessica from Desserts with Benefits
Reader Favorite: Cauliflower Quinoa Cakes by Mai-Lis from A Sunshiny Day
Linking Up Guidelines:
Please link to your individual post, not your homepage. We want everyone to be able to find the recipes!
Include a link back to TGIQ somewhere in your blog post. Recipes that do not include a link back will not be eligible for next week's highlights.
Recipes must contain quinoa in some way. I encourage creativity – any way that you use quinoa (from whole quinoa to quinoa flakes to quinoa flour, etc.), it's welcome! The hope is to inspire other people to use quinoa in new and different ways.
Recipes do NOT have to be gluten-free – or allergy free – they just have to use quinoa in some way.
When you add a link, leave a comment below the post. Tell us what you're linking, why this recipe is so awesome, really anything you want to share!
My entry this week is an awesomely healthy quinoa salad. It's a creamy coconut chicken salad to be exact. Simple and delicious!
So, you're up! What quinoa creations do you have to share this week? Thanks for stopping by TGIQ!