A list of the absolute best quinoa recipes of 2016! Recipes include pancakes, muffins, cookies, salads, snacks, stews and more. All healthy and delicious!


I can't believe we're heading into the end of 2016! Like where the heck did this year go? It feels this way every year, but dang it flew by!
This year has been pretty incredible in terms of growth for SQ. It was my second year as a full-time blogger and my business has doubled! I'm finally at the point where I can hire someone to the SQ team (!!) and I know that 2017 is going to be incredible. Stay tuned for more info on the position, but for now, let's talk which of my best quinoa recipes made the cut this year.
In last year's best of post, it was mostly sweet and heavily breakfast focused. We had breakfast cookies, breakfast bars, overnight quinoa, and muffins. This year? We're wayyyy more savory! Particularly in the quick and easy department. And you know what? I'm pumped! I personally love creating these types of recipes for you, so plan to see a LOT more in 2017. We're talking a ton more one-pot, 5-ingredient, super easy deliciousness coming your way next year 😉
If you haven't tried any of this year's best recipes yet, now you must. They're all really simple to make, healthy of course, and seriously tasty. It's hard for me to even choose my fave of the bunch!
Of course, I can't sign off without saying a HUMONGOUS thank you to YOU. Without each and every one of you, my friends, I would never be where I am right now. Your emails and comments make me smile every single day. Your pictures on social media of my recipes are just the best. And without you I wouldn't be chasing my dreams or creating healthy recipes for a living. I'm so grateful for you and if I could hug you through this invisible internet wall right now I would. You're amazing and I can't wait to share what's coming up next year!
So here we go: based on your votes and visits, here are the ten best quinoa recipes from 2016!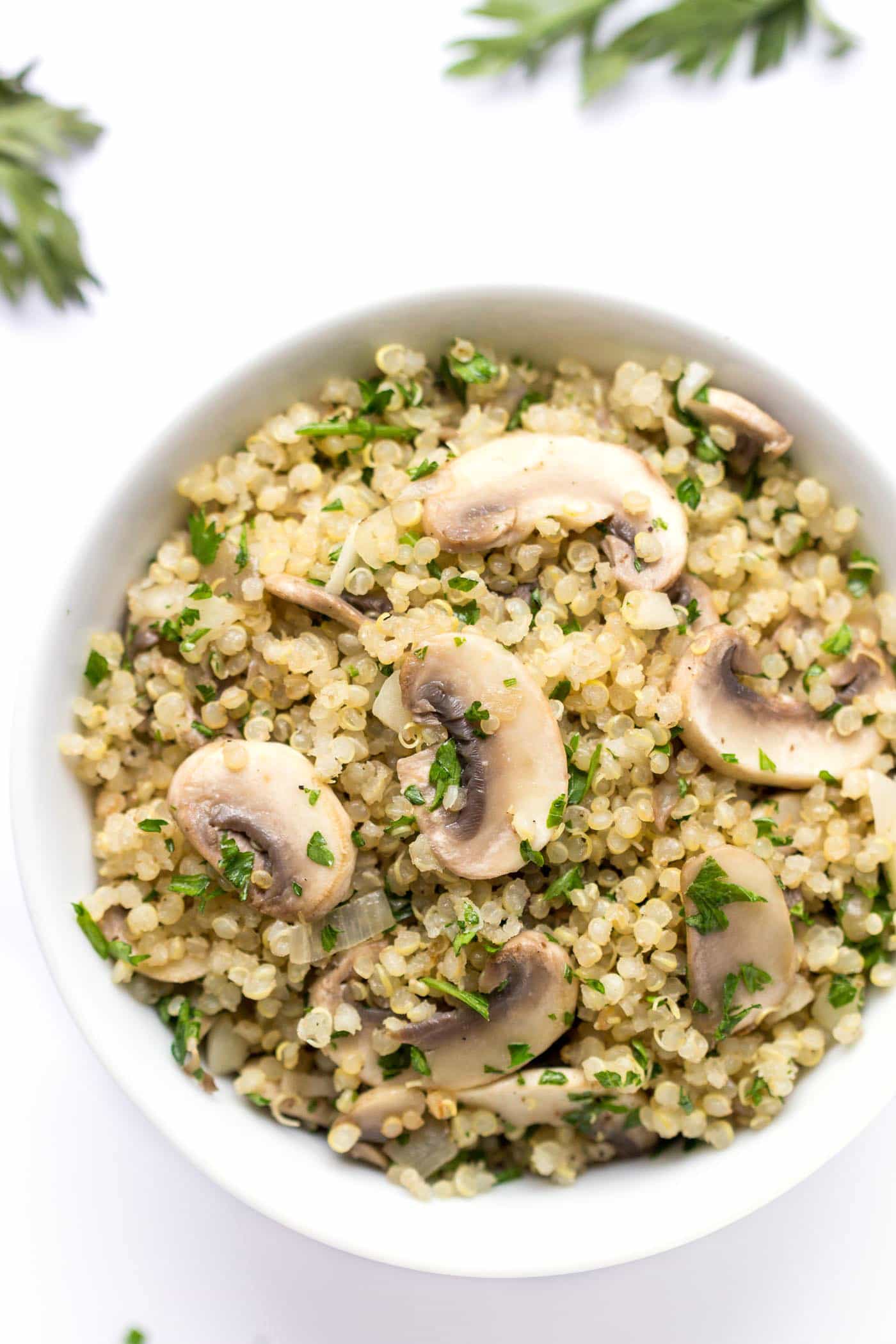 I was surprised at how tasty this recipe turned out. It was something I just threw together and just loved the flavors! What's great about this recipe is that it a) only takes 10 minutes to make and b) it goes well with so many things. You can serve it as a side dish, under your fave grilled meat OR you can just eat it as is.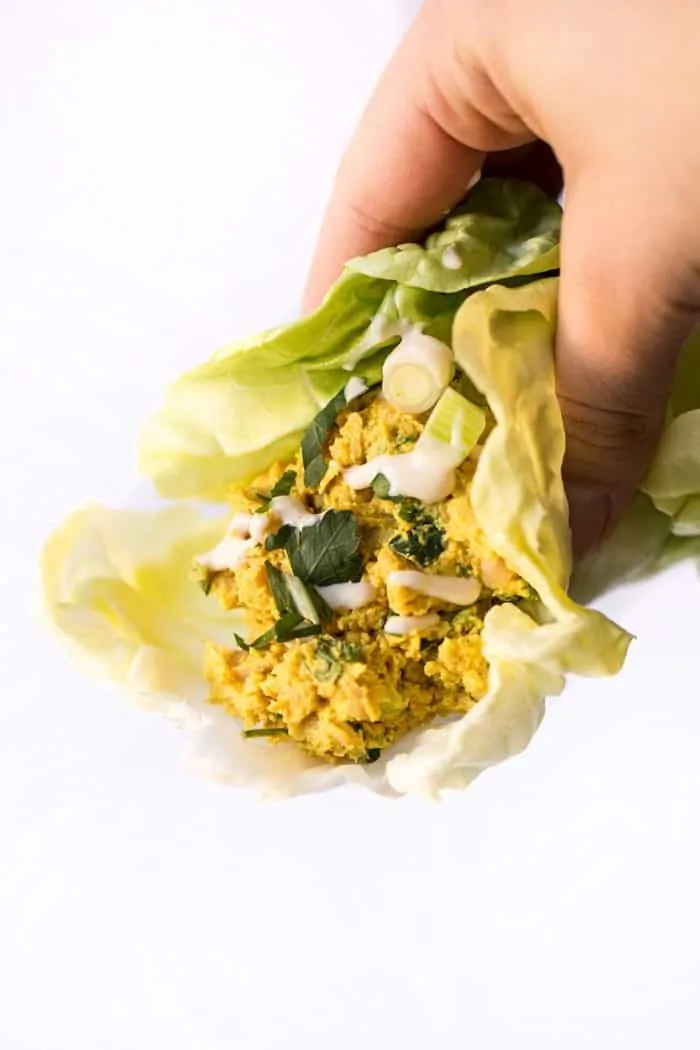 This is the perfect lunch food! You can make a big batch of the salad and then take all the fixings to your office. Protein-packed and with lots of healthy fats, so they're light, but still very filling. And I mean…who doesn't love avocado!?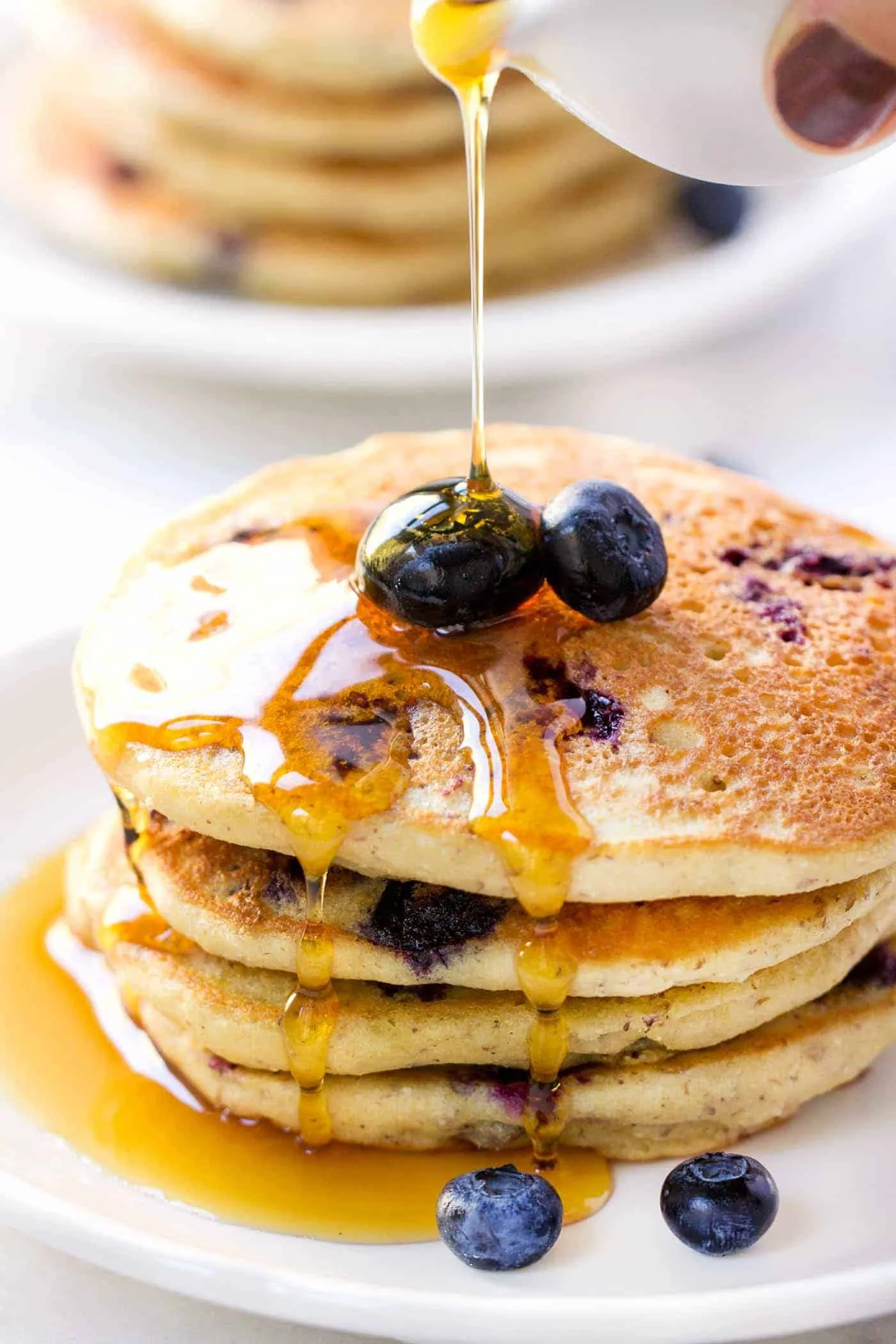 This year I finally NAILED the perfect vegan pancake recipe! These are not only fluffy and light, but they're crazy simple to make. You can also totally customize them; don't like blueberries? Add in chocolate chips, chopped banana, raspberries, etc. The possibilities are endless with these pancakes!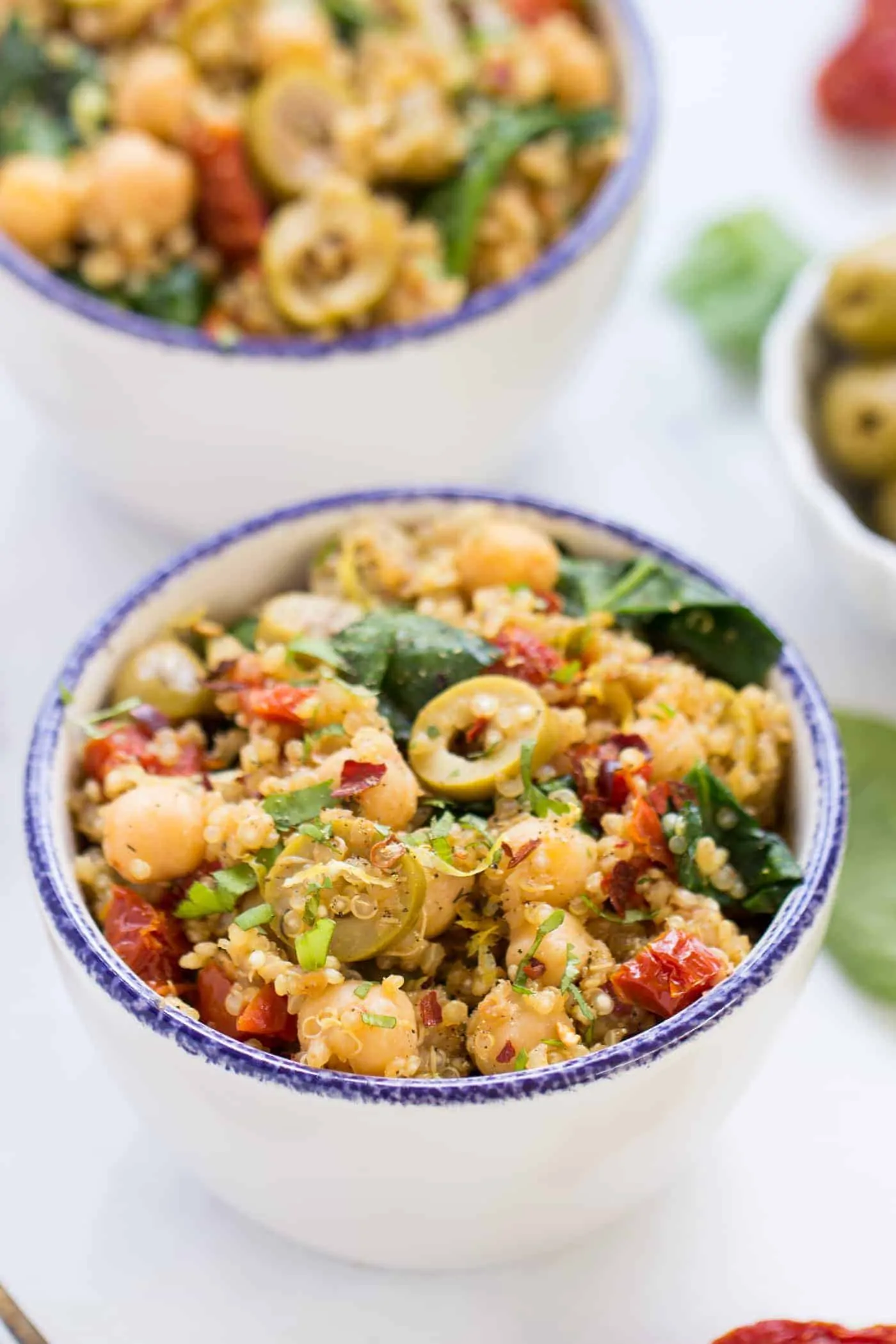 This Mediterranean Quinoa was another recipe that really surprised me! I kinda knew where I was headed with the flavor profile, but when everything came together, WOW. The dish explodes with flavor and the best part is you only have to use one pot! (ps this also makes wonderful leftovers–and is arguably better the next day–so it makes another great office lunch)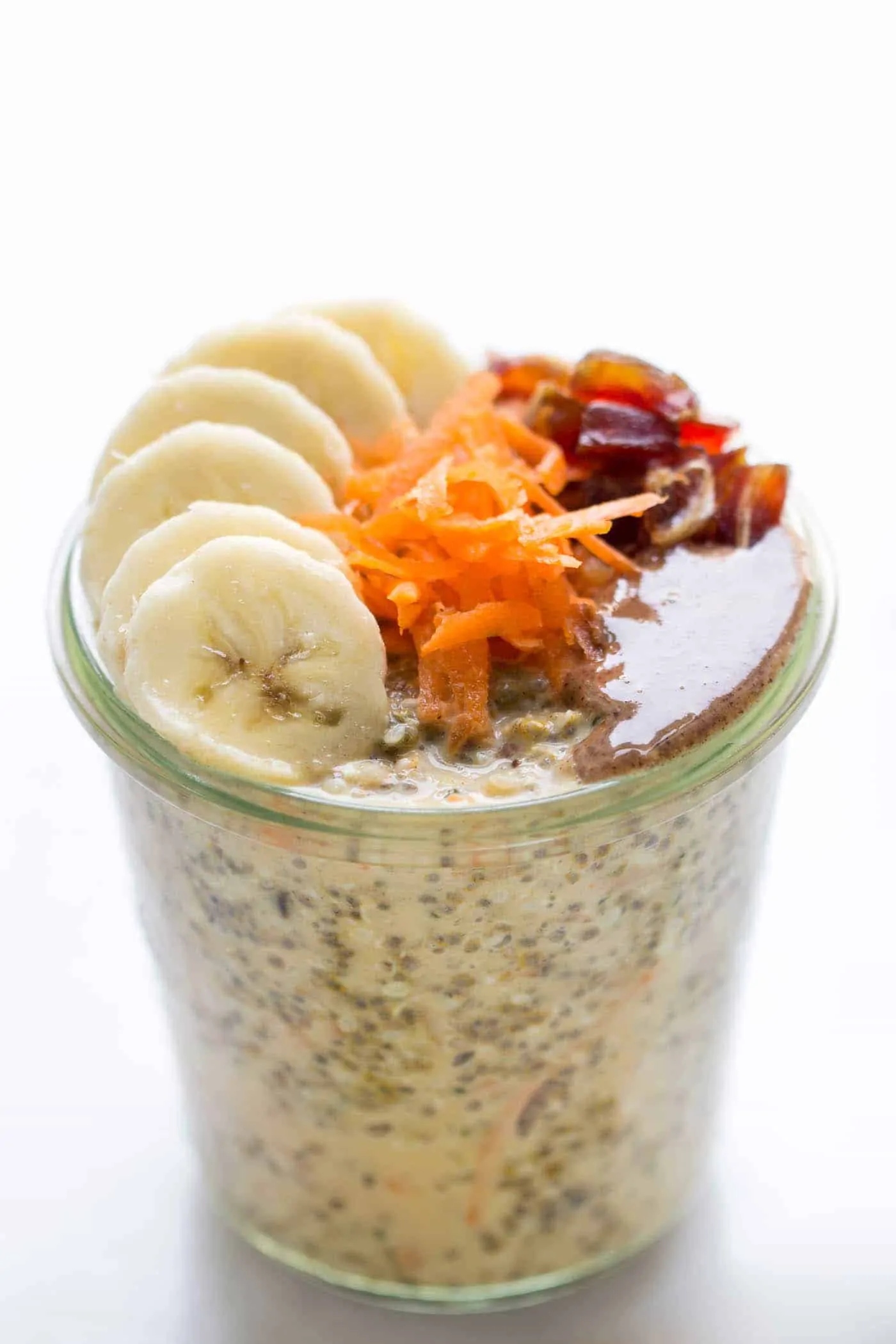 Yay! Another one of my personal breakfast favorites made the list – you guys rock! This chia pudding tastes just like carrot cake, is sweetened with maple syrup and is the perfect way to start the day (especially when you're in a rush). You can make it the night before in under 5 minutes and when you wake up in the morning? Breakfast is served!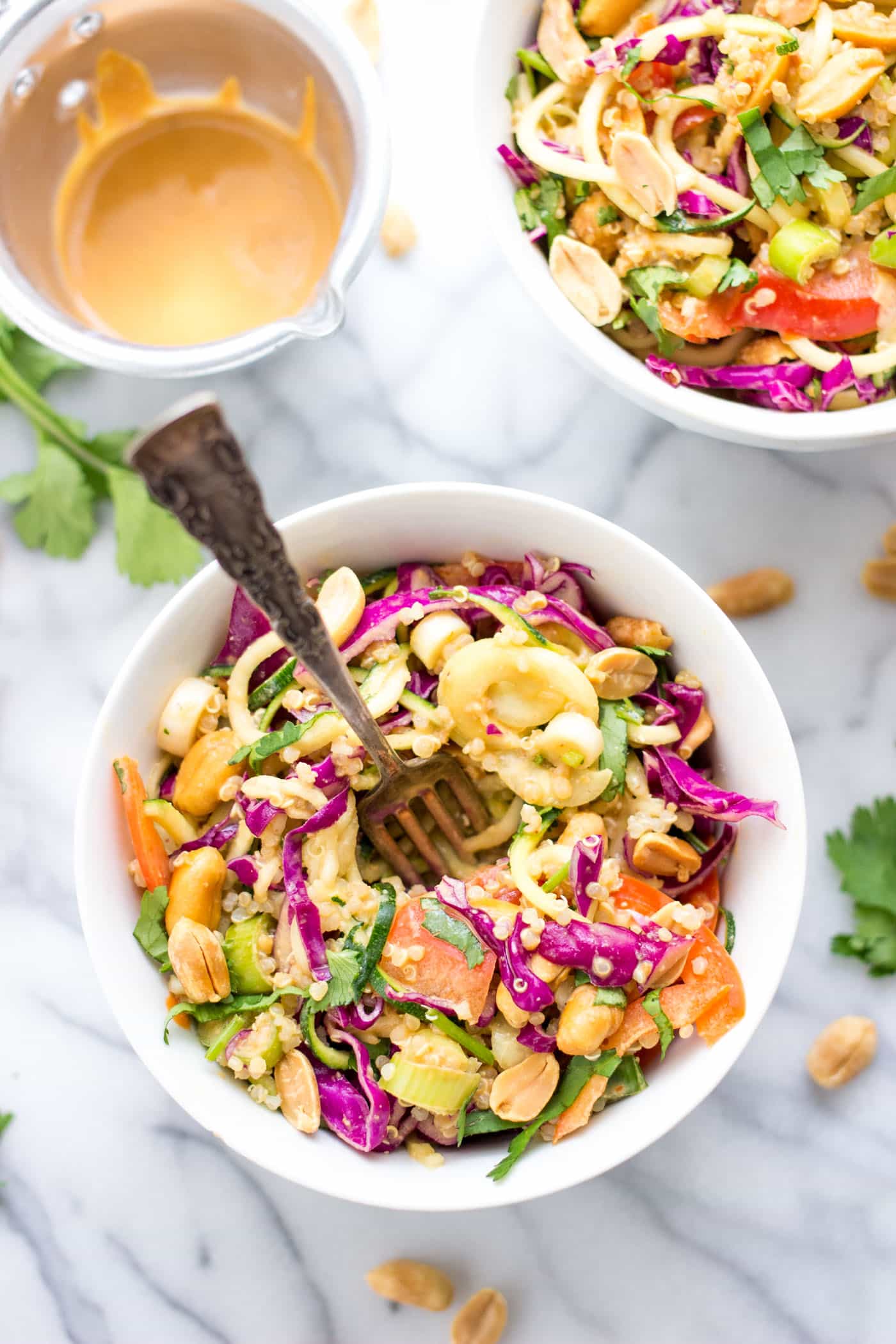 I've always loved Pad Thai, but this recipe? Takes it to the next level. Not only is it 100% plant-based, but unlike what you might find at a restaurant, this zucchini noodle pad thai is super light. This is a recipe that I personally make all the time, so if you haven't tried it yet, you MUST! You'll come back to it over and over again 🙂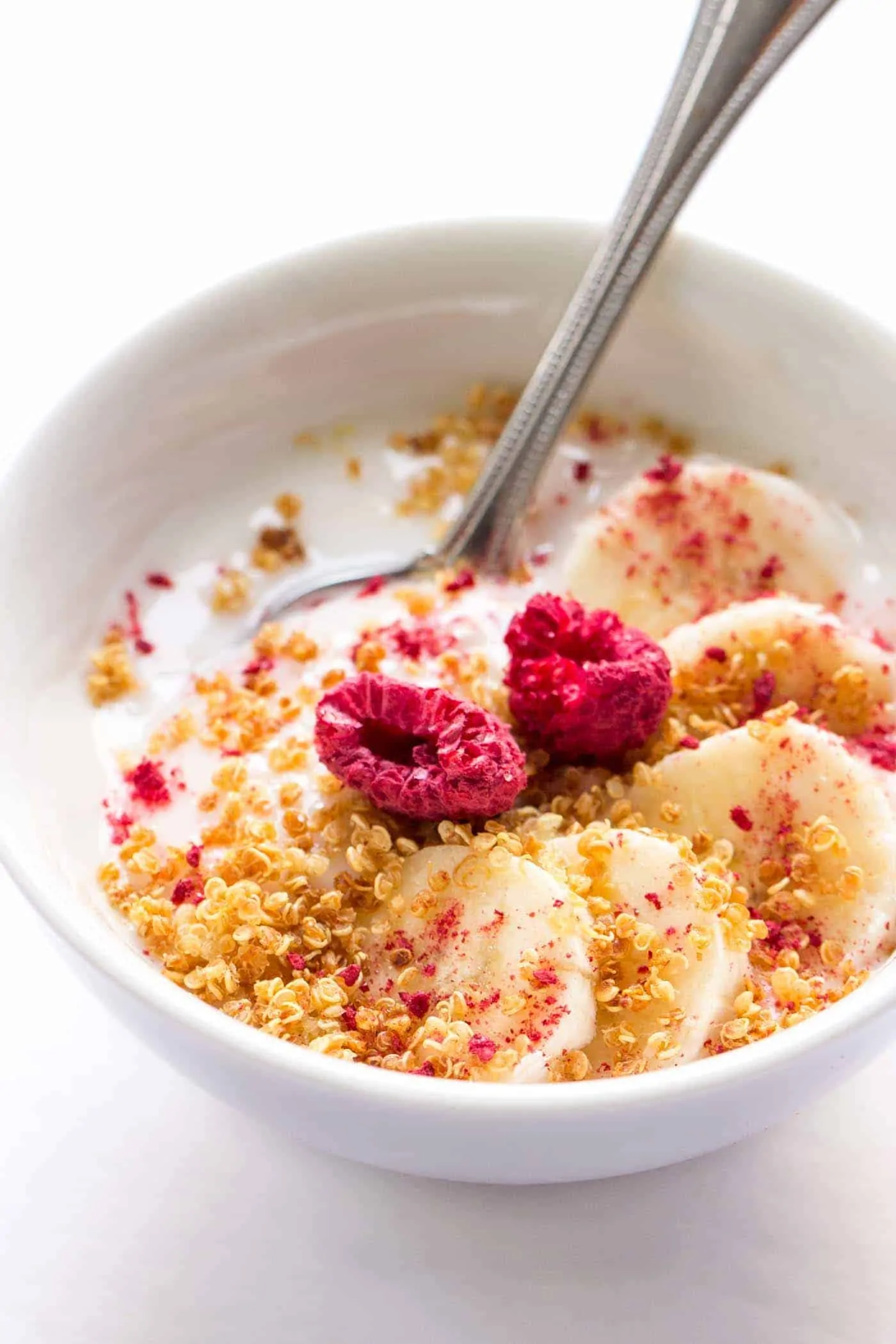 Ever have leftover quinoa you're worried might go bad? Turn it into quinoa crispies! This is more of a tutorial post rather than an actual recipe, but still holds a special place in my heart because it is really what started my love for video.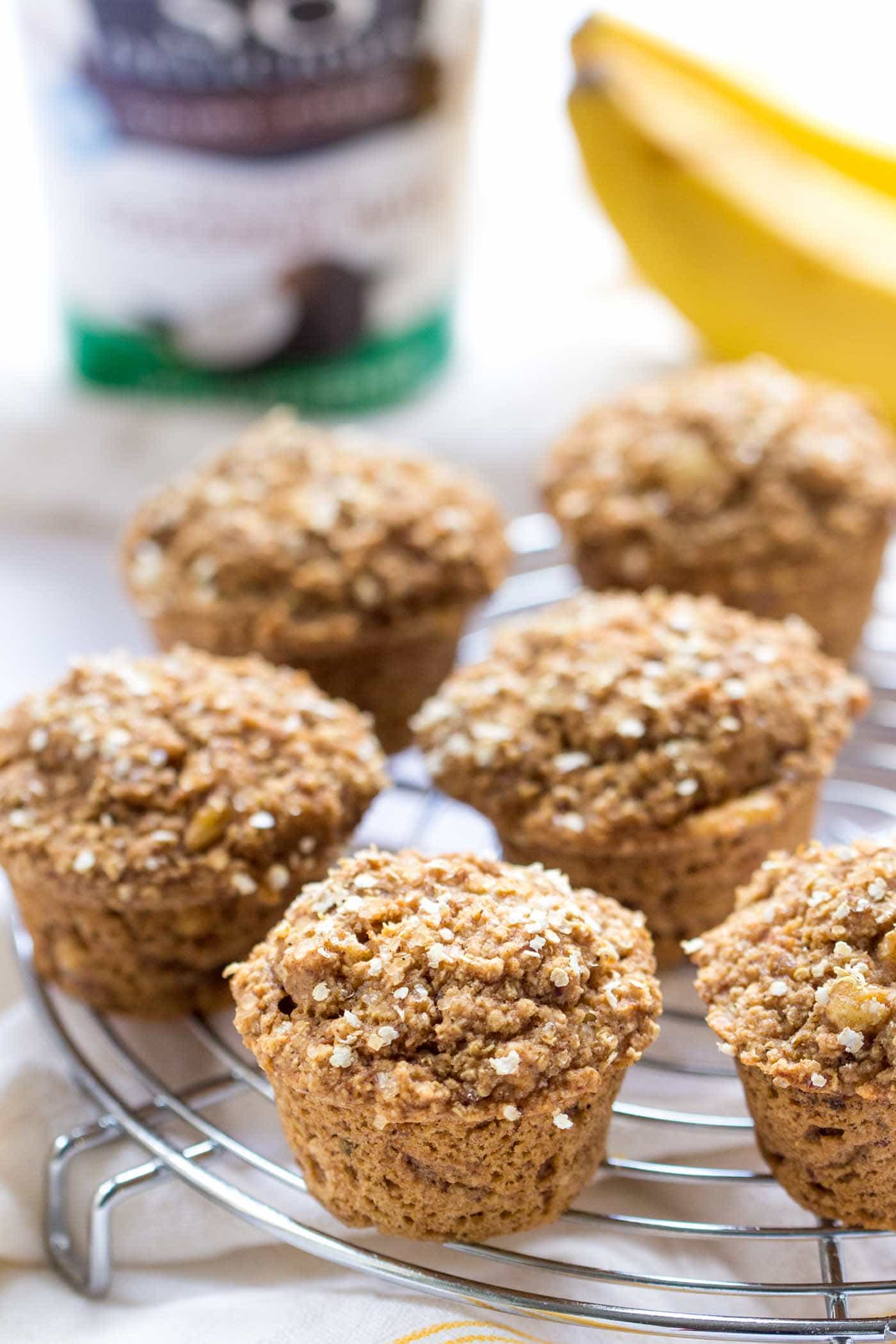 You guys really surprised me with this one! I would never have thought that a simple muffin recipe would make it into the top 10 let alone land at #3 on the list, but I love it! This muffin recipe is super simple to make; they're vegan, gluten-free, packed with fiber and are naturally sweetened with fruit, maple syrup and coconut sugar. They are also customizable, so you could totally add in some blueberries, chopped banana or even chocolate chips!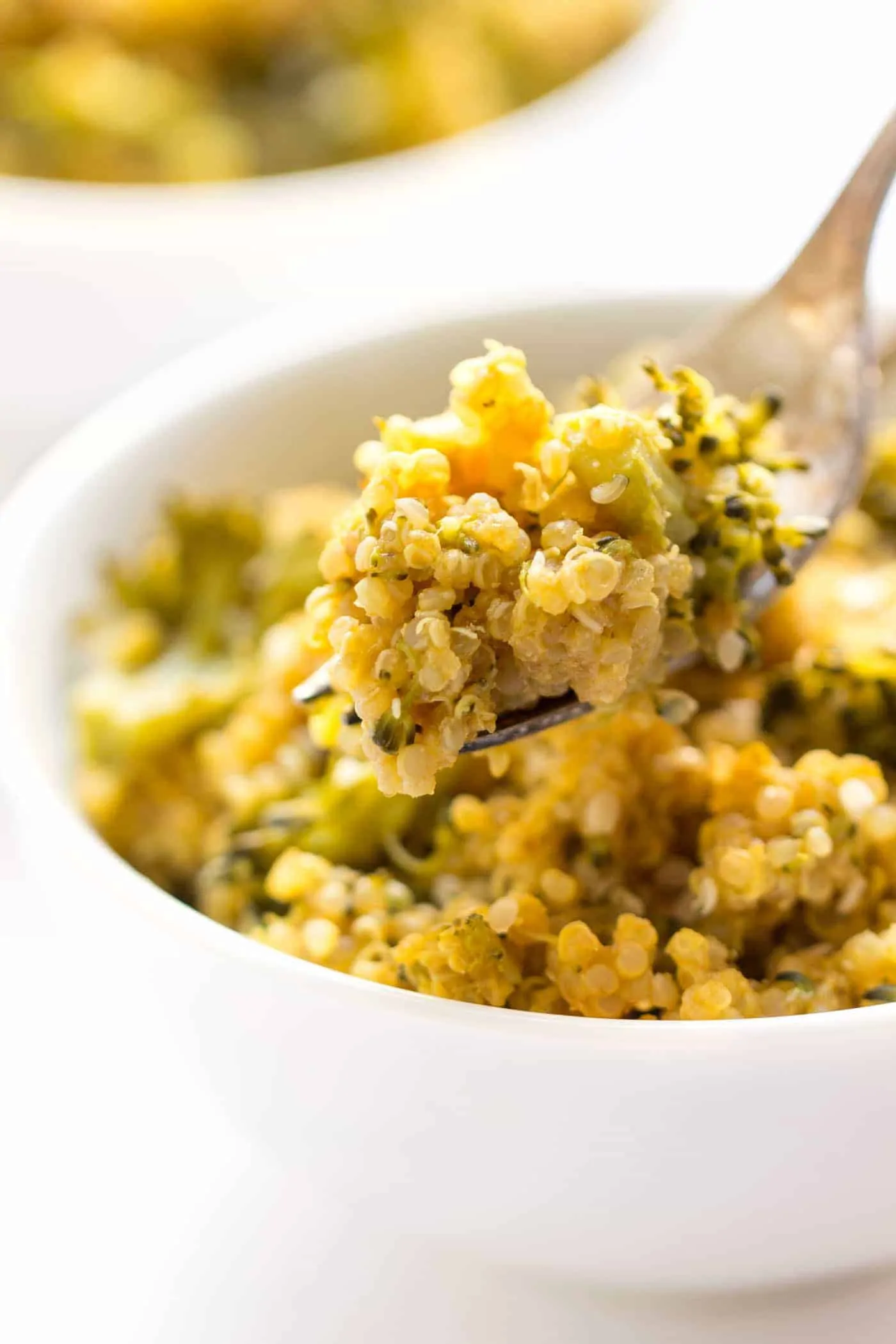 Yes, yes, YES! So pumped this recipe made it to #2 on the list! This is also one of my faves from this past year and for good reason. I mean it is mac and cheese after all! But what makes this one special is that it uses just 5 ingredients, doesn't use any dairy and adds in broccoli for a nice bit of green. Such a great (and easy) dinner option. You will love it if you haven't tried it already!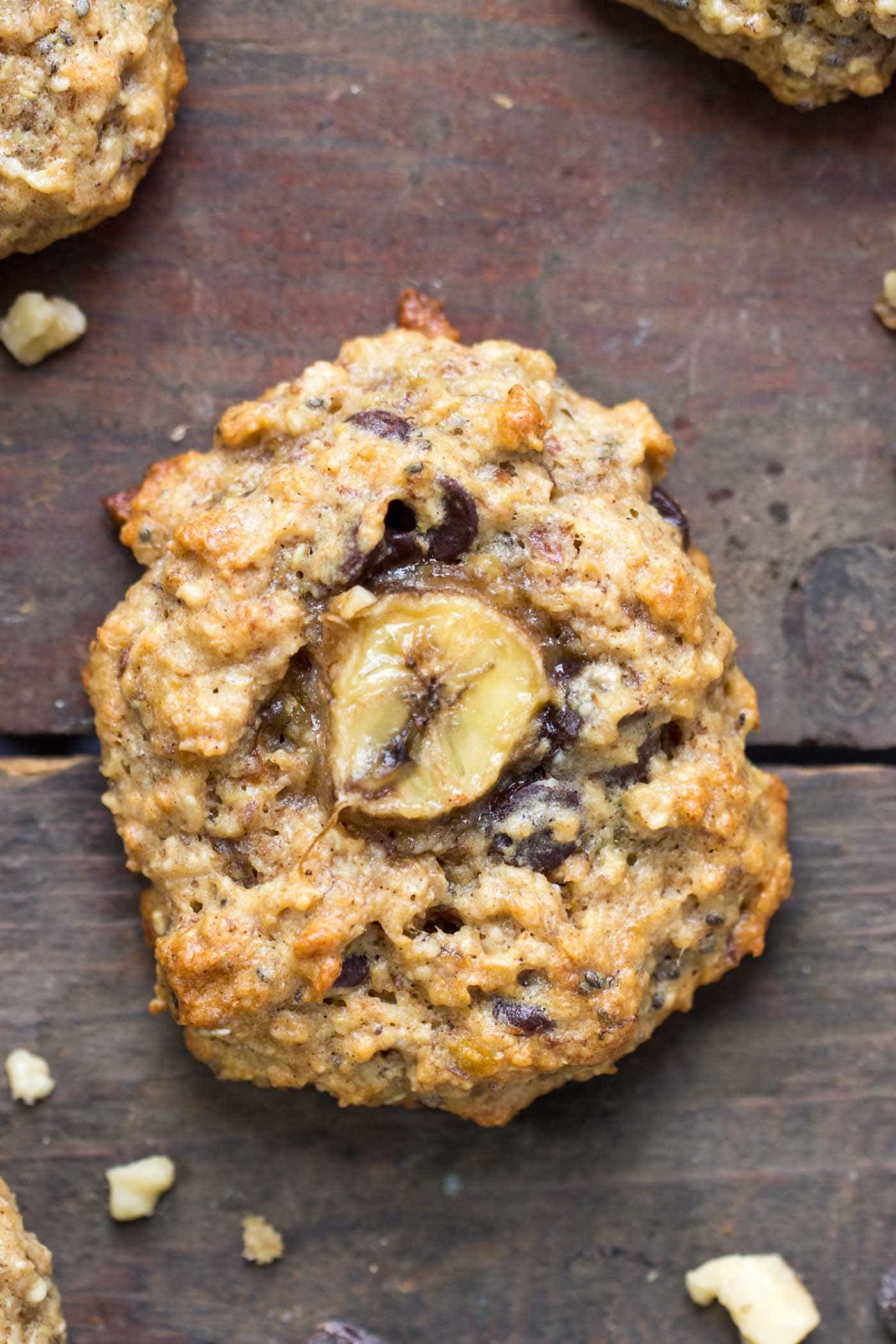 And now, clocking in at #1 on our list of the best quinoa recipes for 2016 is…Quinoa Breakfast Cookies!!! This recipe was shared back in January and really kicked off the entire quinoa breakfast cookie series. It took off almost immediately and has since been visited over 125,000 times and pinned nearly 73,000 times! (<– totally insanely amazing!) Not only are these cookies perfect for breakfast, but they also combine all the BEST ingredients ever: peanut butter, banana, chocolate and dates. They're sweet enough for dessert, but still healthy enough for breakfast, which pretty much makes them the ultimate recipe.
Most Popular Recipes Overall
Each of the recipes on the list above was published in 2016, but actually, almost all of the most popular recipes on the blog overall were not published this year. Here's a list of which recipes you all visited the most in 2016:
Here we come 2017!
I've never been more excited to turn over into a new year. This year was full of a lot of ups and downs for me on a personal level, so I'm ready to close the book and start fresh in 2017. From a business perspective, 2016 was absolutely amazing! I doubled my business, doubled the size of this community, published more than 150 new recipes and started filming and shooting my own video! And I know 2017 is going to be even better!
I'm still in the midst of planning for the New Year, but I can say you can expect some BIG things coming your way! I'm still planning to share tons of healthy recipes, but I'm also going to start mixing in more nutritional and educational content into the mix. With that, I'll also be releasing some new products, maybe even including hosting some live workshops where you can join me and learn first-hand about how to eat and live more healthfully. I'm really excited about this new chapter in my business and life and can't wait to share the journey with you!
And again, I have to say a HUGE thank you to each and every one of you! I'm so grateful to have you here in my little corner of the internet and have loved being able to share all these recipes with you. We're all in for an incredible year ahead!
xo Alyssa