Today, I'm excited to announce my brand new series of guest bloggers! Each month a new blogger will be joining us, sharing their own spin on healthy, quinoa recipes. What has be so jazzed about this series is that we will all be introduced to bloggers who share the same passion for healthy living as we do, but bring a different perspective to cooking than I do. The goal is that we will be exposed to new ways of preparing nutritious, wholesome meals, without ever sacrificing on flavor.
With that said, I'm thrilled to have my good friend Katie from Healthy Seasonal Recipes with us today sharing a brand new quinoa dish with you! I couldn't be more excited to introduce Katie to you all – she's a fellow Vermonter, has a passion for cooking with seasonal produce and takes mouthwatering photographs (I mean really…just look!). Let's all give Katie a warm welcome! 
When I was chatting with Alyssa about ideas for recipes to share with you here, I pitched the idea for turkey picadillo chili with quinoa. I figured it would be perfect for enjoying on a chilly night curled up on the couch, watching a football game. She loved the idea, and I personally was so happy to have the excuse to tinker around in the kitchen and come up with this recipe to share.
I first have to say, I am so honored to be here today! And I can't wait to tell you about this quinoa chili. It is inspired by the flavors of Picadillo, which is a savory ground beef dish served in South America.
If you haven't had Picadillo before I'll explain; it is usually made with ground beef, lots of spices, including a hit of cinnamon, and sometimes green olives and raisins. It is often served with rice, tortillas or in a pastry shell (think empanadas.) I love picadillo because it hits the harmony of savory and sweet, and pretty much covers all the other tastes in between.
Lately I have been thinking a lot about layering of tastes and flavors. In part I think it has to do with the amazing dinner  I had a few weeks ago. And this recipe really illustrates that balance so effectively. The key to getting that balance is building the flavors from the ground up.
Here is how I made it:
I started off with 93% lean ground turkey. I used turkey from a local farm, so I knew it didn't have any added mysterious "natural flavorings" or excess sodium. If you can, try to find ground turkey without added ingredients or "natural flavors." It will brown better. Browning is key to flavor development and will make the chili much richer tasting.
After browning the meat, I scooped the turkey out of the pot and set it aside so it wouldn't get too overcooked. Then I sautéed onions and garlic, because really, I don't know a chili recipe that would be complete without those. I also added in bell pepper (I used a mix red and yellow) and zucchini to bulk up the volume of the chili without adding in a lot of extra calories. Then before I added in any liquid I added in the spices, that helps bloom them in the oil, which really brings out their complexities. If you like a bit of heat in your chili feel free to increase the chipotle powder. I kept it on the milder side so that my kiddos would be able to enjoy it too.
Then comes the quinoa, which needs to cook before the tomatoes are added. The acid in the tomatoes make it harder to tenderize the quinoa. After the quinoa bursts, back in goes the turkey and tomatoes. Then the craziness happens! Green olives and raisins go in.
I know we just met and all, but trust me on this. I didn't want to believe it would be good myself it when I tried picadillo the first time, but honestly the sweet and savory thing, and the briney olives…. Mmmm it is good. Then because I am Katie and more is always more, I of course have to load the top up with healthy toppings like avocado, pepitas and chopped cilantro.
I hope you enjoy this recipe. Please leave me a comment below letting me know if you've had picadillo before. Will you be watching football this weekend? And be sure to stop over to Healthy Seasonal Recipes and say hello.
Turkey Picadillo Quinoa Chili
I love picadillo because it hits the harmony of savory and sweet, and pretty much covers all the other tastes in between.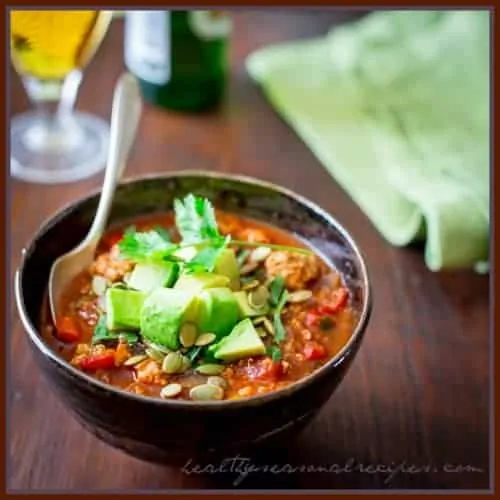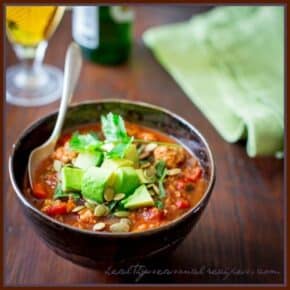 Instructions
Heat 2 teaspoons oil in a large Dutch oven or heavy-bottomed soup pot over medium- high heat. Add turkey and cook, breaking up with a wooden spoon until no longer pink, and starting to brown, 6 to 8 minutes. Remove turkey from the pot with a slotted spoon, set aside

Add the remaining 1 tablespoon oil to the pot. Add onion, garlic bell pepper and zucchini and cook, stirring often, until the vegetables are starting to soften and brown, 4 to 5 minutes. Add chili powder, cumin, salt, cinnamon and chipotle (or cayenne) and cook, stirring often until fragrant, 30 to 90 seconds.

Add water and quinoa and bring to a simmer. Cover, reduce heat to maintain a gentle simmer and cook until the quinoa has just burst open a little bit, 12 to 15 minutes. Add the reserved turkey, tomatoes, olives and raisins and return to a simmer, stirring often.

Simmer just to allow the flavors to meld, 4 to 5 minutes.

Ladle into bowls and top with garnishes if desired.
Nutrition
Calories:
279
kcal
|
Carbohydrates:
30
g
|
Protein:
19
g
|
Fat:
10
g
|
Saturated Fat:
2
g
|
Cholesterol:
55
mg
|
Sodium:
772
mg
|
Potassium:
901
mg
|
Fiber:
6
g
|
Sugar:
8
g
|
Vitamin A:
1995
IU
|
Vitamin C:
50.2
mg
|
Calcium:
108
mg
|
Iron:
4.8
mg
Filed Under: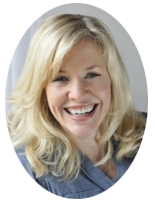 Katie Webster is a professional recipe developer and food stylist. She is a contributing editor at EatingWell Magazine. She also contributes recipes to Fitness Magazine and Parents Magazine. She is a graduate of The New England Culinary Institute, and has a degree in Fine Art from Skidmore College. When she is not cooking and taking photographs she is mostly likely working out, gardening, driving her kids around or eating chocolate. She lives with her husband, who is thankfully always willing to do dishes, and her two green bean eating daughters in Vermont.
For more on Katie visit her blog, Healthy Seasonal Recipes, or connect with her on Facebook, Pinterest, Google+, Instagram & Twitter!