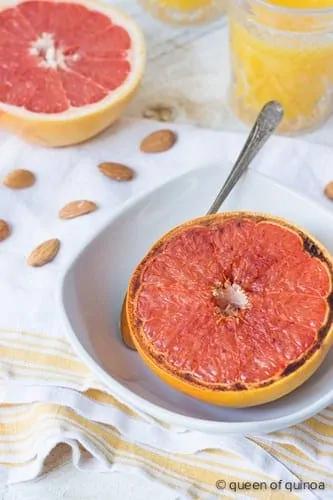 Good morning, Beautiful! It's time to rise and shine, and welcome the day ahead with a great big smile. It's going to be a good day. I can just feel it. You're going to take on the world. Because with a breakfast like this, you can do anything. Today, we're having broiled grapefruit.
If you're anything like me, then you're stuck in a grapefruit rut. Is your go-to way of eating this juicy, ruby red fruit to simply slice it in a half and scoop out the flesh with your spoon? Yeah, me too. I'd never even thought to cook my grapefruit.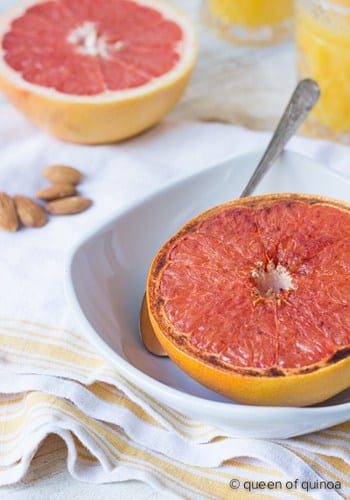 Grapefruit is one of those fruits that I often forget about. I walk right by those big yellow globes in the grocery store all the time. I don't even give them a second look. But on my weekly trip to Trader Joe's, they caught my eye. They sparkled, like little balls of sunshine, and I just couldn't resist. I scooped some up, planning to have one the next morning.
As I was slicing my grapefruit in half, I realized that I needed something more. This pretty pink fruited needed a little spice. It's such an easy meal; it could use a little extra something. More than just a boring sprinkle of sugar (or stevia).
I turned to Pinterest, as I usually do for a little recipe inspiration, and found a bunch of recipes for broiled grapefruit. I never thought to cook my grapefruit before, but let me just tell you, this is a revelation. Warm, sweet and juicy, this was one of the best breakfasts I've had in a long time. I sprinkled mine with a little vanilla and almond extract, cinnamon and topped it with stevia. Simply scrumptious.
Vanilla-Almond Broiled Grapefruit
It's such an easy meal; it could use a little extra something. More than just a boring sprinkle of sugar (or stevia).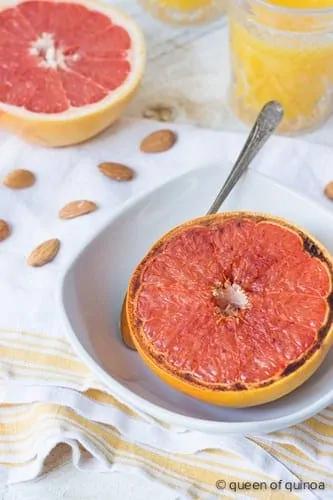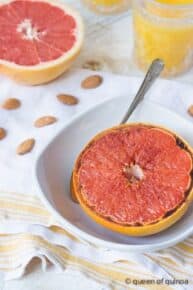 Instructions
Turn your oven to broil and make sure the racks are positioned about 4 – 5 inches from the top of the oven.

Sprinkle each grapefruit half with half of ingredients, in the order listed.

Place the grapefruit halves directly on the rack and broil until starting to brown, about 4 – 5 minutes.

Transfer the grapefruits to a cutting board, slice the way you like it (I go around the outer edge first and then slice along each wedge.

Enjoy!
Nutrition
Calories:
57
kcal
|
Carbohydrates:
13
g
|
Potassium:
166
mg
|
Fiber:
2
g
|
Sugar:
8
g
|
Vitamin A:
1415
IU
|
Vitamin C:
38.4
mg
|
Calcium:
27
mg
|
Iron:
0.1
mg
Filed Under:
This recipe was shared on: Slightly Indulgent Tuesday, Whole Food Friday
---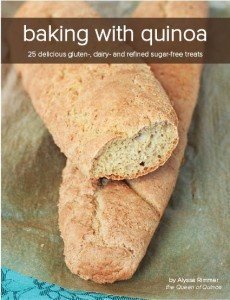 Available Now!! Baking with Quinoa
Featuring 25 mouthwatering recipes – all free from gluten, dairy & refined sugar – Baking with Quinoa will show you just how easy it is to make healthy & nutritious baked goods.