A quick, easy and nutrient-rich breakfast, this overnight quinoa is flavored with almond and vanilla extract and sweetened with maple syrup.
My quinoa breakfast obsession continues.
I swear, if I could just spend all day creating and eating breakfast foods, I'd be the happiest person on earth. In fact, just last night for dinner I had a big bowl of fruit, topped with granola and almond milk. It was perfect.
And what I love about all of you amazing internet friends of mine, you love breakfast just as much as I do! So today I'm sharing a recipe that I first created years ago, and have since upgraded with both photos and recipe. As they say, this overnight quinoa is an oldie but a goodie ?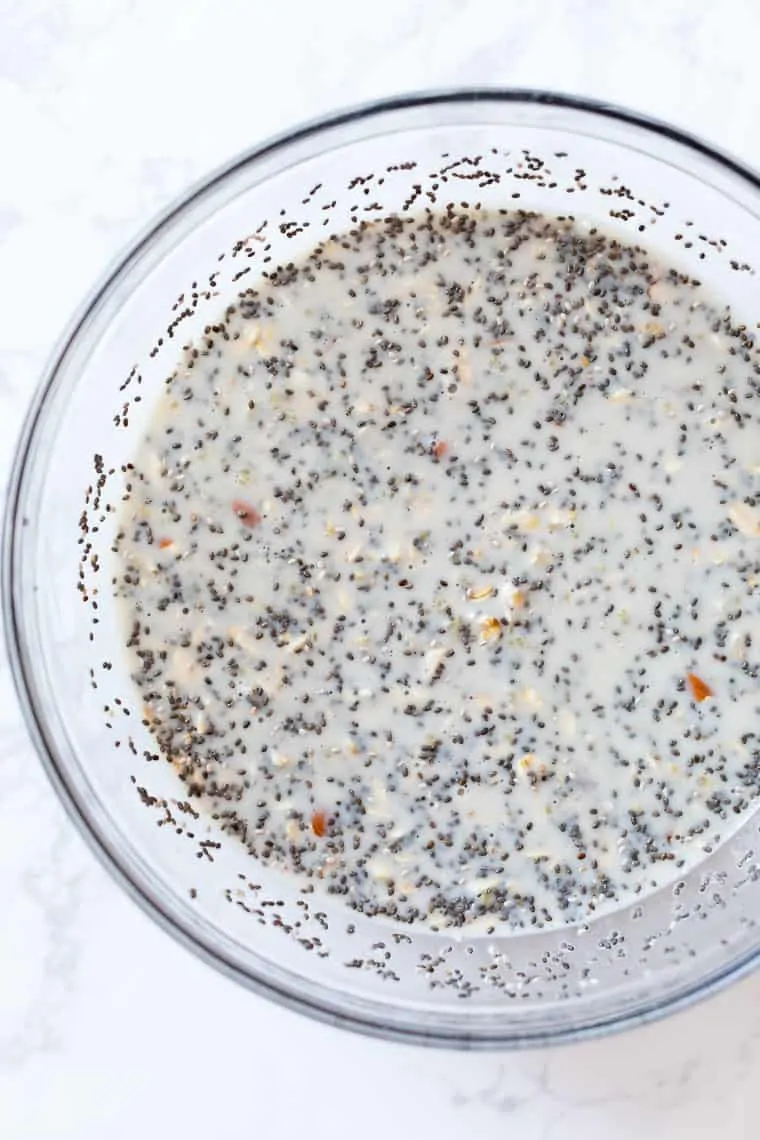 Ingredients for this Overnight Quinoa
As we've been doing lately with most of our posts, I want to share the different ingredients we're using and why. I personally love knowing why people use certain ingredients and find it really helpful if I'm looking for substitution ideas. So…here's what you need to make this recipe:
Cooked quinoa: the base of our breakfast is cooked quinoa. I like to do white quinoa because it's nice and fluffy! But you could also use millet, buckwheat or another grain if you wanted.
Rolled oats: I like the blend of oats and quinoa, but you could also do quinoa flakes or just more quinoa if you don't want to use oats.
Chia seeds: the "thickening" agent, but also ads a ton of protein, fiber, and good fats.
Maple syrup: always my sweetener of choice, but you could swap with something else like honey, agave, coconut sugar, etc.
Chopped almonds: one way to sneak in more protein and healthy fats, but also good because they add a nice crunch!
Almond milk: the liquid that I like to use, but use whatever milk you have on hand. It could be cashew, oat, rice, or even regular cow's milk if you eat that.
And to make it vanilla almond flavor, we're using some extracts! I like to buy this organic vanilla extract and this organic almond extract. They've got great flavor and aren't fake!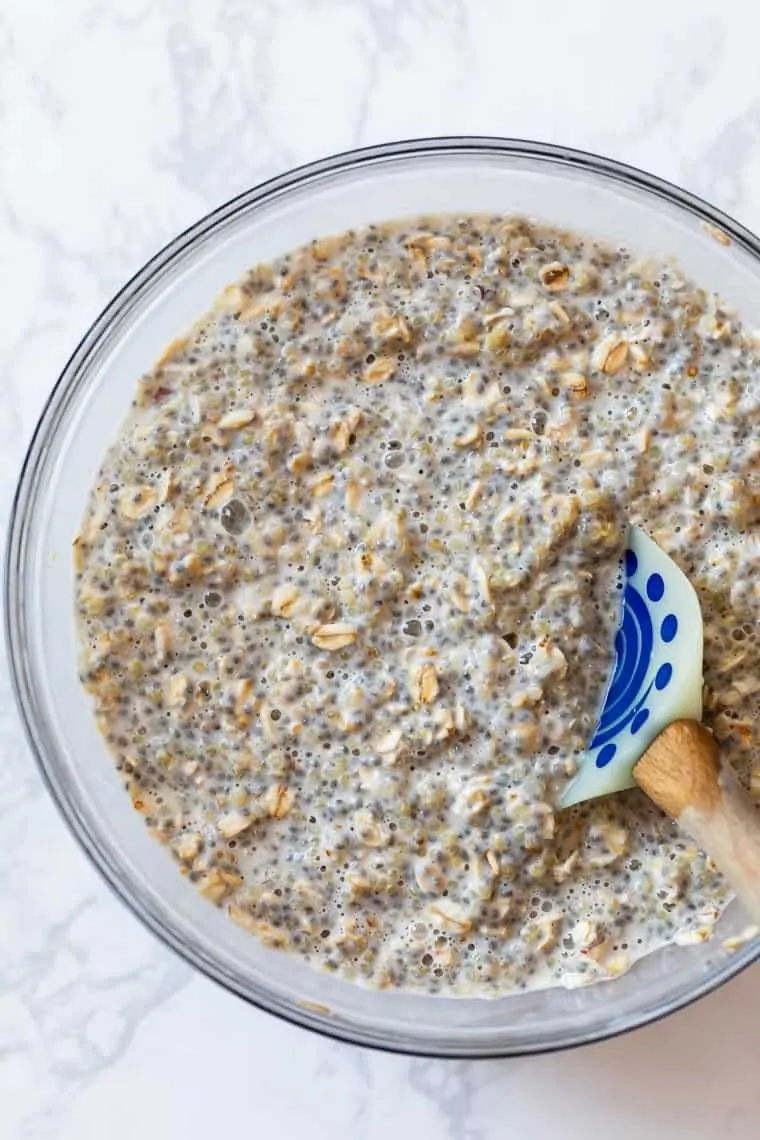 Why You'll Love Eating Quinoa For Breakfast
What I love about recipes like this is that you can make them the night before. It takes about 5 minutes to make and is the perfect way to start your day.
That being said, you also don't have to leave it overnight. You can prep this when you wake up, get ready for your day and take it with you on your way out the door. It's one of those awesome recipes that can be meal prepped in less than 15 minutes.
All you need to do to make this overnight quinoa is mix all your ingredients together and let it sit. The oats, quinoa and chia seeds will start to absorb some of the liquid, helping it thicken up. Once it's thickened, you can eat top it with your favorite toppings and enjoy!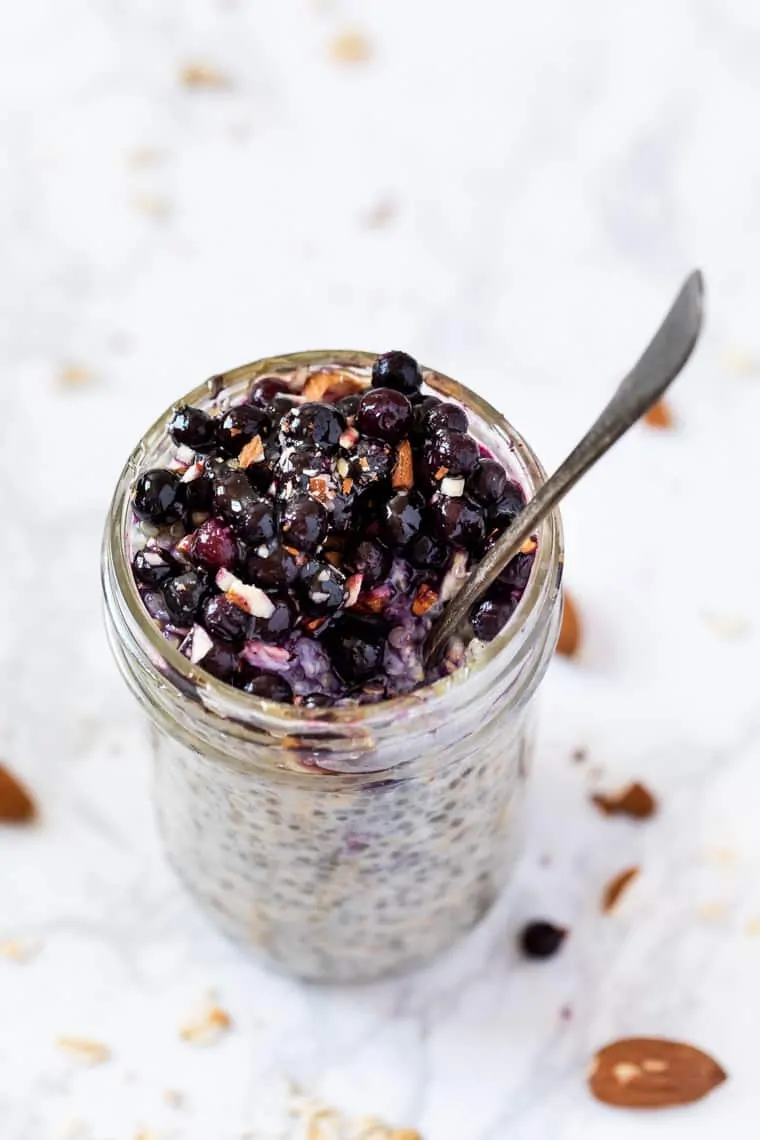 Oats or Quinoa?! Let's Do Both!
If you're an overnight oats lover, then I really think you gotta give quinoa a try. Adding quinoa into your overnight oats is super simple and adds some really great benefits. It's…
higher protein
higher in fiber
more nutrient-rich
adds a really nice texture
And it's as simple as can be. The end result is a supercharged breakfast that takes about fifteen minutes to prepare. You just mix, chill and eat. How could you go wrong?!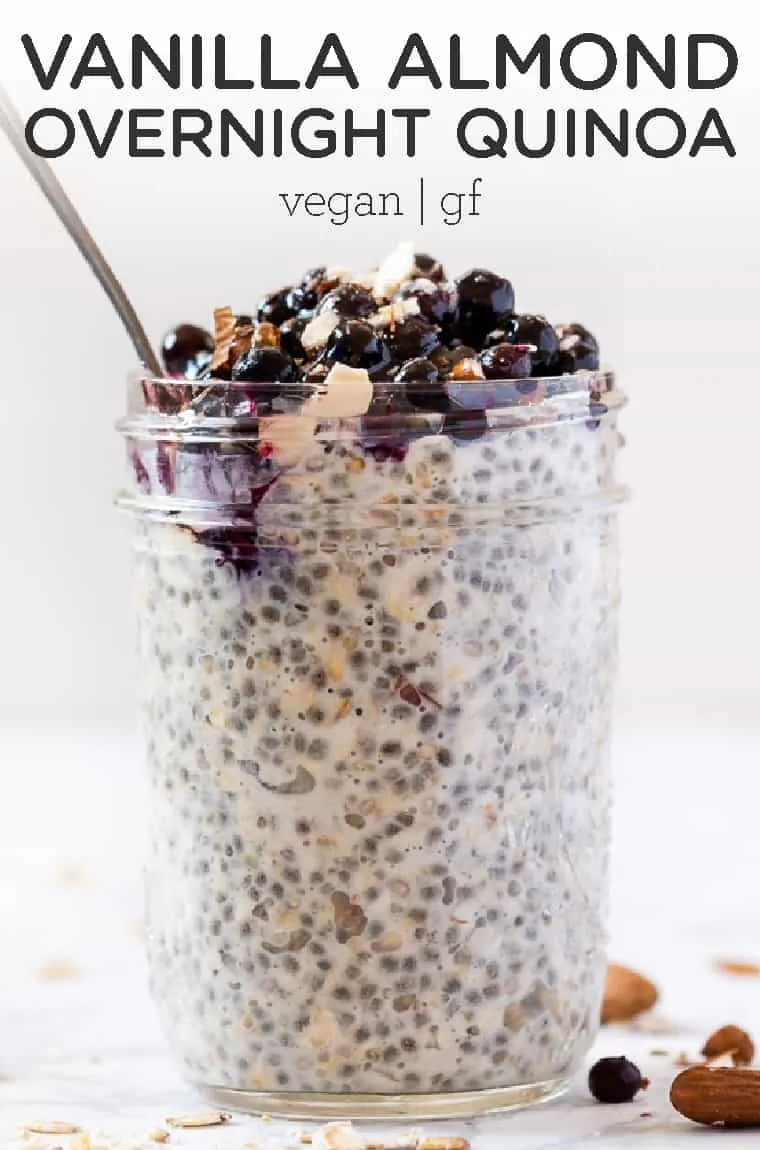 More Overnight Quinoa Flavors To Try:
Vanilla Almond Overnight Quinoa
A quick, easy and nutrient-rich breakfast, this overnight quinoa is flavored with almond and vanilla extract and sweetened with maple syrup.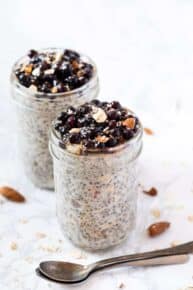 Instructions
Add all the ingredients (minus some almonds for garnishing) to a mixing bowl, starting with 1.5 cups of almond milk. Mix well and set aside for 10 minutes. Allow the mixture to thicken. If the mixture is too thick, add some more almond milk to thin it out. I ended up doing about 2 cups in total.

Transfer to your jars/bowls and garnish with desired toppings. I did blueberries and chopped almonds.
Nutrition
Serving:
1
cup
|
Calories:
528
kcal
|
Carbohydrates:
74
g
|
Protein:
16
g
|
Fat:
19
g
|
Saturated Fat:
2
g
|
Sodium:
259
mg
|
Potassium:
519
mg
|
Fiber:
17
g
|
Sugar:
14
g
|
Calcium:
461
mg
|
Iron:
5
mg
Filed Under: