This quinoa cake is a healthy version of traditional vanilla cake. It's the perfect dessert for any celebration + is topped with vegan chocolate frosting.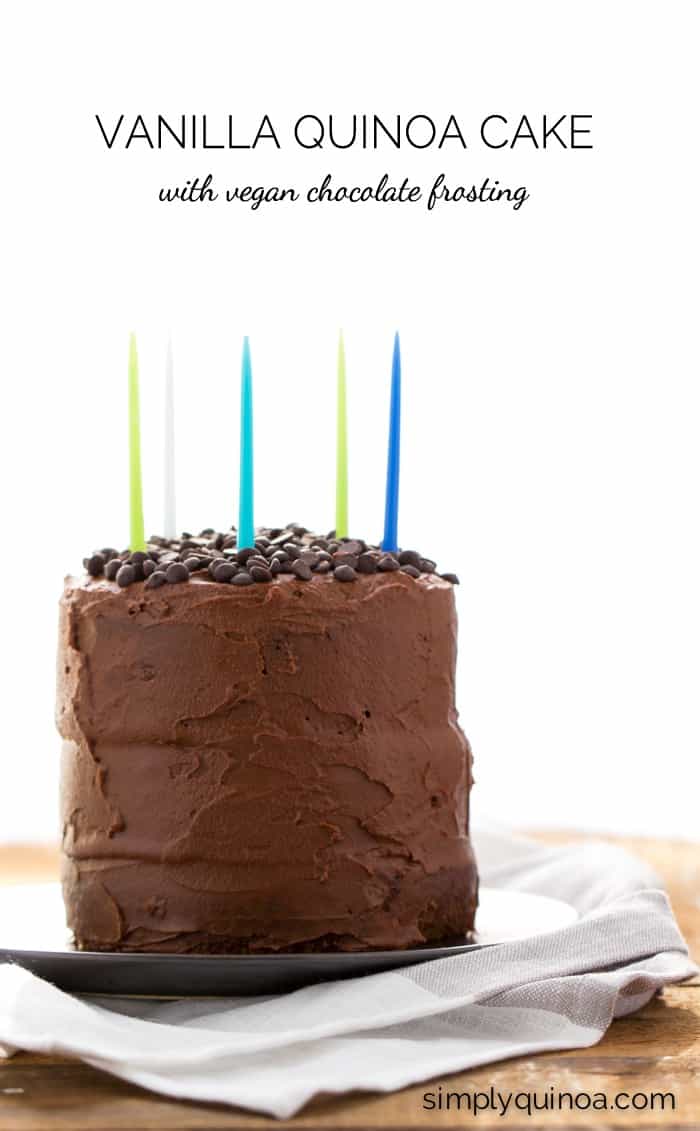 Today is Matt's birthday and so I baked him a cake.
But not just any old cake. It's a vanilla quinoa cake smothered in a vegan chocolate frosting and topped with our favorite mini chocolate chips. It's pretty much my ideal cake – we'll see what he thinks when he blows out the candles tonight!
Although we're not big on celebrating birthdays – we never do anything super elaborate – it's always nice to feel some extra love on your big day. 
Tonight we're having a casual dinner at home (as per usual, #biggesthomebodiesever) with mussels cooked in a lemon white wine sauce, some quinoa garlic bread and a massaged kale salad. I'll grab a bottle of champagne, we'll snuggle up on the couch and we'll obviously be eating cake.
Sounds pretty perfect if you ask me!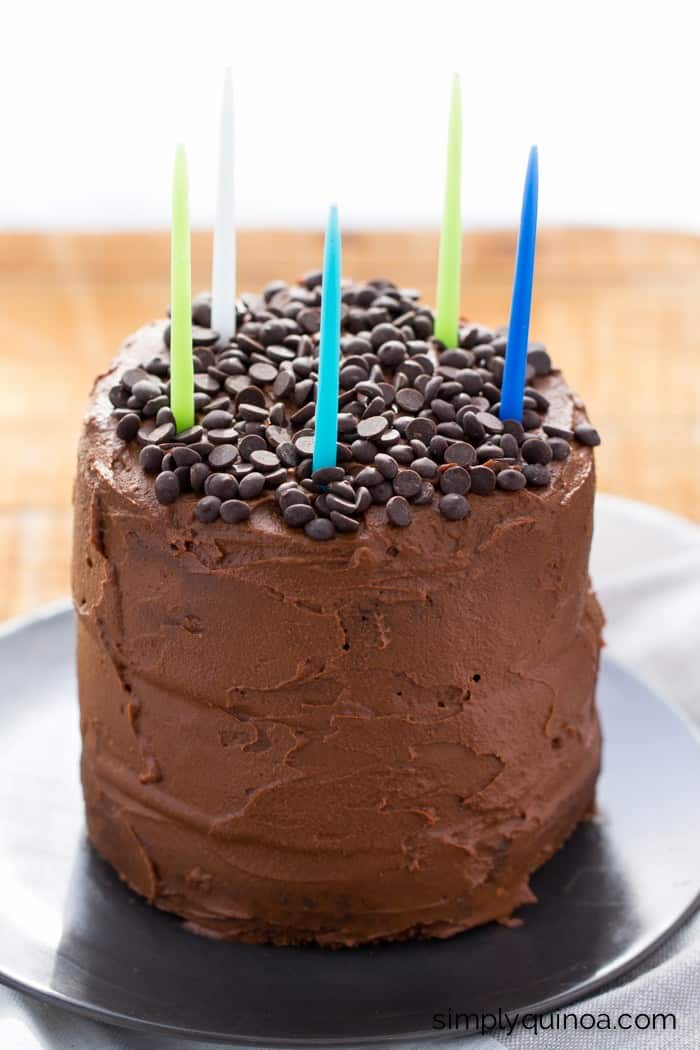 BUT…as much as a perfect night at home sounds, we pretty much do that every weekend, so I wanted to also surprise him with a fun night out. Tomorrow night he's leaving work a little early and we're meeting for drinks at a rooftop bar in Manhattan. We'll have a cocktail (or two!) then head downstairs to a fabulous meal at Print, which is a farm-to-table restaurant in Hell's Kitchen. Their menu sounds divine and I can't wait to try everything!
After dinner, we're catching the musical, "On the Town," which I've heard is great. Matt has never been to a broadway show (I know… craziness) so I think it's the perfect thing for us to do.
And when we get home I'm sure we'll enjoy some more birthday cake!
Oh this cake…we need to talk about this cake.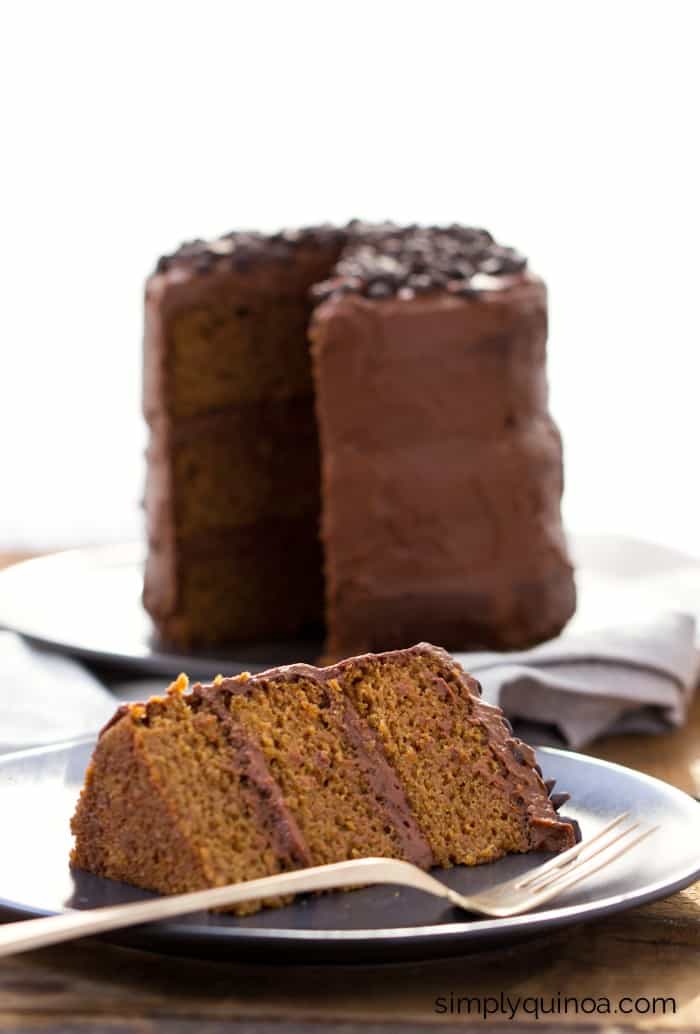 I know it probably sounds a little unorthodox to make a cake out of quinoa, but trust me when I say, this cake couldn't be any more delicious. It's fluffy, light and tender, and just melts in your mouth.
And the sweetness level? Just perfect. Because you know how sometimes the cakes you buy at the store or make from a mix can knock you over with how sweet they are? Yeah, I really don't like that, so my goal with this recipe was to give you one that wouldn't sky rocket your blood sugar, but would still taste like a decadent vanilla cake. A true dessert.
My secret? Powdered coconut sugar! (which I make in my Blentec but just grinding up the coconut sugar)
I love using coconut sugar as a sweetener because it's low glycemic, but also has a dark, almost caramel flavor to it. So you get the sweetness, but you get a richness also that would be hard to replicate with the white junk.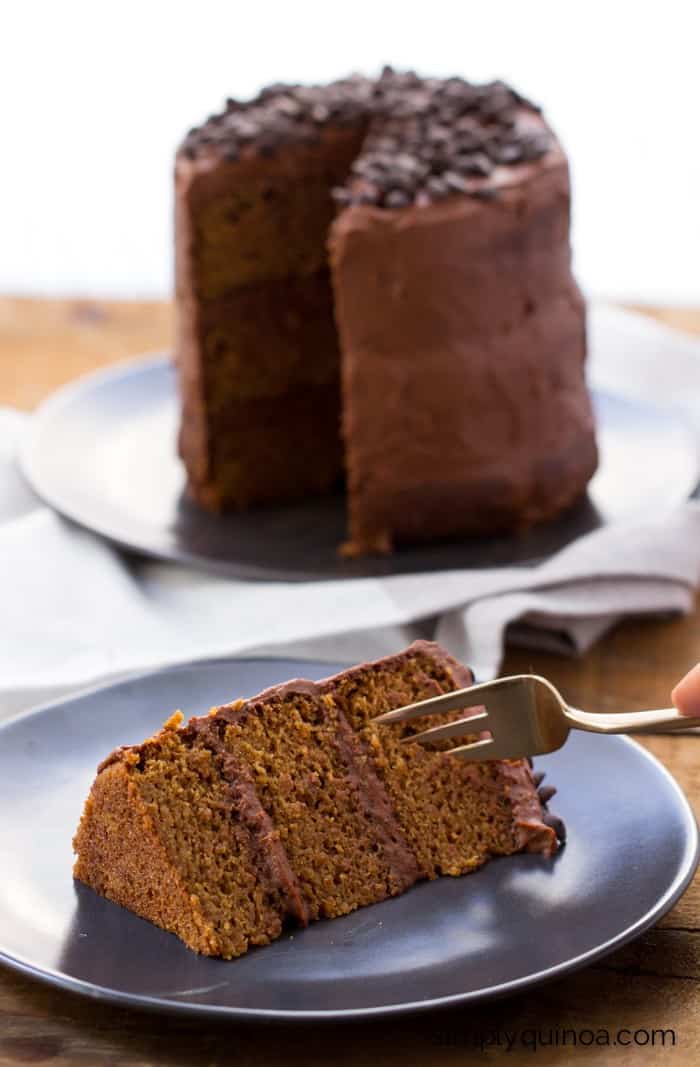 And finally, we must must MUST discuss this frosting.
In my humble opinion, cakes don't really need frosting and it's probably because I loathe the frosting that comes on store bought cakes. As in it's probably my least favorite food on the entire planet. I think it's absolutely horrid.
But I think I'm in the minority here on the whole frosting debate, and since it is Matt's birthday and all a frosting on his quinoa birthday cake totally needed to happen. 
I used a recipe that I've made before – it's for a vegan chocolate frosting and it tastes exactly like the "real thing", except get this: the frosting is made with…SWEET POTATOES!
Yes, sweet potatoes are our base as they provide the texture, but also some sweetness. With the sweet potatoes, all you add is some maple syrup (or honey), cocoa powder, arrowroot starch and a touch of coconut oil. Blend it all up in your food processor and you have a seriously decadent, creamy and chocolatey "buttercream" frosting on your hands.
So while this little quinoa cake might sound a little bizarre, with lots of unique ingredients, I promise you it's the cake to end all cakes. And since the cake itself is just plain old vanilla (but like 100 times better), you can use pretty much any type of frosting you could dream of. I personally think it would be delicious with a coconut whipped cream frosting and fresh strawberries – almost like a strawberry shortcake. Hello, delicious!
And I'd love for you to join me in wishing Matt the happiest of birthdays! Feel free to leave a comment and I'll make sure he gets to read every single one 🙂
xo Alyssa
Share this recipe!
Vanilla Quinoa Cake with Vegan Chocolate Frosting
I know it probably sounds a little unorthodox to make a cake out of quinoa, but trust me when I say, this cake couldn't be any more delicious. It's fluffy, light and tender, and just melts in your mouth.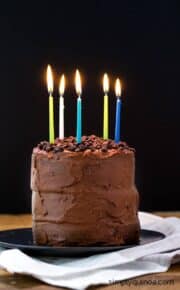 Instructions
Preheat the oven to 350 degrees F. Grease three 5" round baking pans and line them with a strip of parchment paper (

use this method

).

Add the milk, eggs, vanilla and vinegar to a blender or food processor. Blend on high until smooth. Add the oil and quinoa and blend again until smooth.

Whisk together the dry ingredients in a large mixing bowl. Add the contents of the blender into the mixing bowl and stir together until the batter is smooth. Set aside and let rest for 5 minutes.

Evenly divide the batter between the three baking pans. Bake on the center rack for 25 - 28 minutes until a cake tester inserted into the center comes out clean.

Remove the cakes and let cool in the pan for 10 minutes then turn them out onto a wire rack and cool completely.

While the cakes are cooling, prepare the frosting. Add the sweet potato, maple syrup and coconut oil into a food processor and process until smooth. Add remaining ingredients and process until incorporated and smooth. Taste and add stevia as needed.

Transfer the frosting to a bowl and place in the fridge until cakes are cooled.

When cakes are completely cool, frost and sprinkle with chocolate chips.
Nutrition
Calories:
448
kcal
|
Carbohydrates:
47
g
|
Protein:
6
g
|
Fat:
27
g
|
Saturated Fat:
22
g
|
Cholesterol:
81
mg
|
Sodium:
330
mg
|
Potassium:
305
mg
|
Fiber:
4
g
|
Sugar:
24
g
|
Vitamin A:
2475
IU
|
Vitamin C:
0.4
mg
|
Calcium:
85
mg
|
Iron:
1.7
mg
Filed Under: